A Flavourful Journey: Thai Fried Rice with Squid (ข้าวผัดปลาหมึก)
Get ready for a culinary adventure as we unveil a simple yet flavourful recipe for Thai Squid Fried Rice. This classic dish is a comforting meal to enjoy by all, from cozy cook-to-order stalls to renowned restaurants and hotels. Bursting with aromatic flavours and endless possibilities, this healthy and creative dish allows you to unleash your culinary creativity by experimenting with various ingredients, vegetables, and proteins. Khao, meaning rice, and Pad, meaning stir fry, comes together in a great flavour when rice is masterfully cooked in a pan or wok. Get ready to delight your taste buds with the irresistible flavours of scrambled egg, sizzling seasoning sauce, charred rice, and a tangy squeeze of lime juice.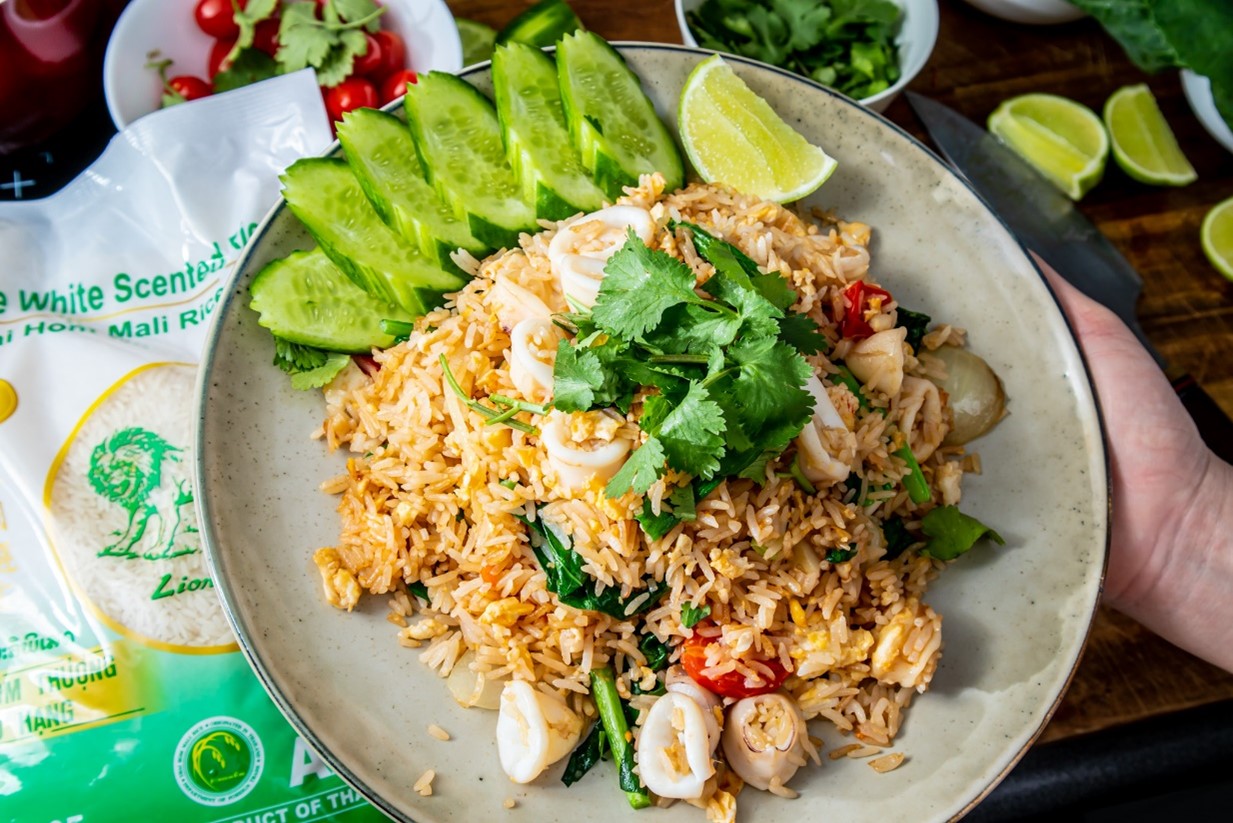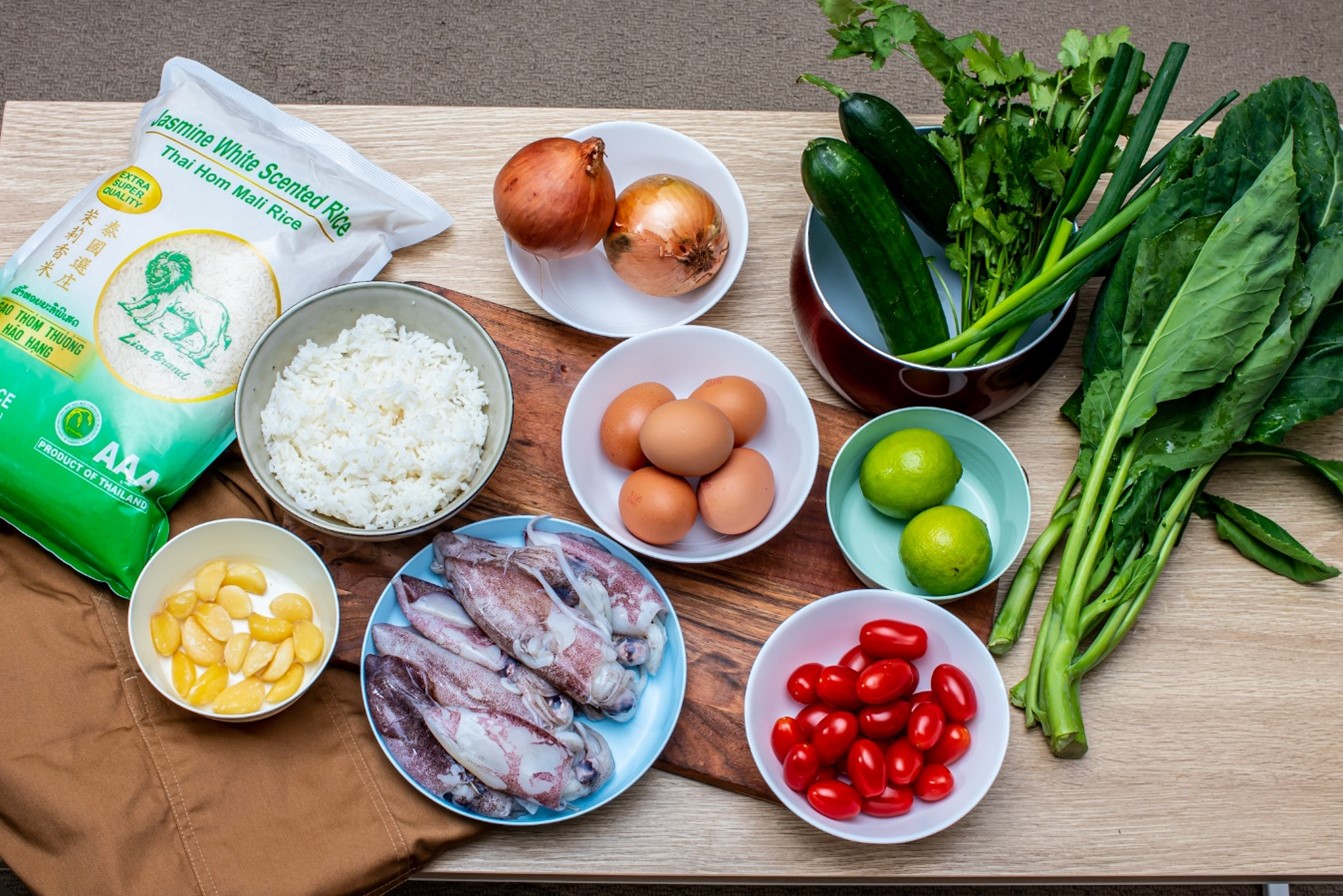 Today, we invite you to discover this simple recipe using our Lion Jasmine rice. Whether you have leftover rice or freshly cooked grains, we'll guide you to create a beautifully presented fried rice dish that's far from soggy. With the spotlight on squid, a true hero in our recipe, even the pickiest eaters, like our squid-loving kids, will be delighted. So, without further ado, let's dive into the recipe and instruction!
Ingredients:
1 tbsp Megachef Oyster sauce
1 tbsp Megachef Soy sauce
½ tbsp Megachef Fish sauce
½ tbsp Raw sugar
½ tbsp Megachef Dark soy sauce
5 Squid
3 Garlic cloves
1 Lebanese cucumber
1 Chinese broccoli
5 Cherry tomatoes
2 Eggs
1 Spring onion
1 Coriander
½ Brown onion
2 tbsp Vegetable oil
1 small bowl of steamed jasmine rice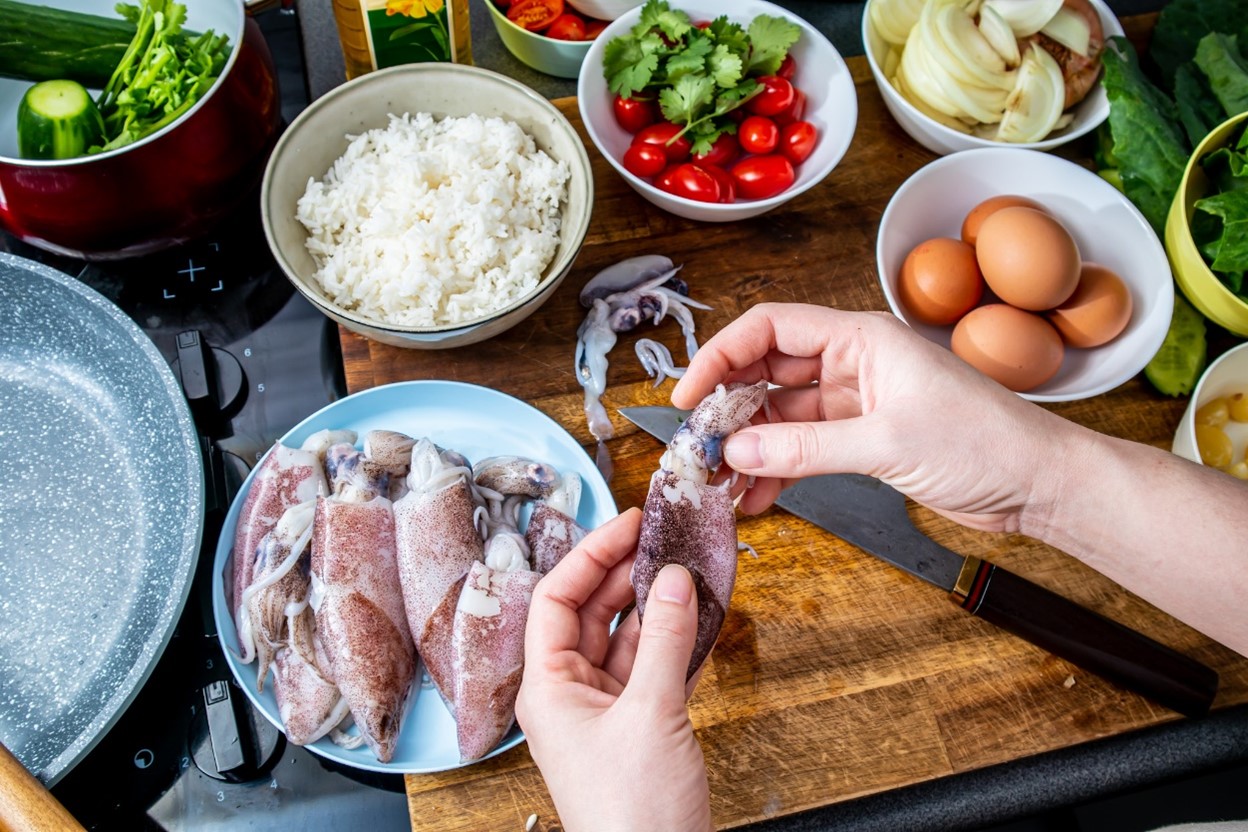 1. Prepare the ingredients:
Slice the onion, spring onion, garlic, Chinese broccoli, and squid.
Chop the coriander, slice the Lebanese cucumber, and prepare lime wedges.
2. Cook the jasmine rice:
Use a 1:1 ratio of rice to water for cooking the jasmine rice.
For the fried rice, use steamed rice from the surface of the rice cooker.
3. Let's start cooking the fried rice:
Heat 2 tbsp of vegetable oil in a pan. Add the chopped garlic and cook until fragrant.
Add the squid to the pan and stir-fry for a few minutes.
4. Create a delicious combination:
Push the squid to one side of the pan and crack the eggs into the other side. Scramble the eggs until cooked.
Add the steamed jasmine rice to the pan and mix it with the squid and eggs.
5. Infuse with irresistible flavours:
Season the rice with Megachef oyster sauce, soy sauce, fish sauce, and raw sugar. Stir well to combine.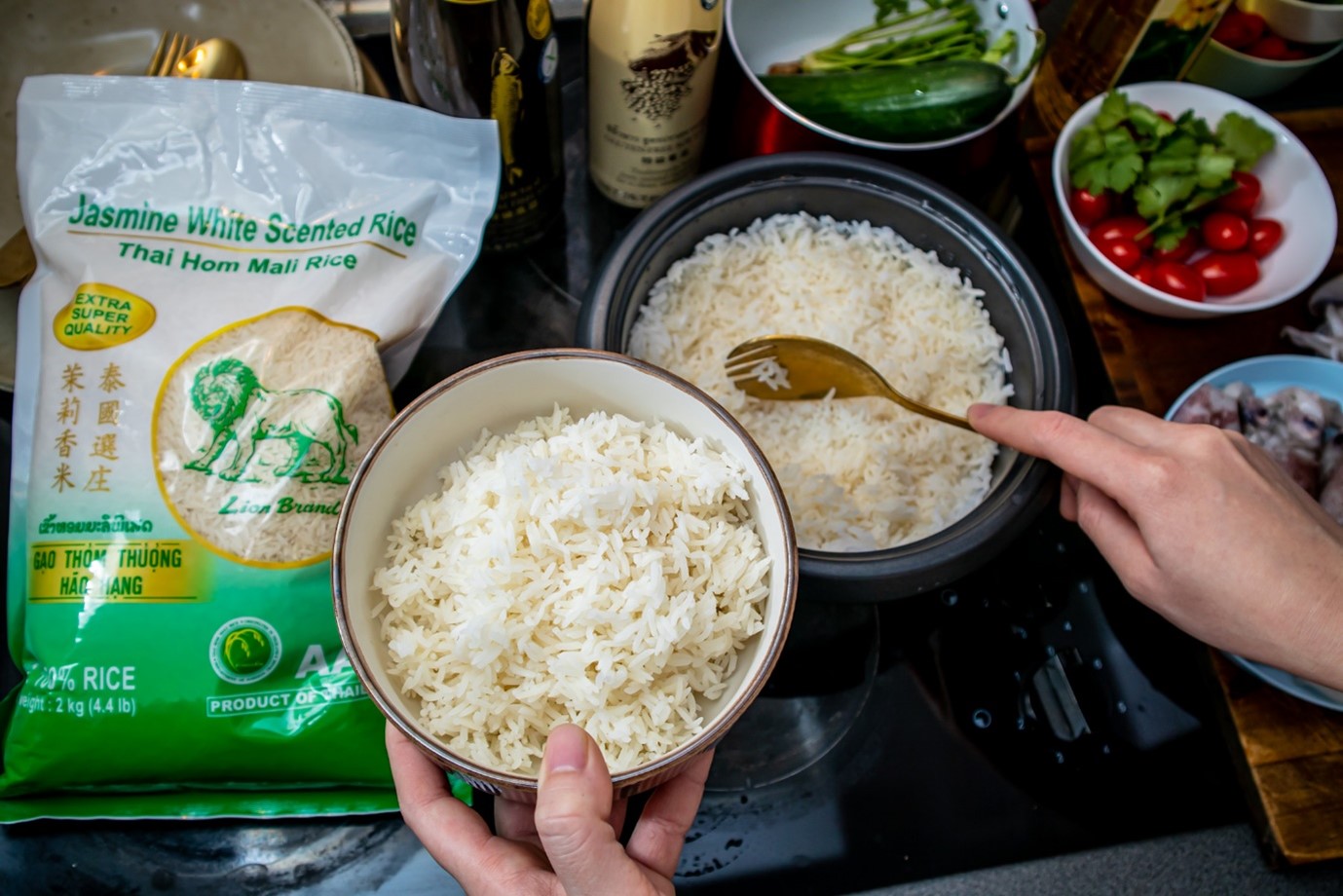 6. A vibrant freshness:
Add the chopped cherry tomatoes, spring onion, sliced onion, and Chinese broccoli to the pan.
Stir-fry for a few minutes until the vegetables are cooked but still crisp.
7. The final touch:
Add the Megachef dark soy sauce to the pan and stir-fry for another minute.
8. Serve and garnish:
Garnish the dish with fresh coriander, lime wedges, and sliced Lebanese cucumber.
Your delicious Thai Fried Rice with Squid is now ready to be served.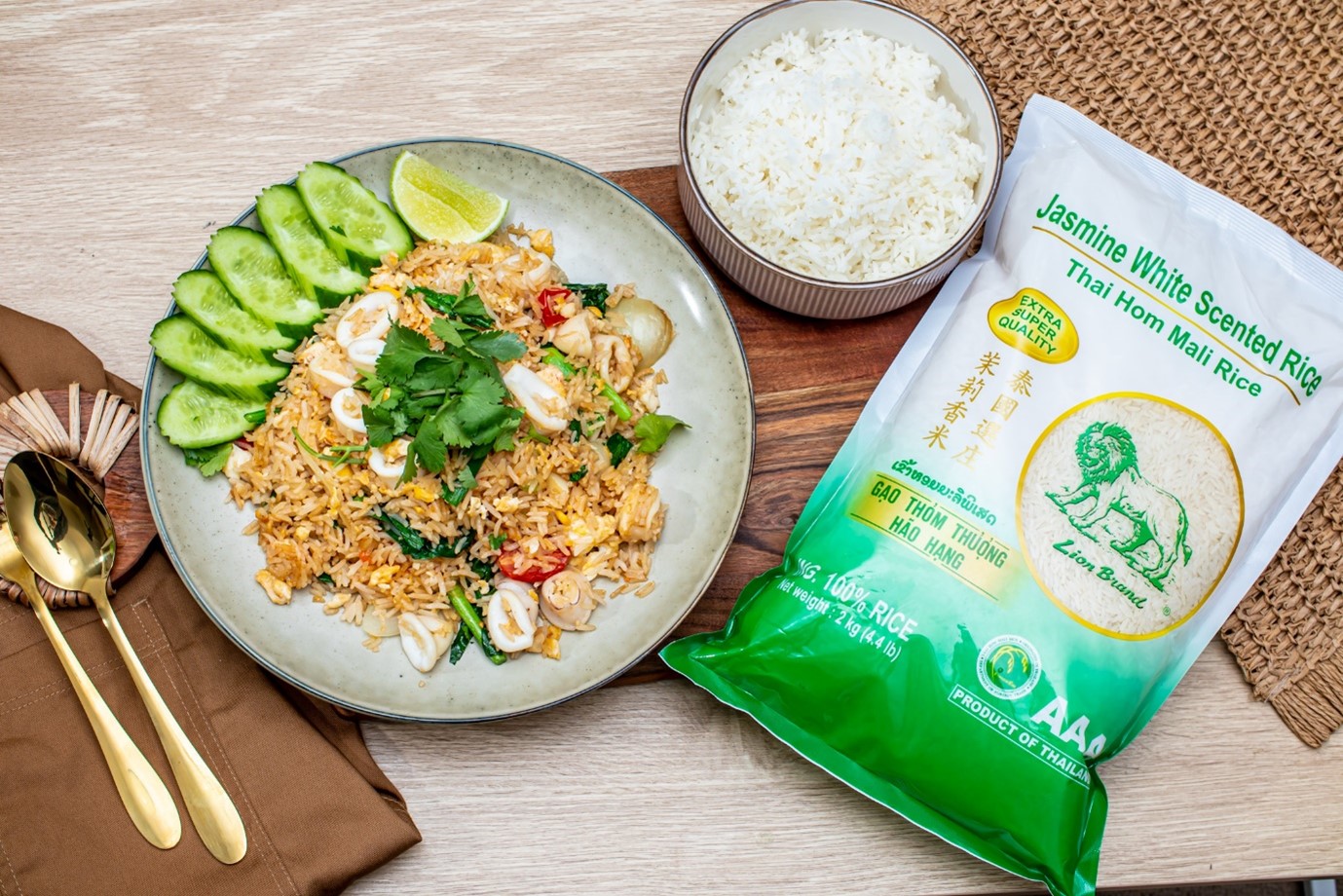 Kick off a culinary journey with our Thai Squid Fried Rice recipe, where Lion Jasmine rice takes centre stage alongside tender squid and an array of flavourful ingredients. Whether you're a seasoned home cook or a lover of Asian food, this recipe is sure to impress.