Guest Blogger Saba of @sabablacksheep checks out modern Vietnamese restaurant District 3429 in Sunbury Victoria and has a chat with owner/chef Ami Tran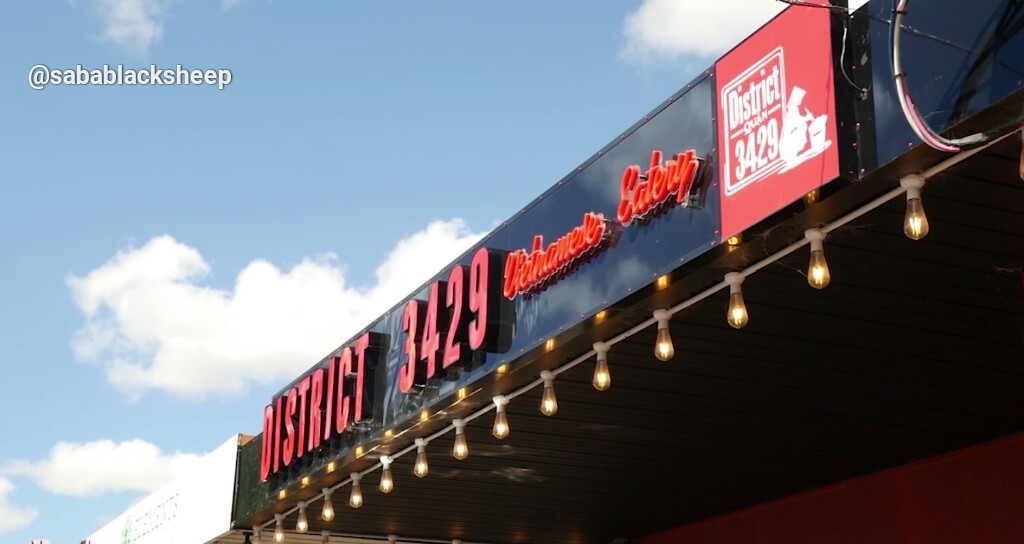 I was lucky enough to be granted all access to the entire restaurant and got to see everything from the store rooms, to the kitchen and front of house.  It was an awesome day and was fascinating to see the workings of the restaurant from the other side. – Saba
So this week I was out in Sunbury, a township 40km North West of Melbourne.  Whilst I was there I dropped in to check out District 3429, a modern Vietnamese restaurant.
I was lucky enough to be granted all access to the entire restaurant and got to see everything from the store rooms, to the kitchen and front of house.  It was an awesome day and was fascinating to see the workings of the restaurant from the other side.
From the outside, the restaurant stands out from all the other stores along the street, with its outdoor seating area, distinct red and black colour scheme and very lovable Vietnamese drink cart.  It's a great looking shopfront and feels very inviting.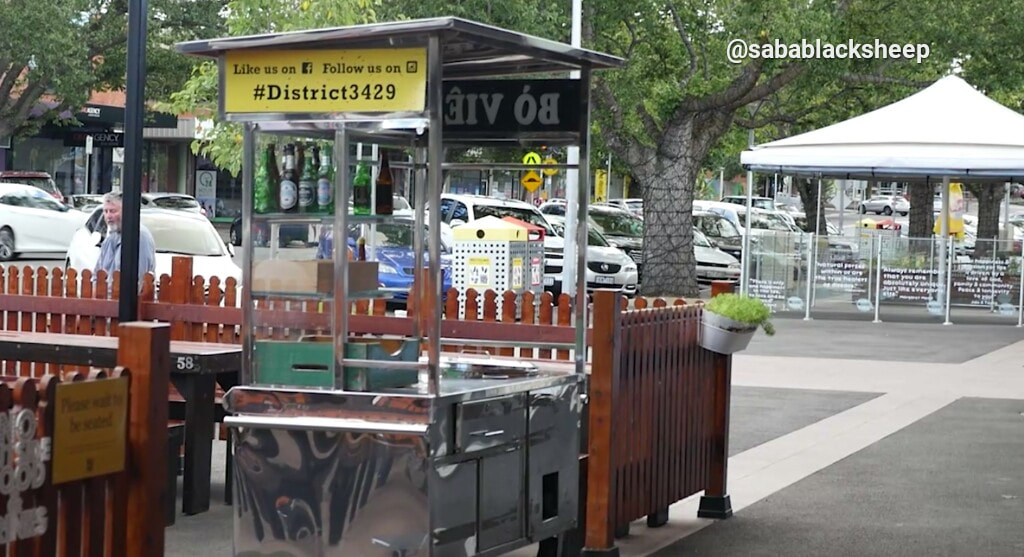 ​I arrived on a Sunday and assumed it would be very quiet however to my surprise it was buzzing with people and sounds. This is a very happening place, and you get the sense straight away that you're going to be in for a good time. And that's exactly what happened!
I was greeted upon entering by the lovely Ami Tran who is the brainchild behind the District Group and of course, District 3429.  Ami is a passionate chef, confident business woman and just one of the hardest working people I've ever met. I sat down with Ami for a chat and discovered, she is passionate about people, as an example of this is when she threw out a life line to some young unemployed workers with intellectual disabilities and mental health issues. She believes that these guys bring a positive vibe that the customers respond to well. She is also passionate about the produce too and started an initiative, "The Fat Monk" which is her vegan plant based menu. The menu seeks to use only the freshest, locally sourced produce to create modern clean Vietnamese inspired dishes.  Customer can indulge without feeling guilty or left out with this menu!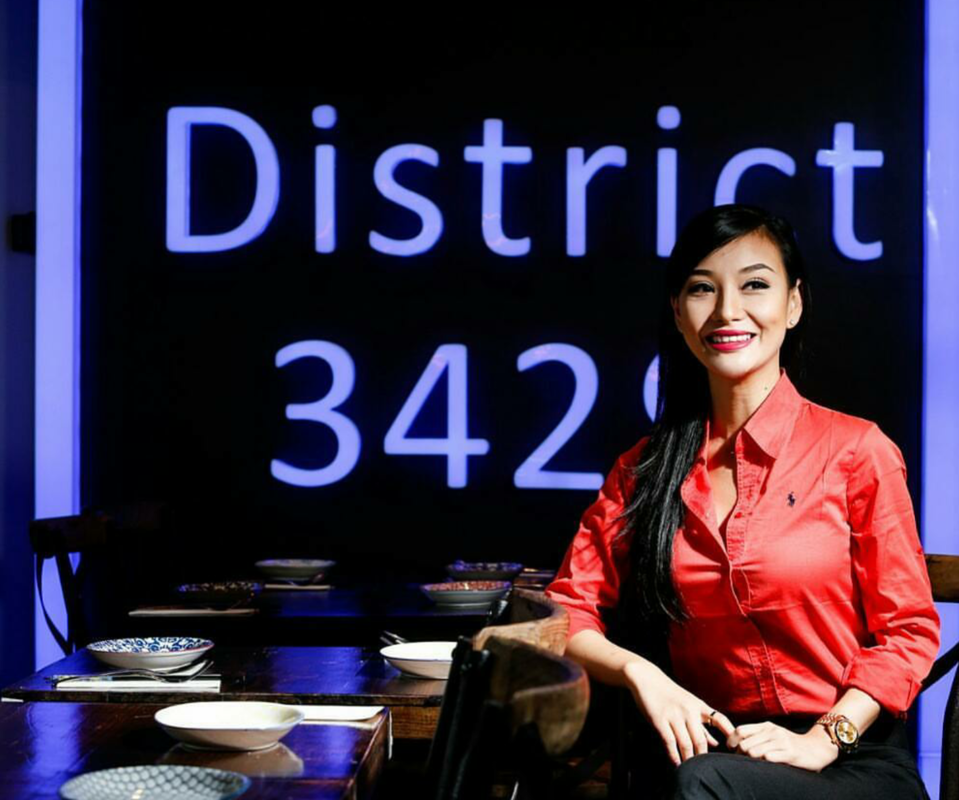 Chef/Owner Ami Tran
 All this passion reflects in the presentation of the restaurant where you can see no expense was left spared.
The decor is hip and funky, from the neon lights to the hard wood tables and Asian lanterns. It's a well thought out design with many nods to the Vietnamese heritage of the cuisine.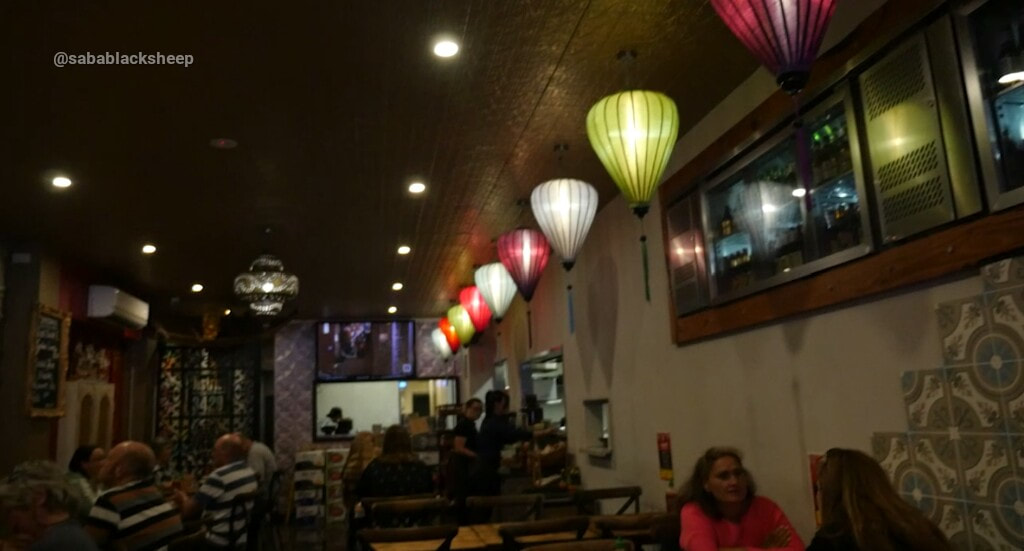 The kitchen area is very modern and well equipped. With a range hood that stretches almost the entire length of the kitchen and stainless steel from head to toe. Massive walk in fridge, but I loved the huge wok burners the most. There was even an area dedicated to making rice paper rolls. The purpose built steamer can fit more bamboo baskets than a panda could eat.  For a foodie like me it's like being in heaven!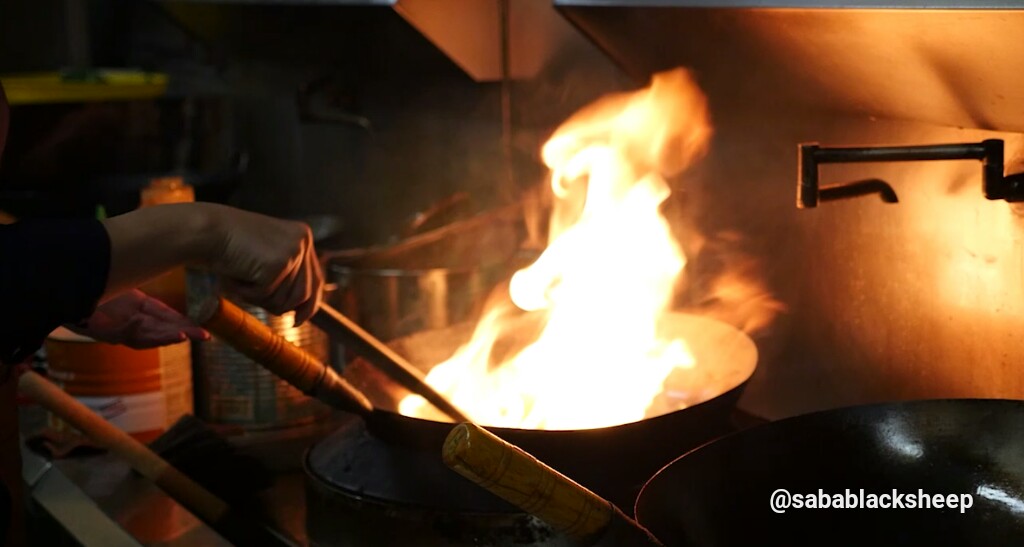 Now I love me a good beer, and the fridges at District 3429 have no shortage of choice, from your locals to my favourite Vietnamese beer 333.  For those of you who prefer a drop of the old Vino, they have a whole wall of the stuff, and I literally mean a wall.  I've dubbed it :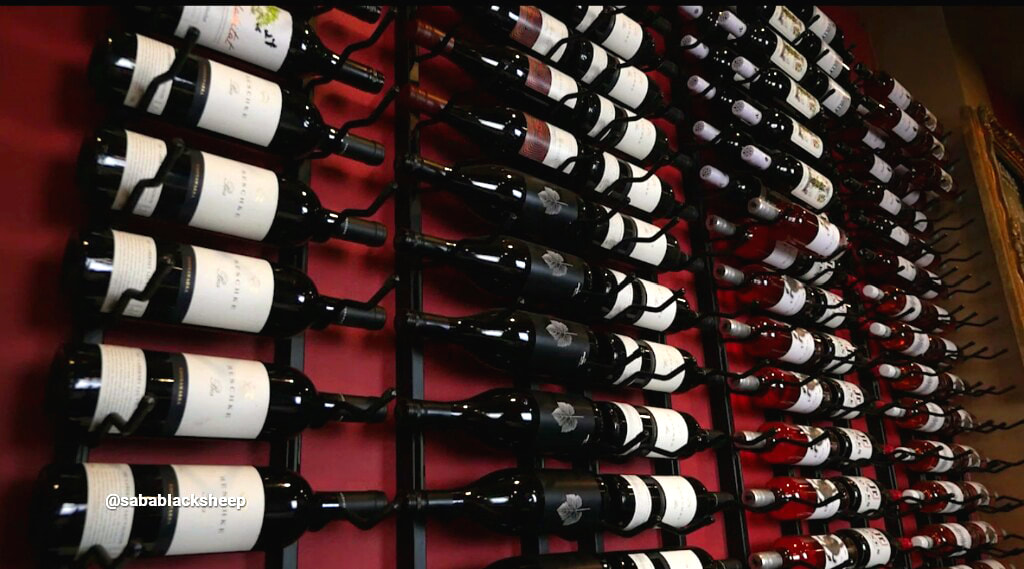 So anyway, enough of the small talk I'm sure you all want to get into the serious stuff.
Let's talk food, yes?  Let's!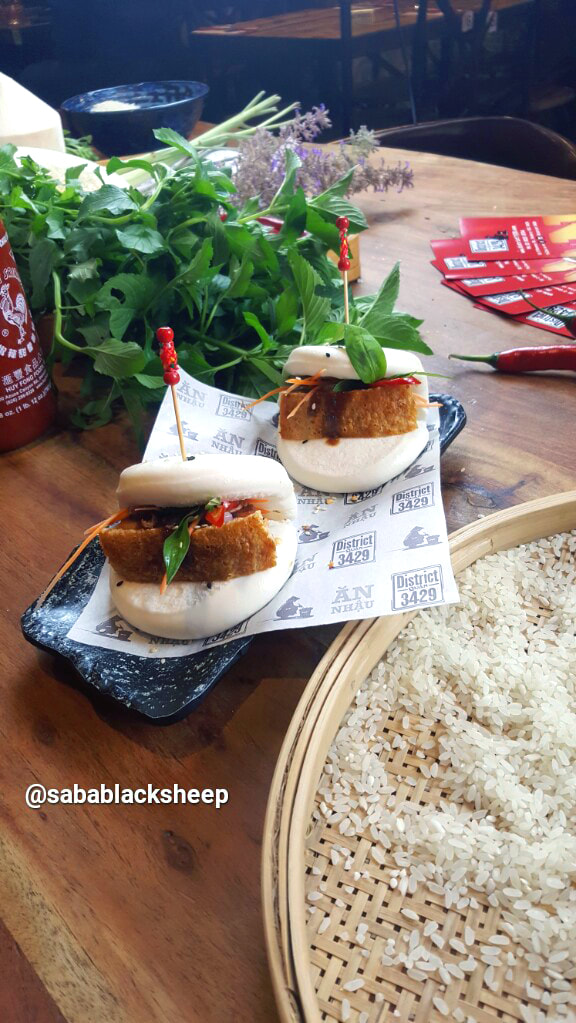 Crispy Pork Baos
So first thing I got to try were the Crispy Pork Bao's. The pork is slow roasted for 5 hours and the skin is super crispy. The buns are soft and fluffy and there are a few Vietnamese mint leaves in there too which I found to be a very nice addition to these bad boys.  They are a very generous size and they get the thumbs up from me.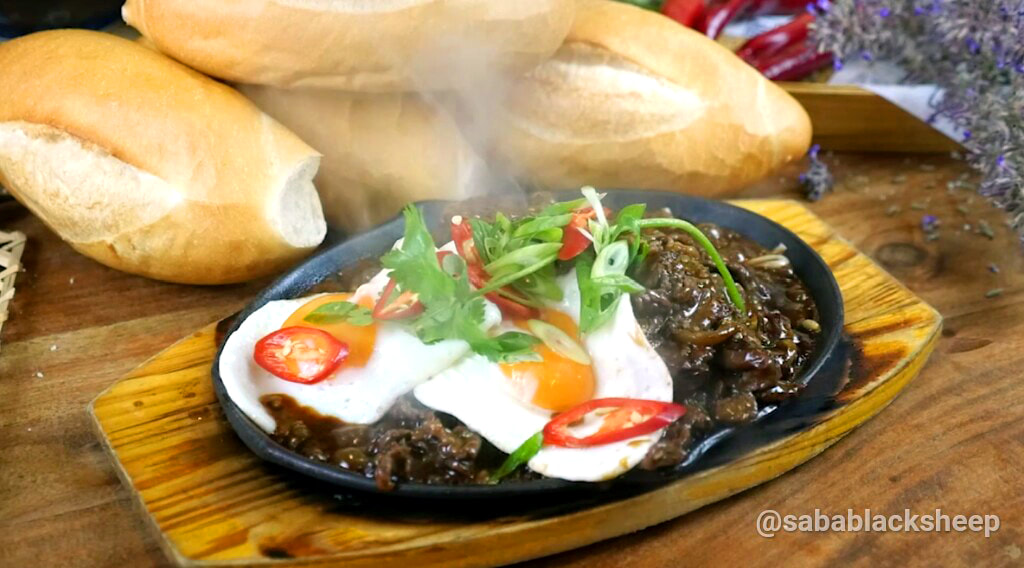 Sizzling Saigon Beef
​Next to the table was the Saigon Beef! This dish comes out super-hot on a sizzling plate, slices of tender scotch fillet and two fried eggs. Yummos!! This dish is perfect to eat with a Vietnamese Baguette which are crispy on the outside and airy in the middle. This is one of the most popular dishes.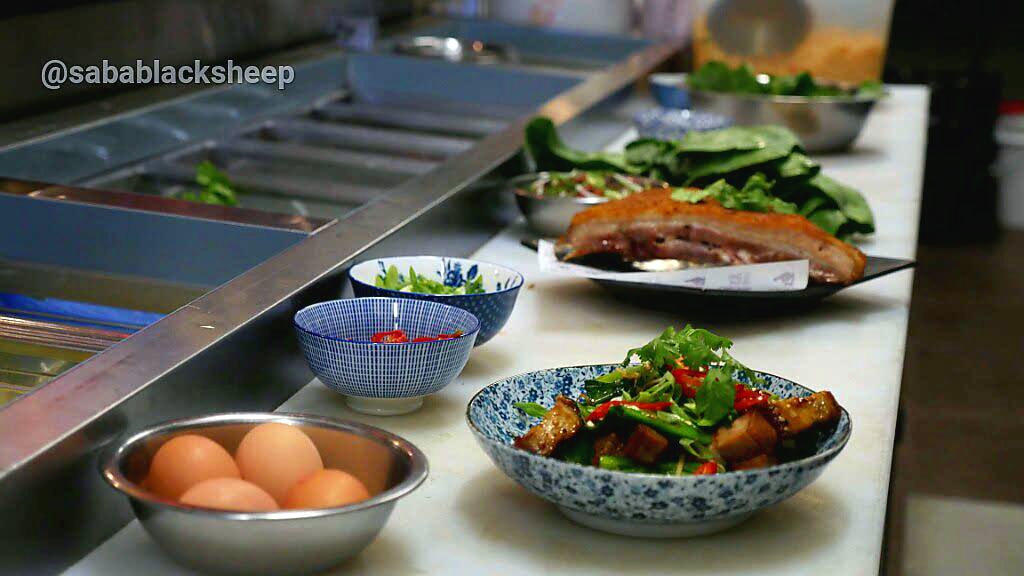 Crispy Pork Belly Stir-fried with Asian Kale and Ginger
​I was then invited into the kitchen to help prepare the next dish and watch Chef Ami in action!
The dish was Crispy Pork Belly Stir-fried with Asian Kale and Ginger. The texture of the crispy pork and the kale worked well together. I would have liked a bit more chilli in it but I guess that's my fault for not speaking up especially when I was helping to make the dish hahaha.  All jokes aside I really enjoyed this dish and highly recommend you try this one.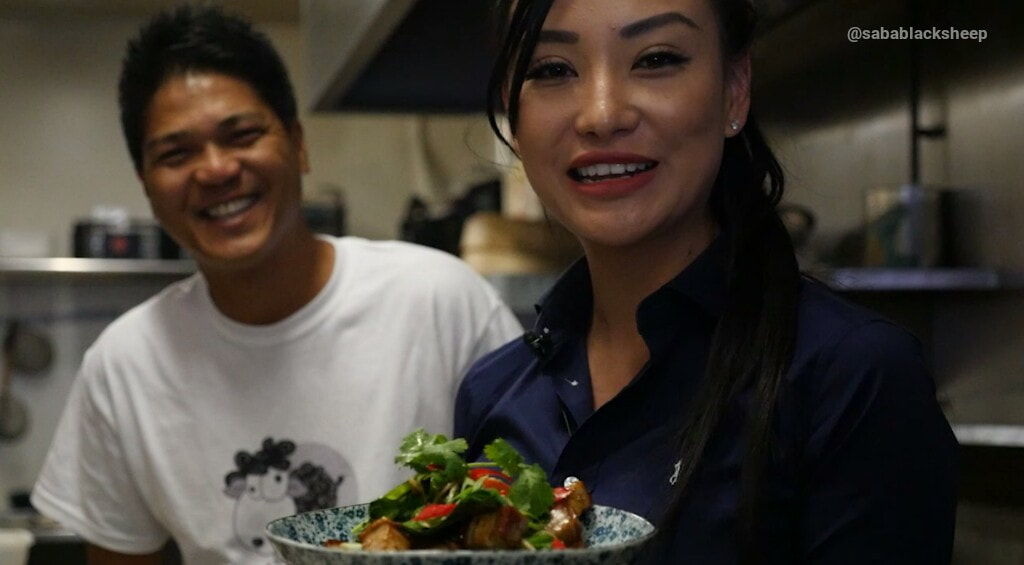 Next up was the vegan stuff. Now admittedly I'm a meat loving carnivore. But if there is flavour involved I'm all for it, and I'm up for giving any dish a crack! Now I'm not going to lie to you I had my reservations about the next few dishes, being vegan and all. But I wanted to put this Fat Monk to the test.
First up was Salt & Pepper Tofu. I know what your thinking tofu? Yep, tofu. I'm actually a big fan of tofu as I did grow up eating the stuff. So I sort of already knew I was going to like this one and I was right. I did like it. A lot!! The little bite sizes pieces of tofu were crispy and the satay sauce that came with them. OMG!!! No more to say on that one.  1 – O to the Fat Monk.
Second of the vegan dishes were the Hanoi Crispy Spring Rolls.  Wow I was very pleasantly surprised and as the name stated they were sure crispy. These little bad boys were filled with all sorts from mushrooms to carrots and even mung beans!   Ok 2 – 0 for the Monk.
Now I'm a huge curry fan, but I would be lying if I told you I had ever made one without meat or even fish sauce or shrimp paste for that matter. So I was confident I was going to get one up on the Monk here! But first and foremost I have to say this dish looked beautiful and the colours where amazing.  I took a spoonful of the curry and boom! Oh, I was not expecting that. Flavour bomb!!! This curry rocked and I have to admit I didn't miss the meat in there at all.   The Monk won me over on this day!!!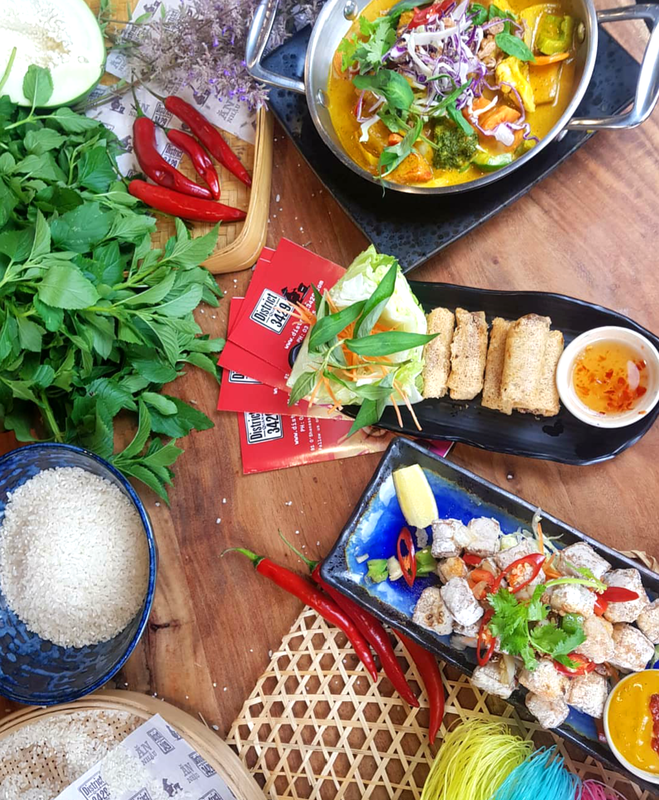 Vegan Menu "The Fat Monk"
They say we should leave the best for last! And that's an understatement here. The final dish of the day was none other than a bowl of the world famous noodle soup. Pho!!! But from the offset I could tell this was not going be no ordinary Pho.  With a big beef bone sticking out from the bowl I knew this was going to be tops! To my delight, upon inspection I found tender sliced beef and bone marrow. Turns out that bone sticking out of the bowl was an 8 hour slow cooked rib eye that was just fall off the bone delicious. Normally I would add bean shoots, basil leaves a squeeze of lemon, and of course some chilli and sauce. But I just couldn't wait. I just wanted to duck straight in there and try that beef. And oh my, was I a happy camper. Sorry Fat Monk, Sir Loin wins on this one.  hahahaha
I really only have one word to say about this dish.  Pho-licious !!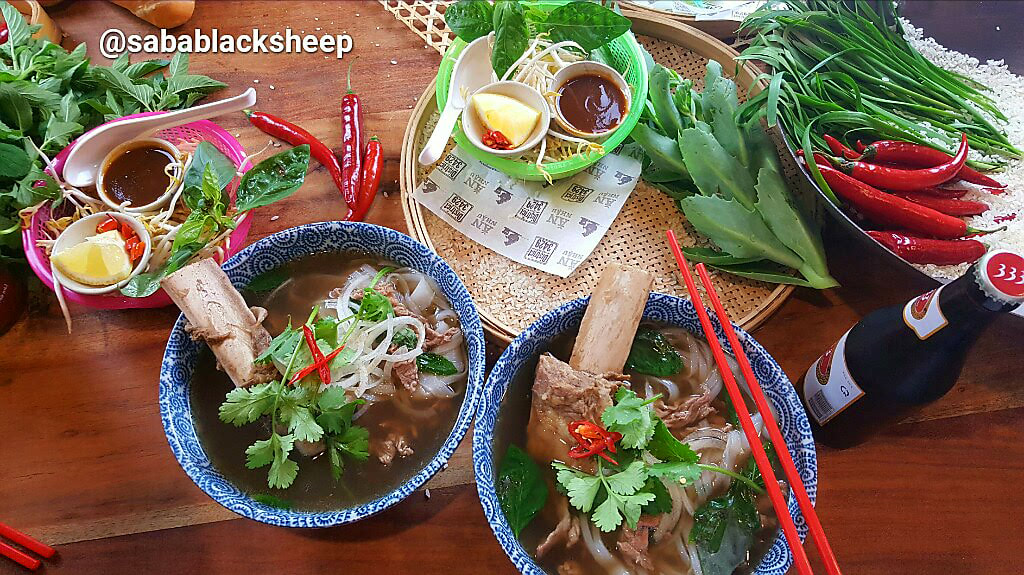 Pho-licious!!!