https://www.mahachaiicecream.com/
Coconut milk ice-cream is the most memorable dessert of my childhood. In Lopburi province, I used to chase the ice-cream man, wearing his business attire, whenever I heard his bell ringing from the ice-cream trolley that he pushed along the road. I remember everyone called his mobile shop an "ice-cream wearing suit", which became his signature. His ice-cream is like soft icy flakes with coconut milk flavouring, topped with corn kernels and Lod Chong. It was a light and refreshing dessert compared to western-style ice-cream that is thick and creamy. Coconut milk ice-cream (Thai: ไอศกรีมกะทิ) is a local dessert that's great for summer and it's an all-time favourite for all ages.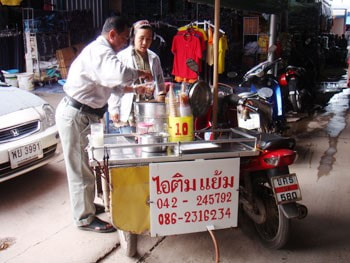 udclick.com
The coconut milk ice-cream originated in the reign of King Rama V after the first ice factory was founded by Nai Lert who is known as Thailand's first and foremost developer and investor in that era. The creation of ice could be a miracle for some. It took a while to prove that making a solid shape out of water is possible. The ice factory in Thailand changed the way Thais consume and preserve food and drink. It created many new product lines and one of them was ice-cream. At the beginning, ice-cream was expensive for people in general as Thailand still needed to import ingredients like cream and milk from oversea to make western ice-cream (The Standard Team, 2018).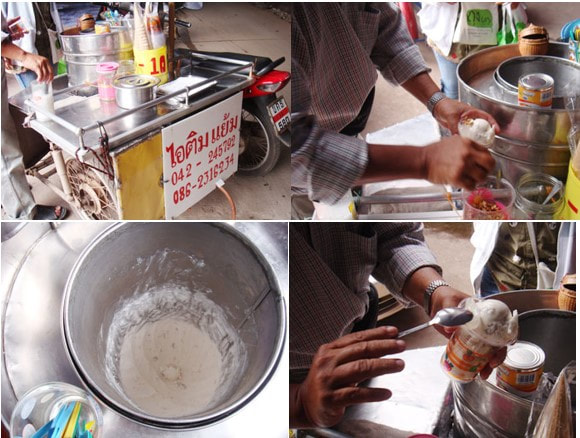 udclick.com
To make ice-cream affordable and to be enjoyed by the wider public, local ingredient like coconut milk was used to replace cream and milk. This wisdom brought out the style of Thai coconut milk ice cream that is a cross between western ice-cream and sorbet. This type of ice-cream has a refreshing tropical taste, health benefits from coconuts and is less complicated to process.
mahachaiicecream.com
The main ingredients used in coconut milk ice cream are full-fat coconut milk, white sugar, salt, water and coconut water, vanilla or coconut flavouring, coconut flakes, eggs and some recipe use corn starch. With all these simple ingredients sourced locally, coconut ice-cream has become one of Thailand's favourite dessert from street vendors through to five-star hotels. There are also a large variety of toppings including roasted peanuts, shredded coconut, red beans, pumpkin in syrup, herbal jelly, palm seeds (Attap) in syrup, Konjac jelly, corn, sweet sticky rice, stuffed water chestnut syrup (Thai: เม็ดทับทิมกรอบ), shredded jackfruit, the list goes on. All these toppings add flavour and texture as well as allowing each cream shop owner to use their creativity to make their ice cream individual. The strangest topping I have come across was salted eggs with pork floss, it was a fusion of sweet and savoury.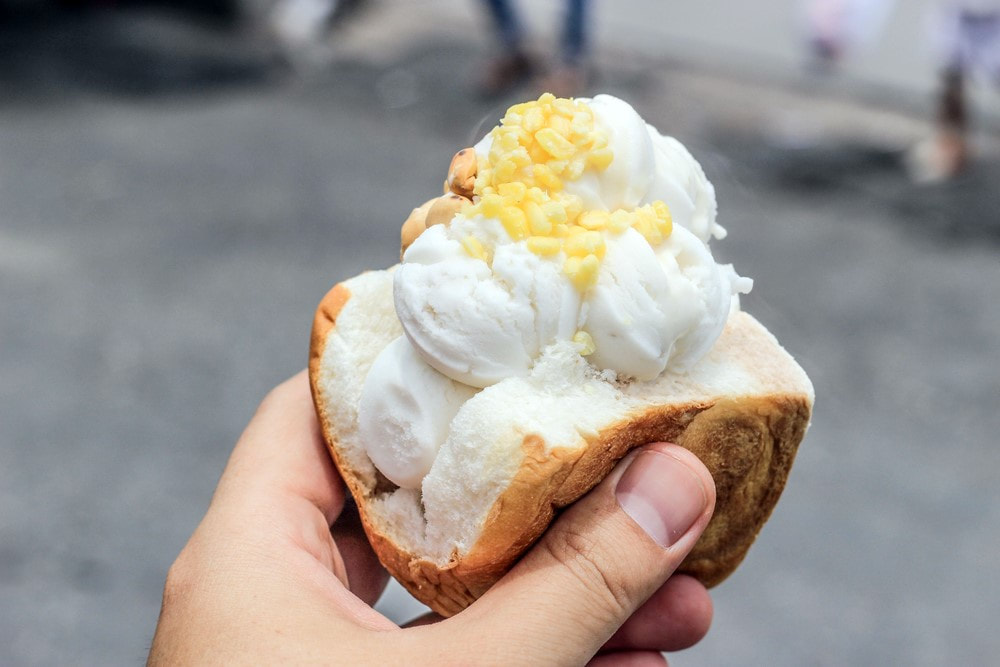 rakluke.com
If you get a chance to order coconut milk ice-cream from a street vendor in Thailand, it usually comes with three choices of containers: a cup, a cone or bread. An ice-cream sandwich is my preference as the soft and sweet bread goes really well with this type of ice cream. After you select two or three toppings, the seller will add two or three scoops of coconut milk ice-cream topped with roasted peanut and evaporated milk. Some shops use coconut shell instead of cups and add coconut flakes for extra crunch. You will never be disappointed with this delightful Thai dessert. It's not only packed with flavour, but also with the long history and wisdom of the Thais that created this version of ice cream.
Parita Nobthai runs The Craft Humpy
"a homely place where you can get beautiful handcrafted gifts directly from the maker"