Have you heard of 'Jay'? If you've been to Thailand you might have met 'Jay' in passing already. No, it's not a person (although it is also a common Thai nickname) but you may have seen little yellow flags and stickers with red writing on them – it says Jay!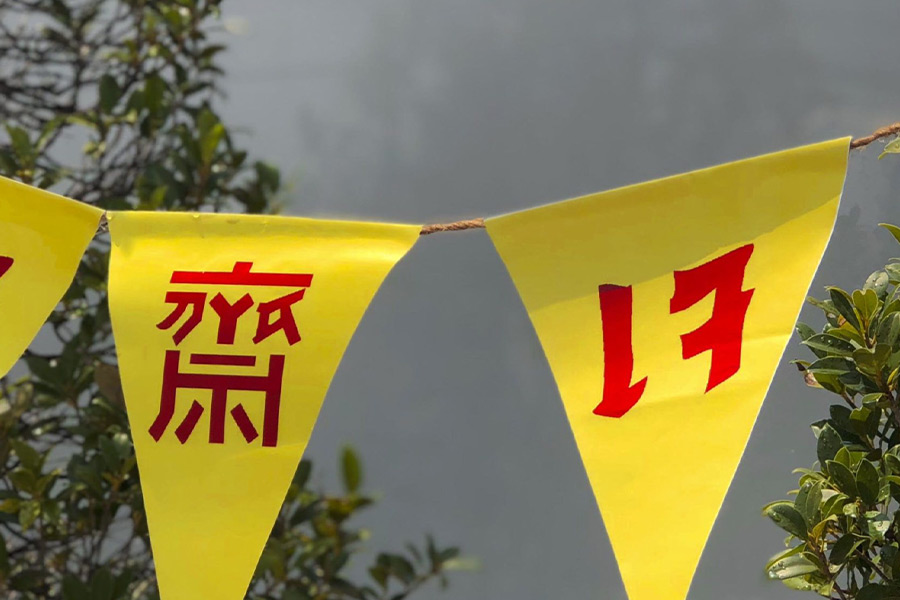 My partner thought it was 17 Baht but the flag actually reads 'Jay' (Image source | KRUA)
So what is it? 'Jay' (เจ) is a type of vegetarianism in Thailand, it's very similar to the vegan diet but comes with a few extra restrictions. You might be surprised to know it also excludes ingredients that seem essential in Thai cooking such as garlic and coriander.
Although Jay food has become common in Thailand, the word Jay actually comes from the Chinese word 'zhai' (齋). The tradition stems back to Taoist practices in China from thousands of years ago and has been brought to Thailand by Chinese immigrants. Today, the tradition lives on and is widely adopted in the Thai-Chinese population and Buddhists all around the country.
Every year there is also a Jay Festival in October that goes on for 9 days. Many streets are transformed into a Jay food heaven, lined with food vendors and these yellow flags. The option for Jay food becomes overwhelming in Bangkok's Chinatown during this event, however it is at Phuket where most of the festivities are held – you can read more about the Festival here!
Why are some veggies off the table?!
Apart from not using any animal products (meat, fat, dairy, eggs, etc) in Jay cooking, there are also certain vegetables that cannot be used. Traditionally it is believed that these groups of vegetables are too stimulating to the heart and mind, causing imbalances to one's emotions and the elements of the body.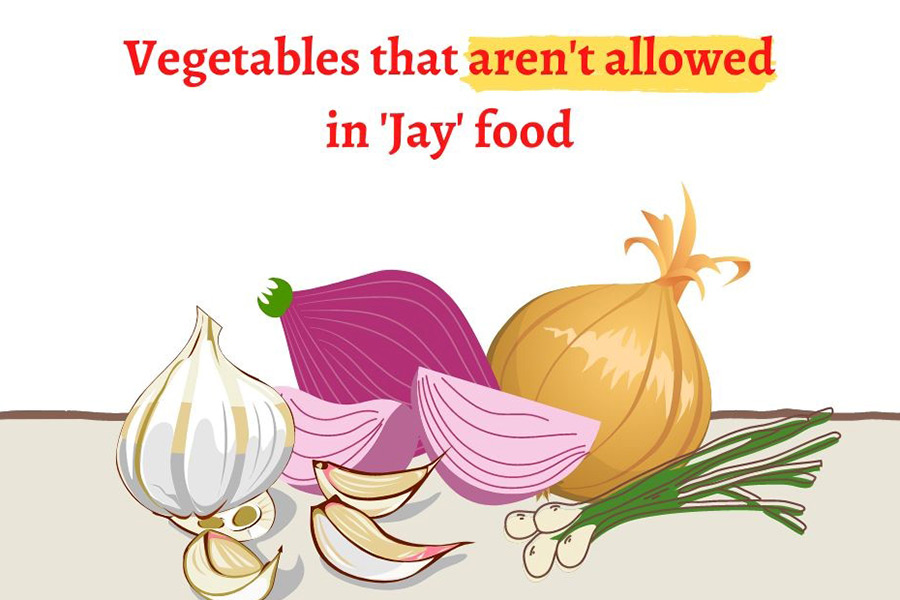 Vegetables that aren't allowed in Jay food :
All parts of the garlic, believed to disrupt the Fire element and affecting your heart
The onion family, destroys the Water element and affects your kidney
Rakkyo (Chinese onions), affecting the Earth element and spleen
Chives, disrupts the Wood element and affects your liver
Tobacco leaves, causing ill effects to the Metal element and your lungs
In Thailand it is also common for coriander to be included in this list!
So what can you eat?
You're probably wondering what Jay food looks and tastes like with all these restrictions. I can assure you there are still plenty of rice, noodles, soup and dessert dishes that will make you go 'aroi mak!' (very delicious!).
Nowadays many restaurants have found ways to adapt classic Thai dishes such as Pad Krapao, Laarb and even Khao Soi into Jay versions through the use of soy based products, seitan and mock meats. Although they might not taste exactly like the real thing, it definitely helps with not feeling like you've missed out on your childhood favourites.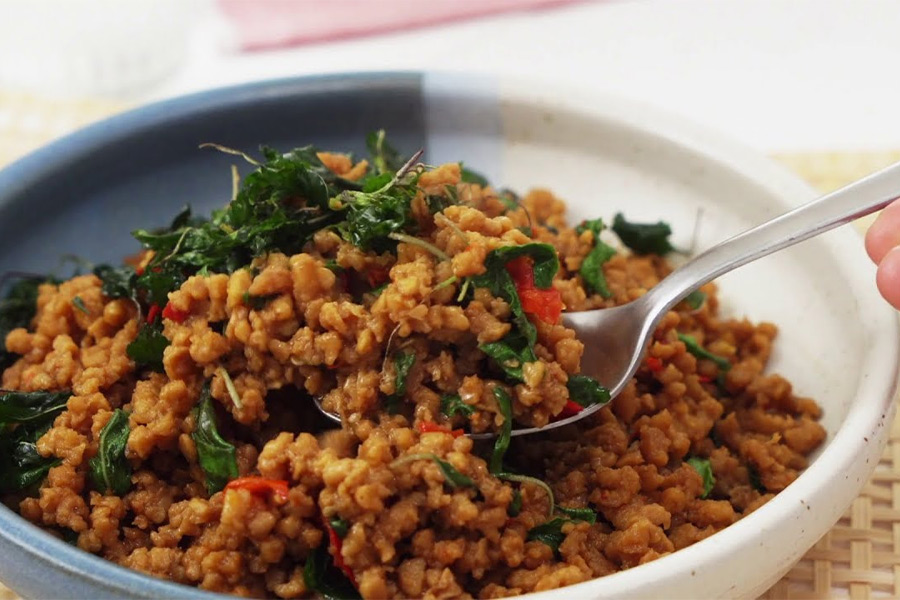 Pad Krapao Jay made with textured soy protein (Image source | Maggi Thailand)
One of my go to Jay food is called Pad Mee Sua – a stir fried noodle dish often made with slightly chewy eggless noodles, cabbages, carrots, mushrooms and tofu. Another of my favourites, one I always ask my family to cook is 'Palo Mee Kueng' (Chinese Five Spice Stew with Gluten Rolls). For me, 'Mee Kueng' is what keeps me coming back to this dish. The texture is slightly spongy and bouncy and it absorbs so much of the delicious soup flavour, perfect to eat with a warm bowl of rice!
Mee Kueng – a common Jay ingredient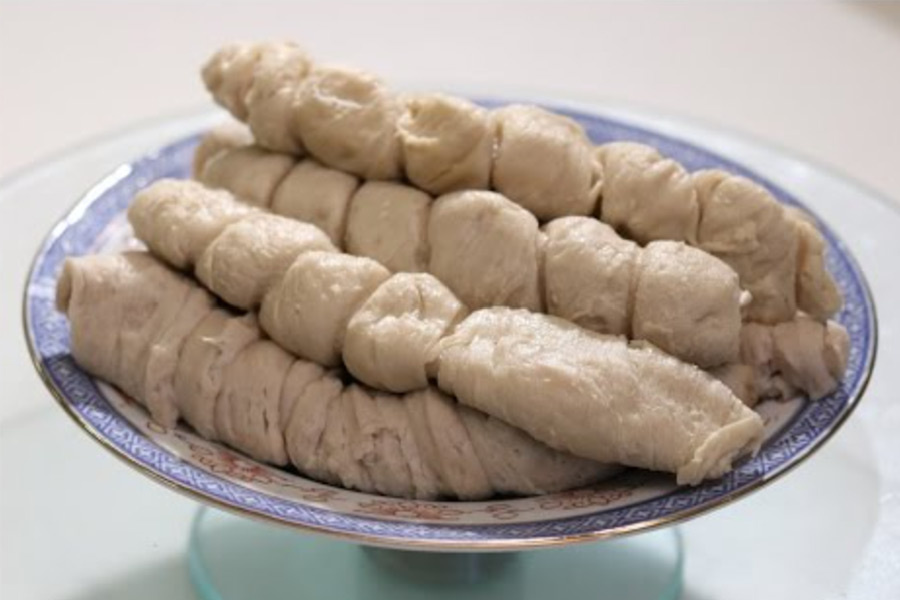 Mee Kueng (rolled gluten) in its raw form (Image source | Madame Tuang)
You're probably wondering what 'Mee Kueng' (หมี่กึง) is at this point. Mee Kueng is a common Jay ingredient used to add a more 'meaty' texture to a dish. It can be boiled, fried, steamed, shredded and marinated to take on any flavours. Although these gluten rolls can be bought frozen, it can also be easily made at home using a few ingredients. The process involves making a dough from high protein wheat flour and washing it with water to remove all the starch. The sausage-like shape is achieved by wrapping the leftover gluten ball around chopsticks and cooking it in boiling water. Although it may not look too appetising in its raw form, its versatility is why it's used in many Jay dishes.
Outside of the Jay Food Festival, Jay food isn't the easiest to find. However in Thailand, mall food courts usually have one vendor dedicated to Jay and vegetarian food. Your local 7-11 might also have a couple of Jay frozen ready meals and there are now quite a few options on food delivery apps. So what do you think? Will you be looking out for the little yellow and red sign and give Jay food a try?
Article by Oun V.
References