Masaman Curry with Chicken – มัสมั่นไก่, a renowned Thai delicacy, has not only secured its place as a staple in Thai restaurants but has also captured the hearts of diners both in and outside of Thailand. Setting itself apart from its spicier counterparts such as red or green curry, this traditional Thai delight carries the richness of Muslim heritage. Feel free to explore a brief history of this dish here. Highlighting well-balanced flavours, including herbs and spices, the tanginess from tamarind paste, the sweetness of onions and palm sugar, the saltiness from fish sauce, and the creaminess of coconut milk, Masaman Curry has truly earned its spot as an all-ages.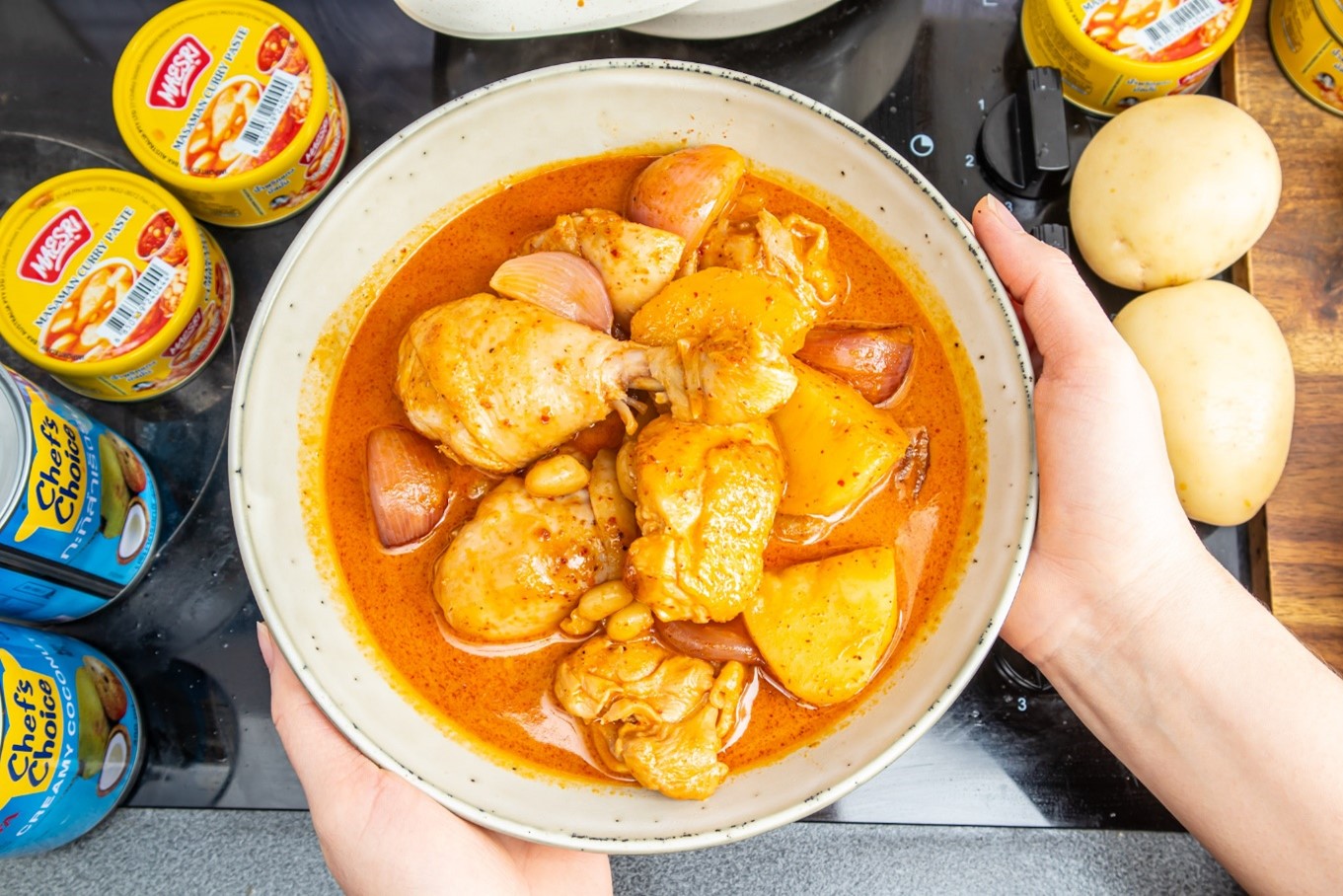 Revealing the Masaman Curry with Chicken:
While the beef and lamb versions have gained popularity in Australia, the chicken variation holds a special place in Thailand. More than just a crowd-pleaser, Masaman Curry with Chicken offers a simpler and more budget-friendly option for home cooks. The dish effortlessly combines the succulence of chicken thighs and drumsticks with the rich flavours of Masaman curry.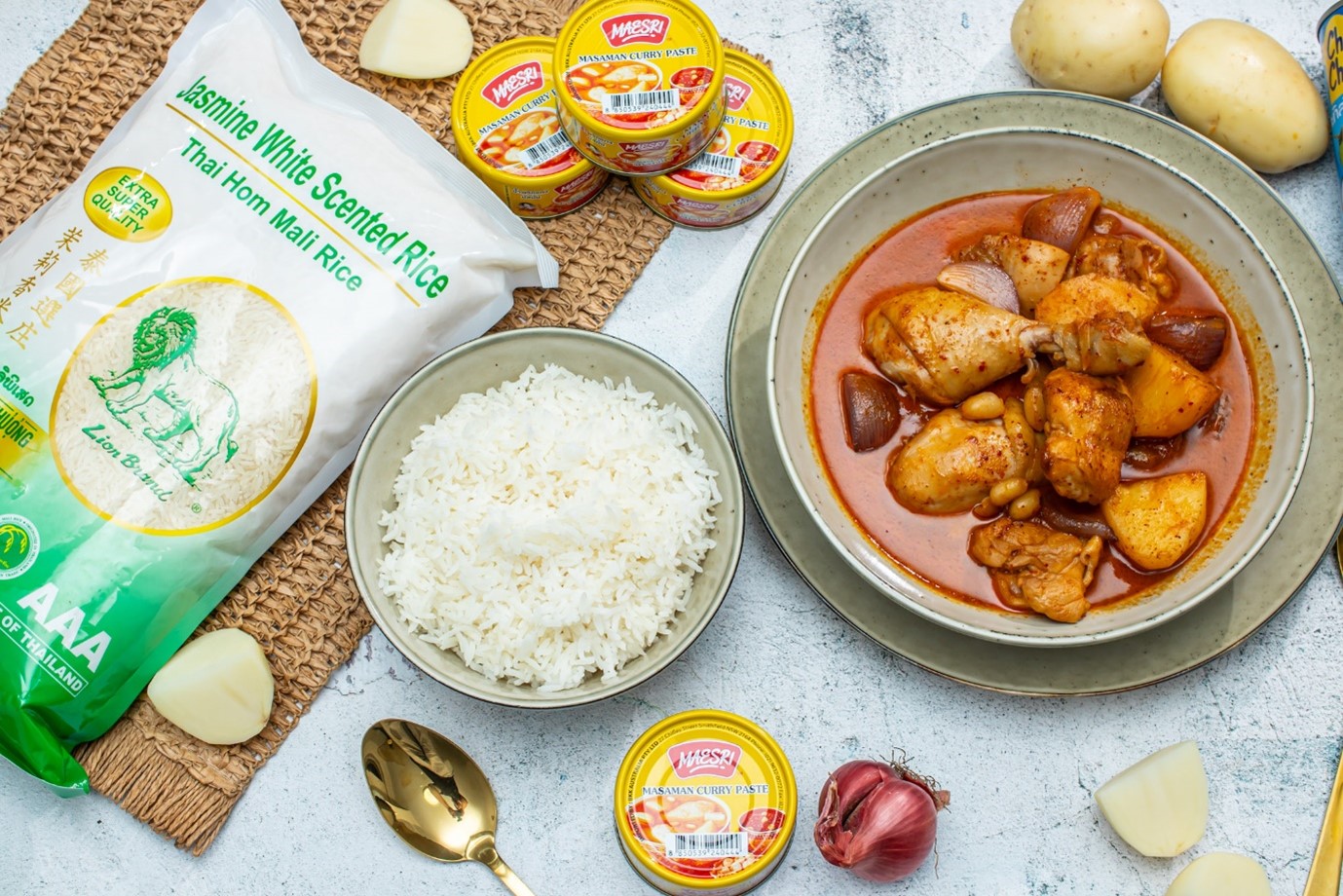 The Secret to Success: The Paste and Authenticity:
The heart of a delectable Masaman Curry lies in its paste, whether you're taking the time to create it yourself or opting for an authentic source. For those taking a shortcut, the key is to choose an authentic Masaman paste crafted in Thailand. A fantastic option is the Maesri Masaman Curry Paste, conveniently available in small cans.
Ingredients for 2 Servings:
1 tablespoon Ocha Tamarind Paste
1 tablespoon Ocha Palm Sugar
1 tablespoon Megachef Fish Sauce
4 potatoes
4 red onions or shallots
1 tablespoon Vegetable Oil
100g Chicken Thigh
2 Chicken Drumsticks
114g Maesri Masaman Curry Paste (1 small can)
1 can Chef's Choice Coconut Milk (400 ml)
30g Roasted Peanuts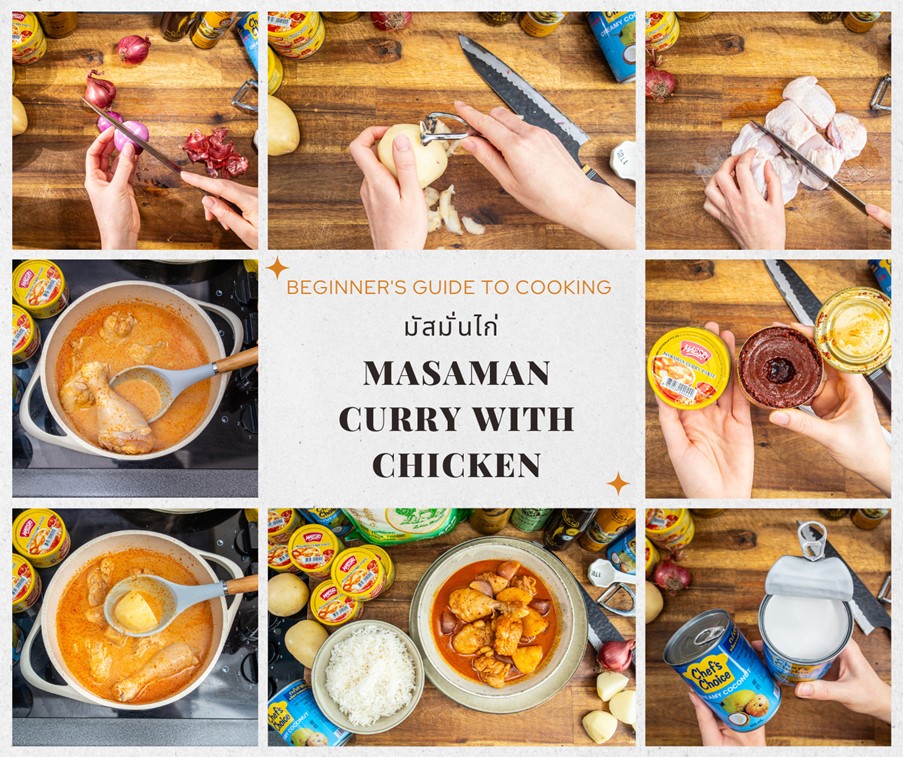 Cooking Instructions:
Start by preparing your ingredients: peel and finely chop the brown onions, peel and chop the potatoes, and cut the chicken thighs into bite-sized pieces.
Heat a small amount of oil in a pot over low heat. Gently fry the onions until they become fragrant. Set them aside.
In the same pot, add the Maesri Masaman Curry Paste and fry it until it becomes aromatic.
Pour in the Chef's Choice Coconut Milk and bring it to a gentle boil.
Add the chicken drumsticks and thighs, allowing them to cook until they're fully done.
Enhance the flavours by adding palm sugar and fish sauce.
Add the roasted peanuts to the mixture.
Toss in the chopped potatoes.
Return the fried onions to the pot, stir in the tamarind paste, and allow the sauce to simmer until it thickens.
Serve the curry hot alongside Lion Brand Steamed Jasmine Rice
Tip:
Boil the potatoes separately and add them last to maintain their texture.
For an aromatic touch, consider adding bay leaves and a cinnamon stick.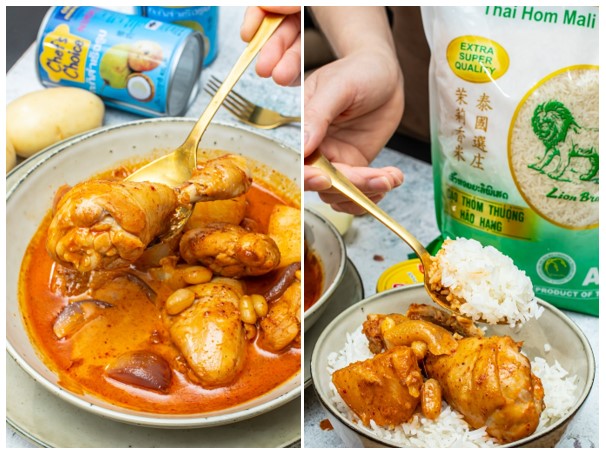 Give this recipe a try and dive into the robust flavours of the King of Curries, as named by CNN. You have the choice to savour it with a lighter, more liquid consistency and pair it with steamed Jasmine Rice. Alternatively, let it simmer a bit longer for a thicker, luscious paste that's perfect for dipping with roti. This dish has the potential to impress even those with Michelin tastes – you're in for a delightful experience that won't leave you disappointed.