Thai Condiments: 3 ways to enhance your dish – (Feat. Megachef Fish Sauce)
Condiments are added to dishes to enhance the flavor after cooking. They are sitting on the table, waiting for us to taste the food and add them as we like. When talking about condiments, ketchup is a common condiment in western cuisine. For Asian cuisine, soy sauce and sweet chili sauce seem to be the most well known for many people. My guess is most people learn about soy sauce through potsticker or gyoza, a widely known Asian appetiser. Sweet chili sauce, which is usually a dipping sauce for fried wontons or spring rolls, is also many people's favorite condiment for other dishes. Korean and Japanese dipping sauce is based on soy sauce. Southeast Asia cuisine uses a stronger flavor and smell like fish sauce. Not that we don't use soy sauce, but most of the dishes like stir fry also have oyster sauce and fish sauce.
If ketchup is a table condiment for the western, what is a table condiment for Thai? In this article, I will introduce you to the three common Thai dipping sauces we use as our condiments. They give more flavor and texture to the dish. Sometimes the flavor is perfect without adding anything, but it is even better and richer with the additional drop of sauce. All of the three are fish sauce based. No heat, no stove needed.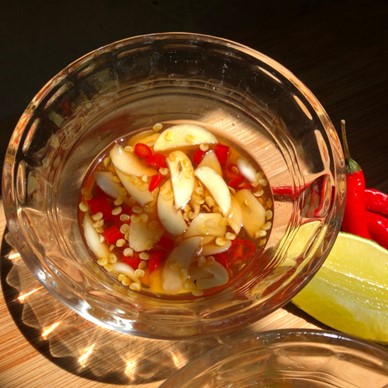 Prik Nam Pla – Fish Sauce with Thai Chili Peppers
The name is as simple as the recipe. Prik means chili pepper. Nam Pla means fish sauce. Together they are the condiment Thai people will look for the most! Prik Nam Pla is very common to find when you eat out, from street food vendors to luxurious restaurants. The salty and spicy flavors that it could add to every bite make Prik Nam Pla the must have on the table. Personally I like to add Prik Nam Pla on Pad Kra Pao, the ground meat stir fried with thai holy basil.  While simple in essence, there are levels of Prik Nam Pla from good to bad quality. The quality of Prik Nam Pla is subject to the quality of fish sauce. Freshly made Prik Nam Pla smells not too strong, and the color is light golden brown and clear. When it is old, there will be salt crystals sitting at the bottom. All the chili peppers will turn a darker color. Bad quality fish sauce color is dark. You can't really see the bottom of the bowl when you pour some of it.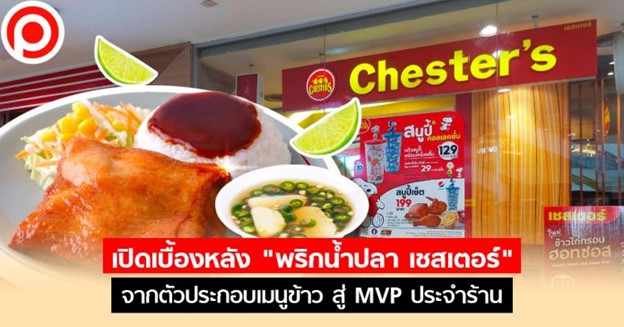 Chester's, a Thai fast food franchise restaurant, called their Prik Nam Pla as their MVP.
Photo credit: POSITIONING
In Prik Nam Pla, the basic version is fish sauce and chili pepper. That would be it! If you want "a higher level of Prik Nam Pla", which is my favorite way to make it, you can add thin garlic slices and lime juice. How to make it is simply mixing all ingredients together in a small sauce cup. Prik Nam Pla is good to add on fried rice, any holy basil stir fry, curry and rice, thai style omelet, thai style fried egg, and most of the rice dishes.
Ingredients:
2 Thai red or green chili peppers
2 tbsp fish sauce
2 very thinly sliced garlic clove
2 tsp lime juice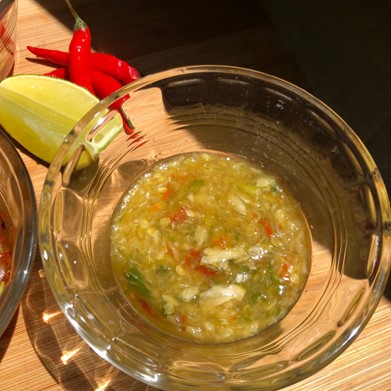 Nam Jim Seafood – Seafood Dipping Sauce
The seafood dipping sauce is not quite a regular table condiment. It is usually made fresh (or daily at the restaurant) and served with a specific dish such as grilled seafood in order to add taste. You can have fresh grilled seafood in Thailand just by itself. The freshness is so sweet and pure you may not need anything else. However, Thai people like to eat spicy and flavorful food. Seafood sauce adds citrusy and fresh flavor effects to the purity. The crushed garlic in the sauce also helps with covering up the fishy seafood smell. Besides dipping with seafood, such as squid, shrimp, fish, and shellfish, seafood sauce is also good with fried rice! This is my favorite way to eat fried rice. Adding a bit of seafood sauce to my fried rice when I eat makes it a heavenly refreshing bite. You may also know crispy pork belly. It has been a popular dish in Thailand. Since the pork belly is fatty, this sauce is perfect to pair with it. I also like to spice up my steamed shrimp with vermicelli with the seafood dipping sauce.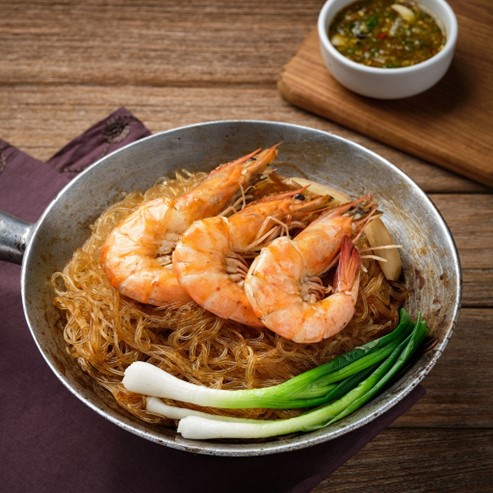 Steamed shrimp with vermicelli with the seafood dipping sauce.
Photo credit: MIV SERVICES
To make the sauce, I use mortar and pestle to grind garlic and chili peppers first. Once they are partly ground (small bits are perfectly fine) I add palm sugar and use the pestle to mix. Then add the liquid ingredients.
 Ingredients:
 3 Thai red or green chili peppers (use less chili for less spicy)
3 garlic cloves
1 tsp palm sugar
2 tbsp fish sauce
2 tbsp lime juice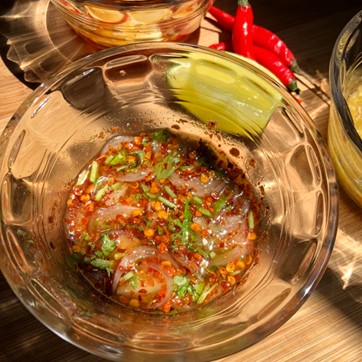 Nam Jim Jaew – Thai Chili Dipping Sauce
This is the most aromatic sauce among these three dipping sauces. The herbs in this sauce create a pleasant taste contrast to a meat dish. There are cilantro, shallot, dried chili flakes, and crispy rice powder that create the crunchy texture and freshness every time you eat. Nam Jim Jaew is normally served with E-Sarn food (Northeastern-Thai dishes) where sticky rice is the style of rice, instead of white rice. If you have had Larb and Nam Tok (Spicy ground or grilled meat salad) before, you probably could imagine how this sauce tastes like since it is the base for those dishes.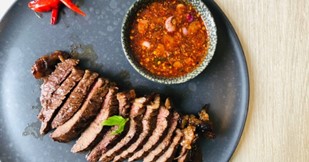 Steak with Nam Jim Jaew
Photo credit: Cookpad
We usually dip grilled beef or grilled pork neck with Nam Jim Jaew. It is also good with grilled catfish and deep fried chicken wings. I would recommend Nam Jim Jaew with steak when you want to try something new rather than gravy. It will go well with the meat and fresh green salad on the side! It is tangy, spicy (you can adjust the level), herbal, and refreshing. The key to this dipping sauce is you need fresh ingredients, especially fresh rice powder will add a light toasty smell. To make this dipping sauce, I dissolve palm sugar with fish sauce and lime juice in a bowl by using a spoon. Then I add dried ingredients and finish with herbs on the top.
Ingredients:
2 tbsp fish sauce
2 tbsp lime juice
1 tsp palm sugar
1 tsp chopped cilantro
1 tbsp thin sliced shallot
1 tsp crispy rice powder
1 tsp dried chili powder (adjust the spicy level as you like)
Article and cooking VDO by
All photos Copyright 2023 Premmarin Milindasuta All Rights Reserved