Winter Comfort: Red Curry with Roast Duck and Steamed Jasmine Rice
Introduction:
Red Curry with Roast Duck, known as "แกงเผ็ดเป็ดย่าง" in Thai, is a popular and intense dish from the central part of Thailand. What sets it apart is the use of roast duck as the main protein, giving this curry a unique twist compared to other types of curry. With a delightful combination of fruits and vegetables such as pineapple, lychee, tomatoes, pumpkin, Thai eggplants, chili, and sweet basil, this curry is an explosion of flavours that will captivate diverse palates.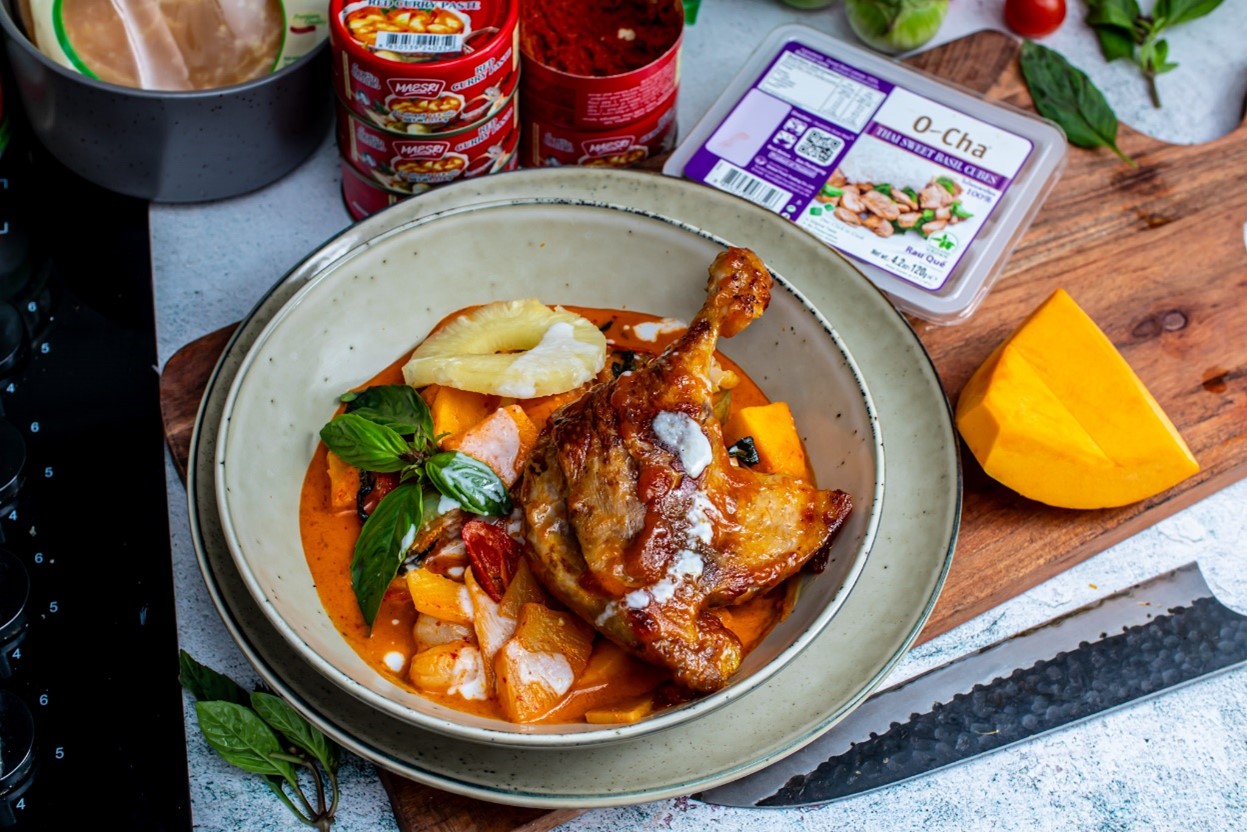 Recipe:
(Serve for 2 people)
Ingredients:
100g red curry paste
¼ Kent Pumpkin, chopped
6 Cherry tomatoes, sliced
4 Lychee
3 Thai Eggplants, chopped
2 long chilies, sliced
200ml coconut cream
100g bamboo shoot slices
1 slice of pineapple
1 roast duck leg
1 tablespoon palm sugar
1 tablespoon fish sauce
2 cubes of frozen sweet basil leaves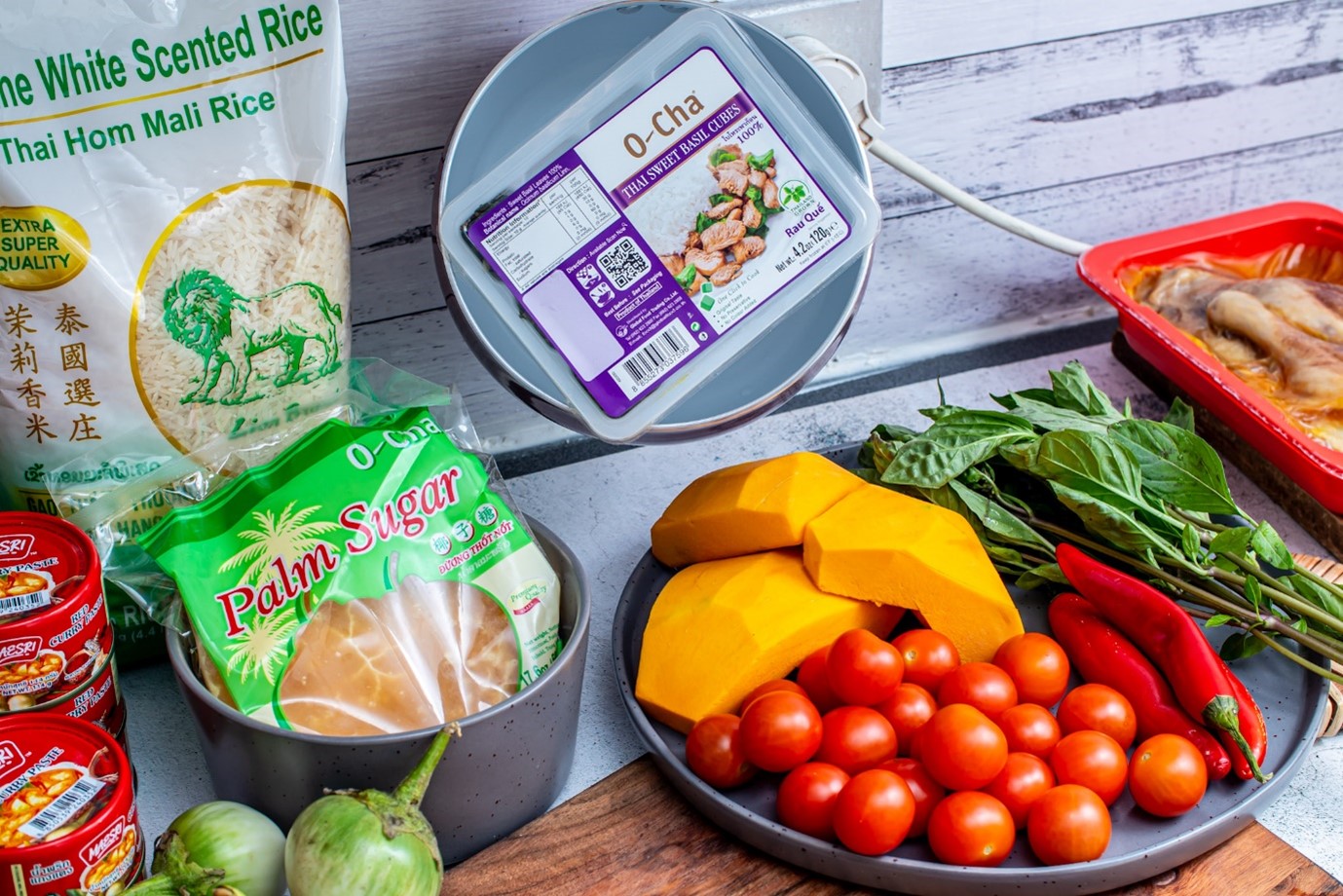 Instructions:
Prepare the Ingredients:
Chop Kent Pumpkin, Cherry tomatoes, Thai Eggplants, and slice long chili.
Boil the pumpkin until tender.
Create the Base:
In a pan, add coconut cream.
Stir in 2 tbsp of Maesri Red Curry Paste.
Add more coconut cream.
Add chopped Thai eggplants.
Add a few pieces of O-Cha Lychee.
Add pineapple pieces.
Toss in sliced cherry tomatoes.
Stir well until the ingredients are mixed.
Add Flavor:
Add 1 tbsp of O-Cha palm sugar and Megachef Fish Sauce.
Add Orchid Bamboo Slices and sliced long chilies.
Add boiled chopped pumpkin.
Add O-Cha Frozen Sweet Basils to the serving bowl.
Prepare the Roast Duck:
Grill a pineapple slice in a pan.
Grill the roast duck in the pan.
Coat the duck with a sweet orange sauce.
Place the crispy-skin roast duck leg on top.
Serving:
Enjoy the Red Curry with Roast Duck alongside steamed Lion Jasmine Rice.
Tips:
You can find frozen roast duck at Asian Supermarkets, such as CP roast duck from Thailand. Simply defrost and grill it on the pan or use an air-fryer for crispy skin.
During winter, it may be challenging to find fresh sweet basil. Stock up on O-Cha Frozen Basil Cubes to have sweet basil available for your curry dishes year-round.
The orange sauce comes in the duck packet used as extra seasoning but you can use any roast duck from the shop or without the sauce
Red Curry with Roast Duck offers a delightful combination of textures, flavours, and the freshness of fruits and vegetables. This vibrant curry dish pairs exceptionally well with Lion Steamed Jasmine Rice, a premium-grade rice from Thailand known for its authentic aroma. Prepare this remarkable dish and indulge in its wonderful flavours.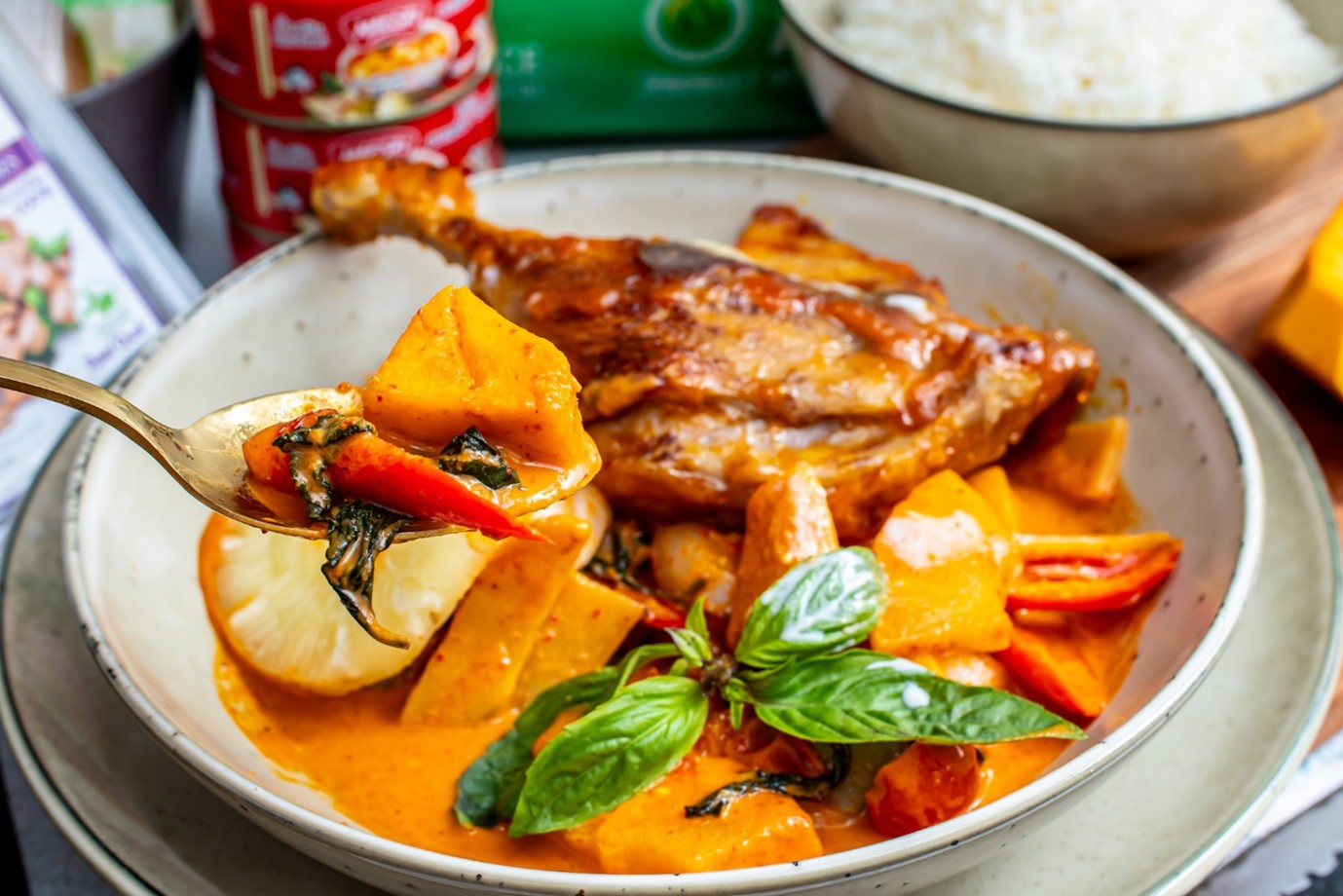 ***The orange sauce in this recipe is included in the roast duck packet. You can use any type of roast duck for this dish.