Today, we will look into four of the most popular Thai noodle dishes. Each of them has its own character with distinctive flavour and special ingredients that will have you craving for more.
Let's start with the first noodle off the list; Thai Boat noodles.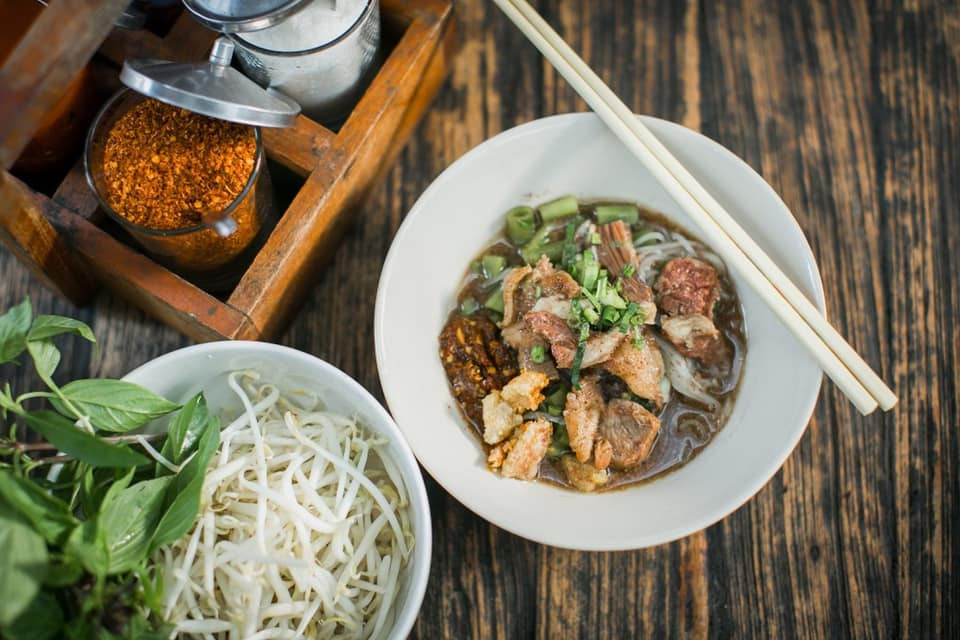 www.ryoiireview.com/article/food-noodle-ayutthaya
Boat Noodles (Thai: ก๋วยเตี๋ยวเรือ) are known for its intensity of flavour and the distinctive tiny servicing size. Boat Noodles are usually served in ceramic bowl embellished with painted Roosters (ชามตราไก่) and have less soup compared to other noodle dishes. The original boat noodle was sold in a small boat by a merchant who handled various processes from making noodles, collecting money, paddling and washing dishes. Therefore, the small serving bowl contains less hot soup as it is easier and safer for the merchant. Boat Noodle Soup includes ingredients like dark soy sauce, pickled bean curd, herbs; anise, coriander seeds, cinnamon and caraway. Another unique ingredient of Boat Noodle soup is the pork or beef blood mixed with salt which makes the soup darker and adds texture. As the size per bowl is so small, customers usually order a couple at a time or some even challenge friends and family with who can eat more than others. Traditionally, it's great to pair boat noodle with crispy pork belly, fresh bean sprouts and sweet basil.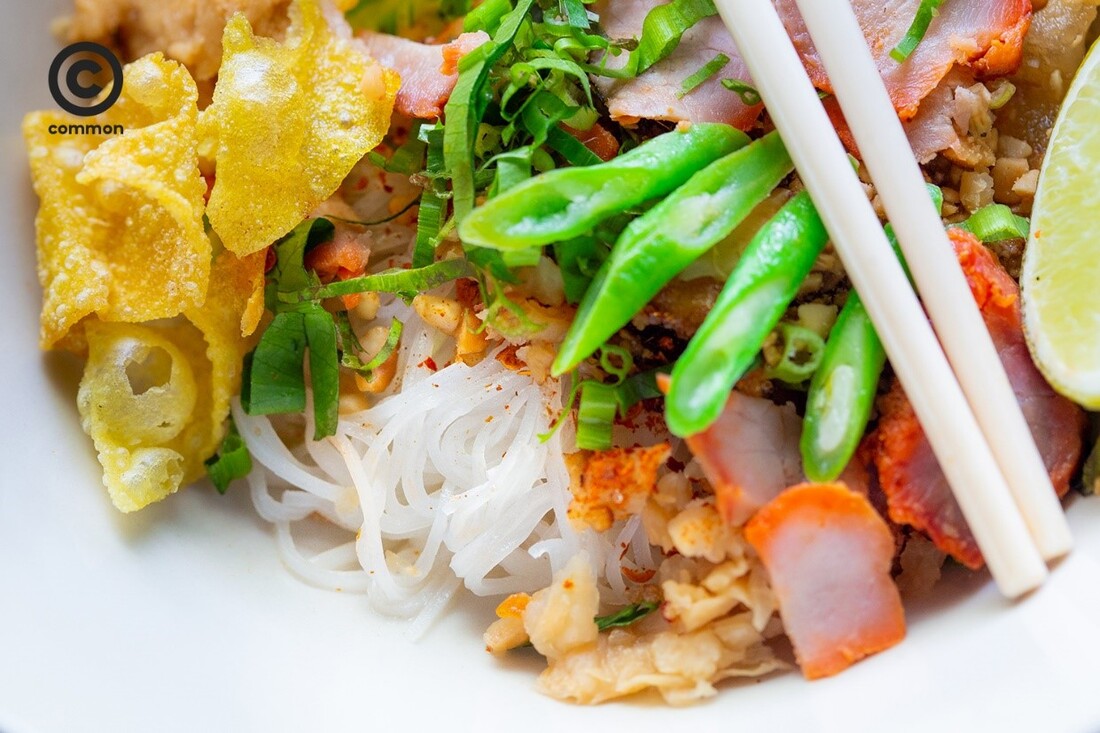 becommon.co/culture/nes-2oodl
Sukhothai noodle (Thai:ก๋วยเตี๋ยวสุโขทัย) or Tom Yum Sukhothai noodle is one of the most popular noodle dish in Thailand. It is not many noodle dish that I could remember have the name of province as part of its name, the noodle is originated in Sukhothai province located in Lower-Northern part of Thailand. What makes Sukhothai noodles different from a normal tom yum noodle is the use of snake beans, preserved radish for saltiness and palm sugar instead of white sugar for the sweetness. The snake beans is the only vegetable commonly added to this dish as it won't change the flavour of the soup. To add to the deliciousness of Sukhothai Noodle, it is great to have with crispy egg pastry or pork crackers. This noodle dish is well balance in flavours and goes well with roast pork or pork mince.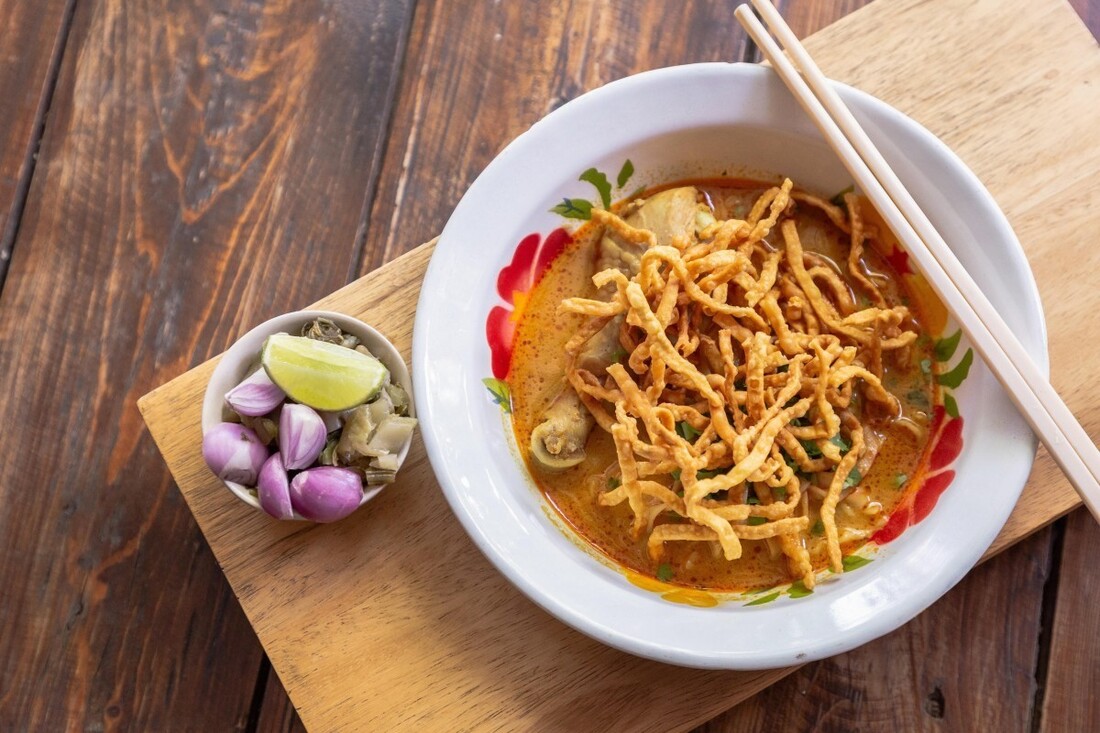 www.catdumb.com/khaosoi-history-996
Koa Soi (Thai:ข้าวซอย) is a local noodle dish which comes with a thin curry-base soup from the northern part of Thailand. It's believed that this dish is influenced by the Muslim Chinese community who migrated from the Southern part of China, some also said that it could be influenced by a Burmese dish called "Khao Swè" which look similar but contain a lot less herbs compared to Kao Soi. The word "Koa Soi" implies the process of making noodles. The original Koa Soi didn't have coconut cream as an ingredient however it has been adjusted to suit Thai's taste. This type of noodle dish is popular with chicken and beef and is great to pair with pickled mustard green, chopped red onion, fried dried chilli oil with a squeeze of lime to cut through the oiliness.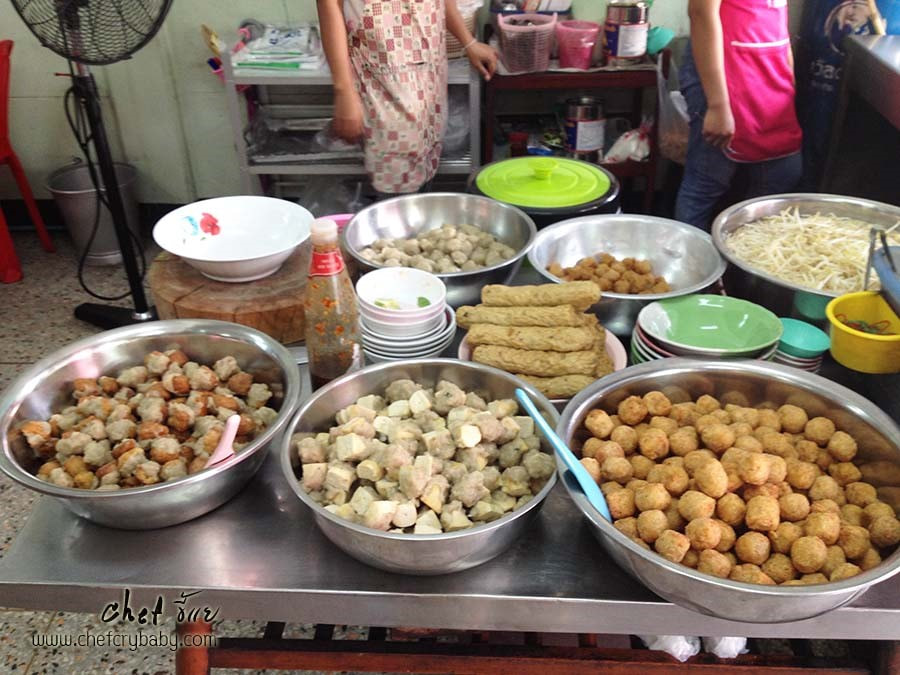 www.chefcrybaby.com
If you are a big fan of meat balls, this noodle dish is definitely recommended. Kae noodle (Thai: ก๋วยเตี๋ยวแคะ) is a noodle dish with clear soup, thin rice or egg noodle, bean sprouts and various styles of meat balls. Kae noodle cuisine has an influence from Hakka people that migrated to Thailand. The unique character of this noodle is the Kae meat balls which typically made from pork mince mixed with any variety of fish, prawn, dried squid, taro, white radish and tapioca starch. There are also assorted tofu which are made from the same combination for Kae meat balls which are stuffed inside of the tofu. Some noodle shop might add fish balls or fish rolls, however they need to have Kae meat balls and stuffed tofu to be called "Kaew Teiw Kae".
Hope you have a clearer idea of how the different styles of Thai noodle dishes originated and you are inspired. Next time, we will make an easy but delicious noodle soup at home, get yourself ready to cook! See you next time!
Parita Nobthai runs The Craft Humpy
"a homely place where you can get beautiful handcrafted gifts directly from the maker"