When I think about Pork Crackers, it never fails to make mouth water and it is a must buy whenever I visit the northern part of Thailand, especially to Chiang Mai province. Travelling between Bangkok and Chiang Mai by overnight train takes around 11-14 hours and the best snack to have on the way back is a massive bag of pork crackers with your favourite dipping sauce such as Nam Phrik Num or Nam Phrik Pao.
​
Kab (Thai:แคบ) is animal fat that has been rendered  by frying until it's crispy and crunchy. It is one of traditional way to preserve meat and add value to animal skins; cow, buffalo or pig. Pork skin is considered as a popular option to make Kab as it's cheaper than others.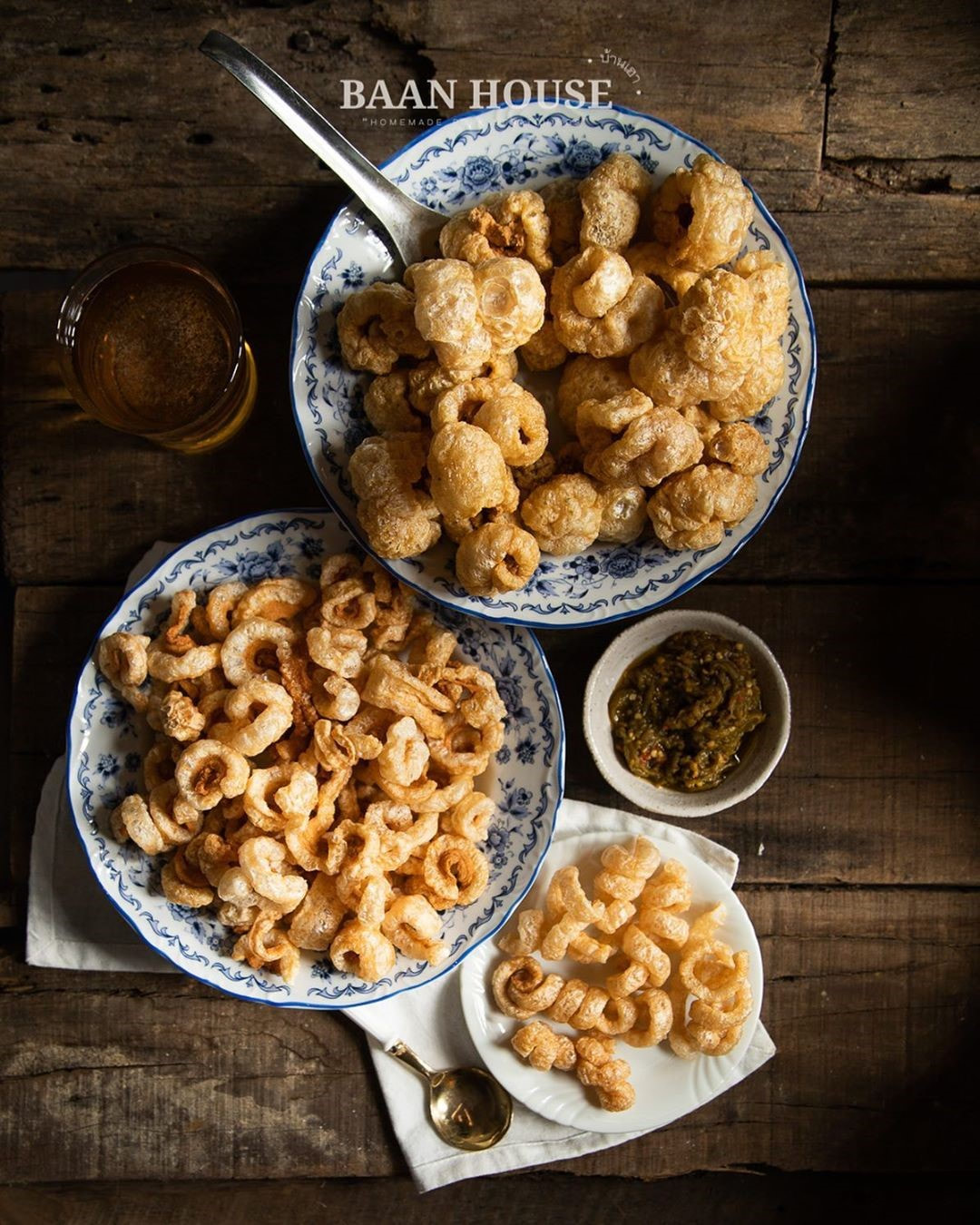 www.facebook.com/Baan-House
​Pork Cracklers is known in others countries with different names such as 
Scrunchions
 in Canada, 
chicharrones
 in Mexico, Pork scratchings in United Kingdom, pork rinds or cracklings in the United States and Kab Moo (Thai:แคบหมู) in Thailand. This type of snack is made by rendering, roasting or frying the fat to make the pork skin crunchy and crispy. Each country has different styles and techniques on how to process the pork fat.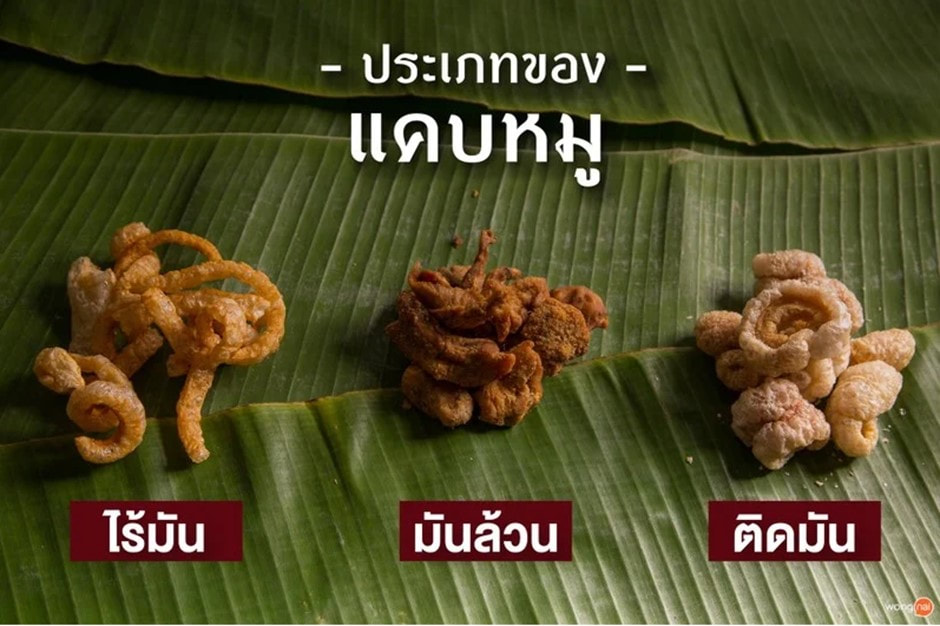 wongnai.com
In Thailand, you will probably find at least 3 different types of Kab Moo, skin only, fat only and a mix of skin & fat. Each variety pairs well with different dishes.
Skin only Kab Moo (Thai: แคบหมูไร้มัน) is great to have with  Nam ngiao (Northern style spicy noodle soup, diced pork blood, tomatoes, fried garlic, dried chili, fermented soya bean and bombax ceiba and served with kanom jeen (Fine Vermicelli), nam phrik num (made with grilled green chili peppers), nam phrik ong (made with dried chili peppers, tomato, palm sugar and minced pork)
Fat only Kab Moo (Thai:แคบหมูมันล้วน) is nice to pair with northern sausage (aka Sai Oua) or as ingredient for making Nam phrik
Fat with skin Kab Moo (Thai:แคบหมูติดมัน) pairs similarily to Fat only Kab Moo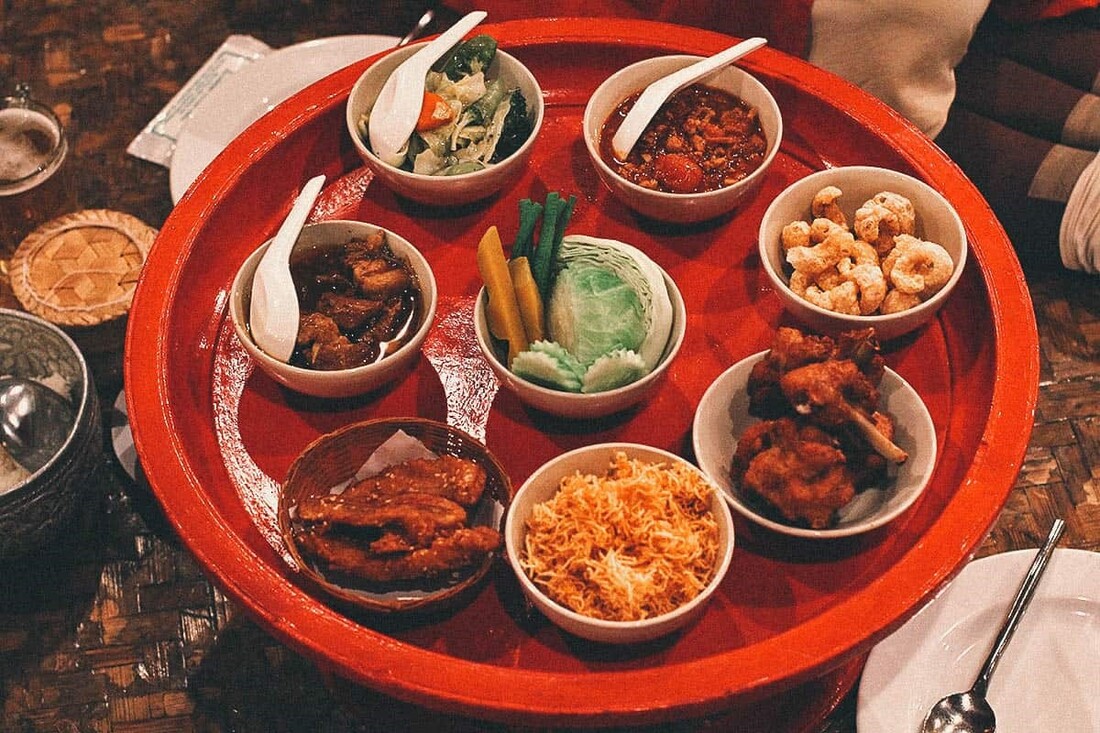 willflyforfood.net
​For Northern Thais, it is an essential side dish of Khantoke which is a traditional Thai Lanna lunch or dinner, offered to guests for celebrating a number of occasions such as weddings, housewarmings, funerals or even annual festivals like Loy Krathong and Songkran (Jb & Renee Macatulad, 2020). For Lanna people, Kab moo is treated as a main meal rather than snacks.
In the past, when Lanna people had a party in a small village, they would kill pigs, cows or buffalos to prepare meals for their guests. Pork would be chopped in different parts for cooking in specific purpose. The left over part would be pork skin. Pork skin would be preserved by simmering and frying in order to keep it longer. The villagers have been using these methods to produce Kab Moo for a long time as these techniques always preserve the texture and taste of Kab Moo (Baan House, 2020)
​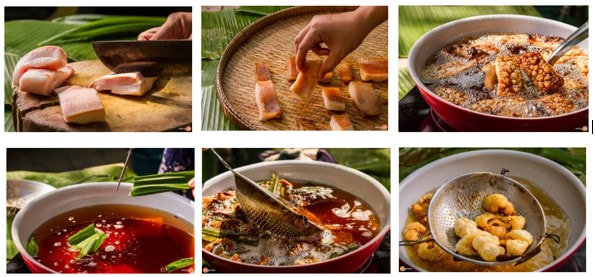 wongnai.com
There are different methods of cooking pork crackers. The process of making a delicious Kab Moo begins with choosing the right cut of pork skin. The thigh and belly are recommended and it should be from pigs aged around 3-6 month old.
The first step is to wash and clean the pork skin and removing dirt and hair and then salting the pork skin.
The next step is to cut pork skin which is one of the important process as it is related to how pork cracking curling nicely or turn puffed skin after cooking. It is suggested that pork skin should be cut to the size of 1-1.5 x3 inches
After that, boiling the pork skin in the water for 3 hours makes the pork skin easier to puff.
Next, letting the pork skin air dry in the sun to make pork skin less chewy.
Finally, flavour the sundried pork skin with sweet soy sauce, soy sauce and pinch of salt and deep fry twice in palm oil with some chopped pandan leaves to add a beautiful aroma to pork crackers. When Kab moo turn fluffy and nice colour, take it out of oil and let it cool down before packing in the plastic bag or close container to keep it crispy longer.
| | |
| --- | --- |
| wongnai.com | krua.co |
​Kab Moo is a must-have for your pantry which can be used as a main, side or as a snack to add that crunchy element. It is also promoted as a healthy snacks for the Keto diet. You can find pork crackers at most supermarkets, convenience stores and almost all Asian groceries. The hardest part is to choose your favourite brand! See you next time!!!
Parita Nobthai runs The Craft Humpy
"a homely place where you can get beautiful handcrafted gifts directly from the maker"