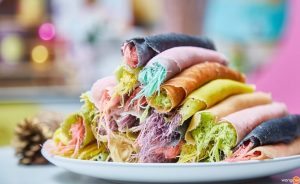 wongnai.com/articles/candy-crepe
​Roti Sai Mai (โรตีสายไหม), which means sweet angel hair, is a colourful and flavourful dessert in which cotton candy is wrapped in soft, paper-thin, Pandan-flavoured crepes. There are a number of small kiosks which sell this dessert along the main highway in Ayutthaya province and it has become the provinces signature dessert snack. Some people may even say that no visit to Ayutthaya is complete without eating some Roti Sai Mai.
| | |
| --- | --- |
| twitter.com/tatnewsthai | khanomthai343.weebly.com |
​You will be amazed by the sheer number of Roti Sai Mai stalls situated along various roads in Ayutthaya. Some people ironically calls those roads "Silk Road" as Sai-Mai means silky threads. It is believed that the technique of making Roti Sai Mai has been discovered by Mr. Pia Sangarun by chance when he prepared sugar syrup for topping traditional crispy roti. At that time, he left the sugar syrup on the heat for too long and it became too firm. As he was trying to soften it by stretching the sugar, he realised that he could turn it into fine threads of "silk". The sweet crepe is adapted from traditional Indian roti with adjustments for complementing the distinctive filling. There are several flavours for you to devour such as Pandan flavour, Strawberry flavour, Blueberry, Taro flavour and Banana flavour.
| | |
| --- | --- |
| sealosotho.blogspot.com | facebook.com/โรตีสายไหม-กุ๊กไก่ |
​Called roti sai mai, these rolled sweets feature threads of crunchy sugar enshrouded in a steaming, pandan-scented crepe. Kids, drawn to the dreamy colours, are often seen walking around with the portable snack in hand (rachelrummel, 2018).
​This sweet treat was my family's favourite snack when we travelled between Bangkok and Lopburi and my father would always grab a few packets along the way. I like the fact that there is a ritual and technique of wrapping the cotton candy within the roti to ensure you can feel the crunchy texture of the handmade sugary threads. It's always good to purchase fresh handmade crepe, as they are still warm and soft, which enhances the overall taste of this dessert.
| | |
| --- | --- |
| localwisdom.gsb.or.th | theplankton.in.th |
The process of making the cotton candy is worth watching as it requires many years of experience to create the fine sugary threads that will melt in your mouth. The sugar is extremely hot so two large wooden pins are used for looping hot spun sugar over and over. Surprisingly, although extremely hot, you will find that some makers use only their bare hands! The below is a simplified process of making the cotton candy:
– Add sugar in boiling water and simmer until it's sticky
– Pour sticky sugar into small aluminium bucket
– Float the small aluminium bucket in another bigger tub filled with cold water and rotate it to make a sugar spun
– Mix wheat flour with coconut oil and palm kernel oil and spread it on a rectangular aluminium tray
– Add sugar spun on the mix above and use wooden pegs to stretch sugar spun by looping it repeatedly in order to create a thin sugary thread and let it dry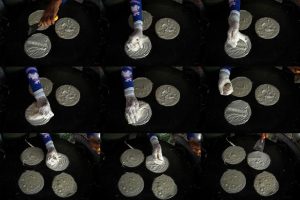 sealosotho.blogspot.com
​The roti or crepe dough is made from wheat flour or some recipe combining tapioca starch with all-purpose flour, salt and water:
Mix all ingredients together, thresh flour, let it rest for 30 minutes and thresh flour again for another 10 minute until it's gluey.
It is an option to add Pandan leave to create light green hue and aroma or added some sesame.
To make salted paper like crepes, spread gooey dough in circular shape on the hot griddle by hand.
It takes skill to be able to hold a big chunk of dough in one hand while holding a spatula in the other for flipping each crepe.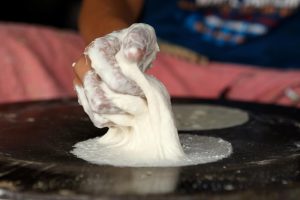 sealosotho.blogspot.com
​The whole process of making Roti Sai Mai is fascinating. All the work behind the scenes will definitely make you appreciate and enjoy this snack even more. I am sure you don't want to take your eyes of the maker as each step unfolds before your eyes. A big chunk of dough becomes a fluffy-thin crepe and a big chunk of sugar changes to super-fine, crunchy silk threads. Have a look at the below Youtube links to witness the magic moment of the divine Thai-style cotton candy and sweet crepes and put this snack on your list for your next visit to Thailand.
Parita Nobthai runs The Craft Humpy
"a homely place where you can get beautiful handcrafted gifts directly from the maker"