Our one day trip in Suphan Buri was short and sweet but it made our bellies full of food and love – Parita Nobthai of @thecrafthumpy
In May, I went on a family trip to visit my aunt in Suphan Buri, Thailand. For those of you who may not be familiar with this province, it is a 1 hour and 45 minute drive north of Bangkok, provided the traffic is flowing freely.
Most of the province is built around rice farming, as it is mostly lower-lying river plains which that make this place wonderful for freshwater fish and river prawns. We visited the popular 100-year old Samchook สามชุก market, located on the Tha Chin River near the centre of town.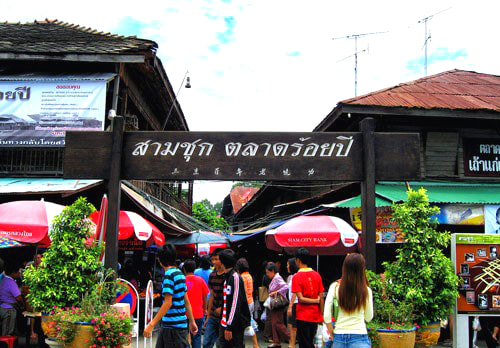 The Samchook market has its own unique character with Thai traditional wooden townhouses lined in front with stores that offer a variety of goods from clothes, household items, food, drinks, sweets and fresh ingredients. Fresh food markets are like heaven for me, with plenty of tasty snacks to try and no matter which stall you buy them from, they are always delicious. I got lost in the market for an hour with the seemingly endless line of shops and different pathways to follow. I ended up buying 3kg of Salid fish. When I am in Australia, I usually get 
frozen Salid fish
 and cook it at home. If you deep fry the fish, it becomes very crispy and is a perfect to eat with rice.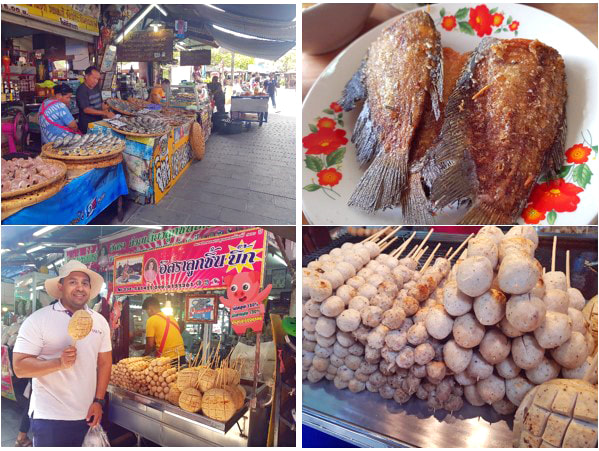 After we did our fair share of shopping, we ended up heading to my aunt's home in Suphan Buri. She has a number of beautifully crafted Thai traditional wooden houses surrounded by paddy fields which is open to the Tha Chin riverfront. The ambience was stunning despite the temperature soaring to almost 39°C.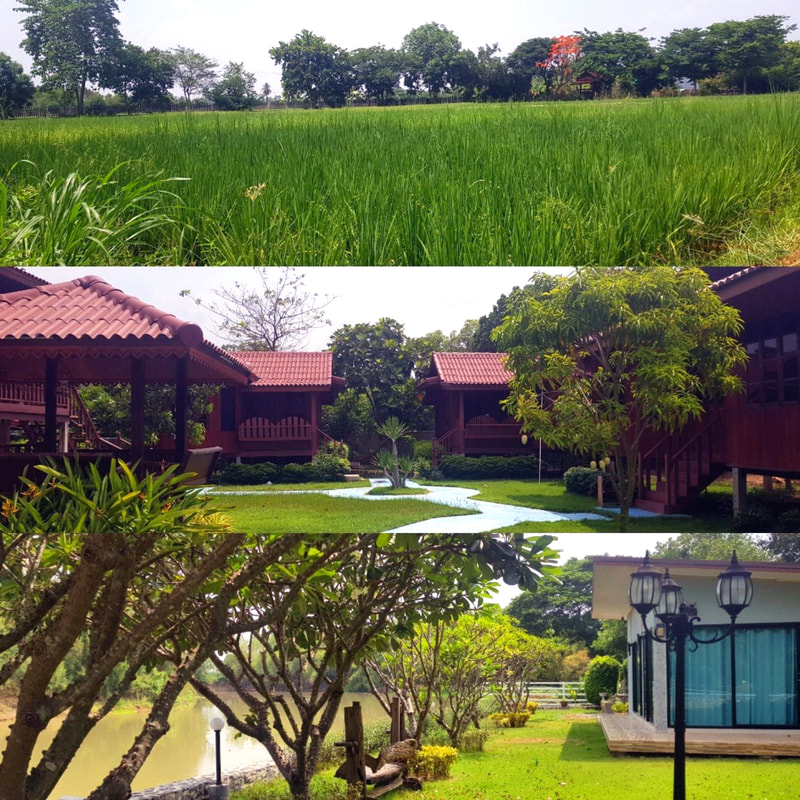 My aunt prepared three dishes for us, two entrees and one dessert. We didn't cook too much as we planned to visit a nearby restaurant, which is famous for its river prawns, which we were all craving. I helped her cook fish cakes or what my mum calls "Pla Hed" which means mushroom fish. Even if there is no mushrooms in the ingredients, it's believed that Pla Hed is a Khmer word meaning marinated meat with curry paste, which is then made into a small ball and deep fried. The fish we normally uses for this dish is Clown Knife Fish which is mixed with red curry paste, a pinch of salt, some sugar and sliced snake beans.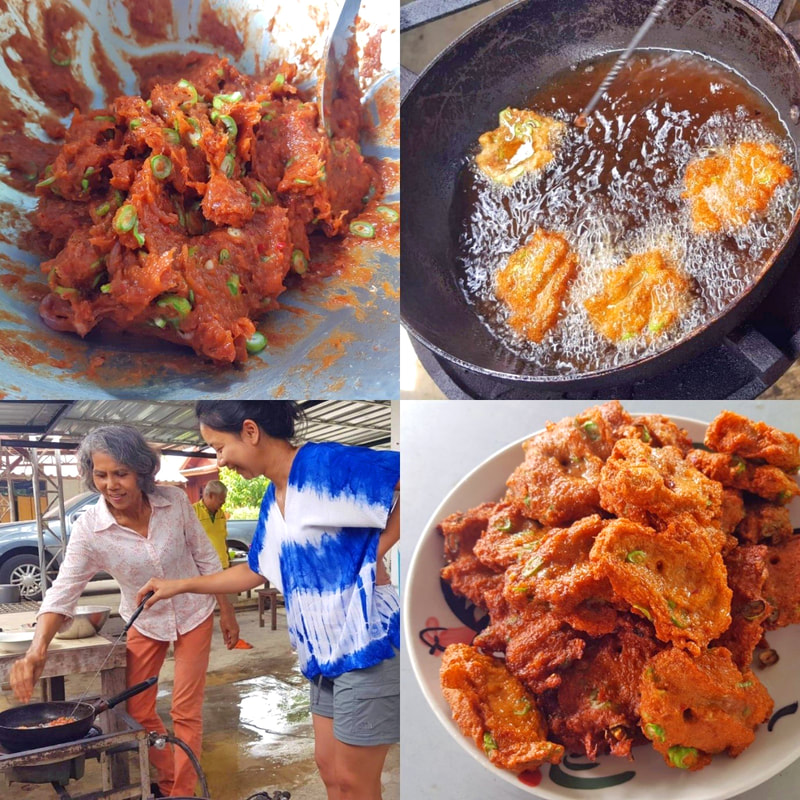 Next, we moved on to satay pork skewers. The marinade we used for these satay pork skewers was her family's secret recipe, handed down from her grandparents who used to run a stall at the 100 Year Markets. The marinated pork satay skewer were so soft and tender. I liked our cooking instrument, a rectangular stove made especially for cooking satay skewers over coals. We ate the skewers with a peanut sauce and Arjad อาจาด, which is a mix of white vinegar, sugar, salt and water with sliced cucumber, red onions and chopped chilli on top.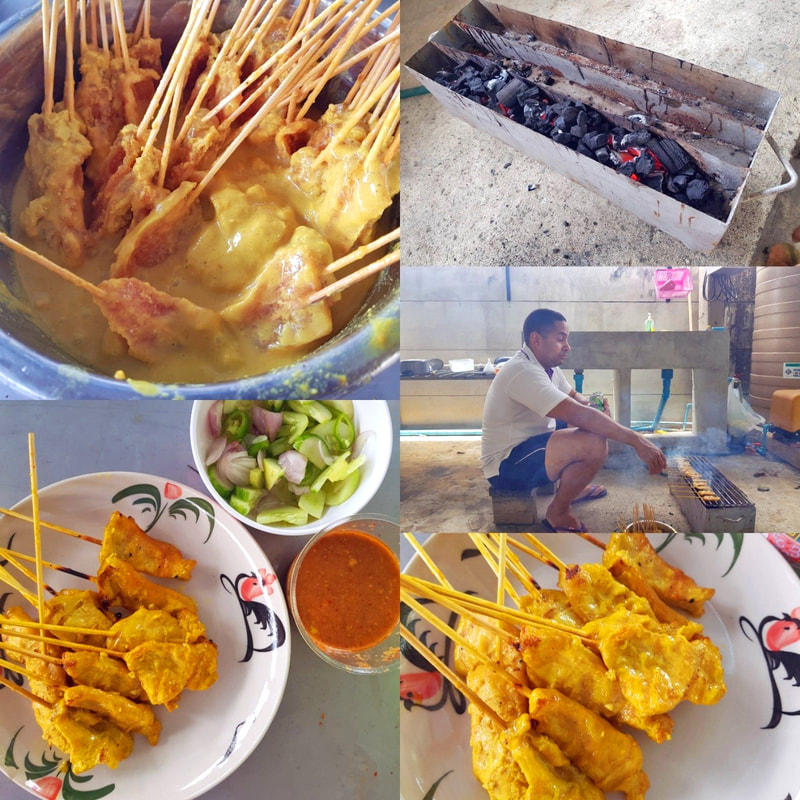 For dessert we ate Nam Khang Sai น้ำแข็งใส, which is my mum's favourite dessert ever since she was a child. It's also my favourite kind of dessert which I bought when I was in high school. It's so refreshing and gives you plenty of energy to survive the hot days in Thailand. The recipe for this dish is so simple, all you need is some ice cubes, a loaf of bread diced into about 1 inch in size, 
Hale's Blue Boy
 for topping (Sala Flavour is recommended) and then it's finished with condensed milk. The secret is my aunt's magical ice crushing machine which you can turn ice blocks into a soft and fluffy snowflake texture.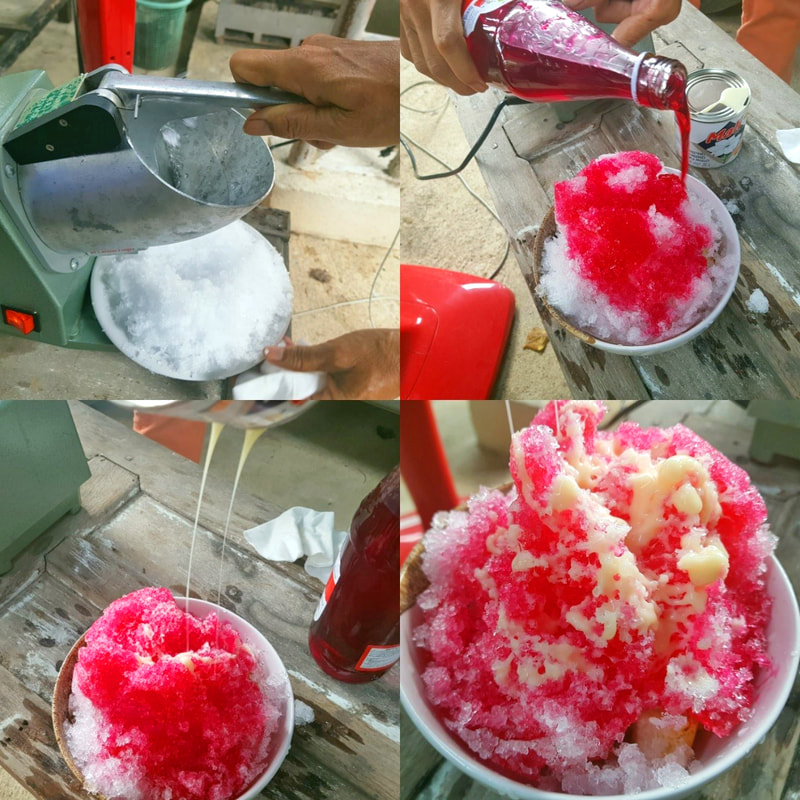 Our one day trip in Suphan Buri was short and sweet but it made our bellies full of food and love. All meals were cooked with fresh ingredients found locally at the markets. It is so lovely to catch up with family and relatives, eat homemade food that I grew up with. I realise how much I miss this place, it's so good to be home again.
Parita Nobthai runs The Craft Humpy
"a homely place where you can get beautiful handcrafted gifts directly from the maker"