Even if you're not officially acquainted, you may have eaten the versatile cha lua in any number of Vietnamese dishes—amid the multi-textured chaos of a banh mi, or thickly sliced and sprinkled with shallots, and served alongside glutinous rolls of banh cuon. The irrepressible sausage has even crossed borders. In Thai cuisine, dishes like som tam—their green papaya salad—often come accompanied by thick slices of their version of it, called mu yo – vietcetera.com
Chả lụa (Saigon: 
[ca᷉ lûˀə]
) is the most common type of sausage in Vietnamese cuisine, made of pork and traditionally wrapped in banana leaves.
Giò Lụa, is another name for Chả Lụa. The term Giò Lụa is part of the northern Vietnamese's dialect while Chả Lụa originates from southern Vietnamese dialect.
The origins of chả lụa are probably during the French colonisation of Vietnam during the 19th Century. During this time the Vietnamese started to produce their own processed meats (including local Vietnamese ingredients) using the skills and recipes learnt from the French. Chả lụa are among a 
variety of cold cuts
 that were developed during this time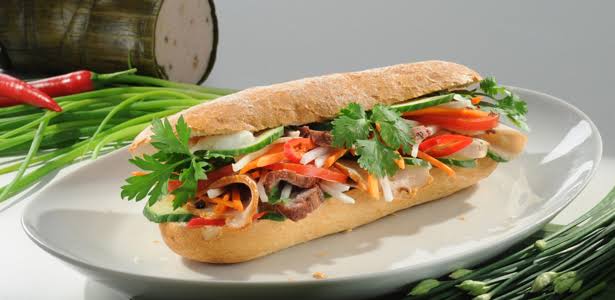 Traditionally, chả lụa is made of lean pork, potato starch, garlic, ground black pepper, and fish sauce. The pork has to be pounded until it becomes a paste. Other methods will not achieve the desired texture as chopping or grinding the meat will cause it to be fibrous, dry, and crumbly. Near the end of the pounding period, a few spoonfuls of fish sauce are added for flavor. Salt, black pepper, and sugar can also be added. The meat is now called giò sống, meaning "raw sausage", and can be used in a variety of other dishes as well. The mixture is then wrapped tightly in banana leaves into a cylindrical shape and either submerged vertically in boiling water or steamed.
If the banana leaf is not wrapped tightly and water leaks inside while it is being boiled, the sausage will spoil quickly if kept at room temperature. Correctly made chả lụa can be stored at room temperature for about one week, but it is recommended to keep it refrigerated where it can be stored for up to 3–4 weeks.
During the initial wave of Vietnamese immigrants to the United States in the mid-1970s, banana leaves were difficult to find; thus, Vietnamese chefs substituted 
aluminum foil
 for banana leaves, a habit that continues today. In areas that have banana leaves, a small strip of it is used for flavor while still using the aluminum foil to shape the sausage.
| | |
| --- | --- |
| Banh Day | Banh Cuon |
Cha lua goes well with anything from banh mi, banh day (sticky rice cakes), banh cuon (steamed rice rolls), xoi gac (red sticky rice), and noodle soups such as bun thang, bun moc (pork and mushroom noodle soup), and bun bo hue