Nam Prik Pao is one of the most — if not the most — versatile composite ingredients in Thai cooking that I can think of. It is intense and complex, but not in an in-your-face kind of way; it also features pretty much all of the tastes associated with traditional Thai food sans the usual herbs. Each spoonful packs so much flavor, and a little goes a long way – Leela Punyaratabandhu
Nam phrik phao (Thai: น้ำพริกเผา) is a type of Thai spicy chili paste used in Thai cuisine. It contains chiles, fermented shrimp, shallots, tamarind, galingale, and ginger.
It belongs to the family of chili pastes known as nam prik or literally "chilli water" which vary according to the ingredients, the preparation and the region. The roots of nam prik are very ancient and stretches far back into Thailand's past, long before Chinese cooking styles altered the county's food history
They are at the very core of Thai cooking and have fed the Thai from their distant past to the present – David Thompson, Chef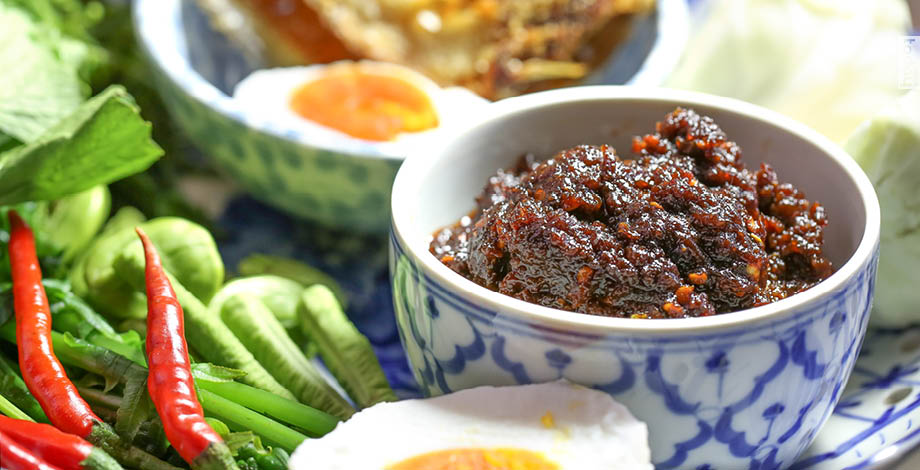 rabbittoday.com
Nam Prik Pao is almost always referred to as roasted chili paste or chili paste in oil and also often termed "chili jam". It does have a jam like consistency and is also rather sweet.
But if you… didn't grow up with Nam Prik Pao, you may be surprised to learn that even though you're still not quite sure what Nam Prik Pao is, you've most likely consumed tons of it by way of your favorite Thai restaurant dishes… If you detect a sweet, slightly tangy, slightly fishy, a bit smoky taste in the stir-fry sauce at your favorite Thai restaurant, it's very likely that we got Nam Prik Pao lurking in the background – Leela Punyaratabandhu
An important part of Nam Prik Pao is the use of shrimp paste or dried shrimp and fish sauce. These seafood elements gives the nam prik pao a strong savoury quality.
We use it in the famous tom yum goong soup, we add it to stir-fries like this classic cashew chicken, and we even use it in a salad dressing like in this wing bean salad! We also use it simply as a spread on toast, sometimes as part of a sandwich, but really, use it in whatever way you can think of!" – Pailin Chongchitnant of hotthaikitchen.com