Crispy Rice Salad with Fermented Pork Recipe: Nam Khao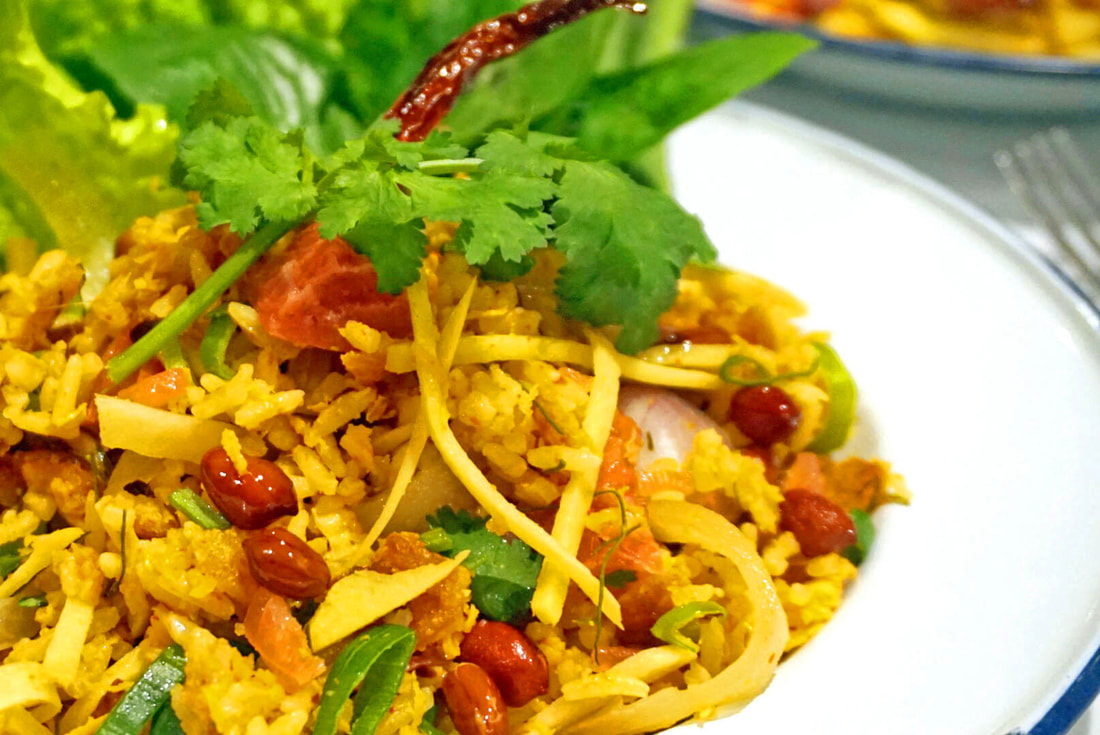 This dish is among the most famous rice dishes available from street vendors in Thailand. Outside Thailand I have seen the dish more frequently in Lao restaurants than in Thai restaurants. Many people consider the dish as an appetiser, but for me it could also be the perfect main dish – Charinya of @charinyas_kitchen
Crispy rice salad with fermented pork is known as Nam clook or Khao tod nam clook in Thai. Also known as Nam khao in Lao, the dish features deep fried red curry rice balls mixed with basic Thai seasoning ingredients. These ingredients include fish sauce, lime juice, chilli, fried peanuts, sliced ginger, chopped coriander, spring onion and pork skin. Of course there is always the most special ingredient, fermented pork.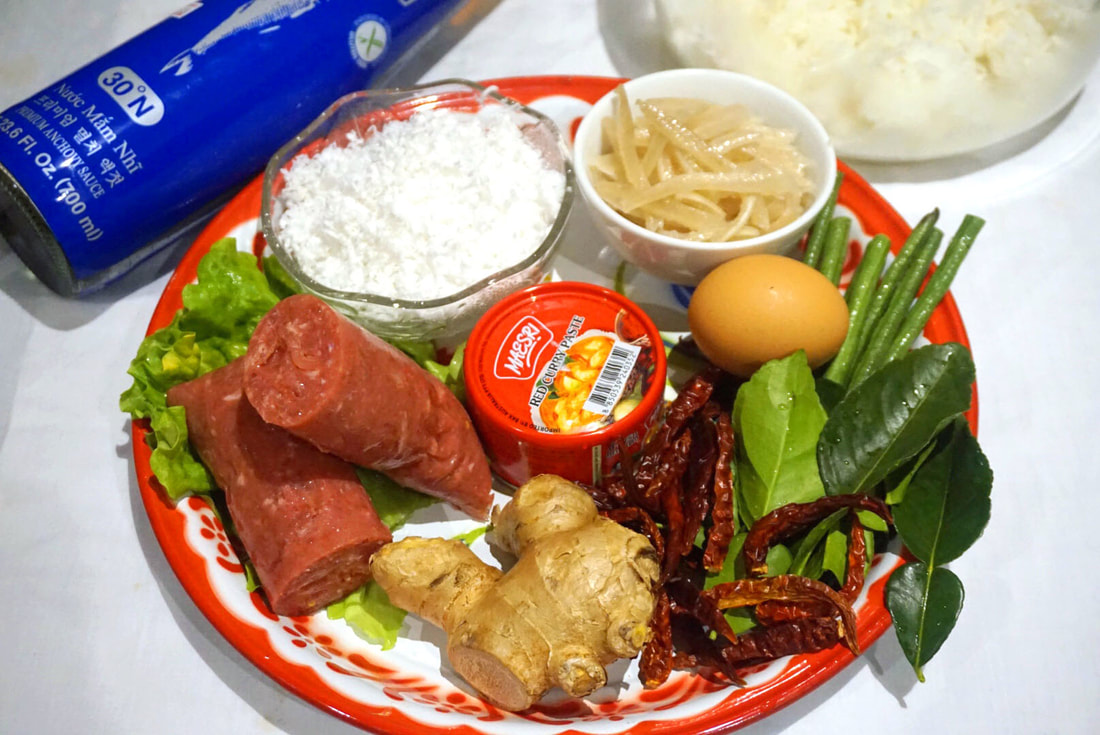 This dish is among the most famous rice dishes available from street vendors in Thailand. Outside Thailand I have seen the dish more frequently in Lao restaurants than in Thai restaurants. Many people consider the dish as an appetiser, but for me it could also be the perfect main dish.
Nam clook has a nice balance of spicy, salty, and sour with a wonderful texture of crispness from the rice, peanut and dried chilli. The dish is best served alongside fresh salad leaves such as betel leaf and lettuce.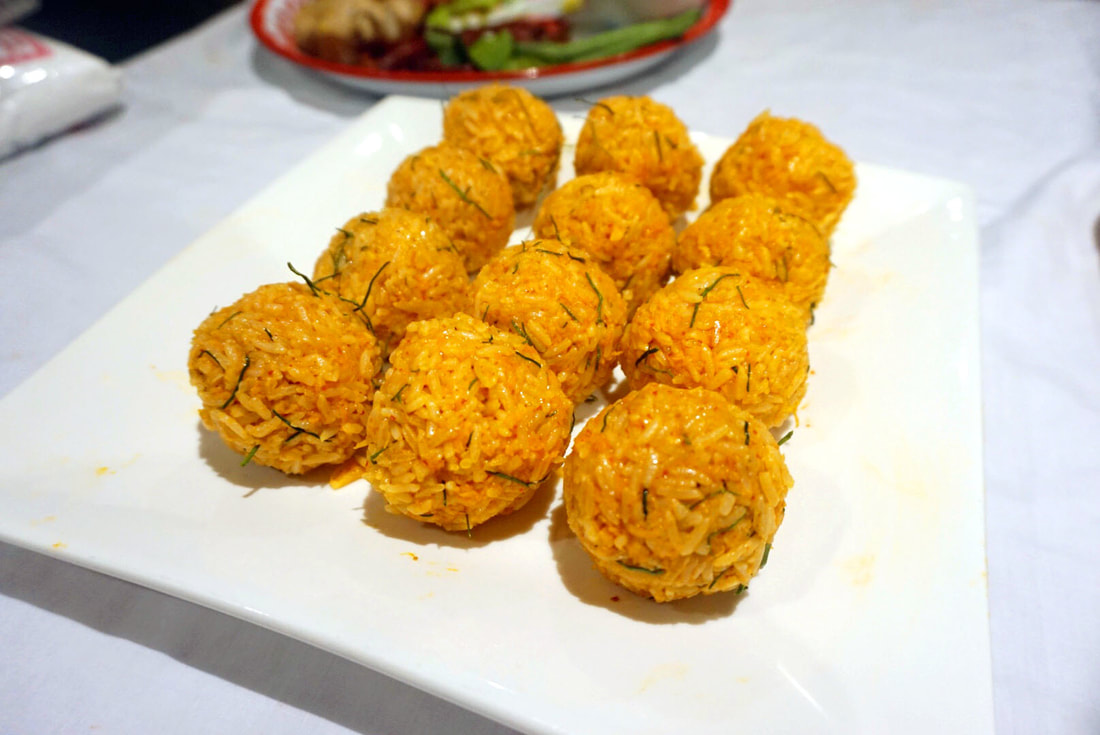 There are two parts to making Nam clook. The first part is making crispy rice balls, while the second part is creating a salad from the rice balls.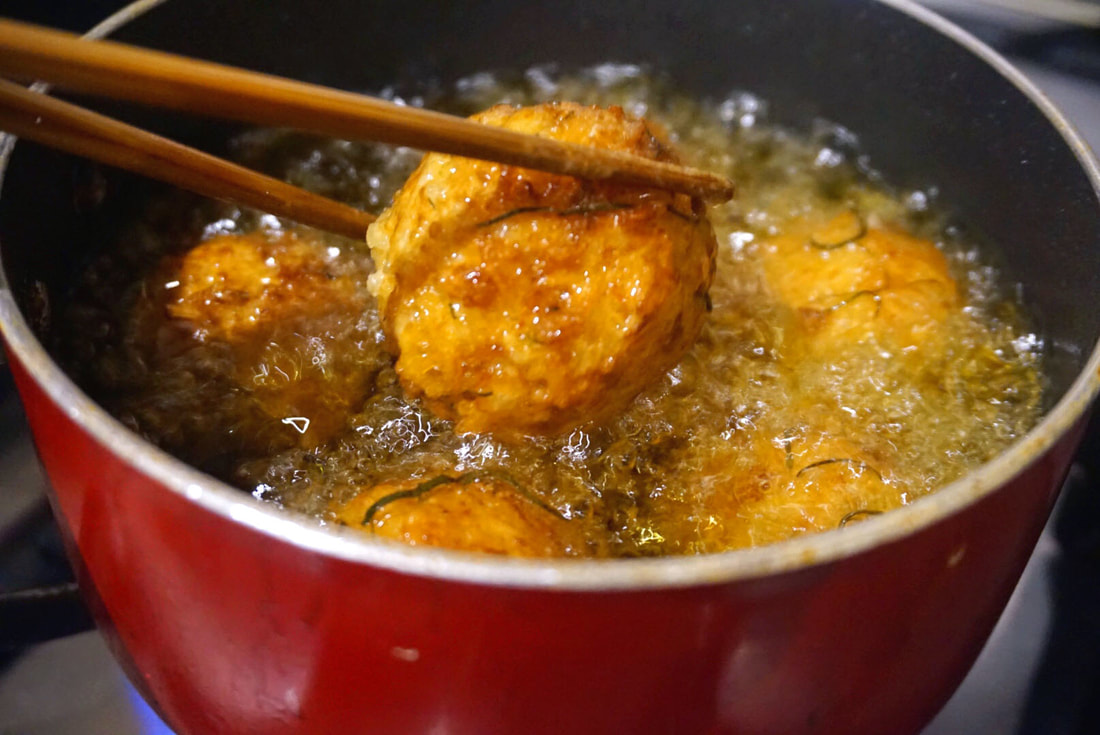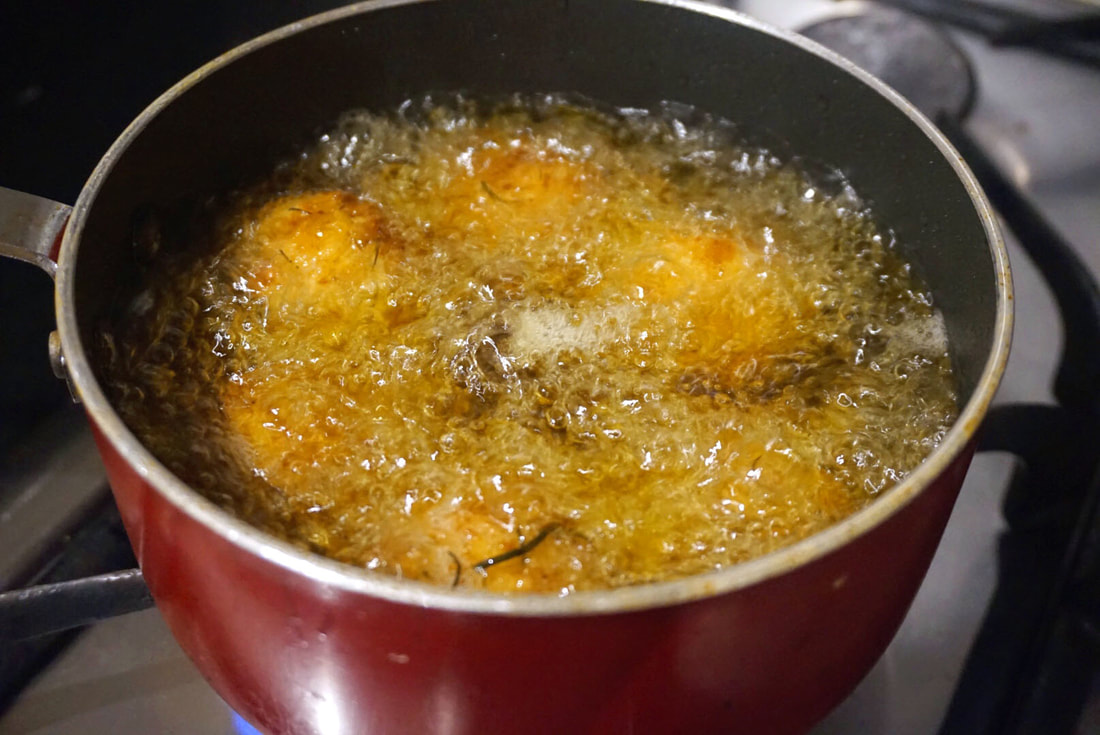 Ingredients for rice balls
(makes 12 rice balls)
3 cups of cooked jasmine rice freshly cooked and left to cool down.
1 cup shredded coconut
2 tbsp red curry paste
1 tbsp fish sauce
1 tbsp finely sliced kafir lime leaves
2 eggs
2 tbsp rice flour or corn flour
3 tbsp water
Oil to fry
Method:
Combine rice, shredded coconut, red curry paste, fish sauce, kafir lime leaves and 1 egg. Gently mix through, and then roll mixture into golf ball size.
 In a small bowl combine rice flour and water and set aside. In a separate bowl, beat an egg and set aside
Heat the oil in a frying pot. Dip the rice balls into the rice flour mixture and then dip in the beaten egg. Deep fry until golden and crunchy.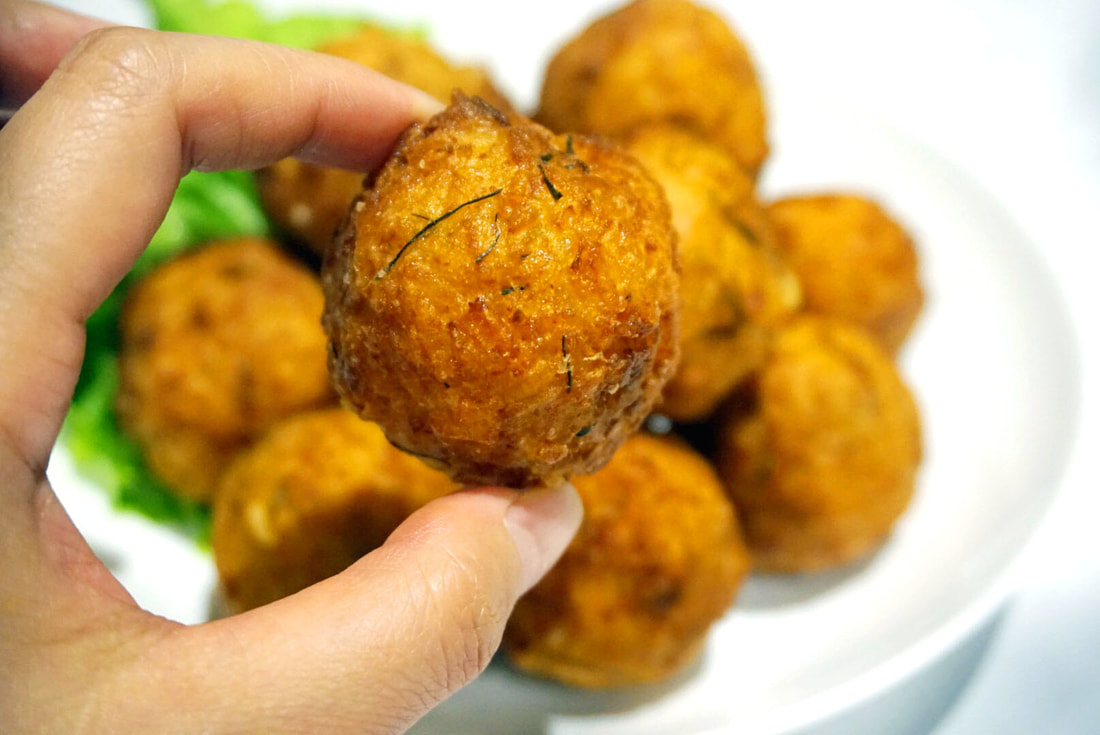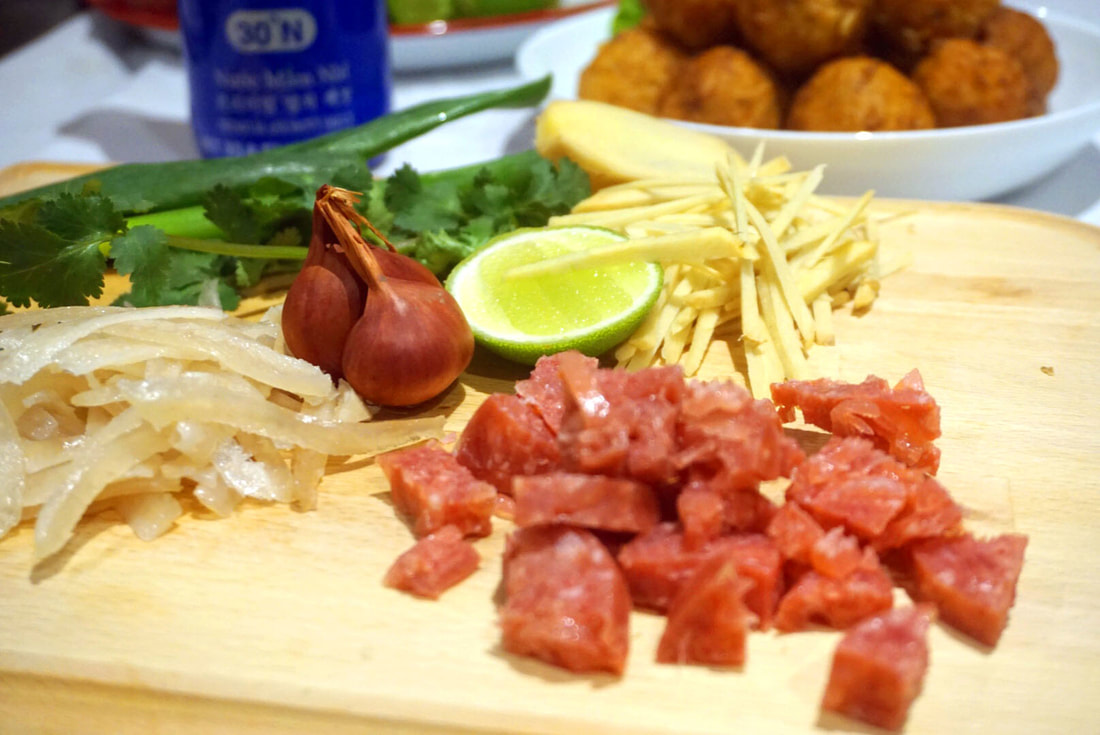 Ingredients for salad
(Serve 2)
3 crispy rice balls=
¼ cup fermented pork
¼ cup pork skin
½ tbsp. fish sauce, to taste
1 tbsp lime juice, to taste
Fried dry chilli, as desire
Chili powder (optional)
2 tbsp sliced ginger
1 tbsp chopped spring onion
1 tbsp chopped shallots
1 tbsp chopped coriander
¼ cup fried peanuts
Fresh vegetable to serve
Method:
Break crispy rice fermented pork, dried chili into small pieces.
Season with the fish sauce, lime juice.
Add spring onions, coriander, ginger, shallots fried peanuts and fried dried chilli.
Serve in lettuce cups or on betel leaves and with peanuts and deep fried chilies.