Grilled Banana with Coconut Cream Caramel Recipe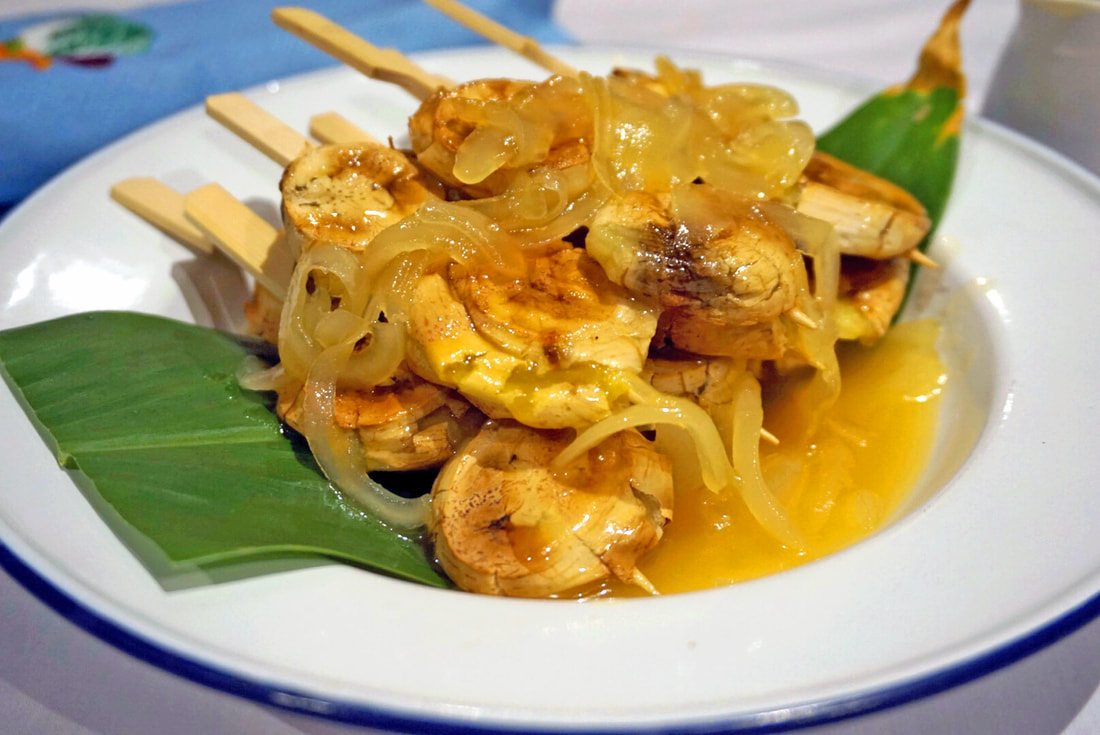 Banana trees are humble trees that play a role in many occasions in Thai life… ​This dish uses the banana that is half green and half yellow. Grill the banana and top with yummy coconut caramel with young coconut meat. This is a snack that you could find on a street in Thailand – Charinya of @charinyas_kitchen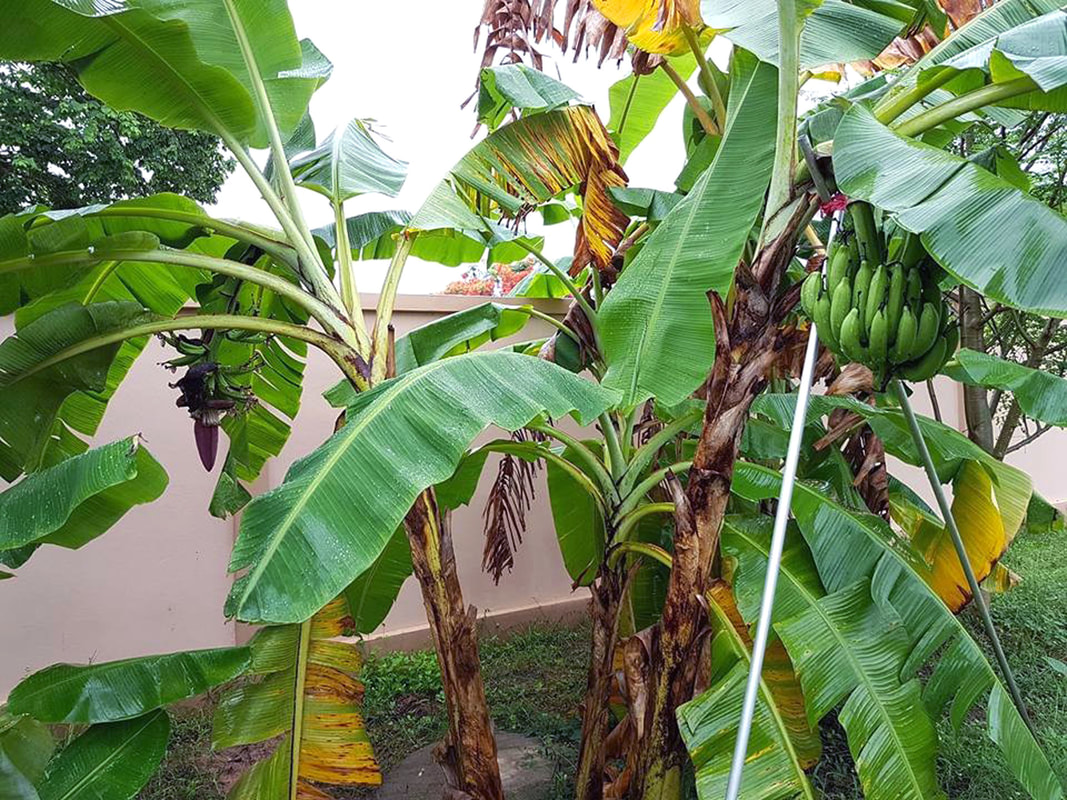 The humble banana tree. Photo by Weerana Chantarapaoraya
Banana trees are humble trees that play a role in many occasions in Thai life. For example, you may remember at my sister's wedding there was a platter decorated with beautiful folded banana leaves included in the ceremony. Also, when people build a new house, a banana tree is placed to decorate the major pole. Do you know a Thai famous festival is "Loi Krathong", a festival of lights to pay respect to the river on a full moon night in 12th month? Krathong are made from a piece of banana trunk decorated with flowers, banana leaves, candle and incense sticks.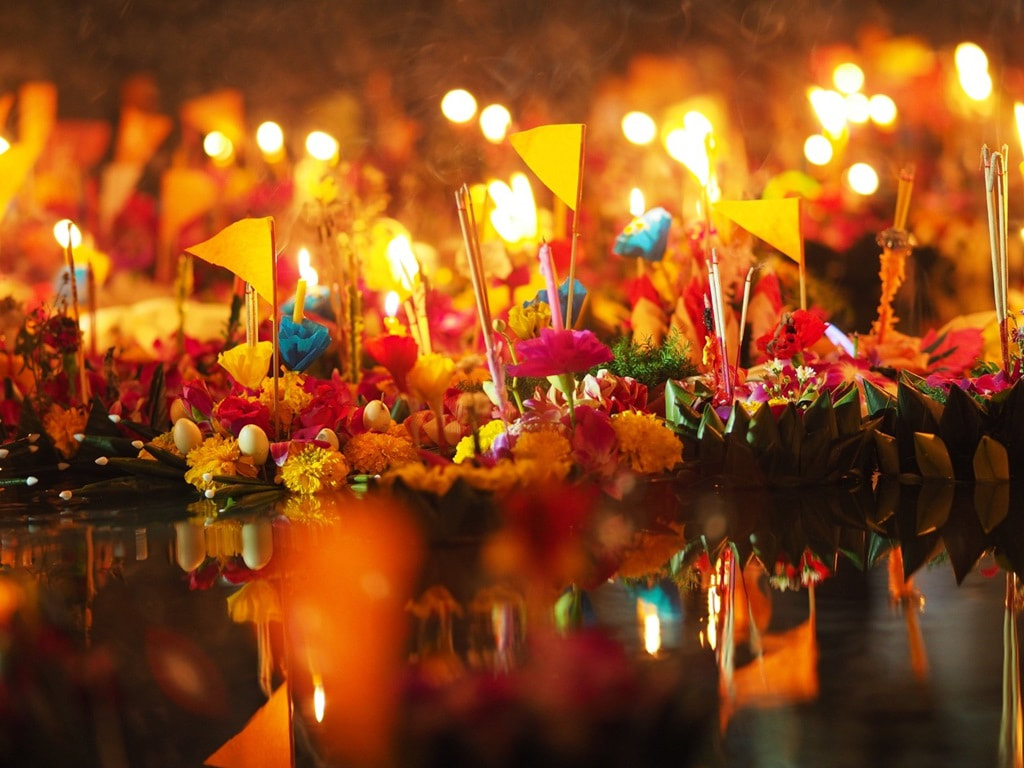 Loi Krathong. Krathong are made from a piece of banana trunk decorated with flowers, banana leaves, candle and incense sticks. Photo by www.everydaybangkokhostel.com
For the food we use almost every part of the banana for cooking. Babies are fed with banana too, so it is many Thai people's first meal.
As for the banana trunk, if you cut inside the tree in the middle there is a white banana stalk call "Yuak", which can be used to make steam chicken wrapped in banana leaves. It tastes so delicious and is also perfect with southern-style yellow soup, but is rarely found nowadays.
​A dish I highlight is banana blossom featuring a little bit of coconut cream and chilli to create the beautiful, delicious salad 'Yum hua plee'. The blossom can also use for sweet and sour soup 'tom yum'. However, the major use of banana blossom in Thailand is served fresh alongside the famous Thai dish 'Pad Thai'.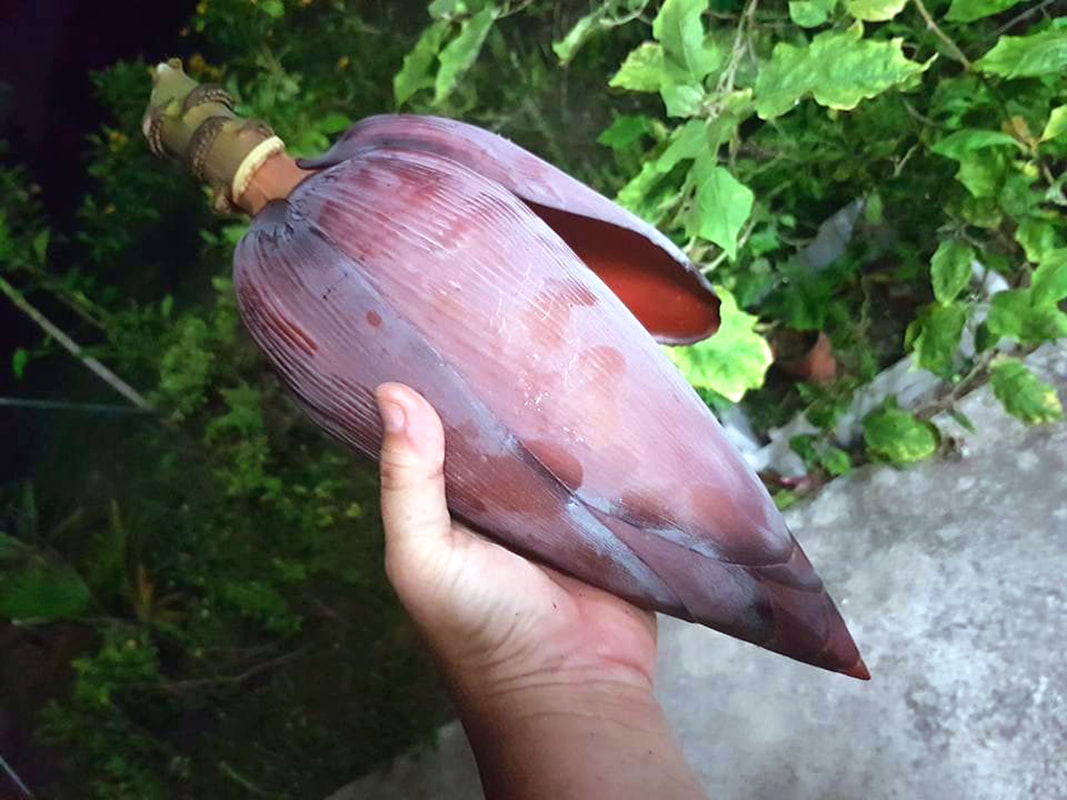 With green banana, Thai people make banana chips and also an exotic dish for foreigners like "tum kluay" which is spicy green banana salad.
As for banana fruit I hardly need to mention how we eat it. Apart from just eating the fruit we can transform it to many dishes like banana in sweet coconut syrup, steamed mashed banana, banana in red syrup or steamed with sticky rice "Khow tom mud".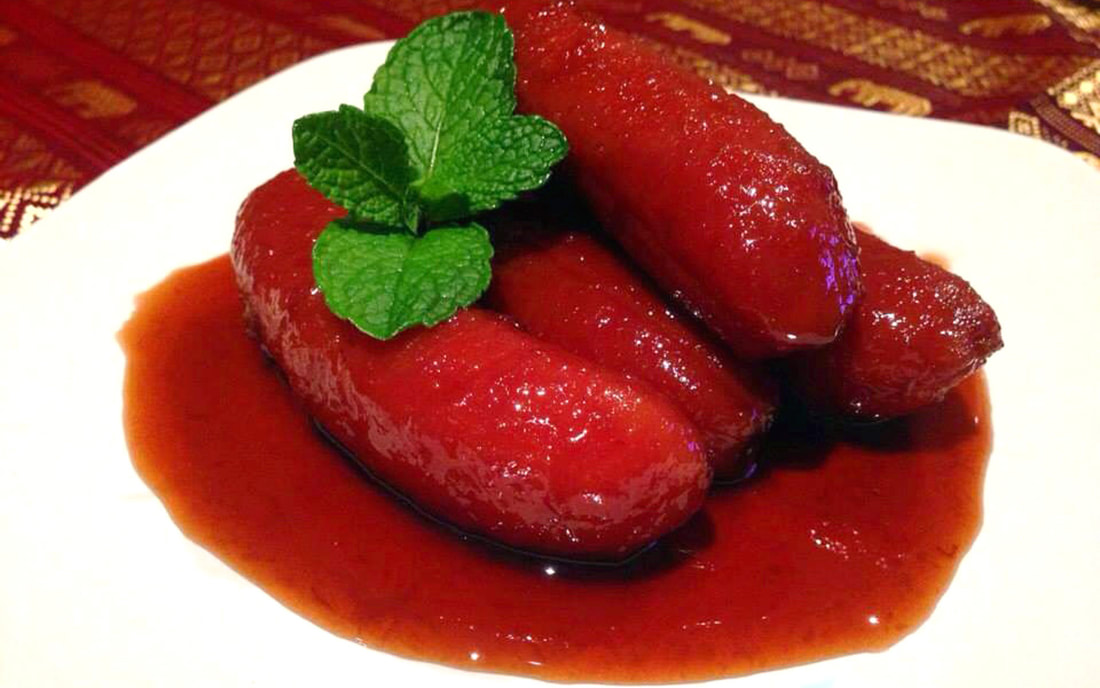 Banana in red syrup. Gluay Cheum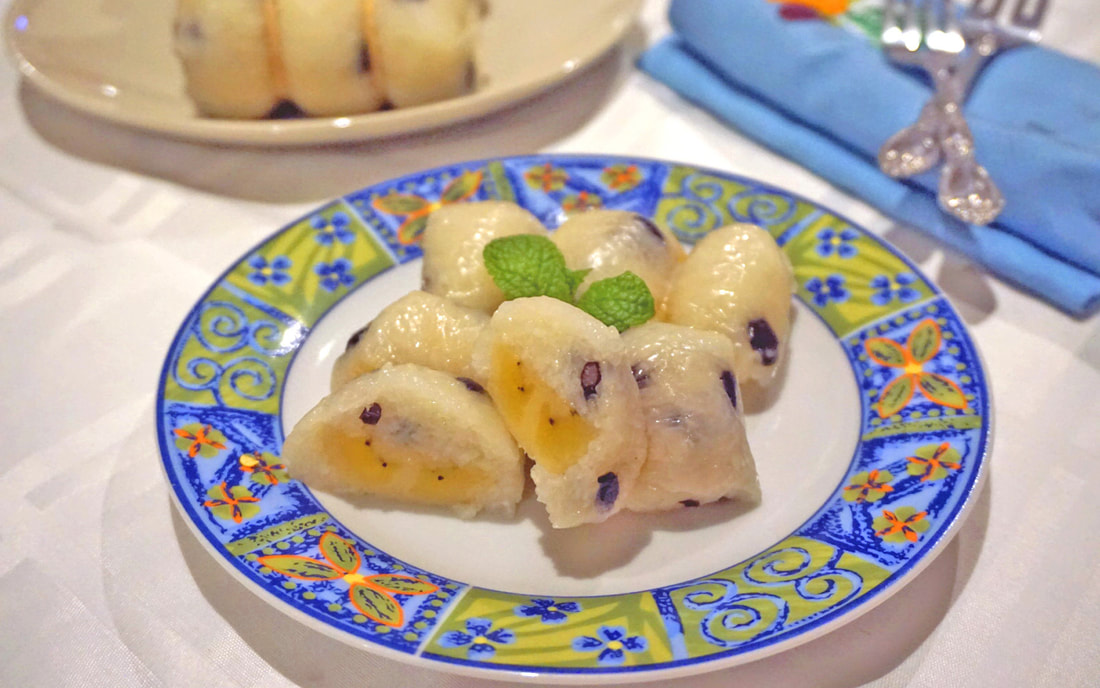 Banana steamed with sticky rice. Khow Tom Mud
With banana leaves, even though we do not eat them we use them in many cooking methods including wrapping the food for steaming, grilling or serving. The leaves are not just useful for that but also give an aromatic scent.
​Now to the dish I want to show you. This dish uses the banana that is half green and half yellow. Grill the banana and top with yummy coconut caramel with young coconut meat. This is a snack that you could find on a street in Thailand,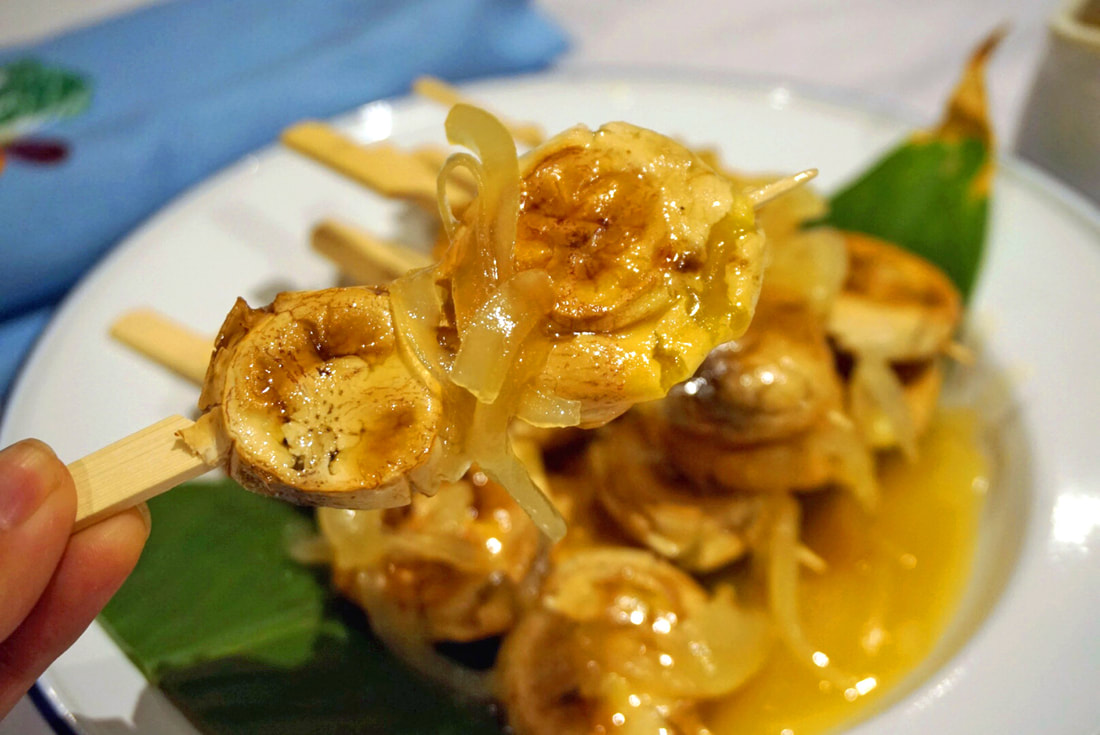 Ingredients
 250ml coconut cream
50g palm sugar
75g white sugar
1/2 tsp salt
1 tbsp. butter
1/2 cup young coconut meat
3-5 bananas
Method
In a small saucepan add coconut cream, palm sugar, white sugar and salt. Using low heat, cook the sauce for 30 mins.
Add young coconut meat and stir in butter. Turn the heat off.
Peel the bananas and slice into 1inch lengths. Grill in an air fryer or bake at 160 c' for around 30 minutes.
Press the grilled bananas to help absorb the sauce
Pour the coconut caramel sauce over the grilled banana and enjoy.
Note: You can stick the grilled bananas onto skewers to make them pretty.
This recipe is inspired by @cookingforhusband