How to Roll a Rice Paper Roll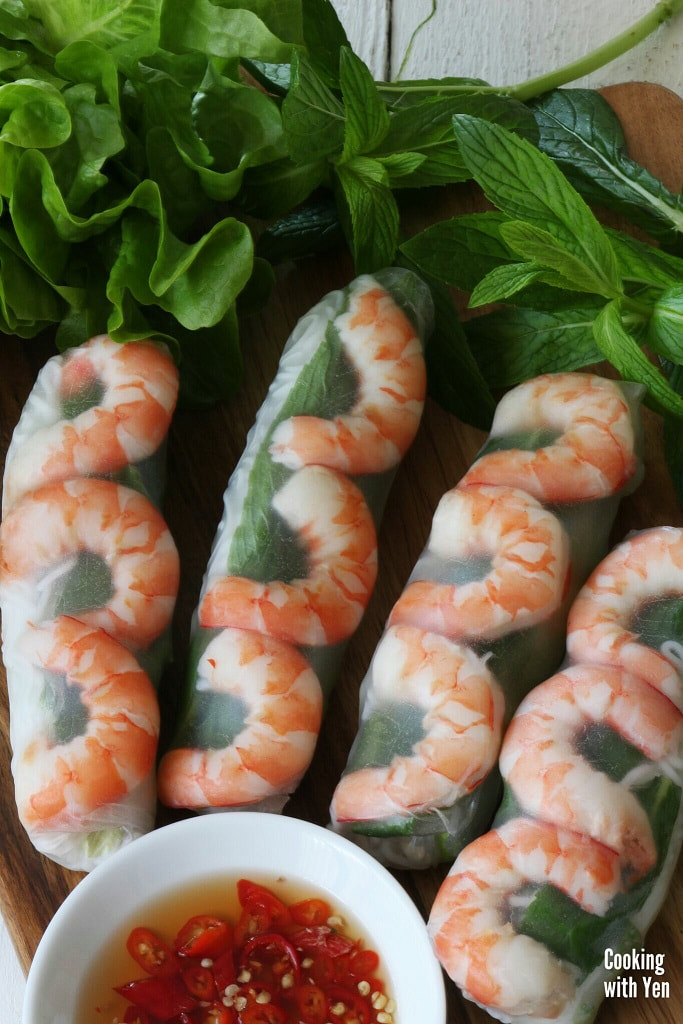 I often make rice paper rolls and when I post my photos I often get comments like –" your rolls look great, I can never get mine so perfect".Well guess what my friends? Yes you CAN get them perfect- it is easy! I'll share my tips with you and hopefully you can roll some amazing rice paper rolls.
The most difficult part about making rice paper rolls is deciding what you want to put inside it!
Traditionally, Vietnamese goi guon have prawns and pork in them but today I've made prawn and chicken rolls. My rice paper rolls are filled with – prawns, chicken breast, mint, cucumber, vermicelli noodles & lettuce.
I have used Lion Brand Rice Paper which has a diameter of 22cm.
Let's get Rolling!
You do not need to soak the rice paper, just dunk it in warm water quickly and then shake off the excess water. The rice paper will absorb the water and become soft relatively fast. Place it down on a mat or plate.
Put the ingredient that you want to showcase towards the top part of the rice paper sheet i.e. the ingredient you want to see through the rice paper. For my rolls, I want to see the prawns so I put prawns along the top part of the rice paper sheet.
Other ingredients are placed at the bottom of the rice paper sheet.
When you start to roll, lift the bottom edge of the rice paper up and over the filling. When you roll, to get a tight roll, pull the ingredients towards you as you are rolling away from yourself.
Once you've rolled it half way, pull in the sides, the ends will stick down and then continue to roll all the way to the end.
TIPS
You want the rice paper sheet to cover the filling twice over to make it tight and less prone to tearing so don't overfill the roll. If there is too much filling you will only be able to wrap the roll over once and the rice paper will tear easily when you pick it up. You'll be able to gauge the size once you fill and roll your first one. Fresh spring rolls are best rolled and eaten immediately.
If you need to refrigerate them, I would only do so for a short time because if you leave them in the fridge for too long the vermicelli noodles will become tough and the rice paper will become chewy.
Please watch my video on how to wrap a rice paper roll with the same instructions, it's easier to understand when you can watch and listen.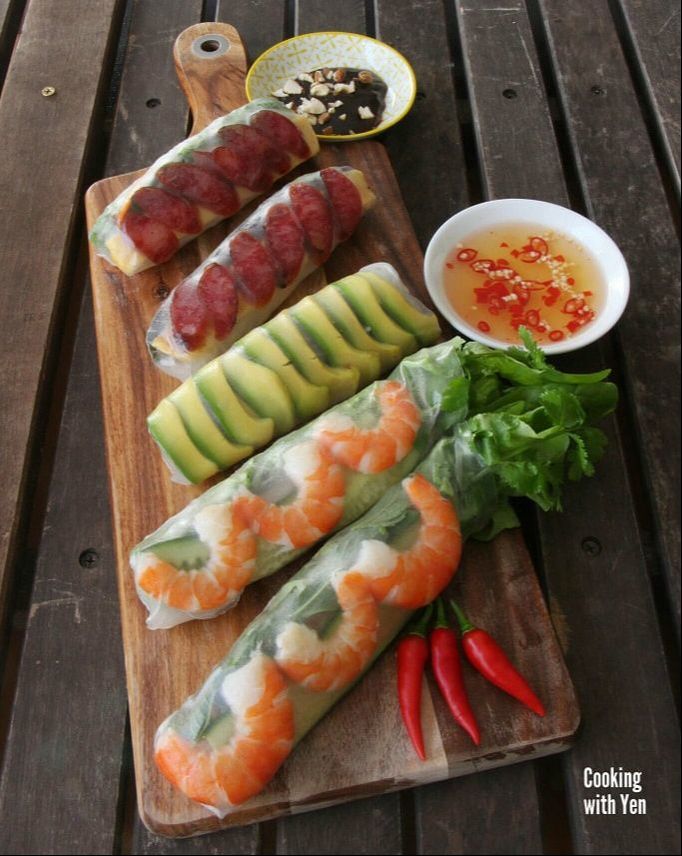 Fillings
​The best thing about rice paper rolls is that you can fill them with whatever ingredients you like, the combination of ingredients is endless.
In the photo above, at the back, I made another traditional Vietnamese rice paper roll called Bo Bia which is filled with Chinese sausage, egg, jicama, carrot, dried prawns and lettuce. The roll in the middle is vegetarian, filled with vermicelli noodles, mint, lettuce and the star was the avocado.
The 2 goi cuon in front are wrapped slightly differently. I left one side open so the lettuce and coriander stick out. Looks a bit fancy, once you get the hang of rolling rice paper rolls you can get more creative ?
Sauces
There are 2 kinds of dipping sauces eaten with Vietnamese rice paper rolls. The fish sauce based nuoc cham and the hoisin & peanut sauce. Some people may find this strange but I mix both together when I eat my goi cuon. Usually fresh spring rolls are eaten as an appetiser or entrée but when I make them at home we eat it as a meal. I usually eat 5 though I really should only eat 4! They are just too delicious to stop at 4! I usually ROLL out of the dining room and into a food coma ?
I hope my instructions and tips will help you make some amazingly beautiful and delicious rice paper rolls. Tag Cooking with Yen and Lion Brand if you do because we would love to see your creations.
Happy ROLLING my Friends
Check out Yen Le's fantastic IG account here:
@cooking.with.yen