Red Sticky Rice Recipe: Kow Nhiew Dang ข้าวเหนียวแดง
Can't get enough of sticky rice desserts? Charinya Ruecha of @charinyas_kitchen shows us a Thai dessert with only a few ingredients!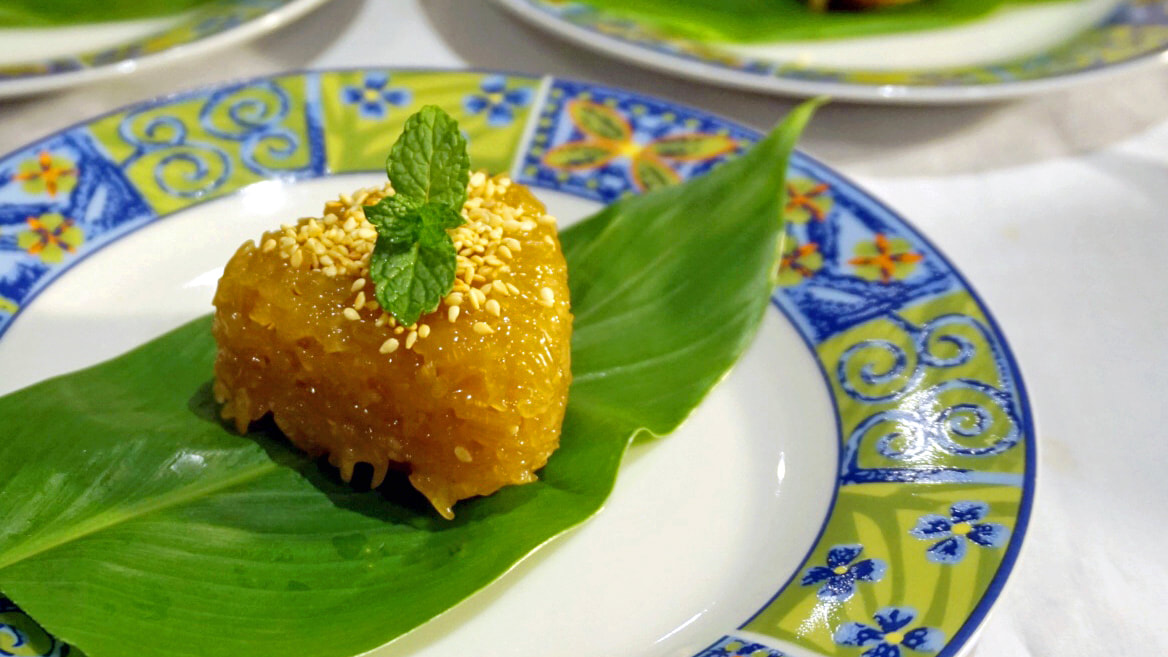 "Talking about Thai dessert always reminds me of special times" – Charinya
I think many of you know caramel slice, but what about caramel (s)RICE?
Talking about Thai dessert always reminds me of special times. Why? Because when I was young, dessert was not something that was available after every meal or everyday for afternoon tea. Normally my parents or relatives would only make desert on a special occasion like New Year, for a house warming or for a special event at the temple.
In western countries flour is the key ingredient for most desserts, but for Thai desserts the key ingredient for most desserts is rice or rice flour. Today I would like to show you a Thai dessert that is very simple and uses only a few ingredients that are available in most Asian grocery shops in Australia.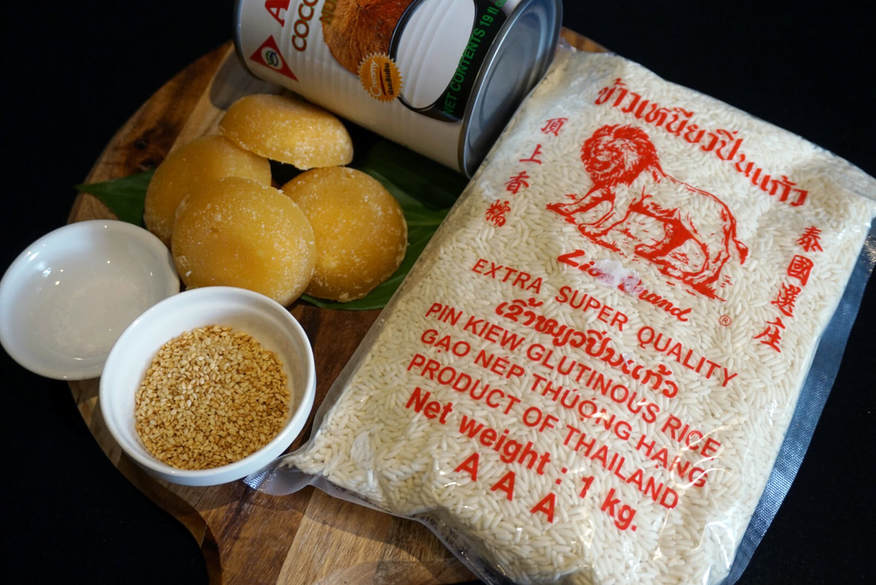 The dish is called "kow nhiew dang", with kow nhiew meaning "sticky rice" or glutinous rice and "dang" meaning red. So the dish name means red sticky rice, however it isn't as red as you think. The colour is dark brown from the colour of palm sugar.
The taste of the dessert is like rice with caramel sauce but the texture of the rice is soft on the outside but a little crunchy in the inside. This is why I think maybe we should call it caramel (s)rice!
Ingredients
(6-8 serve)
250g Lion Brand Glutinous Rice
200g palm sugar
1/2 cup coconut cream
1/2 tsp salt
3 tbsp roasted sesame seeds
Method
Wash and soak the glutinous rice for at least 3 hours.
Drain and steam the rice for 8-10 mins. and leave it to cool down. I use the traditional method to steam the rice with a bamboo basket, however you can use the microwave method which I previously showed on my Instagram.
In a brass wok or a heavy-base pan add palm sugar and stir until the sugar is dissolved then add coconut cream followed by salt.
When the sugar and coconut cream has merged and thickened add cooked rice and stir for around 10 mins. The more time you cook the rice the harder it will get so don't cook it for too long.
Wait for the rice to cool down and transfer it to a tray or mould that you prefer. I put mine in a Japanese sushi mould then sprinkled with sesame seed. Now your caramel (s) rice is ready to eat.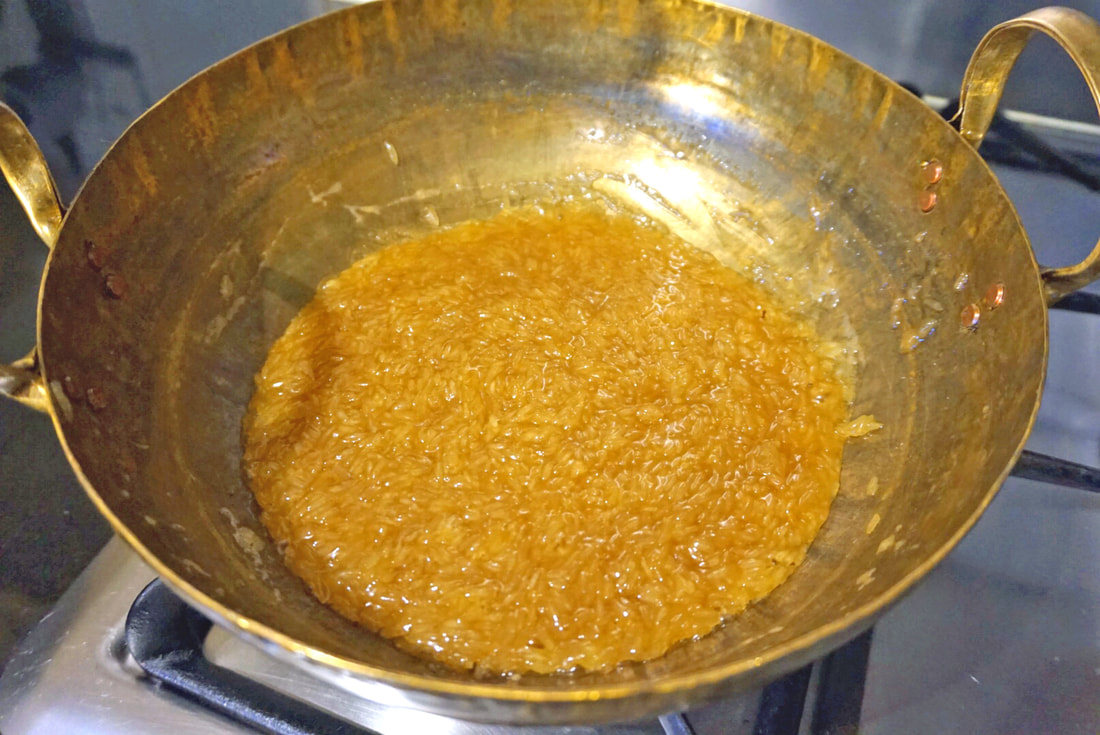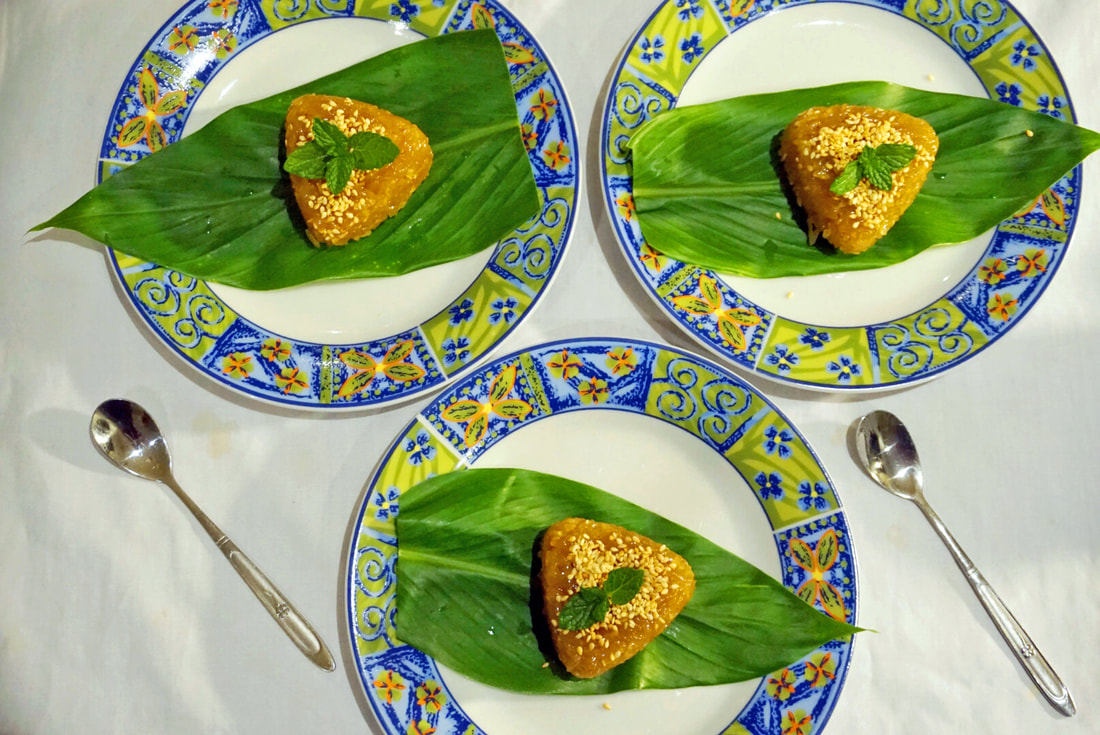 Inspired? Keep up to date with us!