Shrimp Paste Fried Rice Recipe: Khao kluk kapi (ข้าวคลุกกะปิ)
My mum often made Khao Khluk Kapi either as a family lunch or for guests as it is served with many sides or toppings… The crispiness of the sliced cucumber or green mango mixed with the pork and sausage and other sides gives a wonderful array of flavours and textures that is grounded by the shrimp paste fried rice – Warattaya Smith @loveslittlekitchen
Fried rice mixed with shrimp paste is a traditional Thai recipe that originated in central Thailand not far from my home town of Phichit.
My mum often made Khao Khluk Kapi either as a family lunch or for guests as it is served with many sides or toppings such as sliced cucumber, sliced shallot, onion or purple onion, deep-fried or fried shrimp, shredded or thinly sliced sour green mango, chili peppers, deep-fried chili peppers, sliced thin egg omelette or crepe, sweetened roasted pork, pork belly (Chinese mu wan), Chinese sausage such as kun chiang, and mackerel among others.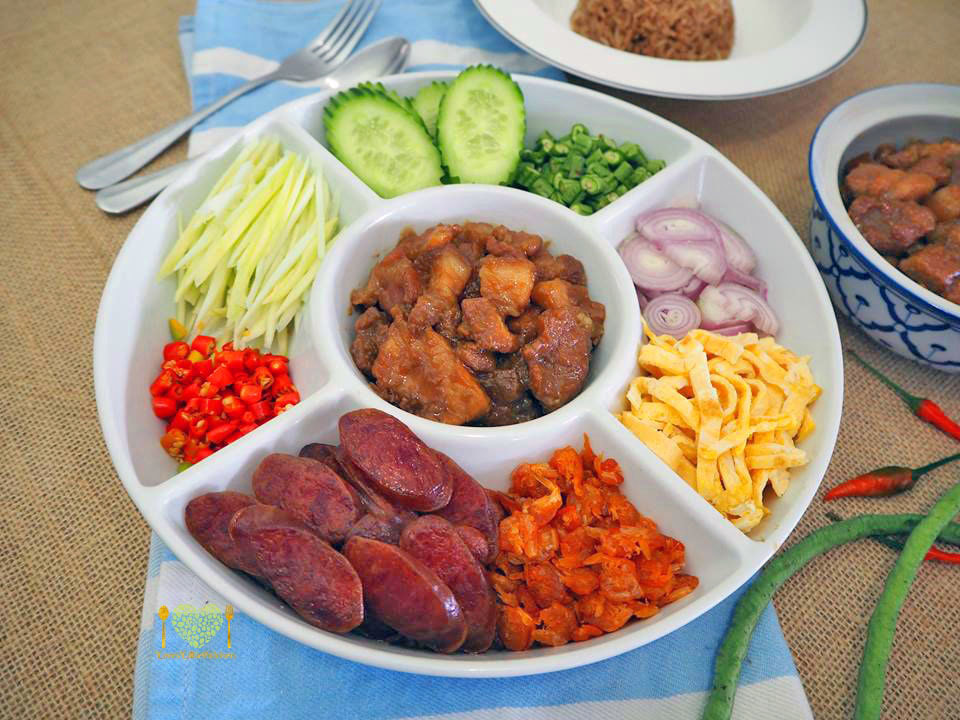 It makes for a great dish for visiting family and friends or just for one's self to enjoy and I make it when Thai friends of mine come and visit for lunch.
Living in Bangkok I would often get khao khluk kapi at the market where it can be found in a box with the fried rice in the middle and the sides surrounding it.
The crispiness of the sliced cucumber or green mango mixed with the pork and sausage and other sides gives a wonderful array of flavours and textures that is grounded by the shrimp paste fried rice.
Tip: Start slow with the shrimp paste as it can be rather strong if too much is added and you're not used to it.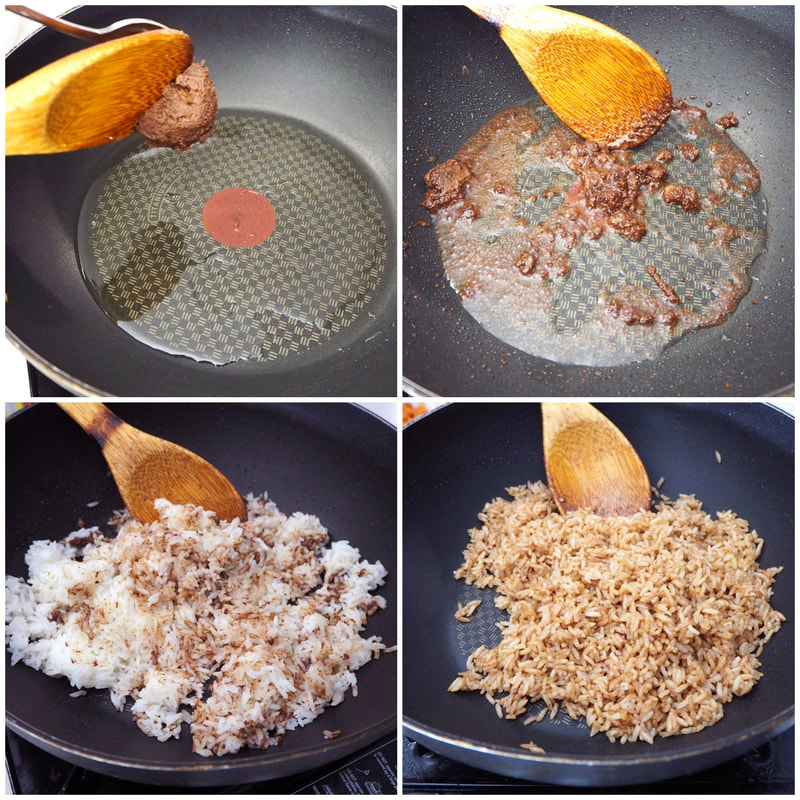 Ingredients
For Sweet Pork
200gm Pork Belly
300gm Pork Shoulder
75 gm Palm Sugar
1 cup water
2 tbsp Soy Sauce
2 tbsp Fish Sauce
11/2 tbsp Dark Soy Sauce
70 gm Shallots peeled and thinly sliced
5 Garlic Gloves
3 Coriander Root
1 tbsp Cooking Oil
For Shrimp Paste Fried Rice
2 Cups Cooked Rice
1 tbsp Shrimp Paste
2 tbsp Cooking Oil
For Sides
2 Eggs
2 Pieces Chinese Sausage
3 Shallots
1/3 Cup Small Fried Shrimp (washed and dried)
10 Fresh Chilli's
½ Lime
1/4 Cup Sliced Green Mango
1/4 Cup Green Beans
1 Cucumber
Directions
For Fried Rice
Heat oil in pan over medium heat, then add shrimp paste to fried.
Add rice, mix well, then set aside.
For Side Dishes
Eggs
Break eggs and beat well
Add 1/2 Tsp oil to pan over high heat and roll around to coat well.
When pan is hot, pour eggs into pan and quickly tilt around until egg coats entire surface of pan. Cook until edges of egg start to peel off easily.
Roll egg out of pan, and cut into shreds (julienne style). Set aside.
Fried Shrimp
Heat 1 Tbsp of oil in pan over medium heat.
When hot, fry dried shrimp.
Remove shrimp from pan and put on paper towel to absorb excess oil. Set aside.
Fried Sausage
Cut sausage diagonally into inch-long pieces.
Over medium heat, heat 2 tbsp oil in pan.
When hot, fry sausages until just starting to turn brown, then put on paper towel to absorb excess oil.
Vegetables
Peel shallots, take stems off chilis, then wash them thoroughly with water.
Slice shallots thinly and chop chilis into small pieces.
Wash green mango and beans well. Peel off the green mango skin and slice thinly.
Wash, peel, and cut cucumber into diagonal pieces. Wash and cut edges off green beans, then chop into small pieces. Set aside vegetables.
For Sweet Pork
Wash pork belly and pork shoulder thoroughly. Cut into small, thin pieces.
Heat oil in pan over medium heat. Fry shallots garlic cloves and coriander root.
In same oil, add pork. Cook pork for a few minutes, Add the seasoning sauces dark soy sauce, soy sauce, and fish sauce then add water and wait until it boils.
When pork starts to become soft and liquid is reduced by half, add palm sugar. Mix and stir until palm sugar dissolves and becomes dry, brown, and sticky, then allow to cook for another 10 minutes.
Carefully arrange all components on a large plate then serve.