Thai Coconut Balls Recipe | Khanom Tom | ขนมต้ม
Khanom Tom dates back to the Kingdom of Sukhothai in north central Thailand about 2 hours drive from my home village. The Kingdom existed from 1238 until 1438….
It's a wonderful feeling to know that this simple and delicious dessert is still loved throughout Thailand and much of South East Asia more than 600 years after it's beginning – Warattaya Smith of @loveslittlekitchen
Another auspicious Thai dessert Khanom Tom is an old traditional sweet that is made of boiled rice flour dumplings stuffed with shredded coconut melted with palm sugar and coconut milk and rolled in more shredded coconut to become a pretty ball of coconutty goodness.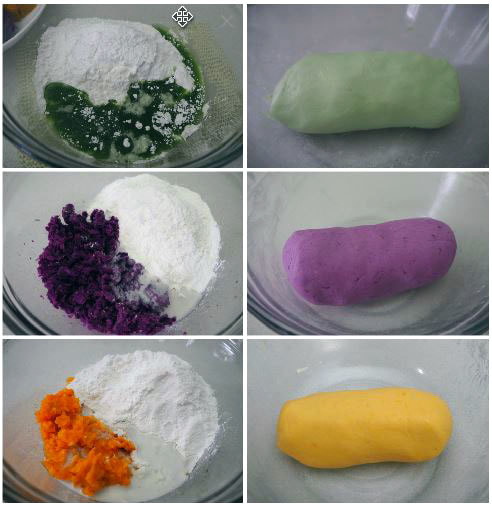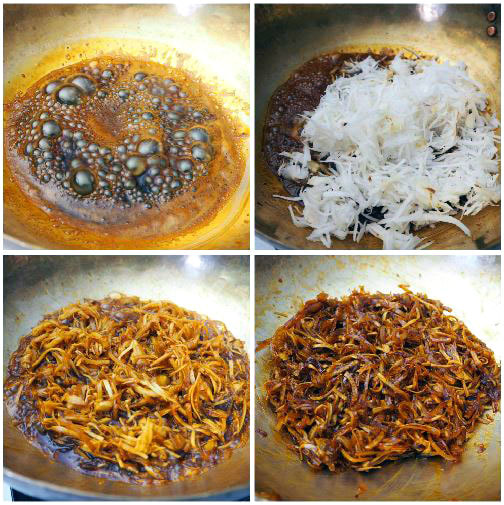 The coconut filling is often infused with a flower fragrance by using scented candles, while pandan leaves or butterfly pea extract, are often added to the dough for colour, fragrance, and flavour.
I often use Pandan and on this occasion I also used sweet potato and purple sweet potato.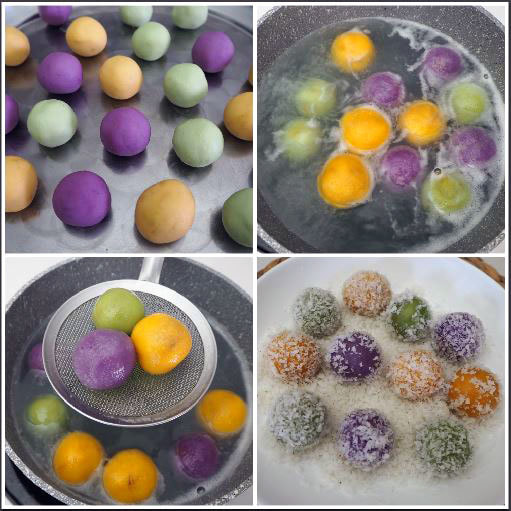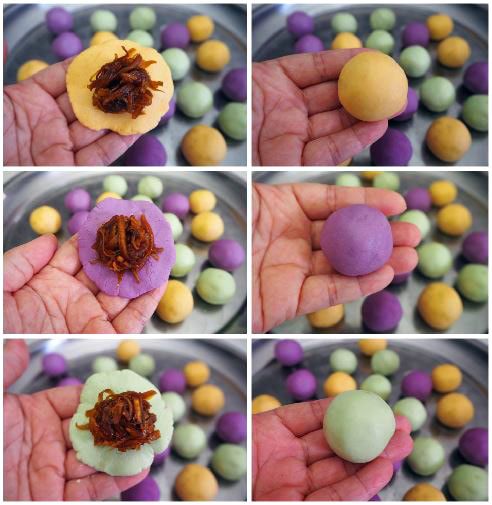 Today Khanom Tom can be found all across Thailand in markets, shops or at parties and ceremonies.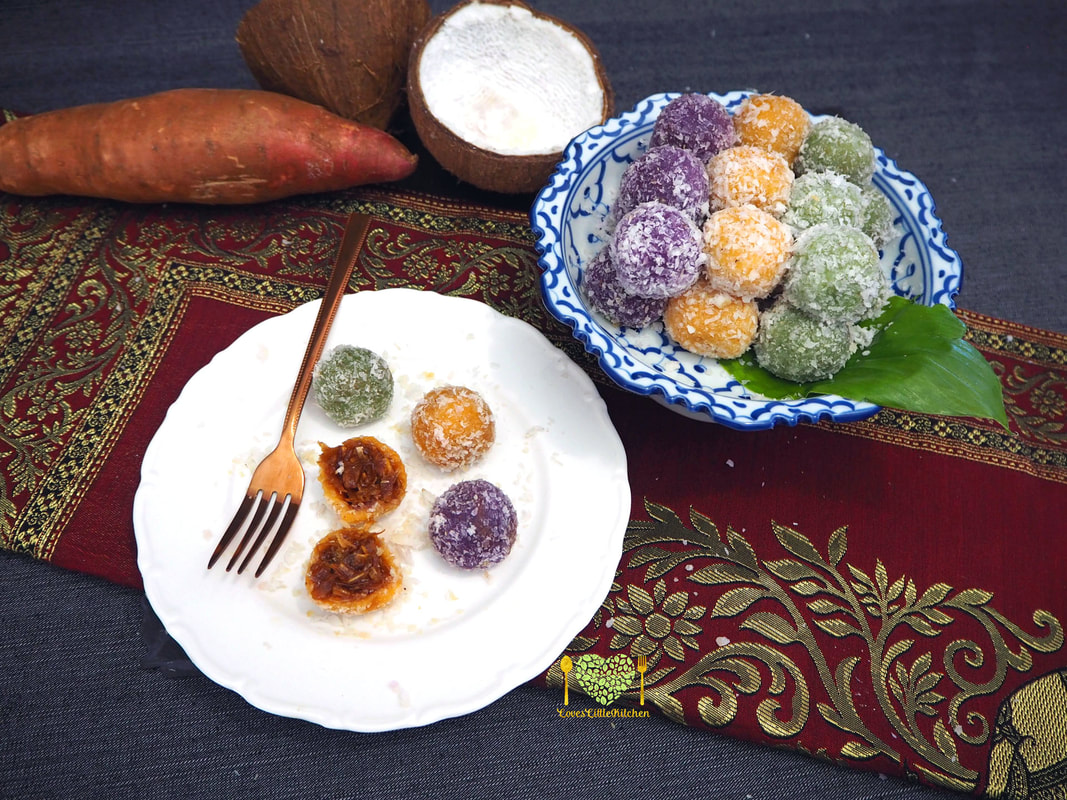 Khanom Tom dates back to the Kingdom of Sukhothai in north central Thailand about 2 hours drive from my home village. The Kingdom existed from 1238 until 1438.
The old capital, now 12 km outside Sukhothai in Tambon Mueang Kao, is in ruins and has been designated as a UNESCO World Heritage Historical Park.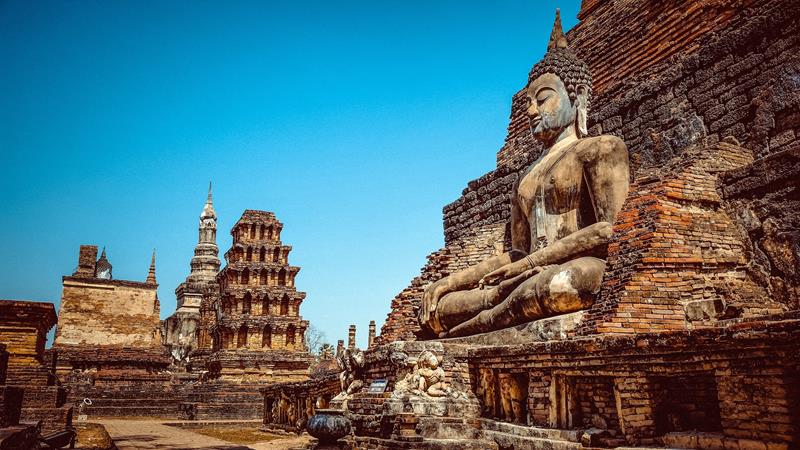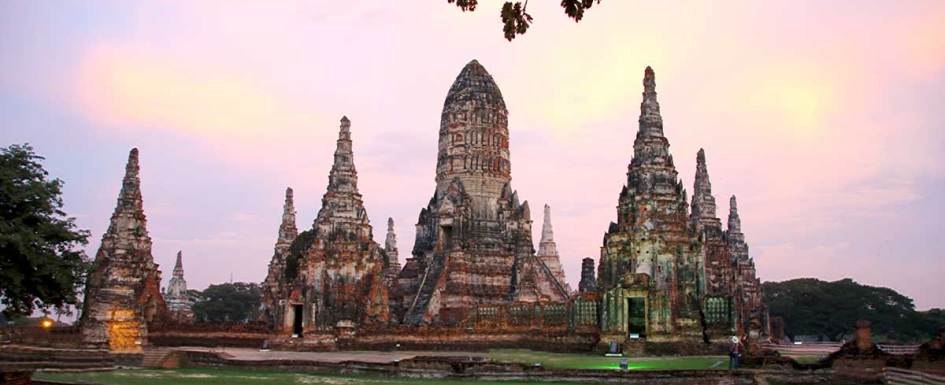 It's a wonderful feeling to know that this simple and delicious dessert is still loved throughout Thailand and much of South East Asia more than 600 years after it's beginning.
Ingredients
Inside Filling
Coconut 300 g. (You can grate yourself or purchase from shop)
Palm sugar 180 g.
Salt ½ tsp
Water 1/3 cup
Green Colour (Pandan)
100 g. Glutinous-rice flour
90 g. – 100 g. Pandan Juice
Purple Colour ( Purple sweet potato)
100 g. Glutinous-rice flour
100 g. Purple sweet potato (cut and steamed about 20 minutes)
Coconut milk (use enough so the dough is no longer sticky while kneading)
Orange Colour (Sweet potato)
100 g. Glutinous-rice flour
100 g. Sweet potato (cut and steamed about 20 minutes)
Coconut milk (use enough so the dough is no longer sticky while kneading)
Coconut cover
Grated coconut 200g
Salt ½ tsp
Directions
Prepare about 500 g of grated coconut (300 g. filling, 200 g for rolling)
Add Grated palm sugar ,salt and water to a pan medium heat and mix until all dissolved.
lower the heat and add 300 g. grated coconut to the pan and stir until the coconut has soaked up all the palm sugar.
Once you think it's ready let cool a little before rolling into many small balls to wrap with your dough.
To make the dough Green knead glutinous rice flour and pandan extract until the colour is homogeneous.
For orange knead glutinous rice flower with steamed sweet potato and coconut milk until colour is homogeneous. ( I used about 4 tbsp coconut milk for the sweet potato)
For purple do the same as the purple sweet potato but this time with purple sweet potato.
( I used about 8 tbsp coconut milk for the purple sweet potato)
Tip: If you add to much coconut milk you can add more flour to find the right consistency and vice versa.
Wrap your dough in cling wrap so it doesn't dry.
Make dough into discs large enough to wrap around the coconut filling you made earlier and make sure when wrapping there is no filling showing as you don't want water to get inside.
(When placing your finished balls onto a tray sprinkle some flour down so the balls don't stick to the tray)
With the excess grated coconut you have place on a plate and microwave covered for about 2 minutes and mix with salt to roll your coconut balls in when ready.
Boil a pot of water and start to add your coconut dough balls once water is bubbling.
When the balls start to float to the top they are ready to remove and place on the plate with the grated coconut rolling all around so the cooked dough balls are totally covered in coconut.
Ready to serve and enjoy.