Thai Curry Puff Recipe | Karipap | กะหรี่ปั๊บ
Another dish that is believed to have been adapted from Portuguese traders long ago this delicious and popular crispy treat is found all around Thailand and South East Asia along with pretty much every Thai restaurant around the world – Warattaya Smith of @loveslittlekitchen
In Thailand, a curry puff is known as a karipap (กะหรี่ปั๊บ). This simple entrée/snack is a hit with my Australian family and a great addition to any party or BBQ.
Another dish that is believed to have been adapted from Portuguese traders long ago this delicious and popular crispy treat is found all around Thailand and South East Asia along with pretty much every Thai restaurant around the world.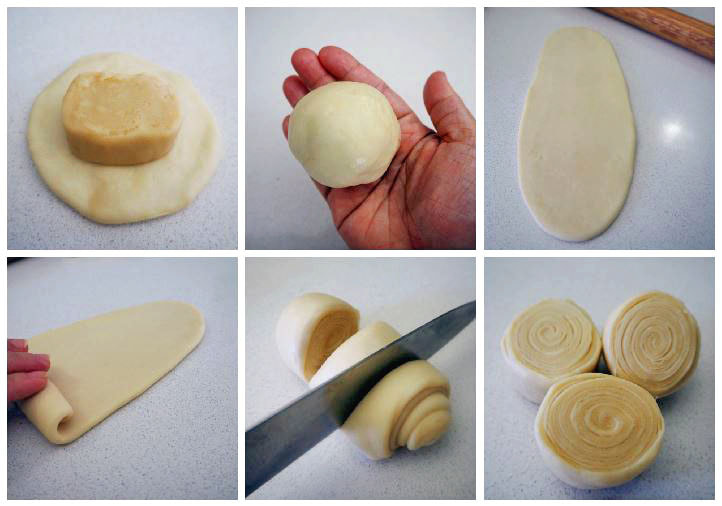 What makes Curry Puffs such a popular snack is not just the taste but the simplicity in which it's made as you can use any pastry from flaky puff pastry (as I like to do) to spring roll pastry (quick and easy) and the filling can be made with anything from chicken (most popular), pork, beef to vegetarian with any type of potato and spices.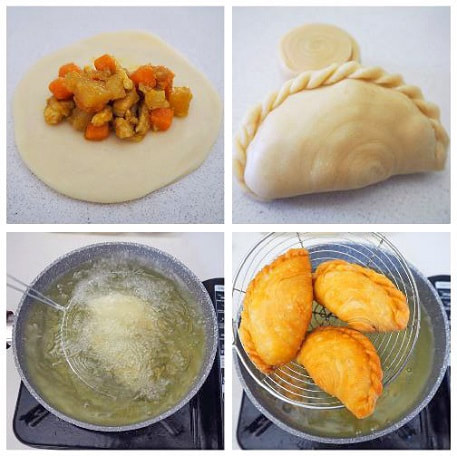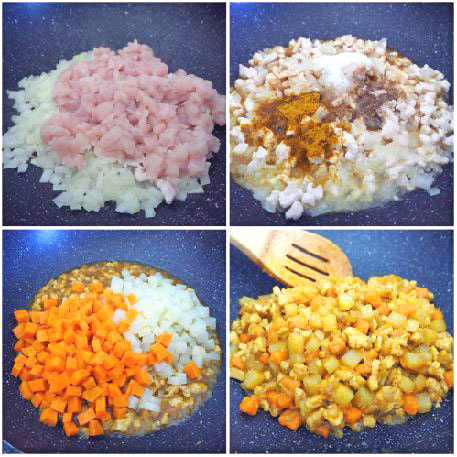 I like to use orange sweet potato in my filling as it gives a great colour and flavour.
I also love to use two doughs as it gives a lovely layered pattern.
Light and flaky pastry parcels filled with a delicious seasoned filling will keep you coming back for more
Ingredients:
For the filling
250 g chopped chicken breast
1½ tbsp vegetable oil
120g onion, finely chopped
150g potatoes, diced and boiled
150g sweet potato diced and boiled
2-3 tbsp seasoning sauce
¼ cup sugar
½ tsp salt
1/2 tsp white pepper
1 tbsp curry powder
Large pastry
400 g. all-purpose flour
3 tbsp vegetable oil
1 tbsp sugar
½ tsp salt
¾ cup cold water
Small pastry
190 g. all-purpose flour
6 tbsp vegetable oil
Instructions:
Filling
Boil the diced potato's till they soften but not too soft so they don't break up when mixing later.
Heat some vegetable oil in a non-stick frying pan over medium heat. Add the chopped onion and cook for 3 to 4 minutes or until soft.
Add the chopped chicken breast and cook for 2 minute before adding your boiled potatoes.
Go ahead and add the Soy sauce, seasoning sauce, curry powder, sugar, white pepper and salt then stir.
Continue stirring until moisture has evaporated and your filling is dry (this will keep your curry puff crispy once finished)
Set aside to cool completely.
Pastry
In a non-stick bowl add the all-purpose flour, sugar, salt then the water and vegetable oil.
Stir together well before kneading and continue to knead until the dough is no longer sticky.
Once finished wrap in cling wrap and let it rest for 20 minutes.
While the first dough is resting continue to make the second dough with your all-purpose flour and vegetable oil stirring and kneading the same way.
Then both doughs are ready, take the first large dough and roll it out into a sheet.  Then wrap it around the second smaller dough.
Now roll out this ball into a long sheet with a rolling pin and roll it back in tightly like a Swiss roll.
Roll out the dough again and roll it back in tightly like you did before.
Slice the dough into 3 sections to make it easy then slice the section you are using into the size you think is best.
Make sure to wrap the other sections back up so not to dry out.
to wrap your filling. (I like to place a rolled piece of dough across to top and bottom of the sliced section before rolling again as it helps avoid splitting when frying as seen in my video)
Once a section is rolled add 1-2 tablespoons of the chicken potato filling depending on the size of your dough into the centre of each dough round. Fold the dough in half and fold the edges over to seal your curry puff.
Deep fry them in batches in vegetable oil over low heat until golden brown.  Transfer them to a plate lined with kitchen paper to drain the excess oil.
You are now ready to serve your light and flaky pastry parcels.
Sweet chilli sauce is a popular dip you can add but I prefer to eat them as is. Golden brown and beautiful.