Thai Pork Satay Recipe | Moo Satay
Just like much of South East Asia, it is hard to go around any market place in Thailand and not hear the sizzling sounds and delicious spicy smells of satay being cooked by stalls and street vendors. Such a simple dish can be both an entrée or a main and is often served with a side of rice and salads – Warattaya Smith of @loveslittlekitchen
A dish of seasoned, skewered and grilled meat, usually served with a sauce. Its origins are from Indonesia and is popular in many other Southeast Asian countries including Thailand, Malaysia, Singapore and Vietnam.
Satay can be anything from diced or sliced chicken, beef, pork, fish, prawn, other meats, or tofu grilled or barbecued over a fire (Or even just in a pan if in your kitchen) then served with various spicy seasonings.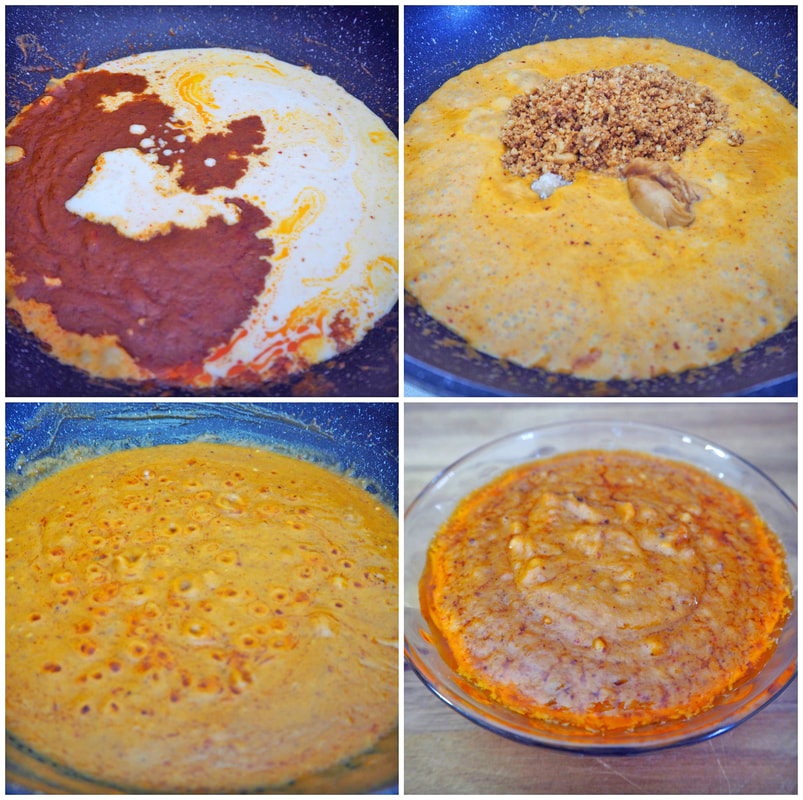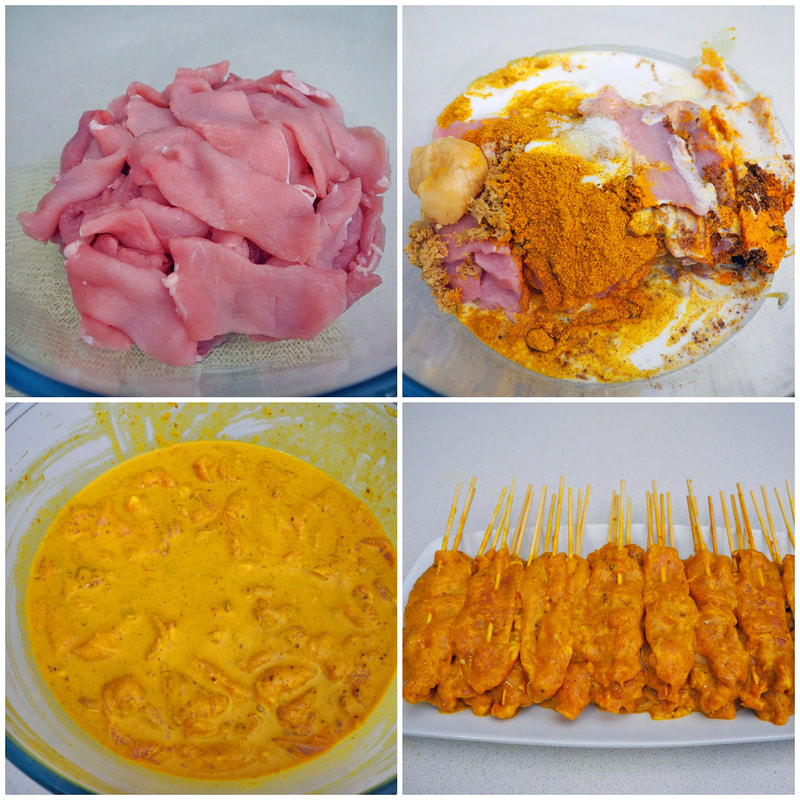 Different regions have their own sauces and unique styles, adding to the variety of flavours that are a reflection of the many cultures and influences throughout that part of the world.
Thai satay that I grew up with and much of the world is familiar with has the inclusion of pork as a meat option and Thai style peanut sauce.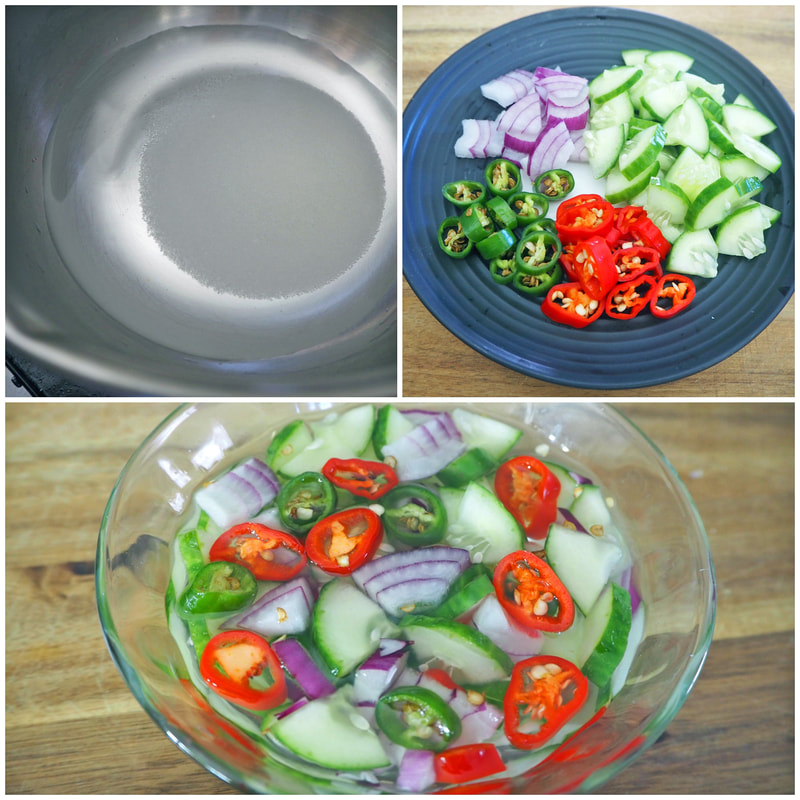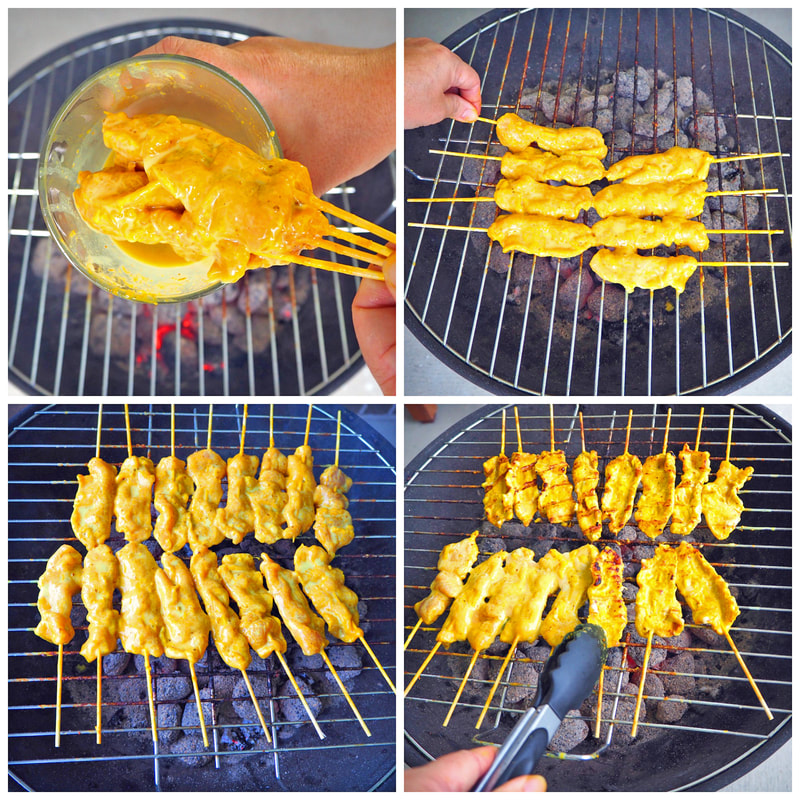 Just like much of South East Asia, it is hard to go around any market place in Thailand and not hear the sizzling sounds and delicious spicy smells of satay being cooked by stalls and street vendors. Such a simple dish can be both an entrée or a main and is often served with a side of rice and salads.
Found in virtually any Thai restaurant worldwide this dish is great all year round and I'll often prepare a large number that I can cook over several nights.
I love Thai satay on bamboo/wood skewers but if you ever run out then just with a side of rice is just as delicious.
Pork + Marinade
Ingredients
1 kg pork loin, cut into 3 inch- long slices (thickness and length is up to you)
1 tbsp.coriander seed
½ tbsp.ground cumin
1 tbsp.chopped lemongrass
½ tbsp.chopped galangal
1 tbsp.curry power
½ tbsp.ground turmeric
1 ½ tbsp. cooking sake (can find in supermarket Asian section)
1 tsp. salt
25 g. palm sugar
1/4 cup condensed milk
400 ml. coconut milk
Instructions
Stir coriander seeds and ground cumin separately in a pan till they start to change colour. (low heat as you don't want to burn) this helps bring the aroma out.
Grind coriander seeds, in a mortar and pestle (or coffee grinder) with your ground cumin until very fine.
Add galangal, lemongrass in a mortar and pestle and grind together.
With your sliced meat in a mixing bowl add all the marinade ingredients and massage with your hand in glove (otherwise the turmeric yellow colour will stain your hand for 2 days), making sure that no pieces of meat are stuck together. Cover and refrigerate for at least 4 hours or overnight. (I do 1 night)
Skewer the meat with bamboo skewers, and lay them flat on a tray.(don't throw away the left over marinade)
Pre-heat your grill or pan to about medium as you don't want to burn.
Pour the left over marinade you have into a tall glass and top up with coconut milk then dip your pork skewers into it before placing them onto grill/pan
Once cooking brush the other side with coconut milk and grill for a minute or so just until it is halfway cooked. Flip the skewers and grill the other side just until done.
 You can serve the Satay skewers alone with Satay sauce or with a side of rice.
Thai cucumber pickles are popular in Thailand
Satay Peanut Sauce
Ingredients
100 g. massaman curry paste
80 g. palm sugar
60 g. peanut butter (unsweetened) I like to use as it helps make it creamier but not a traditional addition. Can make with or without.
1 cup. ground roasted peanuts
3 – 4 tbsp. tamarind juice
½ tsp. salt
500ml coconut milk
Instructions
With a pan on medium heat stir in massaman curry paste with coconut milk.
Once mixed together add the rest of the ingredients and continue stirring until it has mixed and thickened from evaporation and has become a delicious peanut sauce.
Thai Cucumber Pickles
A great and popular compliment to your satay skewers giving a nice sweet and sour flavour to the added vegetables.
Ingredients
½ tbsp. White vinegar (vinegar in the west is often stronger than in Thailand so ½ tbsp should be enough)
2/3 cup Water
¼ cup Sugar
¼ tsp Salt
Cucumber, Green chilli, Red chilli, Red onion (all chopped)
Instructions
In a small pot on medium heat add water, vinegar, sugar and salt and stir until the salt and sugar has dissolved.
Place your flavoured water (once cooled) in a small bowl and add your cucumber, chilli's and red onion.
Bamboo skewers or even tooth picks can be used to enjoy your cucumber pickles.
​I think the key ingredient is the pork that is used to make this recipe. To get the full flavour it must be mixed with some fat so it is not too dry after being grilled, and making the best flavour requires marinating overnight instead of just a few hours. Grilling the pork using charcoal (rather than a clean gas or electric heat) also increases the smokey flavour and (to me) also enhances the taste.
​This is how I cook the dish in my kitchen.