Thai Steamed Dumpling Recipe: Khanom Chor Muang (ช่อม่วง), Khanom Jeab Nok (จีบนก)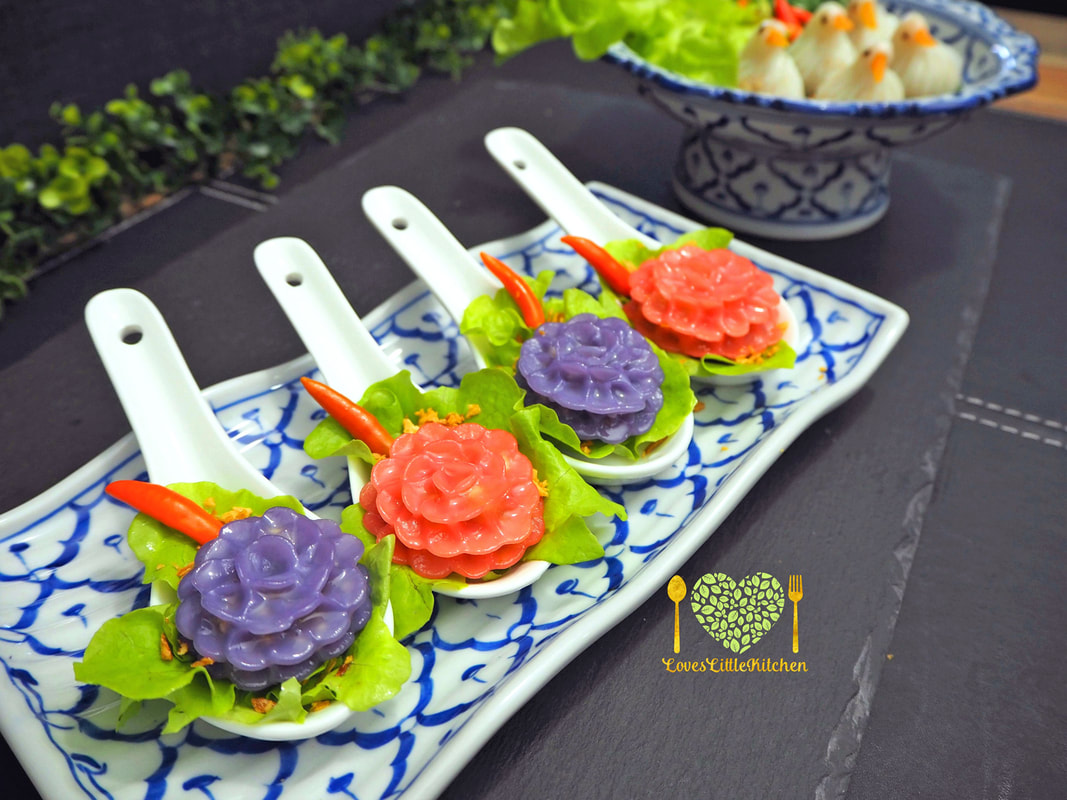 Khanom Chor Muang (Thai: ช่อม่วง), sometimes translated as Thai flower dumpling is a traditional appetizer in Thailand. Khanom Jeab Nok (Thai: จีบนก) is the name given to a bird dumpling… Once steamed they are stunning to look at with their beautiful shapes and the best part is they are delicious. – Warattaya Smith @loveslittlekitchen
​Khanom Cho Muang or Khanom Chor Muang (Thai: ช่อม่วง), sometimes translated as Thai flower dumpling, is a traditional appetiser in Thailand. Khanom Jeab Nok (Thai: จีบนก) is the name given to a bird dumpling. Originally they were served to royalty as far back as King Rama II 200 yrs ago.
The steamed dumplings can have either a savoury or sweet stuffing usually with seasoned meat filling, such as shrimp, fish, pork, or chicken fried with coriander root, garlic, and pepper. The exterior batter is coloured with such things as butterfly pea blossoms (blue), beetroot (red) or pandan leaves (green). Food colouring works just as well.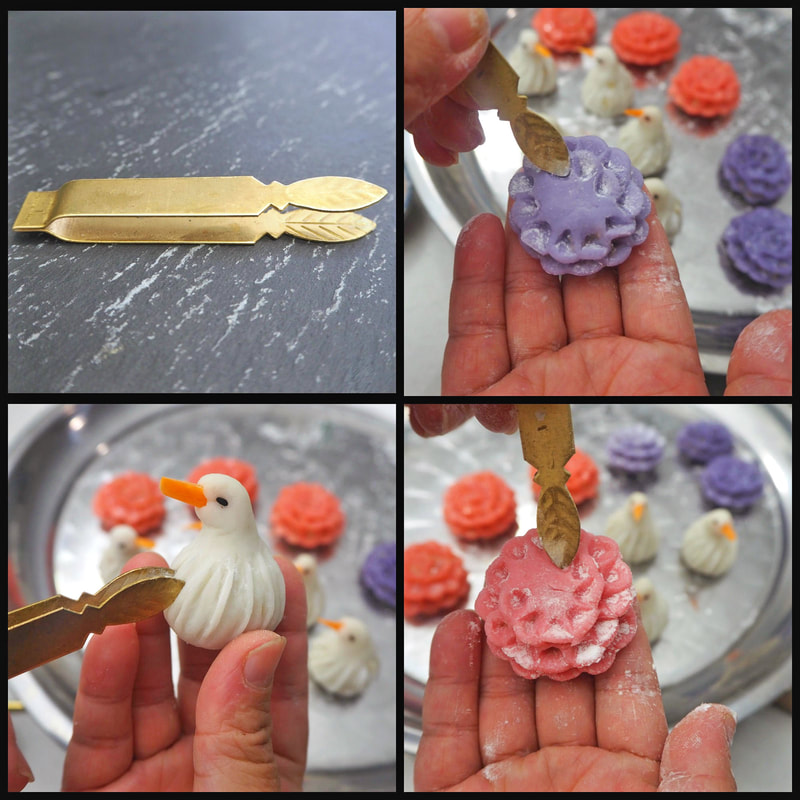 Once the stuffing and batter are combined and rolled into a ball, each dumpling is crafted with tweezers into a flower and or bird.
The stuffing is rather simple to make, although the batter takes a little longer to create and colour.
Once steamed they are stunning to look at with their beautiful shapes and the best part is they are delicious.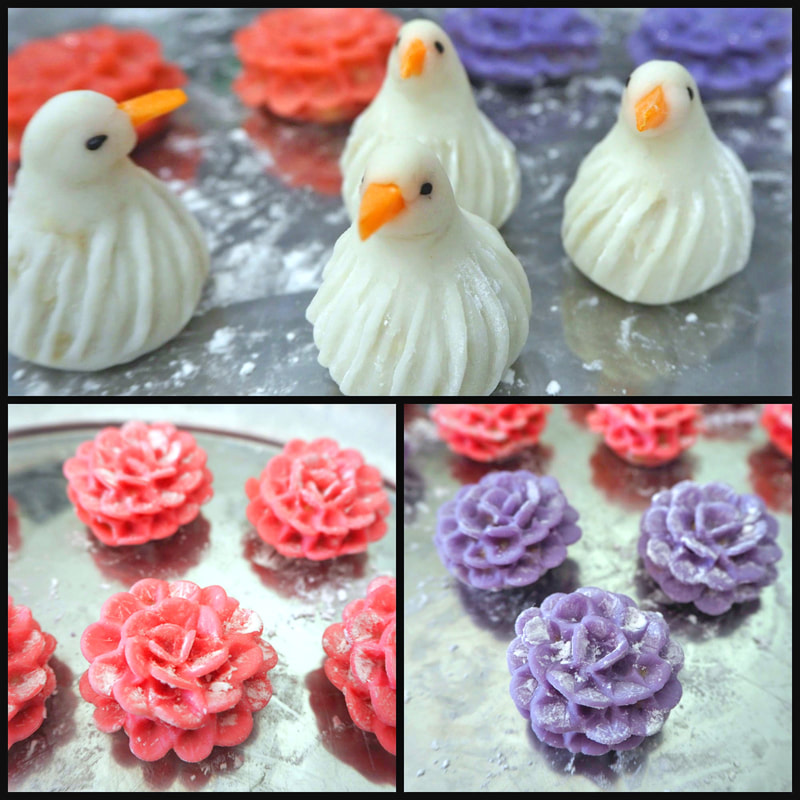 Ingridients:
For the filling
250 g Minced chicken
120 g Diced onion
2 Garlic cloves
2 Coriander roots
1 g White pepper
40 -50 g Palm sugar
3 – 4 tbsp Fish sauce
1/4 tsp Salt
2 tsp Cooking oil
For the batter/dough
1 1/2 cup Rice flour
1 1/2 Tbsp Tapioca flour
1 1/2 Tbsp Glutinous rice flour
1 1/2 Tbsp Arrowroot flour
3/4 cup Coconut milk
1 cup Water
Food colouring *for colour
*I used natural colours such as butterfly pea(blue), Beetroot(red),Pandan leafs(green)
For decoration
Cut a carrot into small triangles
Black sesame seeds
For beaks and eyes if doing birds (use some water to help the sesame stick)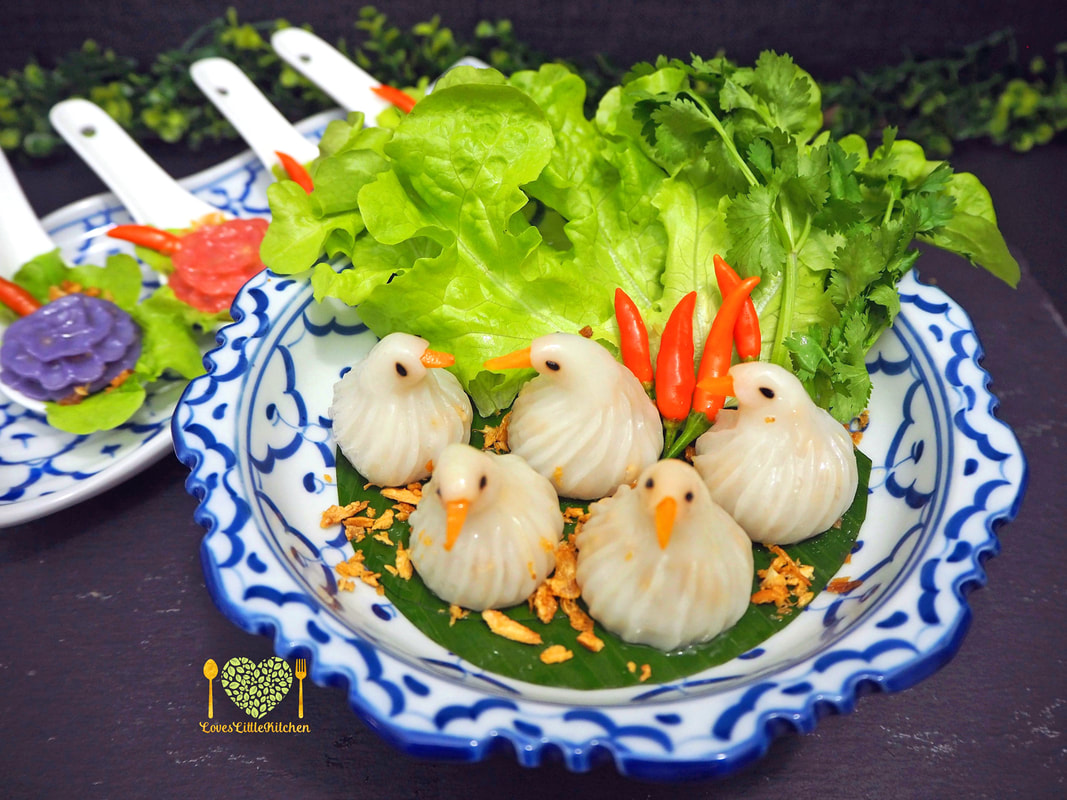 Method
For the filling
Grind white pepper, coriander root and garlic gloves together.
Place ground spices into a pan over medium heat and add cooking oil.
Add the rest of the ingredients browning the onions first then stirring everything together for about 10 minutes.
Transfer into a bowl and let cool.
​For the dumpling skin
Mix the flours together then separate into bowls for colouring. Then pour some water and coconut milk and colour stirring to mix.
Pour into a pan over low heat and stir until water has evaporated and it is doughy.
Place into a bowl to cool while covering with a damp towel so not to dry out
Knead with flour till the dough is no longer sticky to your hand and is soft.
Roll them long so you can cut sections off about the same size.
​For the dumplings
Take your cut sections and form into a small ball. Flatten the ball and add a teaspoonful of filling in the centre and then squeeze into shape.
Next, using tweezers, form the ball into a flower or bird
Place in the steamer. Drench with some water before steaming over medium heat for about 8 – 10 minutes. (use the excess oil from your crispy fried garlic to coat the bottom of the steamer so dumplings won't stick)
Pat some oil before taking them out of the steamer using a brush.
Serve with crispy fried garlic, chillies and lettuce