Thai Style Chicken Biryani Recipe (Khao Mok Kai)
Charinya of @charinyas_kitchen puts together a stunning Thai version of chicken biryani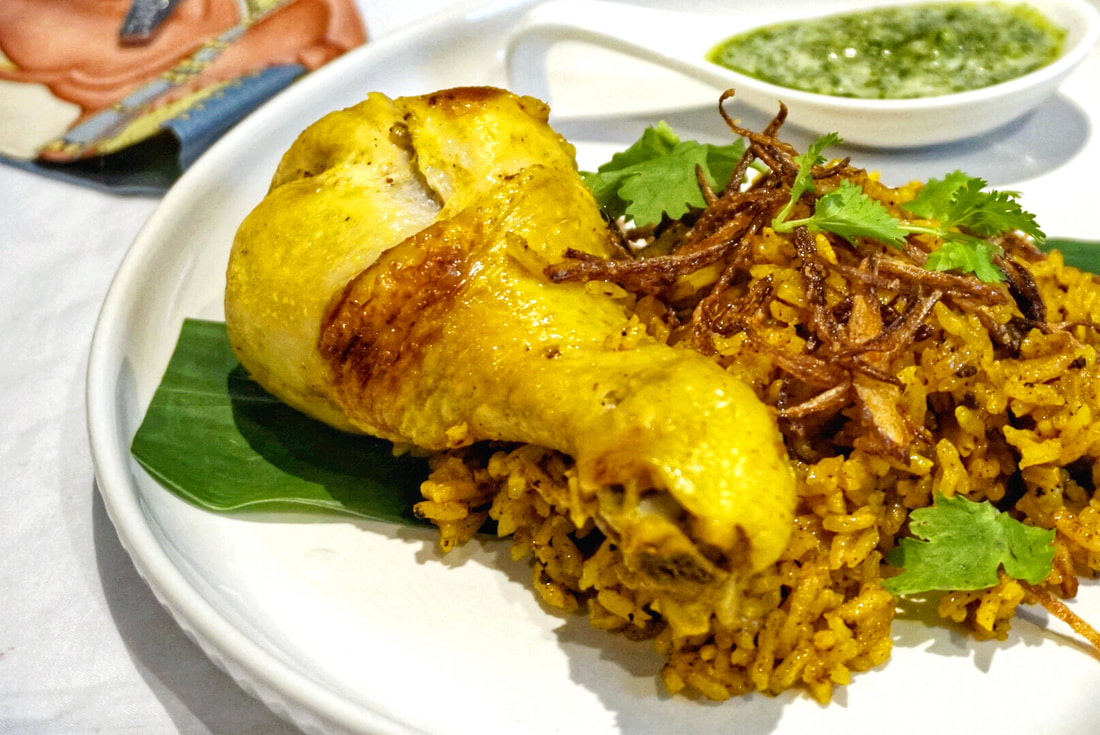 The dish is khao mok kai. "Khao" is rice, "mok" in this context is "bury" or "place underneath" and the last word is "Kai", which means chicken. In summary the name "Khao mok kai" is "chicken buried in rice" which explains the way of cooking this dish.- Charinya
If you love cooking Thai food you may be familiar with the essential ingredients of Thai cooking.
As I mentioned in my previous blog post these include fish sauce, seasoning sauce and oyster sauce. The dish I would like to show you today does not require any of those sauces. The ingredients for this dish are totally different and are not something commonly seen in most Thai kitchens.
The dish is khao mok kai. "Khao" is rice, "mok" in this context is "bury" or "place underneath" and the last word is "Kai", which means chicken.
In summary the name "Khao mok kai" is "chicken buried in rice" which explains the way of cooking this dish.
Many people define "Khao mok kai"as a Thai version of a "biryani", and the dish was probaby bought to Thailand by Muslim Indians. Up until now most of the restaurants that sell "Khao mok kai" are still Muslim shops, however the dish is not just popular among Muslim people but all Thais.
Before getting to the recipe let's have a look at the most significant ingredients.
First of all, rice! For this recipe I recommend old rice, this mean the crop harvested the previous year. Even though the old rice will give less aroma it is steady in its shape when cooking for a long time with the chicken. I have to say this time I couldn't find the old rice, so I just went with what I had which is still perfect for a home cook.
Chicken, which in this dish I love using drumsticks or thighs with skin and bone on. As this chicken cooks for the same time as the rice we won't use a big chunk or a whole chicken.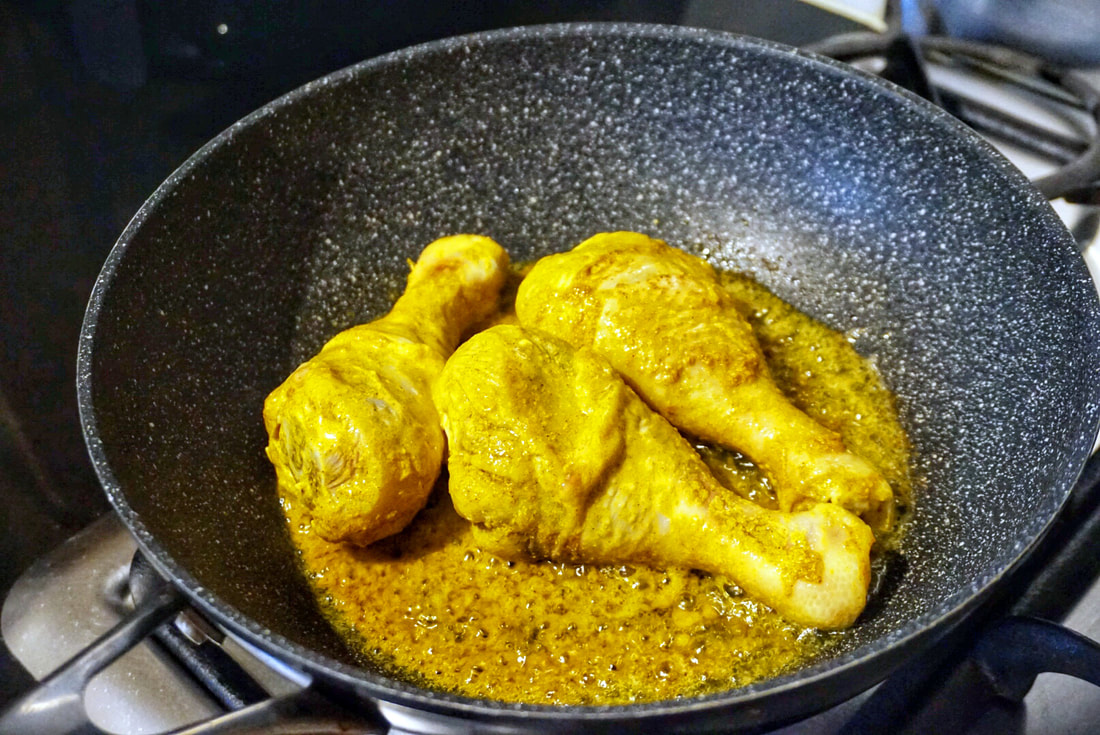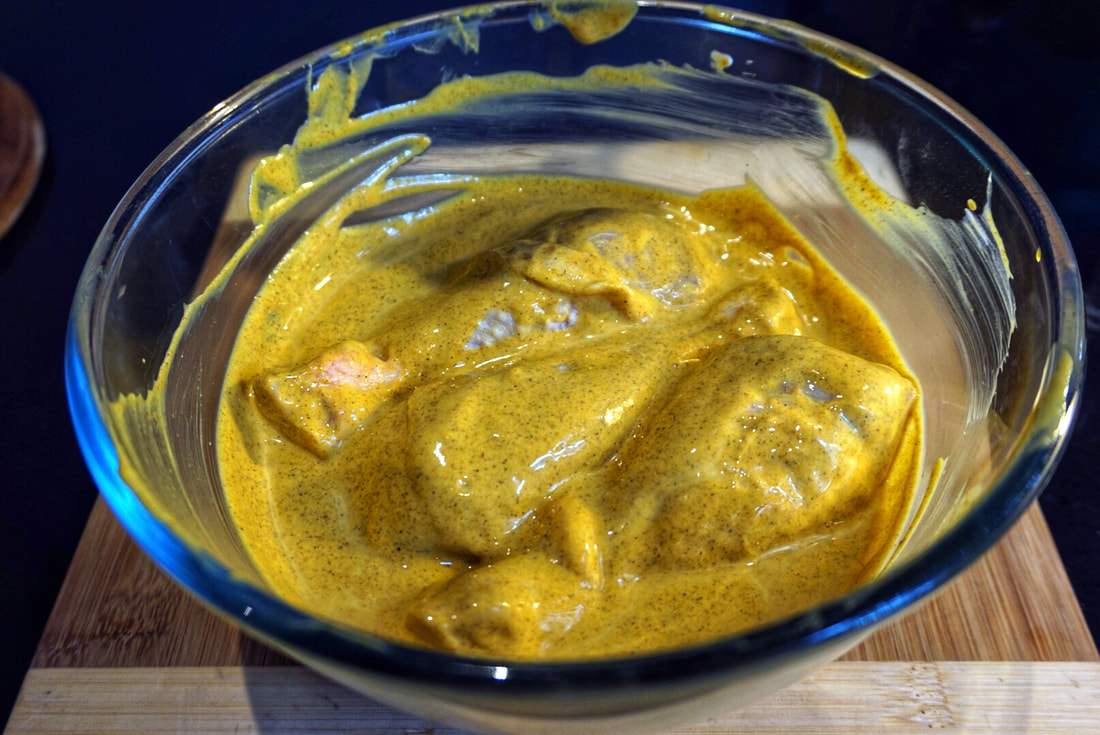 Chilli, coriander and mint sauce, which is probably the key difference that makes "Khao mok kai" unlike Biryani. As you know, Thai people love chilli and this is indicated by the way Thai's adjust the taste to suit our preferences.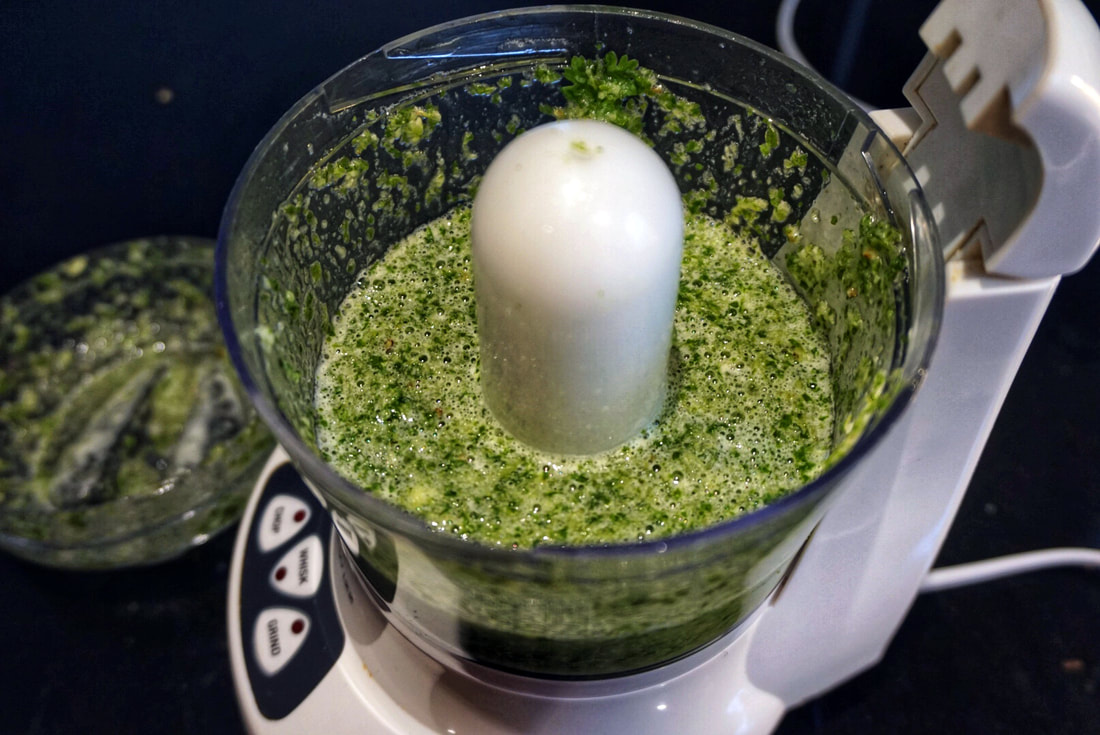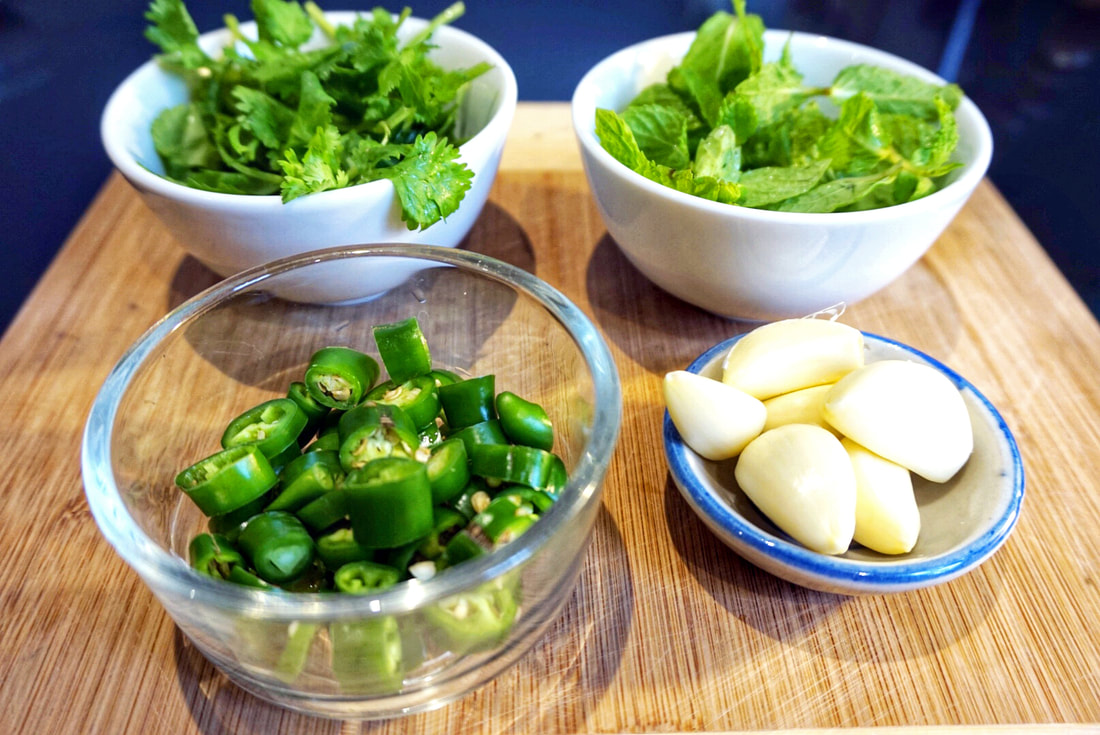 Now let's see the the recipe!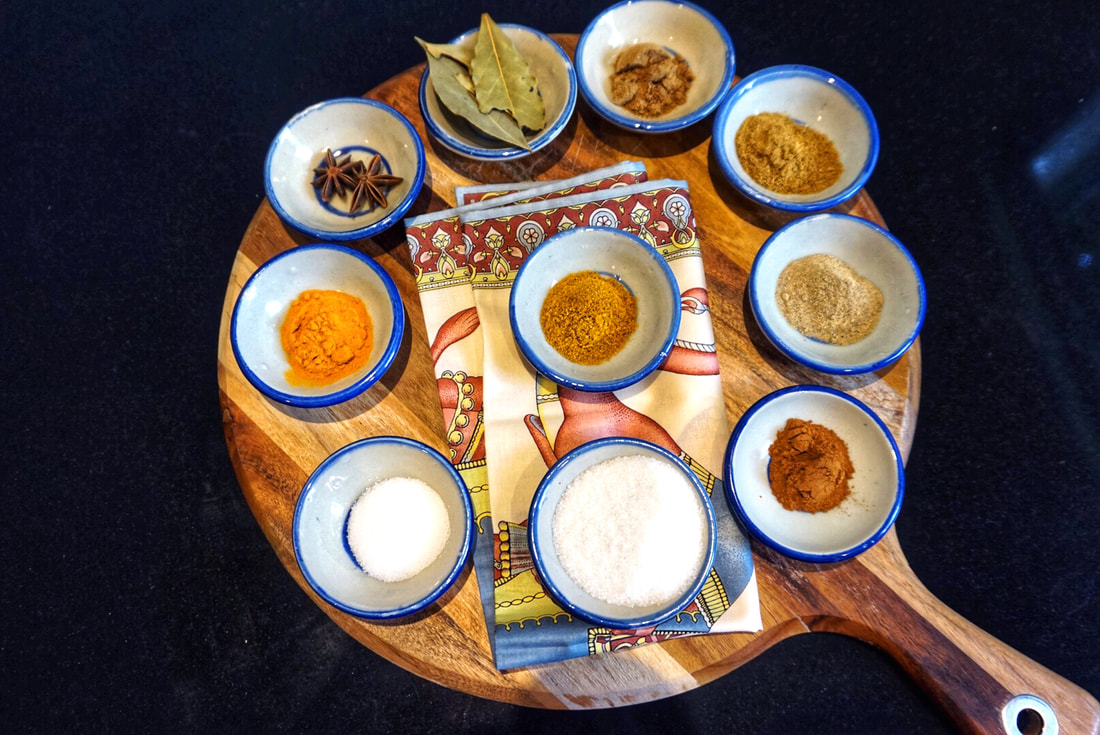 Ingredients
Chicken
3-4 Chicken drumsticks
1 teaspoon each of the below spices.
Curry powder
Turmeric powder
Cumin powder
Coriander seed powder
White pepper
Cinnamon
Salt
1 tbsp sugar
1 cup natural yogurt
Rice
2 Bayleaf
2 star anise
1 tbsp oil
20g butter
2 cup of rice
3/4 cup chicken stock or water
Fried shallots
Cooking oil to fry
1/2 cup sliced shallots
1 teaspoon rice flour
Dipping sauce
5 green chillies
6 cloves of garlic
1/2 cup mint leaves
1/2 cup chopped coriander
1/4 cup sugar
1/4 cup white vinegar
1 tsp salt
Method
Marinate chicken with all spices, salt, sugar and yogurt for at least an hour.
Sprinkle sliced shallots with rice flour and fry until crispy. Set aside for serving.
Heat the pan then add oil and butter.
Brown chicken then set aside.
Using the same pan add rinsed rice and stir fry until combined.
Add the left over marinade from the chicken, then add the chicken back.
Add stock, bay leaves and star anise.
In this method you can transfer the ingredients from the pan to the rice cooker and cook as per normal, however I just cooked in the pan by covering it. This should take around 15 minutes. I stirred the rice though after 10 minutes to get the rice cooked though throughly.
Make the dipping sauce;
In a small saucepan adding sugar, vinegar and salt. Heat it up and stir until the sugar is dissolved. Leave it to cool.
Add all the ingredients for the sauce to a food processor and process until smooth.
Serve the rice with chicken sprinkled with fried shallots alongside the dipping sauce and sliced, fresh cucumber to complete the dish. ​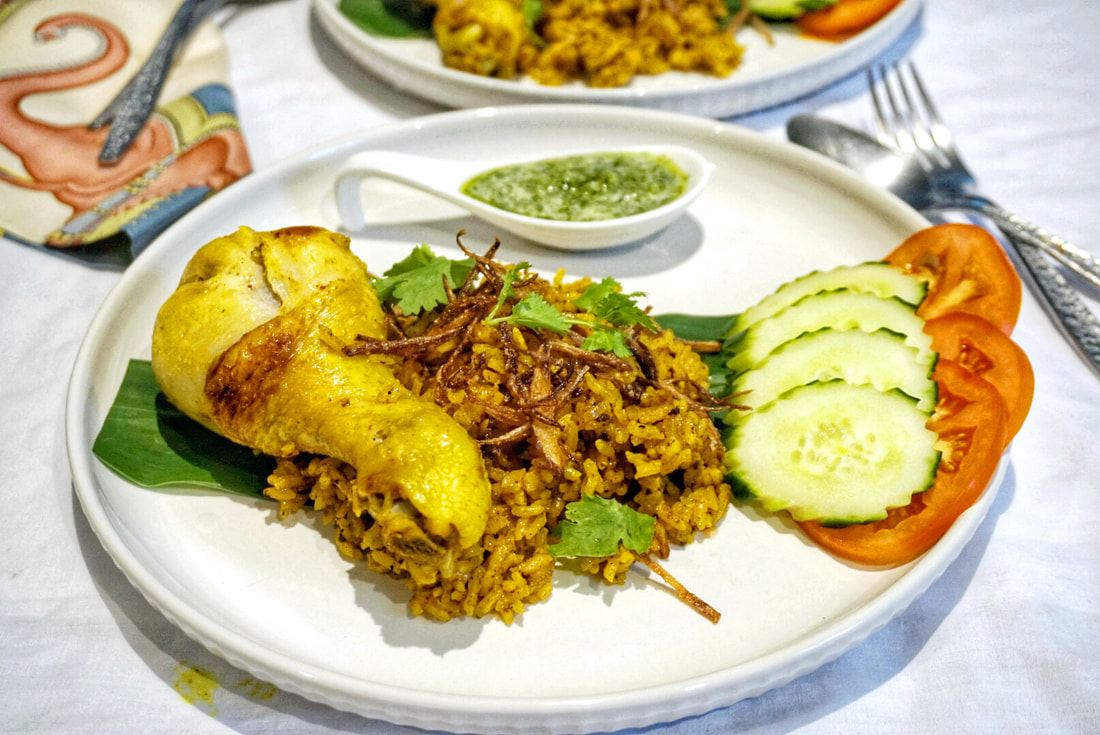 Here we go, you have got "Khao mok kai" or the Thai version of Biryani. Happy cooking!