Tom Yum Goong Recipe | Thai Hot and Sour Soup | ต้มยำกุ้ง
​In Thailand we serve the soup with boiled jasmine rice alongside other dishes as a main meal, but here in Australia (and maybe elsewhere) the soup comes as an entrée. I tend to think this is the wrong way to enjoy it. Today I'll be showing you how to make Tom yum goong nam khon, which is hot and spicy creamy prawn soup. – Charinya of @charinyas_kitchen
Here is another frequently requested recipe from my followers on Instagram. "Tom yum" is a hot and sour Thai soup that is renowned around the world.
Tom yum is known for its distinctive hot and sour flavours, with fragrant spices and herbs used abundantly in the broth. The basic broth is made of stock and fresh ingredients such as lemongrass; kaffir lime leaves, galangal, lime juice, fish sauce and crushed chili.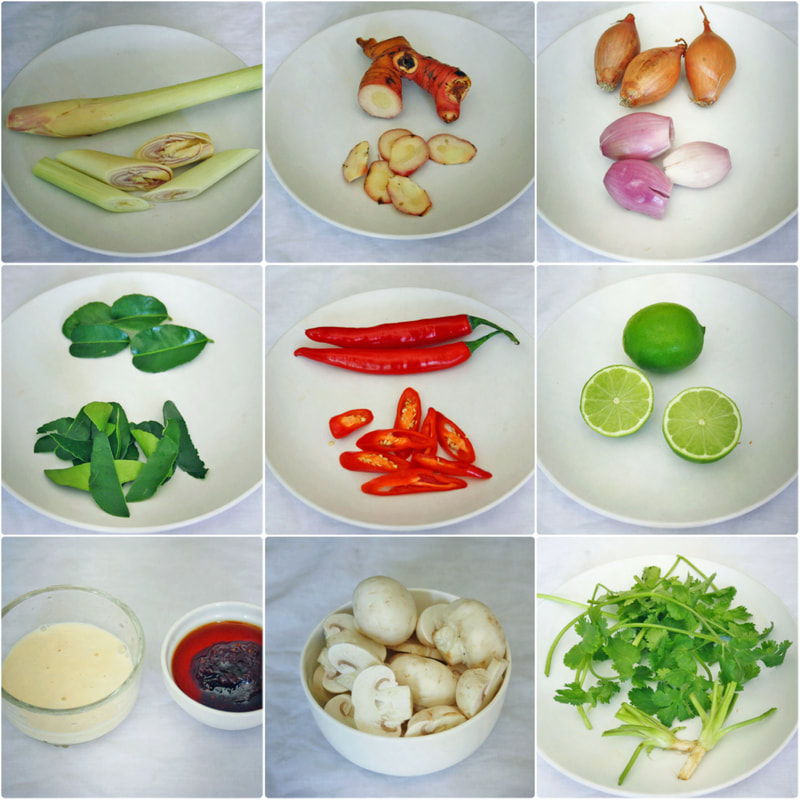 The Tom yum sour and spicy taste manifests itself in two types of Tom yum soup. One is tom yum nam sai, which is a clear broth and my favourite version. Another is tom yum nam khon, which is the creamy version.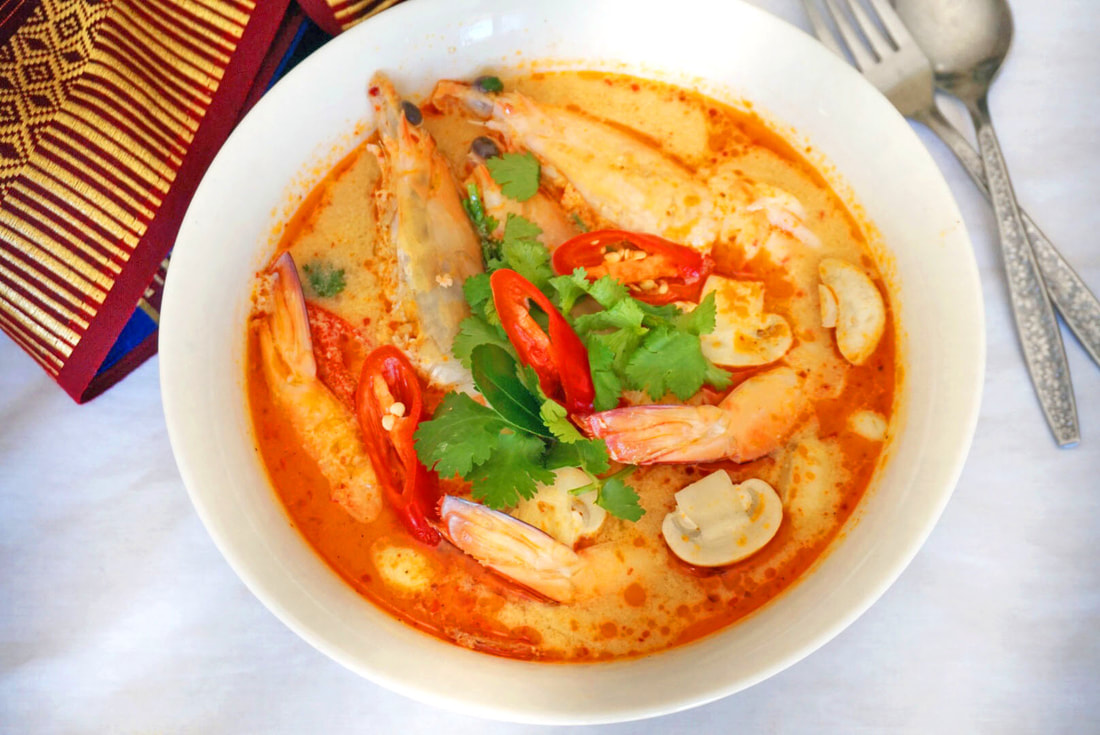 The protein added to Tom yum spans a variety of options including chicken, pork and fish, however the most common and everyone's favourite is prawn, which is called "goong" in Thai. In Thailand we serve the soup with boiled jasmine rice alongside other dishes as a main meal, but here in Australia (and maybe elsewhere) the soup comes as an entrée. I tend to think this is the wrong way to enjoy it.
Today I'll be showing you how to make tom yum goong nam khon, which is hot and spicy creamy prawn soup. Making the clear version is easy, just skip the milk and chilli jam.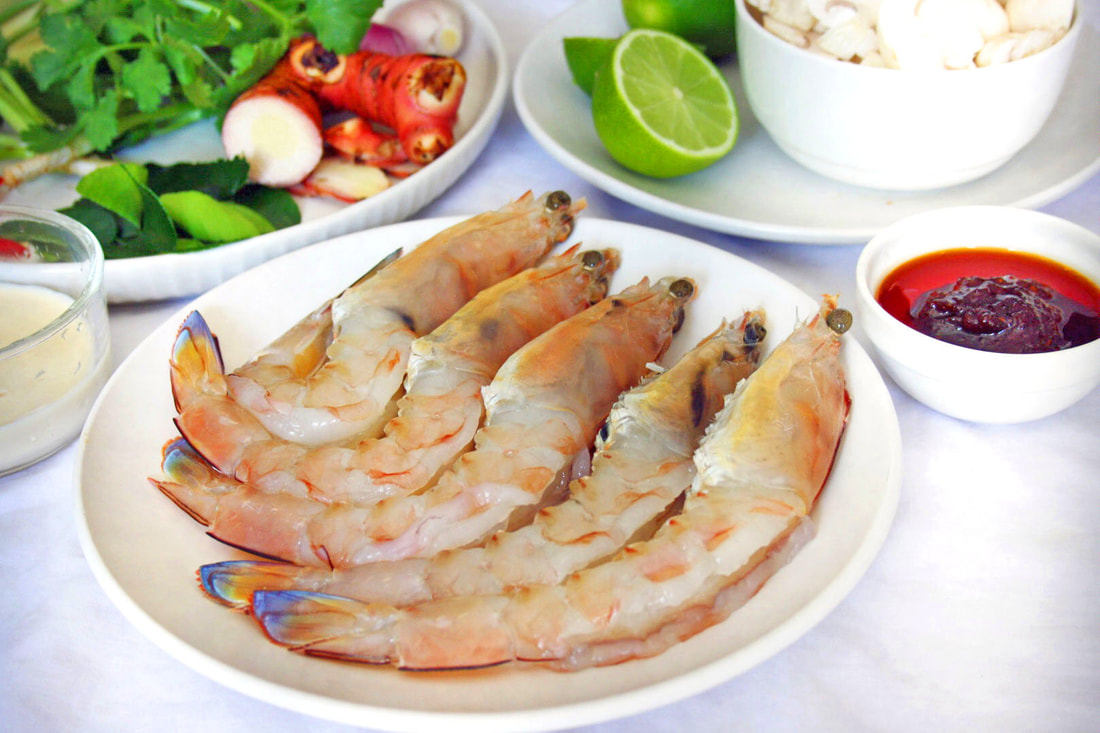 Ingredients (serve 3-5) 
5 Kings Prawns (around 300g) peeled and head on. Reserve the legs and shell for stock
(Note 1)
1 lemongrass stalk, smashed and cut into 2 inch pieces
3 shallots, bruised
5 sliced galangal
6 kaffir lime leaves
1 cup of button mushrooms, sliced (Note 2)
2.5 cup of water or stock
1-2 tbsp fish sauce, to taste
4-5 tbsp lime juice, to taste
Pinch of salt
Red chilies such as Bird's Eye Chilli, cayenne chili, bruised or sliced.
2 tbsp Coriander plus some for garnish
1 tbsp Saw tooth coriander if you can find, I did not use it this time.
1 tbsp Thai chilli jam (nam prik pao) plus its oil
3 tbsp Evaporate milk or coconut milk
1 tsp stock power (optional)
Recipe Note
You can use different type of prawns, the bigger the tastier, but it is more expensive. I like to remove the shell but leave the head on. Reserve the shell and head (if removed) for the stock.
The common mushroom used in this recipe is straw mushroom and oyster mushroom but you can use other types of mushroom like enoki, shimeji or swiss brown mushroom which won't change the taste of the dish.
Method
In a pot, bring 2 cups of water to boil. Add prawn shell / heads with a pinch of salt. Boil for around 5 mins, and then discard the shrimp shells/heads. Add another ½ cup of water.
Add lemongrass, galangal, and shallots and bring it back to boil.
Add the prawns and remove when cooked. This is a different step from other recipes, and it prevents the prawns from overcooking and the prawn look good when served. If you use smaller prawns and want an easy step add the prawns at the last step.
Add mushroom and season with fish sauce and stock powder.
Add chili and kaffir lime leaves.
Add milk and chilli jam, and when it boils turn the heat off. You can add lime juice in this step but I add it before serving.
In a serving bowl add lime juice and coriander then mix in the soup mix before arranging the prawns in the serving bowl.
Garnish with coriander and chilli. Enjoy your tom yum soup with boiled jasmine rice. Charinya