Yum Sen Mee Plara
The recipe I am about to share is called 'Yum sen mee plara' also known as thin rice noodles salad with anchovies sauce. I have mentioned before that plarah, or anchovies sauce, has been a key condiment in Isaan food for a long time. I don't know the reason, but recently adding plara to salad has become very popular around Thailand – Charinya Ruecha of @charinyas_kitchen
Happy New Year to all. Here is my first post for 2020. I hope that you had a good break this holiday period. It wasn't the best time here in Australia as many areas are affected by bushfires and smoke haze. We also got hit by a hail storm where I live, which damaged many homes and cars. I wish the best for everyone from now on.
Back in the kitchen I haven't been cooking much either. For me, January this year has been a busy period with work. The highlight of my cooking would be when I was at my parent-in-laws for Christmas where I cooked 'Moo Ping' aka BBQ pork skewers for them with limited of Asian ingredients. This was challenging for me. Nevertheless I managed to make it and everyone really enjoyed the dish!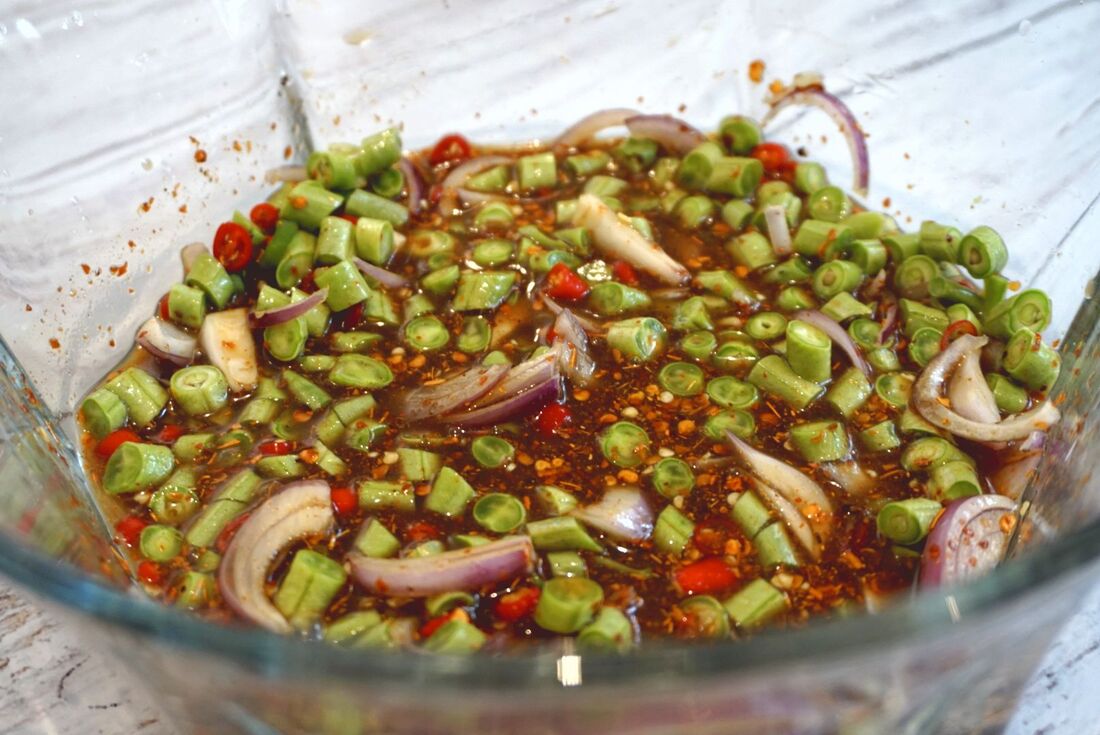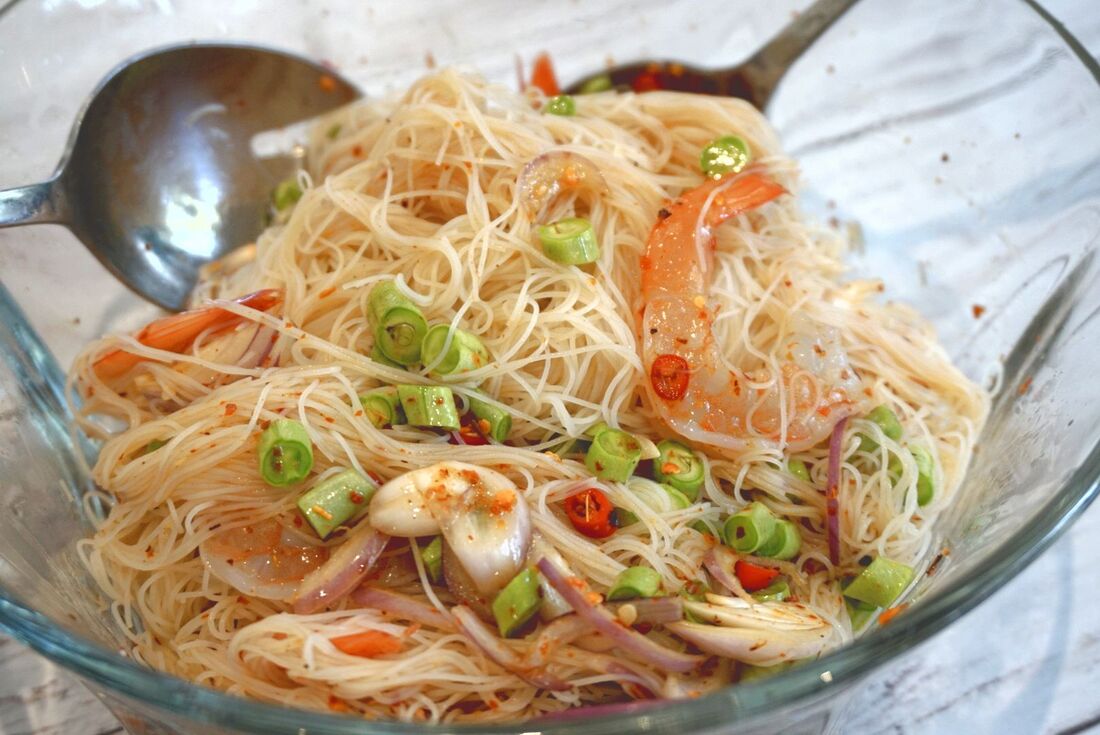 This isn't the recipe I will share this time though. The recipe I am about to share is called 'Yum sen mee plara' also known as thin rice noodles salad with anchovie sauce. I have mentioned before that plarah, or anchovie sauce, has been a key condiment in Isaan food for a long time.
I don't know the reason, but recently adding plarah to salad has become very popular around Thailand.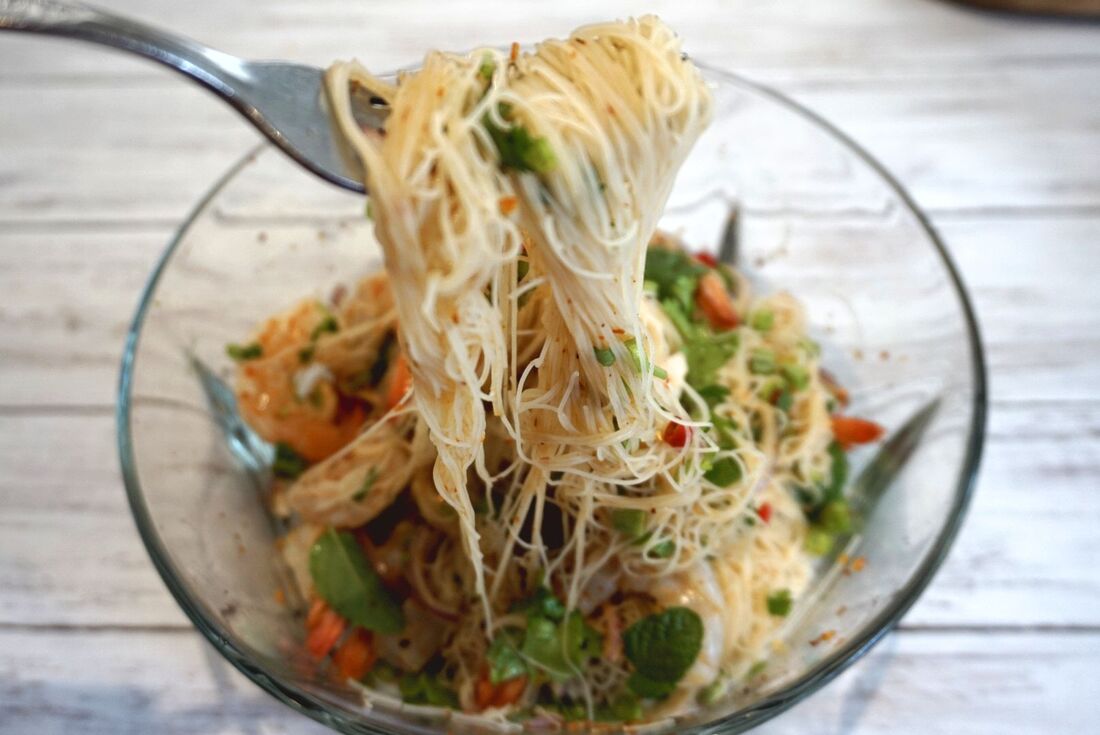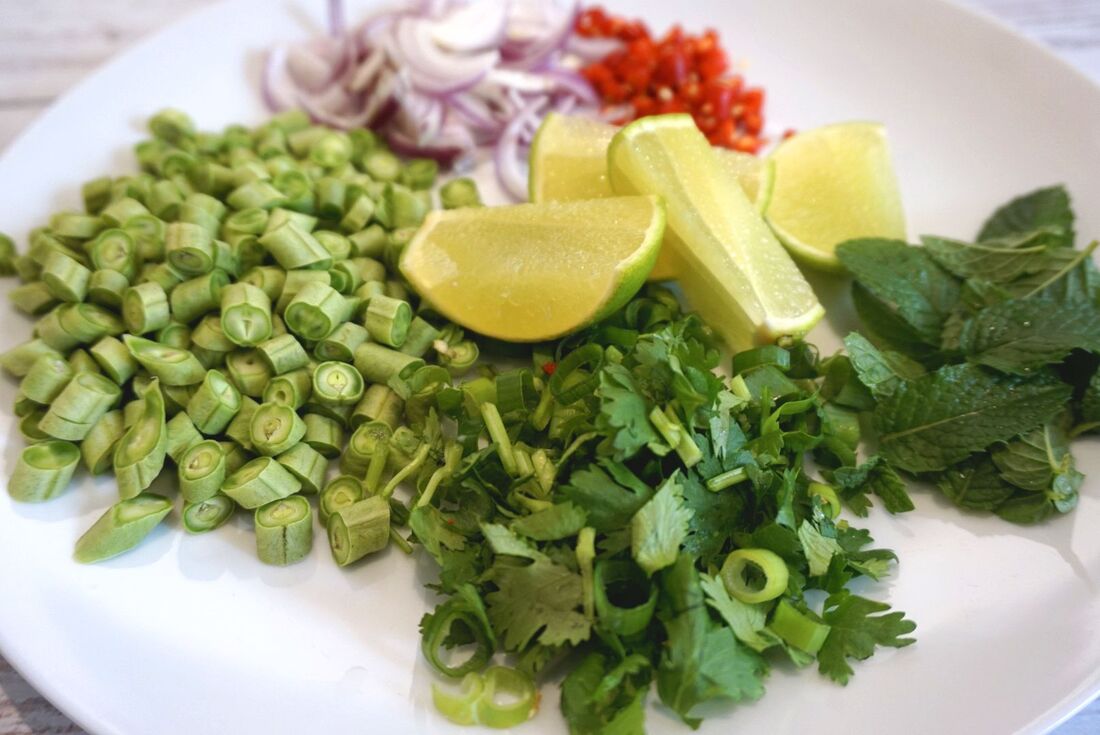 Examples include the popular dishes yum moo yor kai kem plarah (Vietnamese ham, salted egg yolk with anchovie sauce) which is now available in so many salad shops and food carts.
​
Today I use sen mee (thin rice vermicelli noodle). Sen mee can be used in soup, as a stir fry, and in salad. Let's get cooking!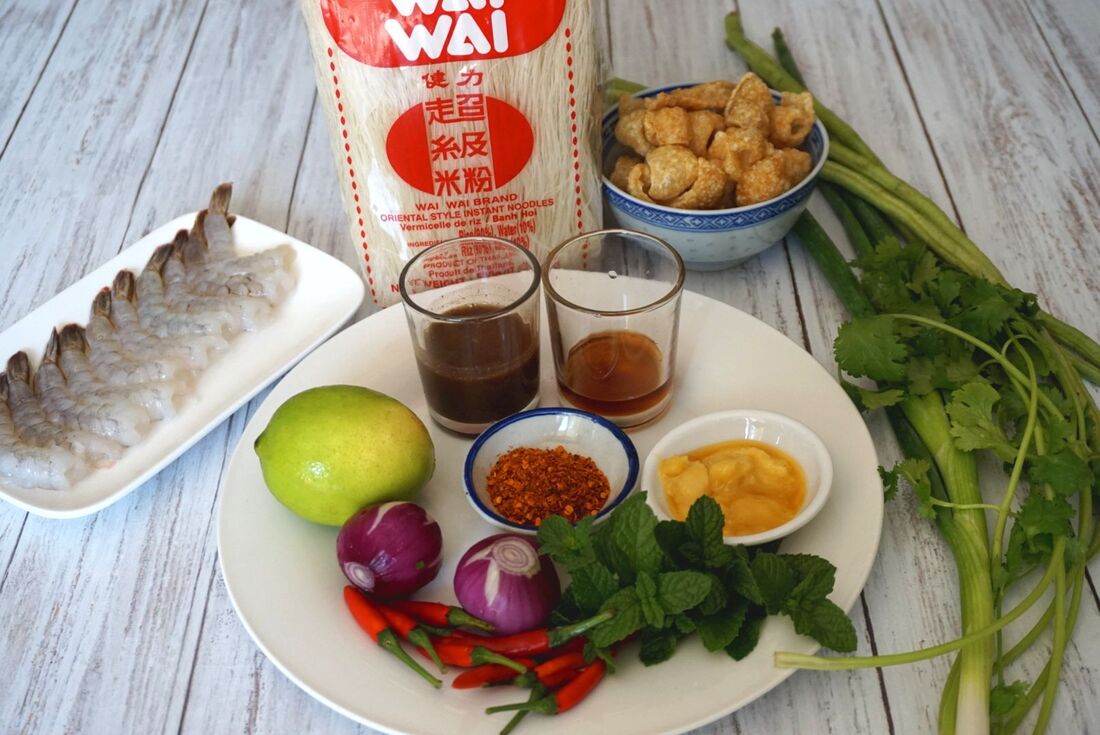 Ingredients
100g Dried Wai Wai rice vermicelli noodles
10 Green prawns, peeled and divined
4-5 Snake beans (long beans)
4-5 Red chilli
1 Spring onion
1 Shallot
1 Coriander
1 tbsp. mint leaves
2 tbsp Anchovies sauce (I used 1.5 tbsp Nangfah brand plus 1/2 tbsp water)
½ tbsp Fish sauce
½ tbsp Palm sugar
2 tbsp lime juice
Ground chilli as preferred
Pork crackling or prawn crackers to serve.
Method
Soak the noodles in room temperature water for 10 mins.
Chop snake beans, chilli, shallot, spring onion and coriander.
Bring the water to boil and blanch the noodles and cook the prawns.
In a mixing bowl add anchovies sauce, fish sauce, palm sugar, red chilli, chopped snake beans, shallot and mix well.
Add noodles and prawns. Gently mix and add chopped spring onion, coriander and mint leaves.
Serve with pork cracking or prawn crackers.