In 2002 the government of Thailand launched its "Global Thai" campaign whose purpose was to increase the number of Thai restaurants around the world and to make dishes like Pad Thai and Pad See Ew internationally recognizable. Not only would this introduce deliciously spicy Thai food to thousands of new tummies and persuade more people to visit Thailand, but it could subtly help to deepen relations with other countries. This is now known as gastrodiplomacy.
Thai restaurants are nearly everywhere in Australia. In Sydney, you would be hard pressed to find a suburb without a local Thai takeaway joint and in 2014, nearly a quarter of the restaurants listed in the Australian Restaurants Directory were Thai.
The 
2014 paper
 'Thailand in Australia' describe the remarkable rise of Thai cuisine in this country with more than 3000 Thai restaurants. Australia has more than three times as many of them per capita as the United States which in turn has a very high per capita ratio (10 times more than Mexican restaurants for example).
I'm not the first to wonder about the ubiquity of Thai restaurants… and most seemingly informed and lay analysts have suggested that it's simply because Thai food tastes good, or happens to hit the American palate in just the right way – Munchies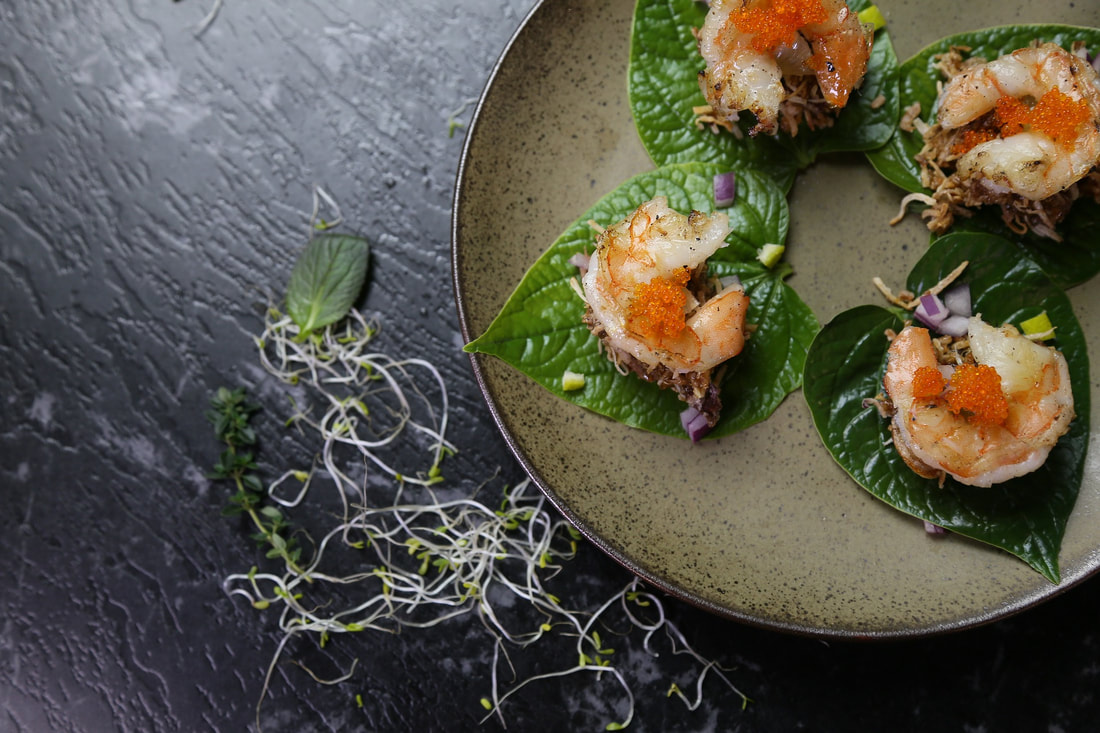 However the real reason for the spread of Thai restaurants is that the government of Thailand launched its "Global Thai" campaign in 2002. The purpose of the campaign was increase the number of Thai restaurants around the world and to make dishes like Pad Thai and Pad See Ew internationally recognizable. The end result would be to increase Thailand's export and tourism revenues, as well as to become more prominent on the cultural and diplomatic stages.
This is now known as gastrodiplomacy or culinary diplomacy.
In a recent study in Public Diplomacy Magazine, more than half of the 140 people surveyed said that eating a country's cuisine led them to think more positively about that country. And more than two-thirds felt that countries in a state of conflict could benefit from gastrodiplomacy programs. As the saying goes, "The easiest way to win hearts and minds is through the stomach – NPR
In 2001, the Thai government established the Global Thai Restaurant Company, Ltd., in an attempt to establish at least 3,000 Thai restaurants worldwide. At the time, the government hoped the chain would be "like the McDonald's of Thai food."and had involved a decade-long plan to train and send abroad chefs. Unfortunately, "the McDonald's of Thai food" never quite materialized but the program itself significantly progressed the larger goal of an increase in the number of Thai restaurants abroad.
"The Ministry of Commerce's Department of Export Promotion, most likely run by bureaucrats rather than restaurateurs, drew up prototypes for three different "master restaurants," which investors could choose as a sort of prefabricated restaurant plan, from aesthetic to menu offerings. Elephant Jump would be the fast casual option, at $5 to $15 per person; Cool Basil would be the mid-priced option at $15 to $25 a head; and the Golden Leaf prototype would cost diners $25 to $30, with décor featuring "authentic Thai fabrics and objets d'art."
The Department of Export Promotion also matched and set up meetings between Thai and foreign business people and Export-Import Bank of Thailand offered loans of up to $3 million to Thai nationals hoping to open restaurants.
The government also conducted market research on local tastes around the world, and sent representatives from Thai cooking institutes abroad to train chefs at foreign restaurants. They published a book in 2002 called "A Manual for Thai Chefs Going Abroad", which provided information about recruitment, training, and even the tastes of foreigners. A special visa has even been established in New Zealand specifically for Thai chefs.
The program has been a resounding success. At the time of the Global Thai program's launch, there were about 5,500 Thai restaurants beyond Thailand's borders; today there are over 15,000. The initiative has played a role in the 200% increase in tourists headed to Thailand since 2002. Over a third of the tourists said that Thai food was a critical reason for their visit.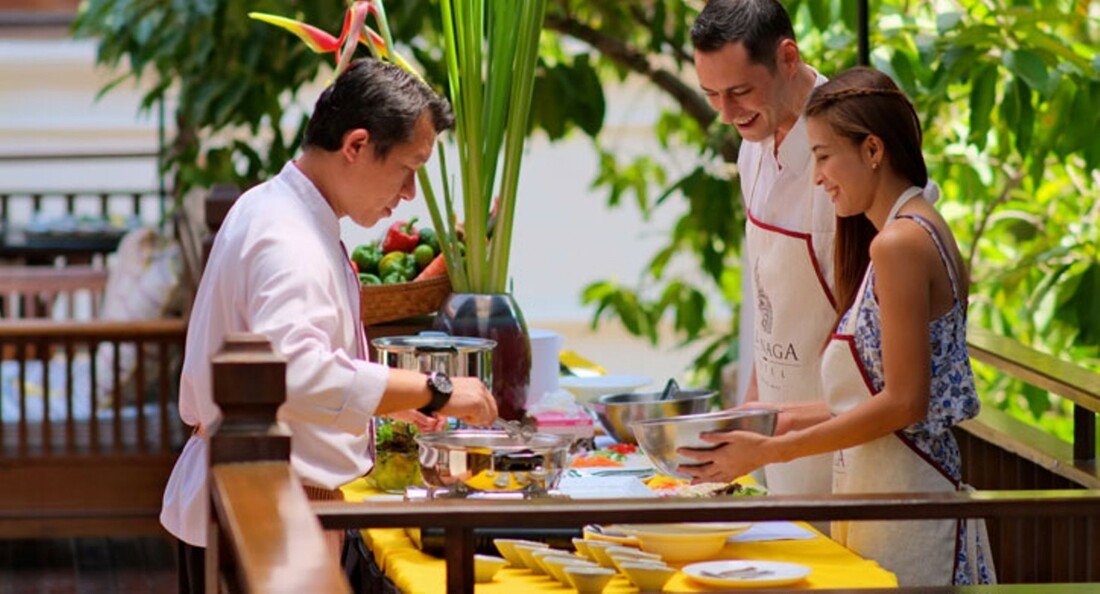 Several countries have recognized the extraordinary public diplomacy opportunity afforded by sharing their national dishes and followed suit.  South Korea earmarked tens of millions of dollars in 2009 for its Korean Cuisine to the World campaign. So have Taiwan, Peru with Cocina Peruana Para el Mundo (Peruvian Cuisine for the World), and Malaysia with Malaysia Kitchen for the World 2010. Even North Korea jumped in for a while, with a chain of 100 restaurants called "Pyongyang".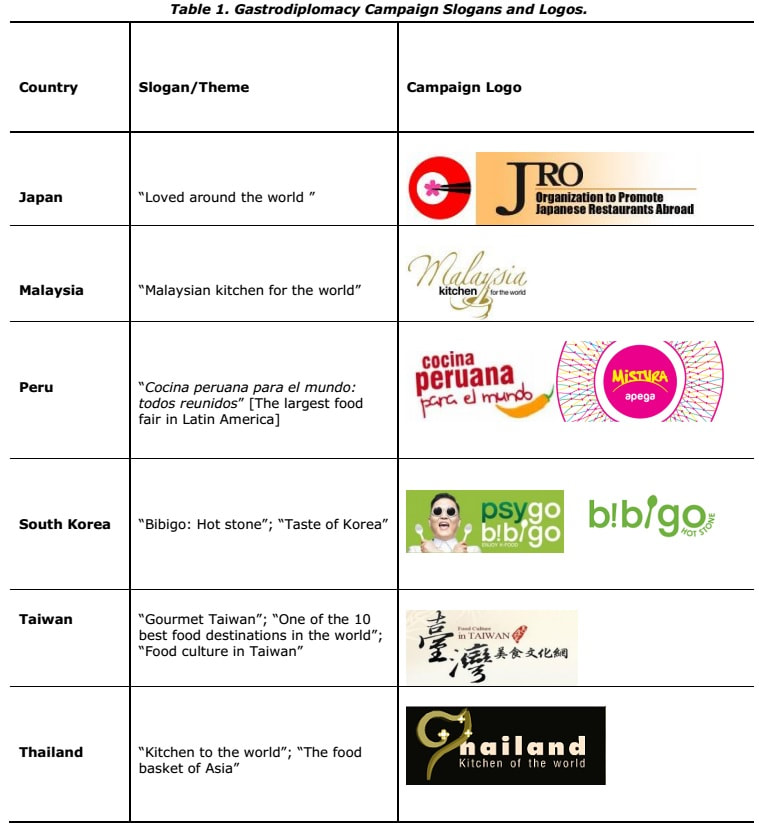 In 2014, Australia's Ministry of Tourism allotted $10 million to fund its global campaign, "There's Nothing Like Australia," which included a year-long gastrodiplomacy program, "Restaurant Australia" . This campaign consisted of social media campaign to highlight Australia's culinary offerings. This also consisted of a week-long gastronomic tour of the entire country by 80 international influencers which culminated in a 250-person "Invite the World to Dinner." As part of the campaign one of the world's best restaurants, Noma, opened at Barangaroo in Sydney for a sold-out ten-week residency. The uniquely Australian menu, created by head chef René Redzepi and his Noma team, was born out of their experiences travelling to every corner of Australia over the previous twelve months, learning about native ingredients, local wines and cooking methods.