​Growing up with my grandparents, eating Krayasart (Thai: กระยาสารท) every year became our ritual. Around October each year, there is an event in my village where people will come together to enjoy and participate in making Krayasart; a sticky mixed nut and grains snack used to make merit to our passed relatives on Sart Day. From my memory, this snack was arranged on a small block, about the size of an A5 piece of paper. Occasionally, we would pinch a small bite of this snack for ourselves. The process used is a great way to preserve food. The origin of this snack is closely related to Buddhism, Thai way of life and filial piety.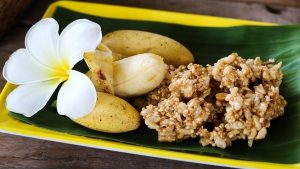 vsportkamphaeng.com
​Krayasart is a dessert prepared in individual households as part of the annual festival on Sart Day. The Thai Sart Day refers to merit-making activities in the middle of the traditional Thai year, The word "Sart" is derived from Indian language, Pali meaning "season" and on the lunar calendar, it falls on the fifteenth day of the waning moon of the tenth lunar month (Chachaidee,2015). Krayasart which means food for the Sart ceremony is usually made from peanuts, sesame seeds, popped rice (Thai:ข้าวตอก), pounded unripe rice (Thai: ข้าวเม่า), coconut cream and palm sugar or sugarcane juice. Traditionally, after making Krayasart, people will bring savoury dishes along with Krayasart to the temple in order to offer to monks as a dessert followed by pouring the water of dedication with the belief that what they have offered will be transferred to their dead relatives and this is the way to show their gratitude towards them.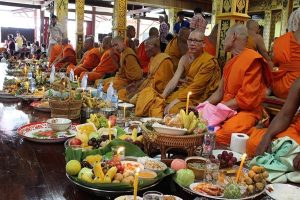 ac-tennis.com/ประเพณีวันสารทเดือนสิบ/
​In old times, each family had its own recipe for making Krayasart, which makes it unique from others. After offering the snack to monks, people will exchange this snacks among each other to find the best Krayasart in their village. Krayasart's secret recipe literally carries from generation to generation, there are some makers who have been creating this snacks for more than fifty years. This snack is considered one of the hardest dessert to make, not because of the complicated
recipe but the time consuming process of selecting and preparing quality ingredients to make one.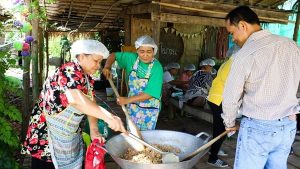 vsportkamphaeng.com
​Traditionally, the process of making Krayasart is divided into three main parts: preparing dry ingredients, preparing wet ingredients and then combining. The first part is to roast, peel and split the peanuts, roast pounded unripe rice and roast sesame seeds on a charcoal stove. The secret of roasting the sesame seeds is to use a coconut bract to stir the seeds in a lotus pan to let it roast thoroughly. It is recommended to use a scented candle to smoke the peanuts, sesame seeds and pounded unripe rice. The second part is to use a wooden paddle to stir sugarcane juice in a lotus pan until it is a thick consistency, similar to glue. Lime juice is added in this steps to give Krayasart colour, balance and enhance its flavour. Some recipes will add coconut cream or use palm sugar instead of sugarcane juice. The third part is to mix popped rice and all roast ingredients into the sugarcane juice that has been simmer at low heat. All ingredients will be continued to stir and mixed by a wooden paddle, then glucose syrup will be added (Thai: แบะแซ) to help all ingredients to stick together. This process usually needs a few people both men and women to stir it together until it's ready. Then, Krayasart will be transferred and spread evenly onto square aluminium or wooden blocks to cool down and to be easier to split for packaging.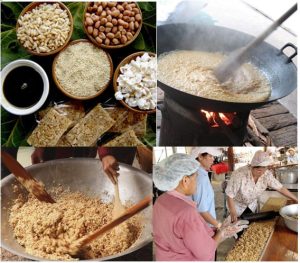 ​
The best Krayasart should have the right consistency; crispy, light and not too hard or too sticky. Lady finger banana (Thai: กล้วยไข่) cultivated in Kamphaeng Petch province is recommended as a great addition to elevate the taste of this snack. Nowadays, Krayasart is promoted widely as a high-energy, healthy and vegan-friendly snack by changing some ingredients like popped rice and roast pounded unripe rice to berry rice or black sticky rice which is high in antioxidants. However, the traditional Krayasart is still recognised as a seasonal snack for Sart Day, special gift for the elderly, a symbol for showing gratitude to deceased relatives and providing a sense of community when making this dessert together.
Parita Nobthai runs The Craft Humpy
"a homely place where you can get beautiful handcrafted gifts directly from the maker"