Now it is summer in Australia, and the dessert that comes to my mind is Tub tim grob because it is served with crushed ice and it is very pretty and refreshing – Charinya Ruecha of @charinyas_kitchen
Have you ever heard Thai people joke about the weather in Thailand? They say there are only 3 seasons in Thailand: hot, hotter and hottest. I think that is kind of true. As it is hot
most of the time, it has affected the way that people eat too. Thai people love cold drinks, preferring soft drink with ice, dessert with ice and even some meals that include ice like 
Kowchae
.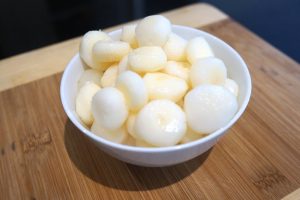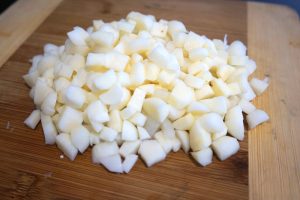 Now it is summer in Australia, and the dessert that comes to my mind is Tub tim grob because it is served with crushed ice and it is very pretty and refreshing.​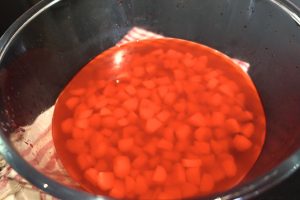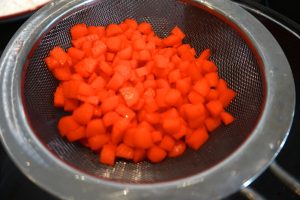 Tub tim grob (or tub tim krob) is also known as "pomegranate seeds" or "rubies" because of its appearance. The dessert is made from water chestnuts cut into small cubes, coated with
tapioca flour then boiled and served in syrup and coconut milk and topped with some crushed ice.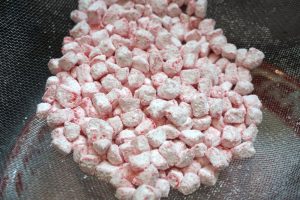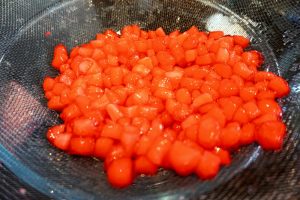 The method is easy and fun to make. You can even get the kids involved with this. Let's see the ingredients.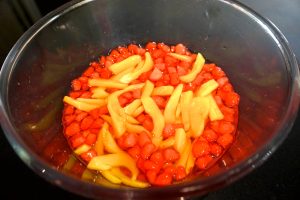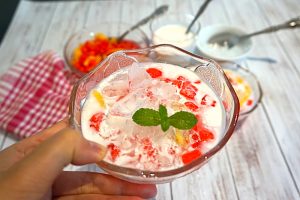 INGREDIENTS
For the water chestnuts
250g water chestnuts,
¼ teaspoon red colour powder, or you can use another type of red colour. The Hale's blue boy sala flavoured syrup is commonly used in Thailand.
1.5 cup water for mixing with the red colour powder.
1 cup tapioca flour
2 pandan leaves
1 litre water
1 bowl of icy cold water

​For the Syrup
1 cup white sugar
¾ cup water
For Coconut topping
1 cup coconut cream
1 teaspoon salt
Extra to serve
Crushed ice
Sliced jackfruit
Mint leaves for decoration
Method
1. Cut the water chestnuts into small cubes. I like mine about 1cm size. The cube will get bigger when coated with flour and you don't want to cut them too small as they will lose
their texture.
2. Add the red colouring in a bowl and mix with enough water to cover the chestnuts. Dye the water chestnuts for 15-20 mins.
3. Make the syrup by boiling water with sugar until the sugar dissolves, then lower the heat and simmer for 5 mins. Leave it to cool down and set aside.
3. Boil about a litre of water with pandan leaves.
4. Add the flour in a tray. Drain the water chestnuts and coat in the flour. Shake off excess flour.
5. Place the coated water chestnuts in the boiling water. While waiting, prepare a bowl of icy cold water nearby.
6. When the water chestnuts are ready, they will float to the top and be translucent. Remove them from the hot water using a slotted spoon and place into the prepared icy
water. Leave them to cool down.
7. Drain and soak in the syrup ready to serve.
8. Make the coconut topping by adding salt to the coconut cream and stir until mixed well.
To serve, put some tub tim grob in a small serving bowl and top with jackfruit, coconut cream and crushed ice. Serve immediately. Enjoy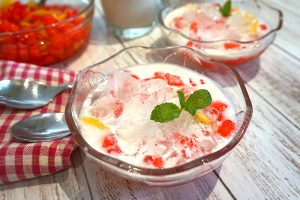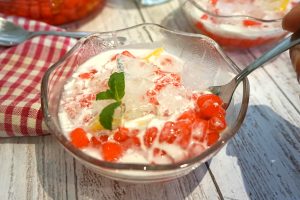 Check out Charinya's awesome work here