This dish is best eaten with family and friends while everyone sits around and makes their own wrap and enjoys chatting – Charinya Ruecha of @charinyas_kitchen
Spring is my favourite season, with weather getting warmer and beautiful flowers springing up everywhere. This time of the year I also get to be in my garden and grow some vegies and herbs to use in my cooking. I love cooking the produce harvested from my own garden; it just creates a double happiness.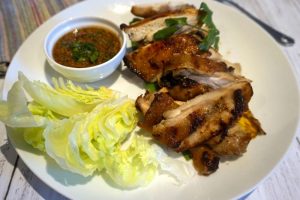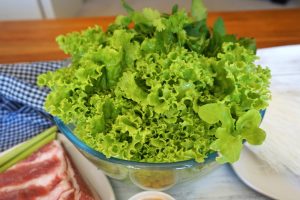 As soon as I saw lettuce, coriander and mints in my garden, one dish that suddenly came up in my head was 'Meing pla pao' which is grilled fish wrap in salad and peanut dipping sauce. Here is a picture of the dish I cooked and ate with my family back in Thailand many years ago.
My first temptation was to recreate that dish; however I wasn't able to find the fish I wanted. What else do I have? Well there is a beautiful pork belly in my fridge, so let's make the 'Meing moo sam chan' which is boiled pork belly salad wrap with peanut dipping sauce.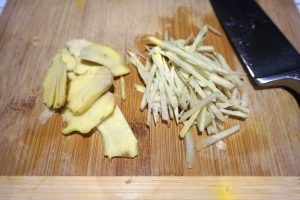 There are four components that create the 'Meing' dish. First is boiled pork belly (or grilled fish if you prefer), second is noodles which can use thin rice vermicelli noodles or vermicelli noodles, third are lots of fresh salad such as lettuce leaves for wrapping plu coriander, mints, spring onion and the last component is spicy peanut dipping sauce.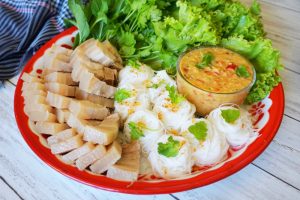 This dish is best eaten with family and friends while everyone sits around and makes their own wrap and enjoys chatting.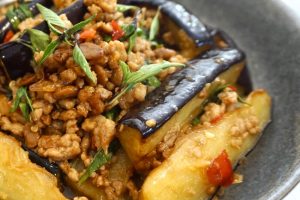 Ingredients
500g pork belly
1-2 stake lemongrass
1 tsp salt
100 g dried rice vermicelli noodles
1 tbsp fried garlic
10 chilli or as desired
10 clove of garlic
3-4 coriander roots
1 tbsp palm sugar, to taste
1.5 tbsp fish sauce, to taste
3 tbsp lime juice, to taste
½ cup Roasted peanuts
Fresh vegetables and herbs such as lettuce, coriander, mints, spring onion, sawtooth coriander and Vietnamese mints
Method
In a saucepan boil water with lemongrass and salt.
Add pork belly and cook for 30-45 minutes or until when you are able to insert a chopstick through easily.
Remove the pork and rinse with cold water then leave until completely cool before cut in small pieces
Soak the rice vermicelli in cold water for 10 mins.
Heat the water in the sauce pan and cook the noodles for 3-5 mins.
Remove the noodles and drain
Shape the noodles in a smaller portion so it is easier to serve, and sprinkle with fried garlic
Make the dipping sauce by adding chilli, garlic, coriander roots and peanuts in a blender then blend until combined.
Add the mixture from above to a mixing bowl then season with fish sauce, palm sugar and lime juice.
Add water to get the right consistency
Taste and adjust if required
To serve, arrange all the elements on a big plate. To eat, start by picking a lettuce leaf and adding a small amount of all vegetables, add a piece of pork then top with the dipping sauce. Wrap and put in your mouth and enjoy!
Check out Charinya's awesome work here