It's time to 
continue on our journey
 of top six Thai breakfast dishes and the last three yummy dishes that I would love to suggest you to try are sticky rice with choices of marinated meat, Thai coconut pancakes and Dim Sim.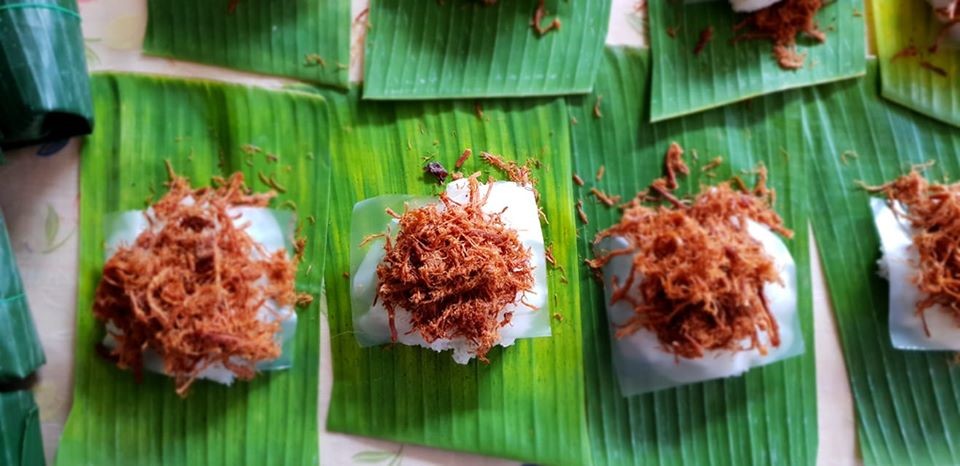 facebook.com/Neawmoosaitaek
Sticky rice with selection of marinated meat ข้าวเหนียวหน้าเนื้อต่างๆ
The quick and easy sticky rice and pork is my family's first breakfast choice. This meal originally comes wrapped in banana leaf and there are a variety of meats that can be chosen. The meats include deep-fried pork belly, pork floss, fried pork belly with salt or fish sauce, black pepper pork or beef, beef jerky, fried garlic with pork liver and herbal crispy chicken wings. With only two main components for this dish, it is important that the sticky rice be cooked perfectly and stay soft even if you keep it overnight.
| | |
| --- | --- |
| | facebook.com/Zmarketingonline |
It is recommended that to use Khiew Ngu old crop white glutinous rice (Thai:ข้าวเหนียวเงี้ยวงู) and some shops also add natural colours to make the rice unique. They apply Butterfly pea flower and lime to create purples, Pandan to create greens and carrot to make oranges. This little package of yummy sticky rice with pork is a great meal to take on a trip and will cost you only 15 – 20 Baht (about $1 AUD)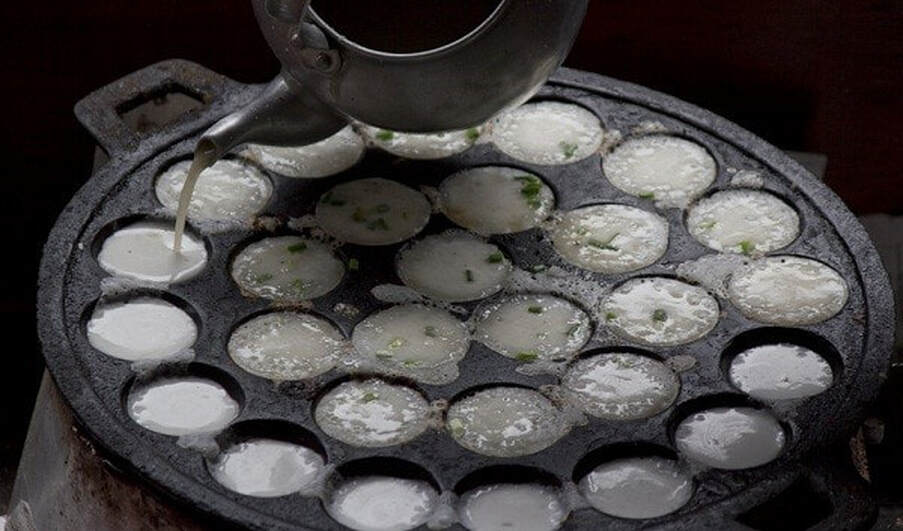 cooking.kapook.com
Thai coconut-rice pancakes or Kanom Krok ขนมครก
No matter what breakfast I choose for the day, Kanom krok is a wonderful addition to complete my breakfast. The Thai-coconut pancakes were around since the Ayutthaya era and are still easily found in most morning markets in Thailand. There are two main components of Kanom Krok, the first being the bottom base layer, made from fresh rice flour and coconut milk. The traditional recipe calls for fresh rice flour made from steamed rice old crop, left overnight, combined with grinded rice grains and peeled mung beans. The handmade-fresh rice flour is softer, smoother and smells sweeter compared to ready-made Kanom Krok flour which is more convenient (Local Dessert, 2020). The second component being the top layer, made from coconut cream and a variety of toppings. The selection of toppings included both sweet and savoury such as corn, spring onions, white sesame, shredded coconut and prawns.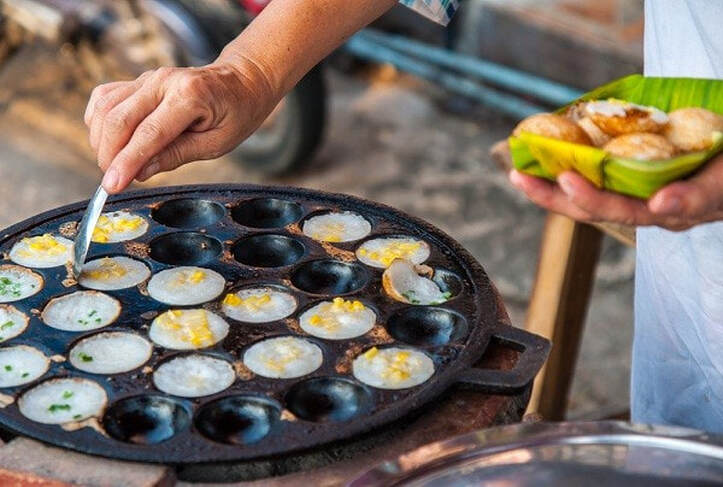 cooking.kapook.com
​The process of cooking Kanom Krok in a large heat pan with cavities (normally around 15 cavities) is fun to watch. The maker adds oil in each cavity, pours rice flour and follows with coconut cream, sprinkle toppings and cover it with large lid. This method will make Kanom krok crispy from the outside but soft and smooth on the inside. When it cooks, the maker will use a spoon to pick up each pancake and put it on another to create a circular shape. The flavour of Thai coconut pancake is sweet, salty and slightly greasy which make it's so irresistible.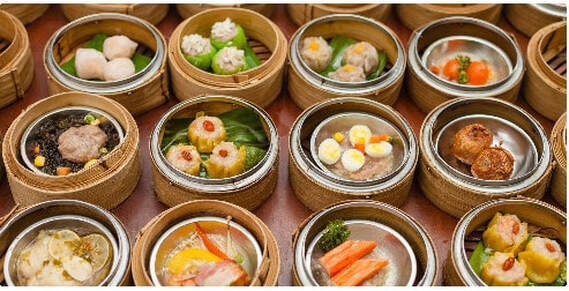 wongnai.com/listings/dimsum-morning-phuket
​The Dim Sim (Thai:ติ่มซำ) is another easy breakfast that is popular in Thailand, especially in Phuket province. In Phuket itself, there are more than fifty Dim Sim restaurants for locals and visitors to try. The Dim Sim is not only a delicious breakfast, it combines a variety of small dishes represented beautifully in bamboo dishes. This dish is influenced by the Southern part of China and Hongkong. It is like a Cantonese dish which known as Yumcha. It is considered a light meal that customers can order in the morning and have it with tea while catching up with friends. The art of making a good Dim Sims is interesting as it requires some skill and experience. Hargow is one of the hardest dish as the maker needs to create a really smooth, thin and consistency Hargow pastry as well as wrapping it in a certain way.
| | | |
| --- | --- | --- |
| | | |
There are three main classic types of Dim Sim served in restaurant which are Siu mai, Hargow and Baozi. In Thailand, you will find some types of Dim Sim such as Baozi and Siumai are selling as grab and go meals from small kiosks at convenience stores like 7-11. It usually comes in a skewer and won't be as fancy as the traditional Dim Sim but it is still delicious.
Don't forget to put all these six dishes on your list for your next trip to Thailand. See you next time!
Parita Nobthai runs The Craft Humpy
"a homely place where you can get beautiful handcrafted gifts directly from the maker"