Guest Blogger Charinya Ruecha of @charinyas_kitchen visits Zaab Street Food in Canberra!

Zaab translates to both Thai and Lao. In Lao it means "delicious" … In Thai, Zaab means "intensely flavoured or extra spicy" – Charinya
My first experience in a Thai restaurant in Australia was a week after I arrived. We (my husband, his family and I) were spending my first summer holiday on the NSW south coast. After discussing choices for dinner everyone agreed that I might be missing Thai food so they should take me out to a Thai restaurant!
Oh yes! I was overjoyed and started thinking of delicious Thai foods like som tum, beef jerky, sticky rice etc.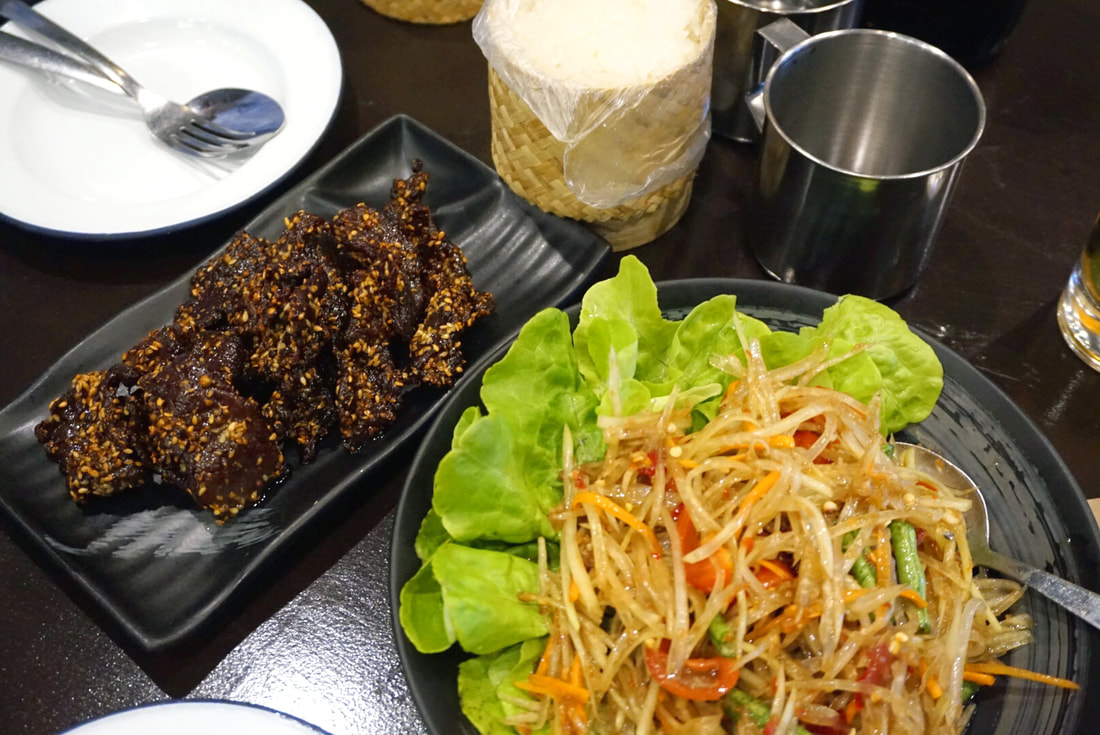 Sticky Rice, Beef Jerky, Som Tum Lao
​When we arrived at the restaurant everyone was happy for me to order the food. The waitress came to the table with a smile. I was thinking I hadn't made any Thai friends yet so this might be the time. I smiled back and said "Sa wad dee ka", meaning "hello" in Thai, but she smiled back and said "I can't speak Thai, I'm Filipino"!
For someone who had lived in Thailand and been eating authentic Thai food for my entire life it was not a satisfactory adventure and not at all what I expected. Nevertheless, my in-laws and their family seemed to enjoy it. They even said to me "Good choices, Charinya!"
That was over 10 years ago though. Now Thai restaurants in Australia have changed so much and in a good way. It's not just the taste of food but also the design and decorations of the restaurants that make you feel like you are on the street in Thailand.​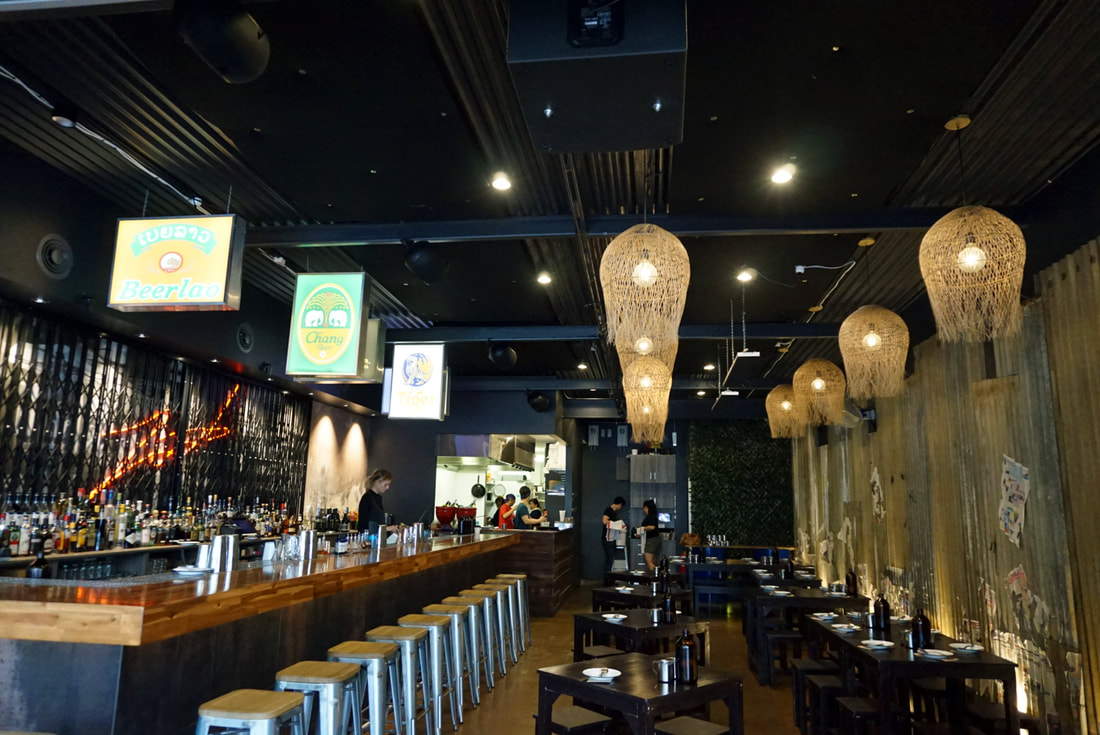 As an example of that change, let's go to Zaab Street Food, Lao – Thai restaurant and bar in the trendy suburb of Braddon, Canberra. Canberra was recently named by Lonely Planet as one of the world's top travel destinations, and Braddon is the centre of that interest. The restaurant is run by a dad and daughter of Laotian heritage, Sankeo and Becky Khanthavongsa.
Zaab translates to both Thai and Lao. In Lao it means "delicious", which has the same meaning in Isaan, the language of the region I came from. In Thai, Zaab means "intensely flavoured or extra spicy"
​
I spoke with Becky about Zaab
Me: Please tell us a little bit about yourself and Zaab.
Becky: I'm a born and bred Canberran with a Lao background. I grew up in the family restaurant business but my career initially started out as an accountant. I quickly learned that a desk job was not for me, I enjoy the daily interaction between people, and the creative and problem solving aspects of the hospitality industry. Zaab is a concept that was brewing in my imagination over many years. I enjoy eating and drinking both in Canberra and all over the world, and noticed the lack of good Lao and Thai food in Canberra. My love for good food and drinks also included good vibes and ambiance, which is how Zaab came about. I was lucky enough to grow up eating home cooked meals from both my parents so I was confident that if they were to agree to help with Zaab, the food would not disappoint.
Me: What motivates or inspires you in this industry?
Becky: I started out in the family restaurant scene and really enjoyed the customer service aspect of hospitality. My parents always taught me to go above and beyond for all our customers and build a lasting relationship. After many years of experience in both the corporate and hospitality world, I am able to combine the two to create an establishment that is professional but has the family care. This industry allows me to be creative in our product offering, have the daily customer interaction that I crave for whilst also incorporating accounting skills to run the business efficiently. I get to do a bit of everything I like.
Me: What is the most famous dish at Zaab?
Becky: Customers will always come back for three standout dishes at Zaab. The Betel Leaf, Crying Tiger and Beef Mussamun.
Me: Do you have plans to open more restaurants in the future?
Becky: Zaab has been such as success since opening in October 2016. I have enjoyed every moment of the journey and hope to expand in the near future.
​
After talking with Becky and her dad I acknowledge their passion about food. Passion and love is always a key ingredient for cooking, no matter whether as a home cook or in a restaurant.
Here are some dishes they serve at Zaab, starting with corn fritters, a pretty and delicious round ball of corn kernels which pop in your mouth. The sweetness of corn harmonises with other seasoning so it is very enjoyable to eat.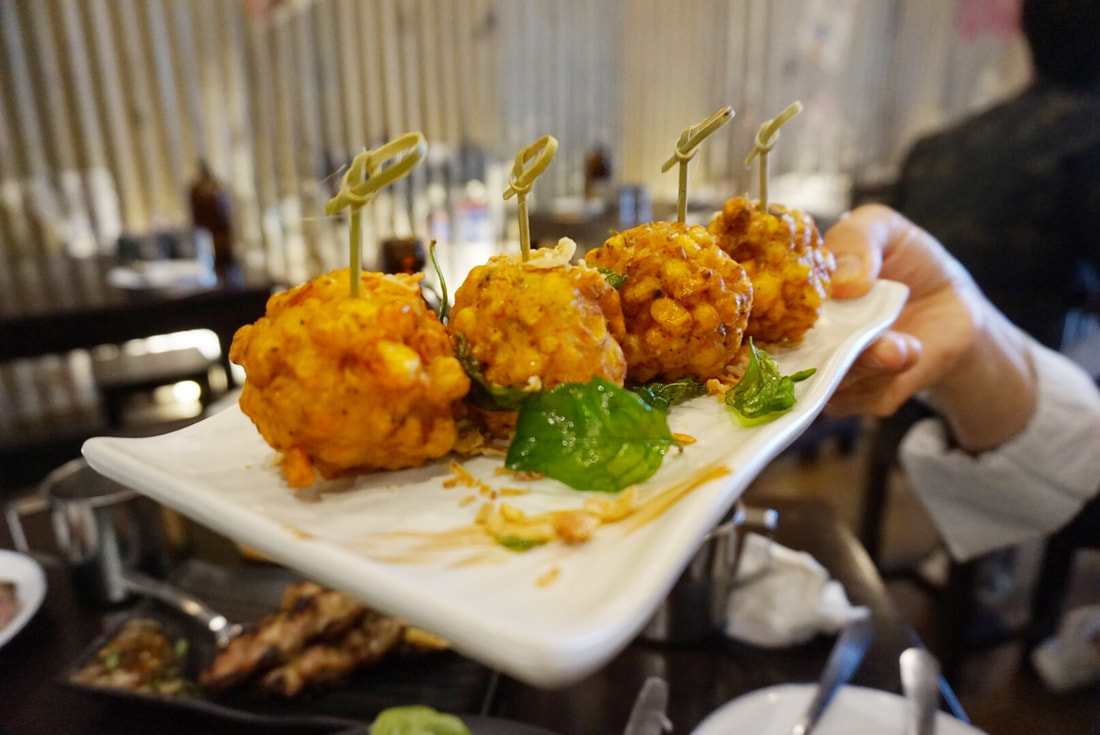 Corn Fritters
Betel leaf (Miang kham) is another dish, a traditional snack from Thailand that translates to "one bite wrap".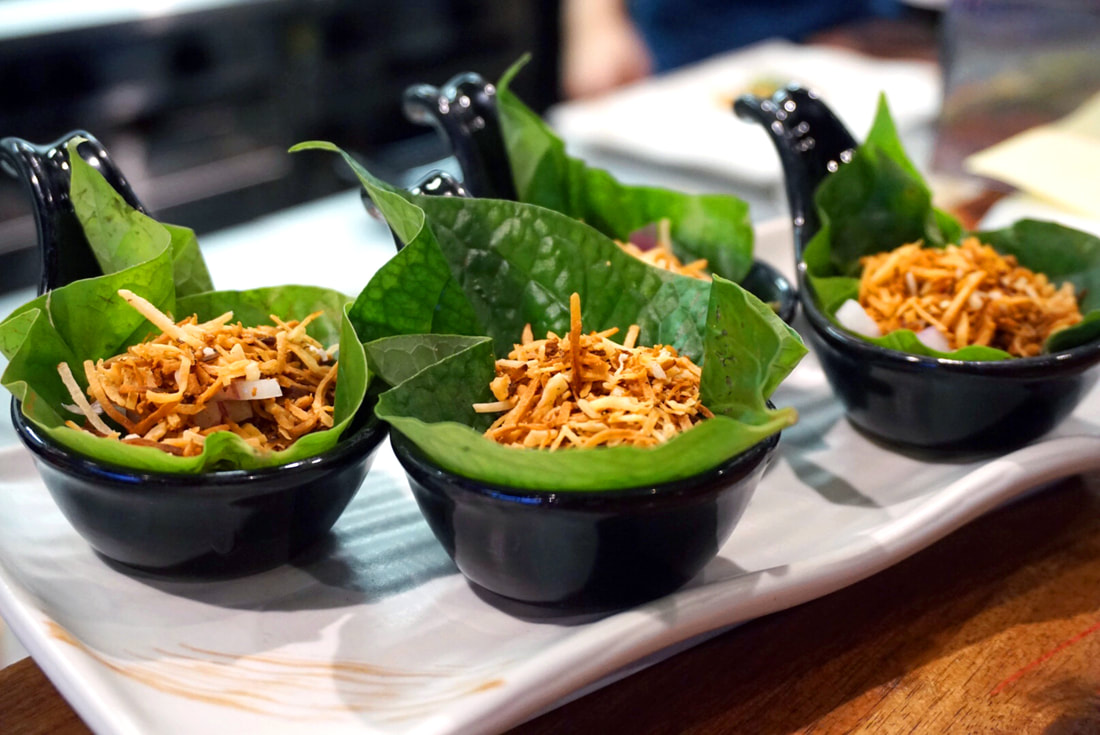 Betel leaf (Miang kham)
​Some street food that is available includes grilled pork skewers (moo ping) and charcoal chicken (kai yang). I could smell the smokiness from the charcoal and the meat was so tender.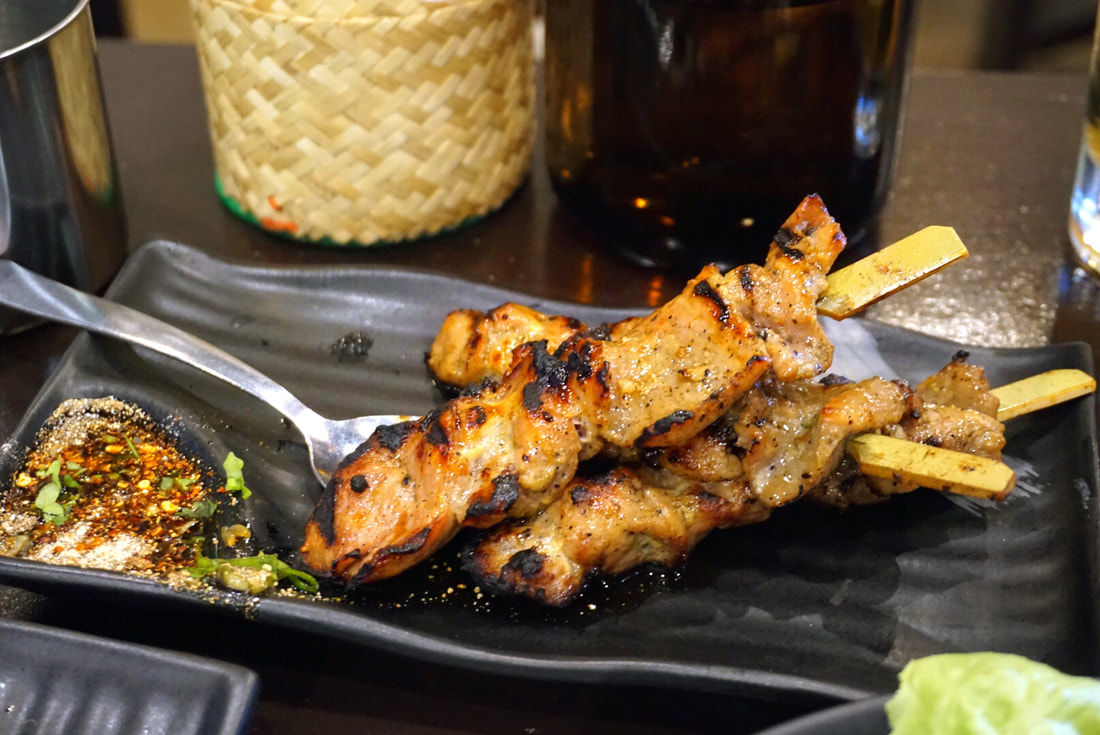 Grilled Pork Skewer (Moo Ping)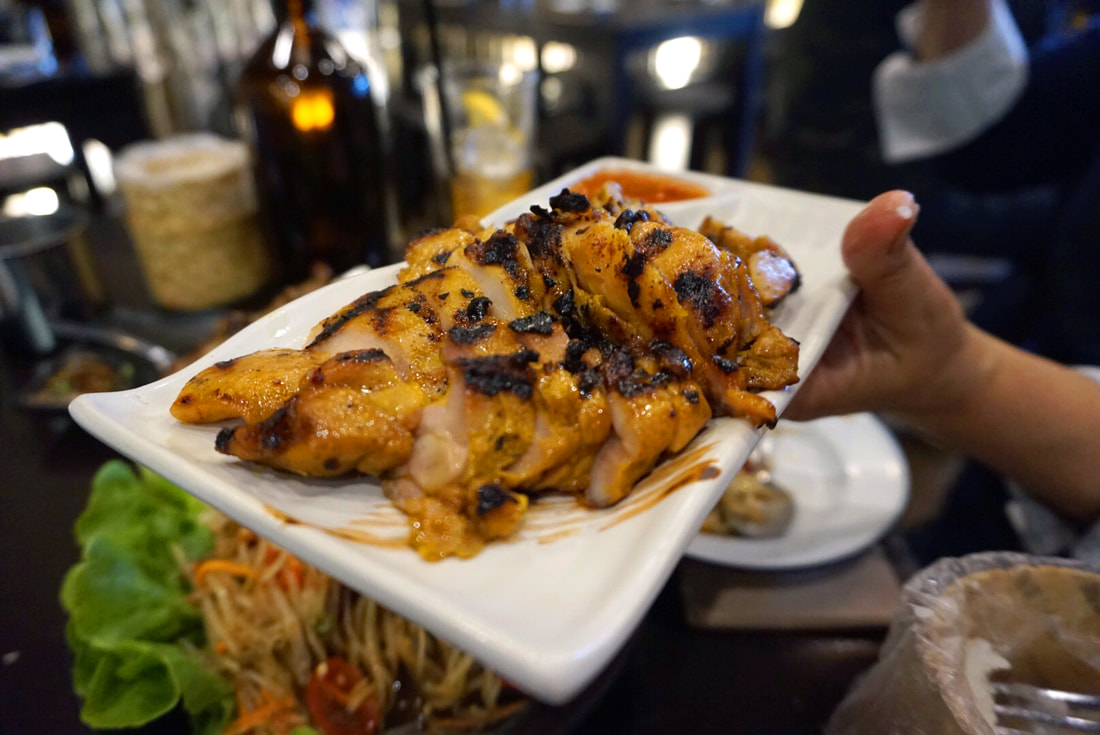 Grilled Chicken (Gai Yang)
​For dessert I had the pumpkin and pandan infused pudding with coconut cream served with taro ice cream. I loved this one; it's such a smart way to re-create a traditional Thai dessert using pumpkin in coconut milk with a more modern flavour and presentation.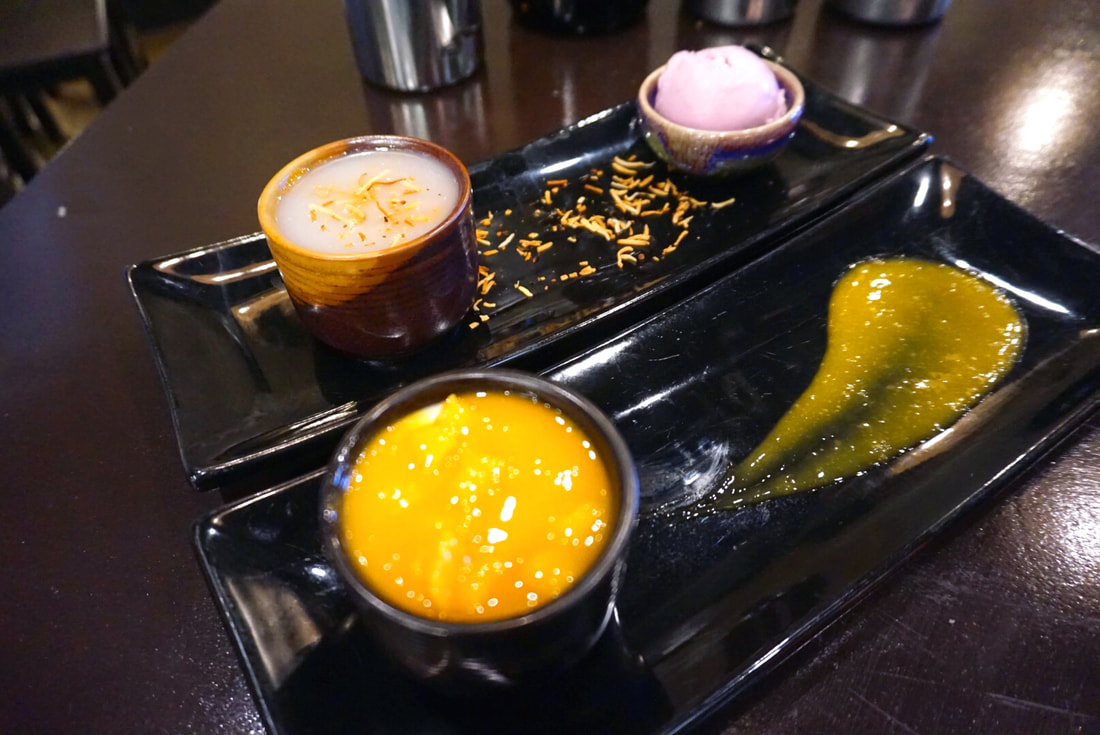 ​My favourite would have to be the sticky rice, beef jerky and, of course, Som Tum Lao, also known as Tum Mak Hoong (Lao style papaya salad). Today we are lucky that Chef Sankeo will show us how to make it! Are you ready?
Let's go!