It's like soy sauce on crack… It's this umami, kind of sweet, rich, fatty, salt and sharp flavor. You could put it on everything. I think you should try it on ice cream." – Dan Pashman, The Sporkful
"Seasoning sauce" is a rather broad and vague term and really could cover any number and variety of condiments. Most often it is associated with 
Maggi Liquid Seasoning
 which is a dark, hydrolysed vegetable protein-based seasoning sauce. It is very similar to East Asian soy sauce without actually containing soy and  has come to be used frequently in Asian cooking.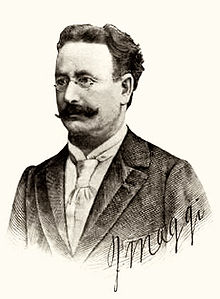 Julius Maggi
It was actually developed in Switzerland in the late 19th century by Julius Michael Johannes Maggi, the son of a mill owner.
​In 1882 Maggi met Dr Fridolin Schuler who believed there was a link between malnutrition and high levels of disease and infant mortality. Dr Fridolin Schuler was part of the Swiss Public Welfare Society whose goal was to improve the lives of the country's working population. It was observed that nutrition from meat was too expensive for the working class and Dr Schuler was convinced that pulses – rich in nutrients and easy to digest – were the solution.
​Maggi inspired by this work researched and innovated powdered pea and bean flours. and also world's very first instant soups under Dr Schuler's partronage. Then, in 1886, he launched Maggi seasoning, a concentrated liquid bouillon to form the basis for consommés, soups and sauces. It was initially a cheap substitute for meat extract and became widely popular.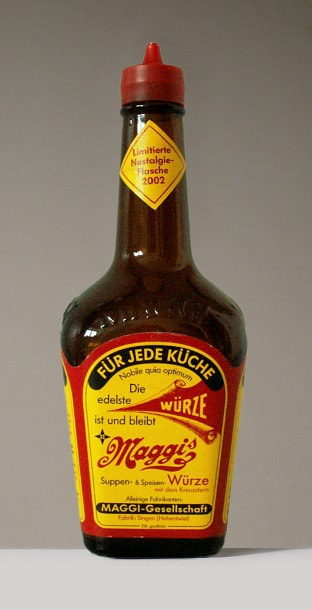 Maggi Seasoning:Replica of a historic bottle
​What is interesting is that Maggi sauce (distinguished by its yellow-capped black bottles) does not have a uniform recipe. A number of countries have their own version and each tastes slightly different in order to fit local palettes. Although the original did not contain soy, however Maggi in some Asian countries is made with soy. This soy formula would be more readily embraced by Southeast Asians who are more familiar with soy-based seasoning sauces.
Golden Mountain Seasoning Sauce
​In Thailand, "Seasoning Sauce" most often refers to Golden Mountain Seasoning Sauce or the famous "green cap" sauce. In recipes, it can be used interchangably with Maggi seasoning although the taste between the two is significantly different. Golden Mountain Seasoning Sauce is composed mainly of fermented soybeans and salt but has a 
"deeper, somewhat saltier taste"
 then regular soy sauces. Like Maggi a little goes a long way (just one or two drops makes a big difference). It is particularly good in spicy stir-fries like 
Pad Kaprao
.
In Thailand, it is a cooking staple. The sauce has been used for well over a century there, contributing a distinctive Thai flavor to stir-fries and other dishes.
| | |
| --- | --- |
| Crying Tiger Recipe: Sua Rong Hai | Grilled Pork Skewers with Sticky Rice: Moo Ping |
| | |
| --- | --- |
| Thai Stir Fried Noodles: Sen Mee Pad See Ew | Thai Curry Puff Recipe | Karipap | กะหรี่ปั๊บ |