A really good iced Thai tea should have a little foam and some bubbles on the top, kind of like a cappuccino froth, but not as thick… One last thing, it would not taste the same if you didn't use a straw – believe me – I don't really like straws, but for some reason with Thai milky tea, it just tastes better using a straw."
Thanks to the popularity of Thai restaurants abroad, Thai iced tea (Cha Yen ชาเย็น, literally meaning "cold tea"). has become one of the first things foreigners discover when dining at a typical Thai restaurant.
Years ago, my Auntie Chung was telling me how easy it was to make Thai iced tea. She had worked in an Asian restaurant and one of the most popular items on the entire menu was Thai iced tea. She proceeded to tell me exactly how to make it and how profitable it was for restaurants
The drink is made from strongly brewed Ceylon tea, or a locally grown version of Assam known as Bai Miang (ใบเมี่ยง). It is also blended with a mix of ingredients which may include orange blossom water, star anise, crushed tamarind seed, red and yellow food coloring, and sometimes other spices as well.
Evaporated milk, coconut milk or whole milk is poured over the tea and ice before serving to add taste and creamy appearance. Condensed milk and sugar may also be mixed with the tea before it is poured over ice and then topped with evaporated milk. In Thai restaurants, it is served in a tall glass, but when sold from street and market stalls in Thailand it may be poured over the crushed ice in a plastic bag or tall plastic cups.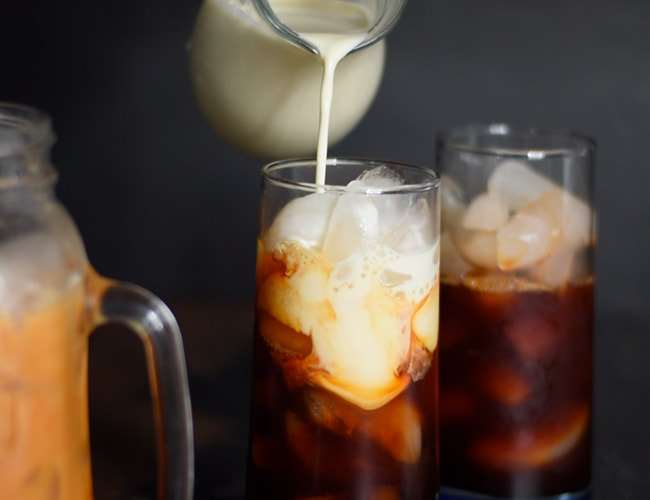 theforkbite.com
The development of Thai tea in this form is unclear. Iced coffee (traditionally made from concentrate "oliang"), was probably introduced around the same time.Tea was first introduced from China considering the long history of trade between the two countries. Chinese immigrants initially settled around Thai trading ports and gradually integrated into Thai society, bringing with them their tea drinking culture. However, with the addition of dairy and crushed ice, Cha Yen (ชาเย็น) is more likely to have its roots in Europe or America rather than China. It is probably that the drink was developed during the time of Field Marshall Pibul Songkram, who favoured Western habits (and is credited with popularising Pad Thai)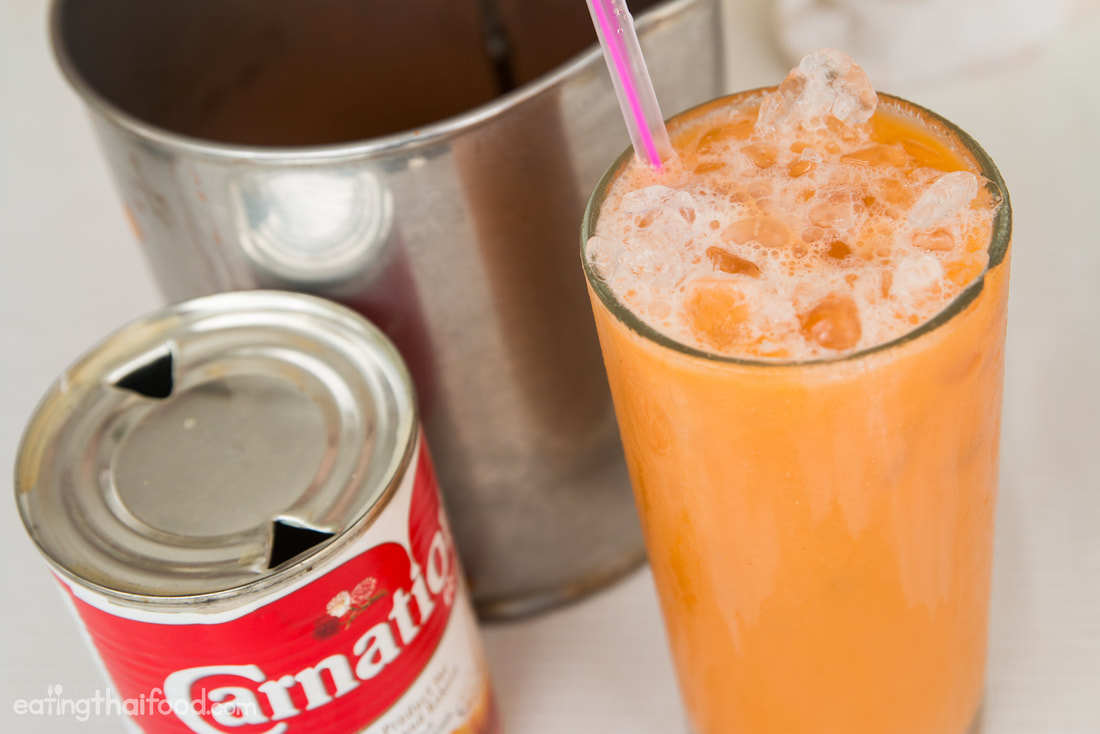 Why is it orange?
The exact origins of the orange colour has been lost to time, however there are a few theories which may explain its introduction to tea.
Tea drinking was introduced to Thailand during the reigns of King Rama IV and King Rama V in the beginning of the nineteenth century (1804-1854). During this time British and other foreigners who resided in Thailand also brought their own tea with them. After the tea was brewed and served to the master, the domestic workers would brew the same tea leaves again instead of discarding it. As the flavour and colour of the tea would fade, orange food colouring and flavourings (spice mix, tamarind) were added to extend the life of the tea and also to make it more appealing.
Another theory is that restaurants started adding food coloring to help differentiate between Thai iced coffee and Thai iced tea, as both of these milky beverages featured the same beige appearance.
So that's the secret, it's not just that it's really awesome yellow tea, it's a food dye that they put into the tea leaves (that's why it's the same color as Mac and Cheese) – Mark Wiens of eatingthaifood.com
One of Thailand's most popular and beloved tea brands is called "Cha Tra Mue" (in Thai it translates to "Hand Brand) but the brand in English is "Number One Brand". The company was first established in Yaowarat, China Town Thailand in a Chinese teashop named "Lim Meng Kee". This shop began importing Chinese, Oolong and Green tea. However, they found out that the Chinese Hot Tea was not popular among the Thais, so they started importing red tea to make Thai Milk Tea and Thai Black Tea, which were served with ice. This business has since grown and the brand has become synonymous with "Thai Tea".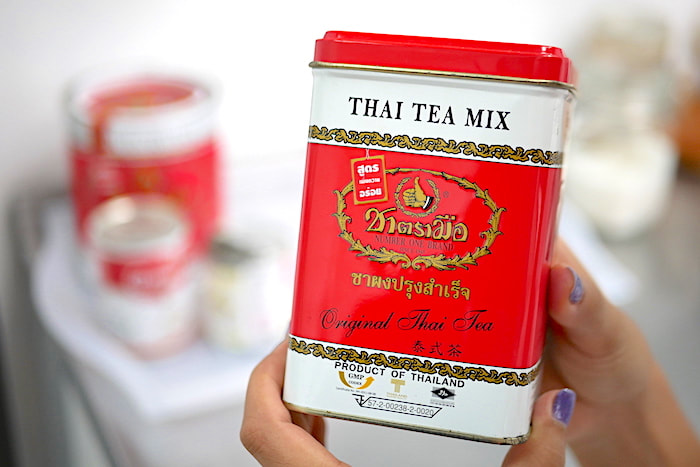 Number One Brand "Cha Tra Mue"
Cha Yen is often used to counterbalance the spiciness of Thai cuisine, however is delicious served on its own.
A really good iced Thai tea should have a little foam and some bubbles on the top, kind of like a cappuccino froth, but not as thick… One last thing, it would not taste the same if you didn't use a straw – believe me – I don't really like straws, but for some reason with Thai milky tea, it just tastes better using a straw – Mark Wiens of eatingthaifood.com