If you're a fan of Thai food, you're probably familiar with Pad Kra Pao, a stir-fry dish made with holy basil, chilli, garlic, and meat or seafood. This traditional and comforting meal is a favourite among Thais and can be found in almost every corner of the country, from street vendors to high-end restaurants.
And the good news is that you can now make this delicious dish at home, wherever you are, using Ocha Frozen Thai Basil Cubes. It's a simple yet delicious dish that's a staple of Thai street food and home cooking. In this recipe and cooking video, we'll show you how to make Pad Kra Pao Moo Sub, a popular variation of the dish made with minced pork.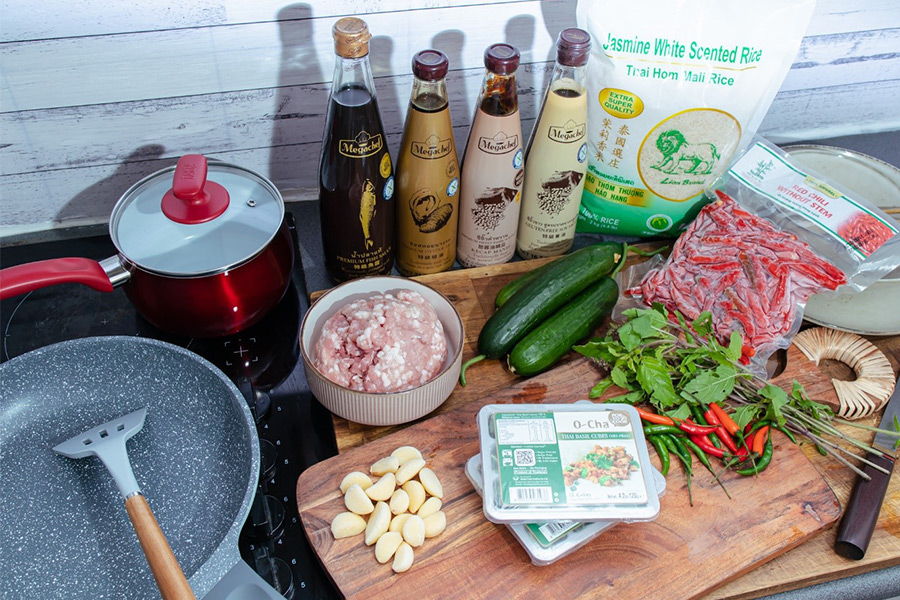 Ingredients:
3-4 cubes of O-Cha Frozen Thai Basil
6 Frozen Bird-Eye Chillies
1 teaspoon of Megachef Oyster Sauce
1 teaspoon of Megachef Fish Sauce
½ teaspoon of Megachef Soy Sauce
½ teaspoon of Megachef Dark Soy Sauce
200 grams of Pork Mince
1 teaspoon of Raw Sugar
3-4 cloves of Garlic
2 tablespoons of Vegetable Oil
2 Lebanese cucumbers for garnish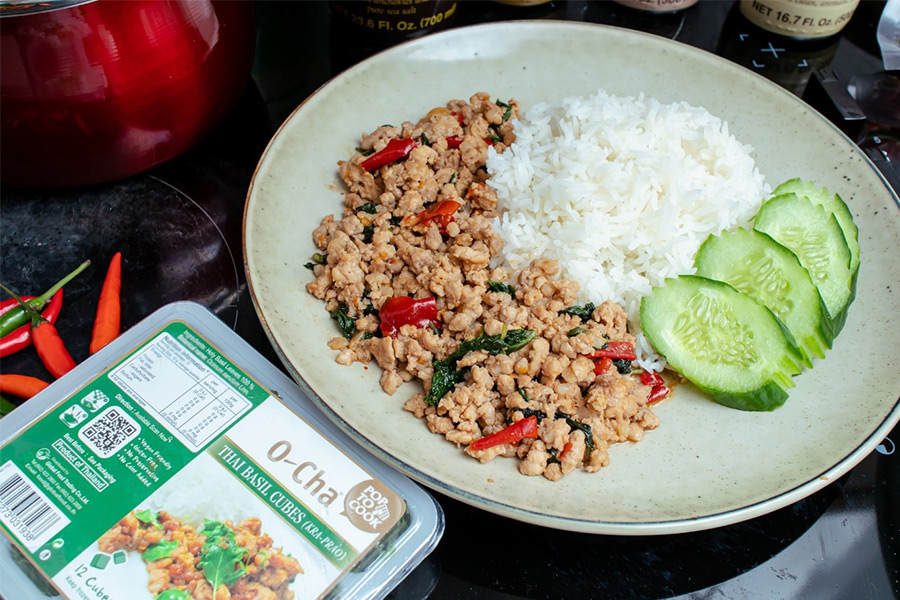 Instructions:
Crush the garlic and chilli in a mortar to release their oils and flavours.
Peel and slice the Lebanese cucumber for dish garnish.
Heat 2 tablespoons of vegetable oil in a frying pan over high-medium heat.
Once the oil is hot, add the chilies and garlic, and stir-fry for about 20 seconds until fragrant.
Add the pork mince and continue stir-frying. At this point, you should keep stirring and cooking your minced pork until it is almost completely cooked. If it becomes dry, simply add a small amount of water.
Add 1 teaspoon of oyster sauce, fish sauce, ½ teaspoon of light soy sauce, ½ teaspoon of raw sugar, and a splash of dark soy sauce. Make sure you add fish sauce when it's at high heat. Continue stir-frying for another 30 seconds.
Add a few cubes of O-Cha basil that have been defrosted in the pan.
Crack some black pepper, then immediately turn off the heat. Your home-cooked stir-fried pork and holy basil is now ready to be served.
Now it's time to enjoy the delicious flavours of your holy basil stir-fried pork! For the perfect meal, pair it with steamed Lion Jasmine Rice and garnish with fresh cucumber slices on the side.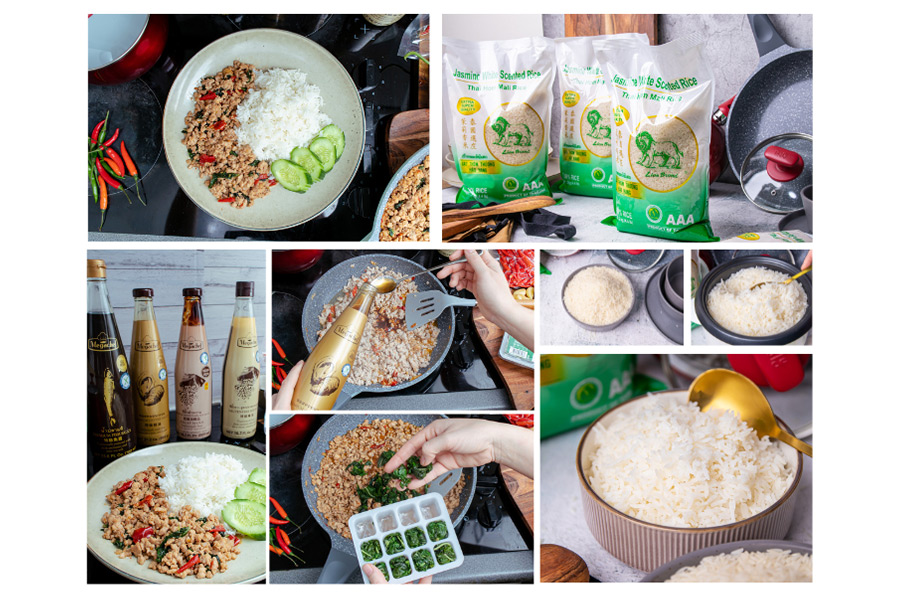 Tips:
Make sure you don't cook the holy basil for too long, as it will turn dark, less appetising, and chewy.
You can make it a bit more special by adding a fried egg on top. I like mine runny and crispy on the side. You may find some people have a side of condiment called fish sauce with chili (Thai: พริกน้ำปลา).
The secret to traditional Thai Pad Kra Pao is to use premium ingredients from Thailand. To experience and enjoy stir-fried pork and holy basil, use authentic holy basil and serve it with our 100% steamed jasmine rice from Lion Brand Rice.
Rice topped with stir-fried pork and holy basil is a delicious and easy-to-make Thai dish that's perfect for any occasion. With the right ingredients and a little bit of practice, you can cook this dish at home and enjoy the authentic flavours of Thailand. So, what are you waiting for? Try making Pad Kra Pao Moo Sub today and let us know how it turns out!