Kru Ten yells at me "Whitney!! Lau Lau, Gin Khao!!" which roughly translates to "quick quick, breakfast" – Whitney Tobin, Muay Thai Champion & Thai Food Obsessive
I'm in Northern Thailand Chiang Mai, in the suburb San Kamphaeng. Morning training is finishing up and things have quieted down because pad rounds are done, and people are leaving to go back to their rooms to shower and get breakfast in town. I'm working through my last sets of pull-ups and sit-ups when the smell of bacon fills the air. Like clockwork, I know I have about 20-25min to get ready before breakfast is served. ​
I hurry to start my daily clean up. As a sponsored fighter at Santai Muay Thai gym, part of our contract is helping to keep the gym clean.  This includes sweeping around the ring and weights equipment, cleaning the cups the customers use for water during training sessions, and wiping down the bags with Dettol disinfectant solution. ​
Kru Ten yells at me "Whitney!! Lau Lau, Gin Khao!!" which roughly translates to "quick quick, breakfast" (Kru is the Thai word for trainer/teacher). I take the aluminium tin cups inside, dump them into the kitchen sink making a loud clamouring noise. Por and Kru Sak are giggling with each other while she's prepping the food. I do a quick wash and rinse and bring the cups back out to the cooler. I grab my backpack and force my aching legs up the stairs to my room above the gym, and take a shower as fast as I can. If you're too slow, sometimes the food will be gone by the time you get back down. ​
Por (Pronounced like Boar) is our gym cook. She is from Si Sa Ket, which is a province of Issan. She's the wife to a younger trainer, Kru Sak. When I talked to Sak, he told me she only really started to cook when she married him. Before, she was studying at university for a mathematics degree. She learned most of her cooking from her mother. Sak like the other trainers at Santai was a former fighter from the famed Bangkok gym Pinsinchai. He had worked at Santai previously, but went abroad to teach Muay Thai in China. Earlier this year he returned to Chiang Mai to work at Santai again. It's hard to find jobs in a small suburb such as San Kamphaeng, so the owners of Santai hired Por on to cook for the trainers and Thai/sponsored fighters, with a few cleaning duties as well.
By this time, my head is upside down and I'm trying to dry my hair with a towel that has no absorbency whatsoever when I hear Chuey, one of the young fighters yelling "Gin Khao" signalling to everyone time to eat. Camp food is mostly Ahan Issan closely tied with Laos-style food, as most of our trainers are from North Eastern Thailand, Issan area. The bacon smell from before is Moo Tork (deep fried pork). The pork is cooked in stages of frying in a wok of oil and draining into another pot. Por is smashing the Som Tam (spicy green papaya salad) using Issan sauce, Plah Rah (fermented fish), tomatoes, limes and chilis in the pestle. Khao Niao (sticky rice) is steaming in the wicker basket shaped like a downwards cone over a pot of water it perfectly fits into. A young 14yr old Thai boy, by the nickname "Josh", helps by taking the rice out and spreading it on the flat wicker plate with a large wooden spoon. This lets some of the steam release so that the rice can become less wet and create the sticky effect. It is then put into another wicker basket with a cover to stay warm until the rest of the food is ready to serve. With the rice, we typically have different Issan sauces to dip in such as Nam Chim Chaeo (sticky sweet spice – dried chilis, fish sauce, palm sugar, black roasted rice flour) or Nam Phrik Num (chili paste, green chilies, shallots garlic and coriander leaves with lime juice and fish sauce). We normally have this for breakfast 3 times a week. ​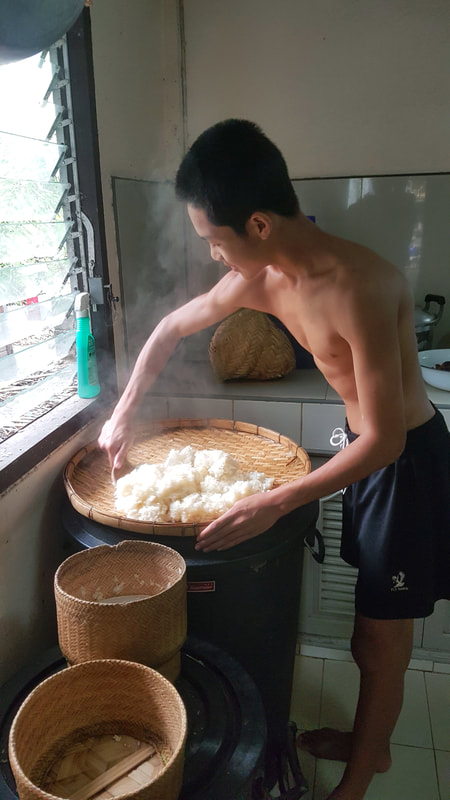 Letting steam out for sticky rice
| | |
| --- | --- |
| Deep Frying Pork | Moo Tork (Deep Fried Pork) |
We flip over the stools that are resting on the table and I try and get a number of how many of us will be eating as not all the trainers eat breakfast at the camp. I grab the spoons for the Som Tam, plates and put them on the table and everyone helps bring the dishes to the long table. As far as foreigners eating, most of the time it's just me and one other sponsored fighter that will eat at the camp. Drinks are left off the table (took me a few meals to realise I was the only one with a cup), and the focus is just on the food. Instead of using a fork or spoon for this meal we use our hands grabbing small amounts of the sticky rice and rolling it in our hands until it's a little smaller than a golf ball. The sticky rice is used as a vehicle to either pick up some of the Som Tam or Moo Tork, or to just dip in the sauces. Sometimes we'll have separate plate of vegetables like round green thai egg plants, whole baby cucumbers and mint leaves.
While eating in what would be fast to Westerners, the trainer's conversation at the table revolves around gym gossip about the fighters, upcoming fights or just generally teasing each other. Although speaking in Thai is limited for me, I can mostly grasp what they are saying after having spent 4 and half months here.  I sit down next to my trainer Kru Ten, our fighter/ trainer relationship is really good. He has been my trainer since the 2nd day I came to Santai last year. He has held pads for some very famous fighters including 
Petchboonchu, one of the greatest knee fighters
. I normally ask him about fights that happened the night before at the big stadiums, and we talk about his family. He has twin baby boys, and because they were born premature he often has to take trips to the hospital. It wasn't until a few weeks ago that he was sleeping at the hospital and then driving back in the morning to hold pads. When I first came back to the gym I was nervous eating with the trainers, but he made me feel the most comfortable at the table, always showing me what we would be ok eating for training and fights. He still doesn't let me eat some of the more fermented dips, as he knows it won't end well with frequent trips to the bathroom. ​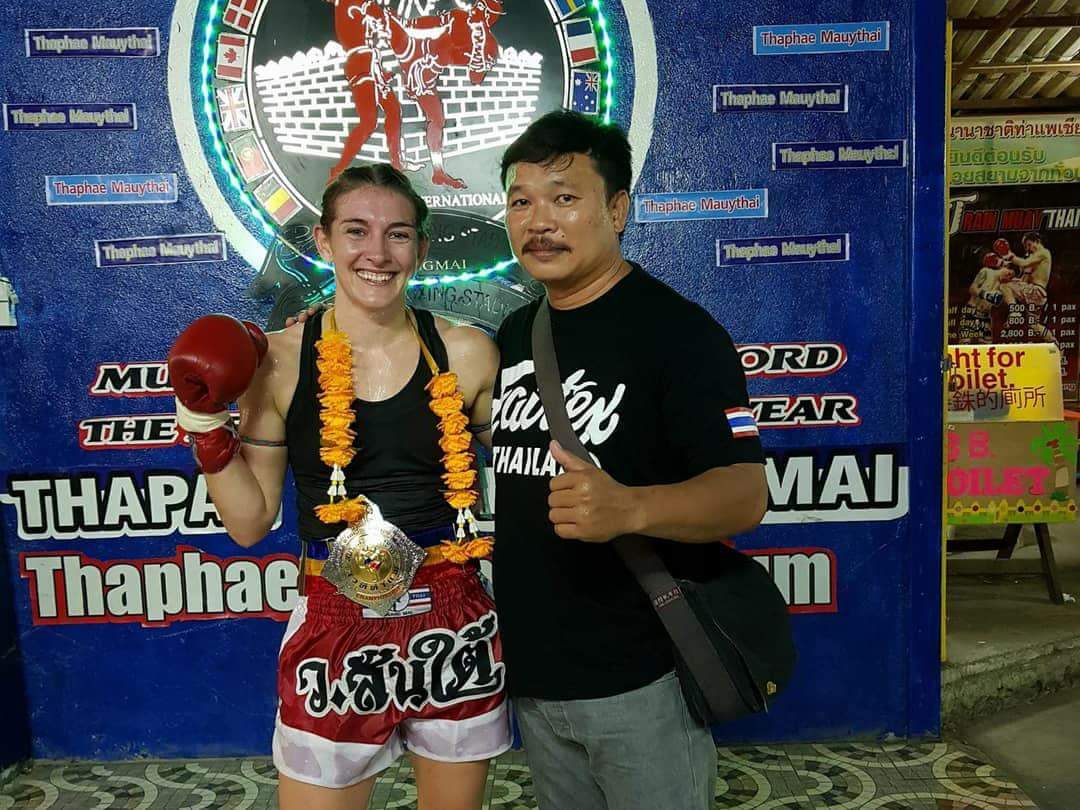 Whitney and Kru Ten
​Eating is done quickly and people get up in their own time, eventually plates are combined until the last person is left with final clean up. If I'm not cutting weight, it's usually me that's last as I like to take my time eating. Sometimes a few of the trainers will have private lessons and are off back in the gym, one of the trainers Kru Manasak usually tends to his fighting roosters that are just behind the kitchen, and for others it's time for the afternoon nap. Kru Sak and Por drive off on their pink scooter and Kru Ten speeds off on his own, back home. Naps are crucial not only for fighters but for our trainers as well. Day in and day out, they are holding pads morning and afternoon, 5×5 minute per person with breaks, so about a half hour per customer kicking, kneeing, punching and elbowing them.
In a few hours we'll do another more intense session, as mornings are focused on fine tuning technique. It's the same ritual after training –  once the pads are put away, the bags are cleaned, conditioning is finished and the foreigners have left for the day, it's time for dinner.
Due to the rainy season at the moment, we have had more warm soup dinners normally with a side of rice. Two of the soups we have often are Laos inspired Kaen No Mai (pork bamboo soup) or Tom Hua Pla (Laos style fish head soup). Kaen No Mai is a mixture of pork, lemon grass stalks, hot chillies, Thai basil, fermented fish sauce, and lots of bamboo shoots. Tom Hua Pla is more sour, but it has lovely onions, ginger, garlic, kaffir lime leaves, chilli, lemon, fish sauce lemon grass and tamarind. These are set into 3 bowls that everyone will share eating from, everyone will have a separate plate for their rice. Normally you'll put the meat over your rice and share drinking the soup. ​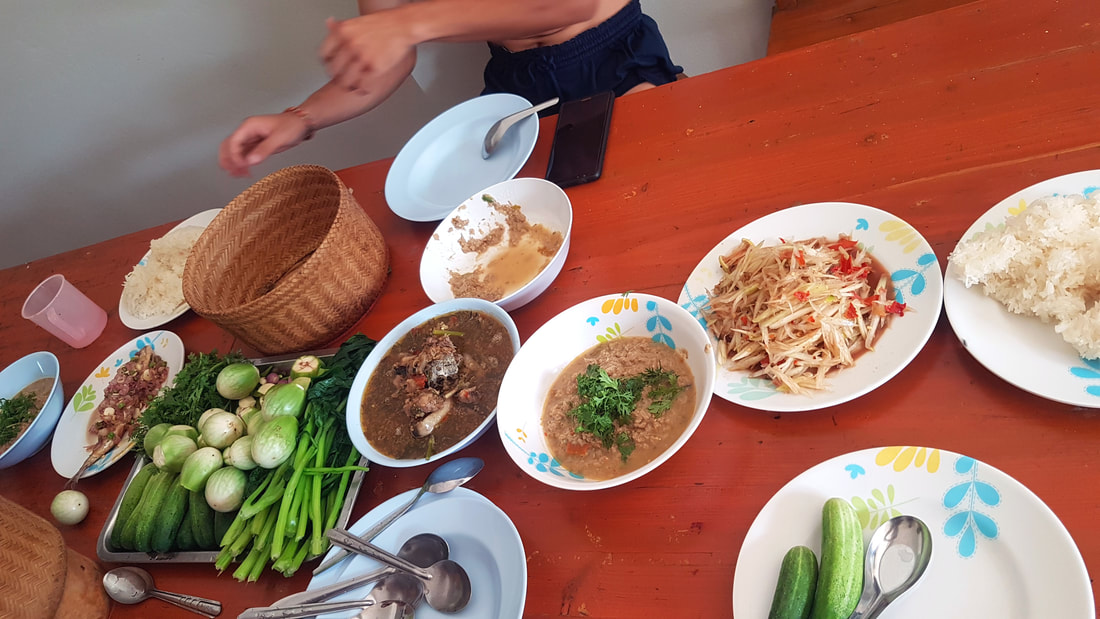 Clean up is much the same at night people head off when their finished to not be stuck with the last of dishes. As I'm not much of help cooking the meals, I never mind being the last out to help clean up afterwards.