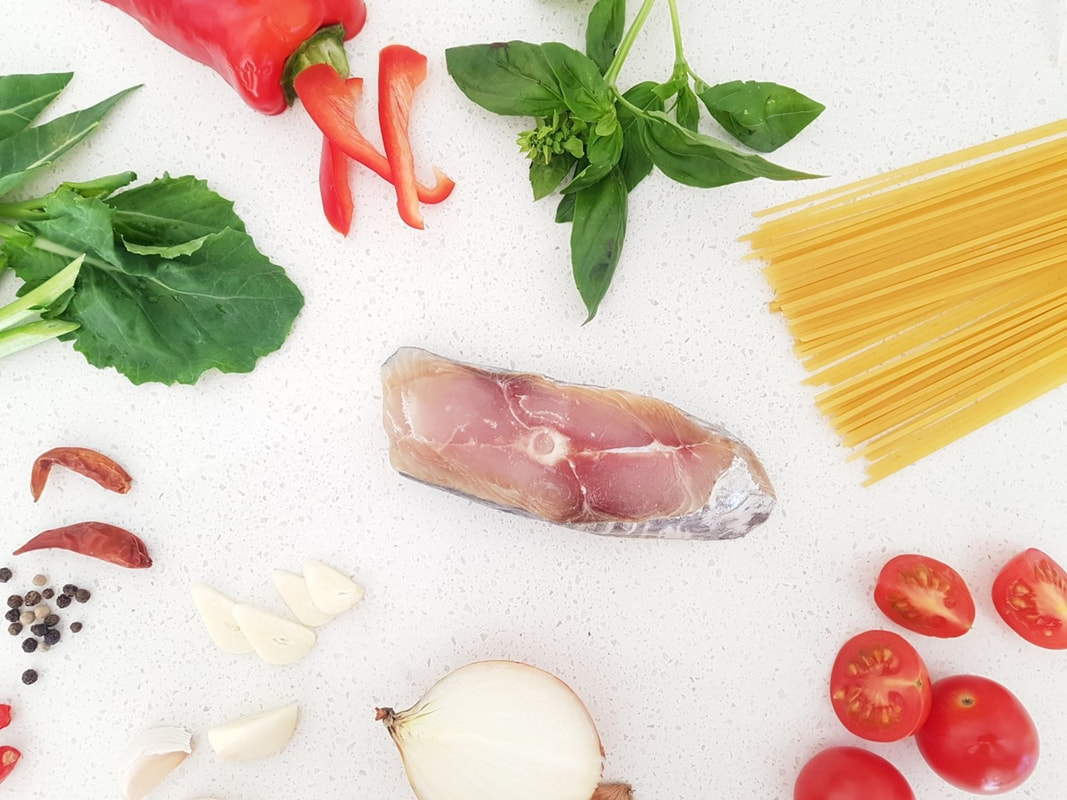 Copyright 2021 Parita Nobthai All Right Reserved
​Father's Day is approaching which is over a week away. This year some of us will again be celebrating this special day in lockdown away from our dad's. I have been thinking of my dad's favourite fish, which is salted mackerel fish. He is always raving about this fish and often visits local markets or stops by street kiosks on the way to Bangkok to purchase it. He usually has fried salted fish with fresh sliced shallots, chopped birds-eye chilli, lime juice and steamed jasmine rice.
​I have no clue as to why my dad raves about salted fish. When I was a kid, salted fish looked unappetising to me, it's dry, smelly, and so salty. However, one day I decided to encounter this unappealing looking salted mackerel for the first time, and I must admit, I absolutely loved it and since have no qualms about ordering this dish at any restaurant. My dad is right. This ingredient goes well with many dishes such as stir-fried salted fish with Chinese broccoli, salted fish fried rice, steamed pork patty with salted fish, salted fish with congee, salted fish in dipping sauce or just have it the way my dad loves it.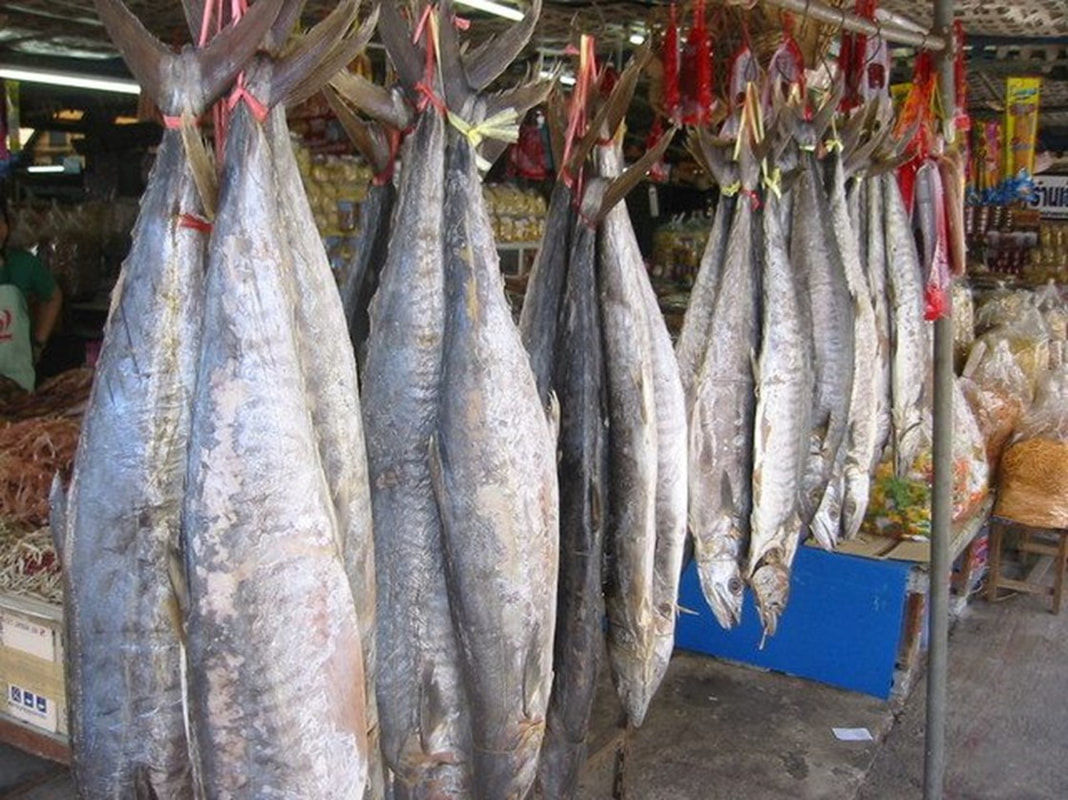 www.technologychaoban.com
This thin slice of salted mackerel is the traditional method of curing fish which is widely known in different cultures. In Asian cuisine, you might have come across an Indonesian dish like Nasi Goreng Ikan Asin or Cantonese chicken and salted fish fried rice. In Thailand, to prepare salted mackerel fish, the fresh fish is washed and cleaned throughrouly, gutted and inserted with an amount of salt through its mouth vertically as well as rubbed with salt around its body and left overnight. Then, the fish will be sundried for a few days before being sliced, packing in a clean container preserving in oil or brine.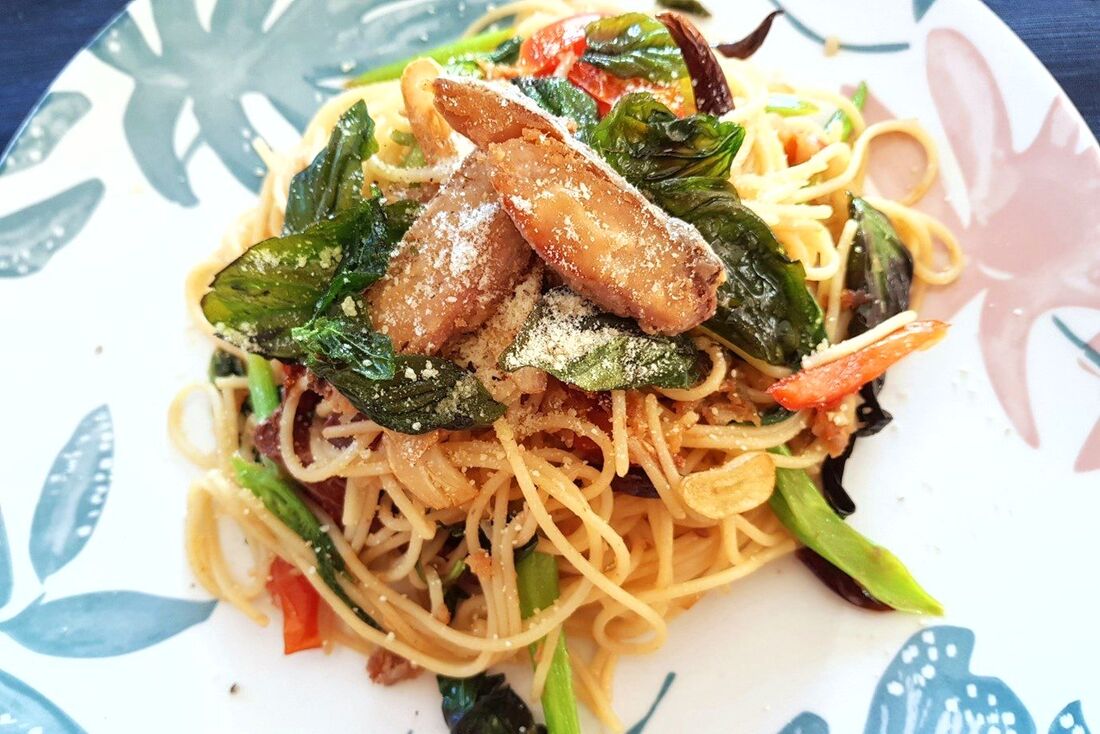 Copyright 2021 Parita Nobthai All Right Reserved
​To bring this dish to a non-Asian background husband is tricky. I still remember having him to try green papaya salad with fermented fish sauce while he introduced me to vegemite on toast and blue cheese. It is a daunting experience and you either love it or you hate it.  I decide to choose one of my most-liked dishes from one of the restaurants near my university in Sam Yan, Thailand. This Thai-fusion dish called Spaghetti stir-fried with mackerel salted fish. To show him how my dad's favourite ingredient can create delicious dish and hopefully encourage him to try without judging on the overwhelming-fishy smell.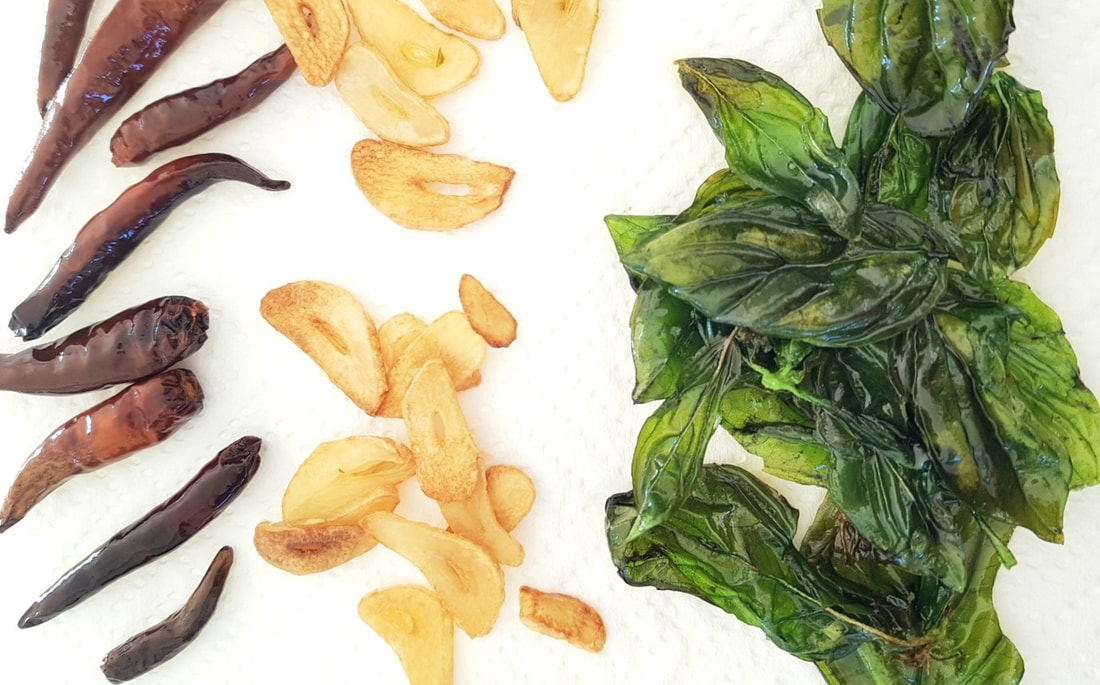 Copyright 2021 Parita Nobthai All Right Reserved
​
Prepare fried garnishes
There are three elements in this dish that we need to fry them first. We can use the same oil but make sure you do it in order. You can also use rice bran or vegetable oil.
Heat up the pan and add olive oil
Use low heat to fry sliced garlics until nice and golden, quicky fry whole dried chilli but don't leave them too long and lastly fry basil leaves until it's crispy. With basil leaves, just be careful of oil splattering.
Lay all three crispy elements on a paper towel and put them aside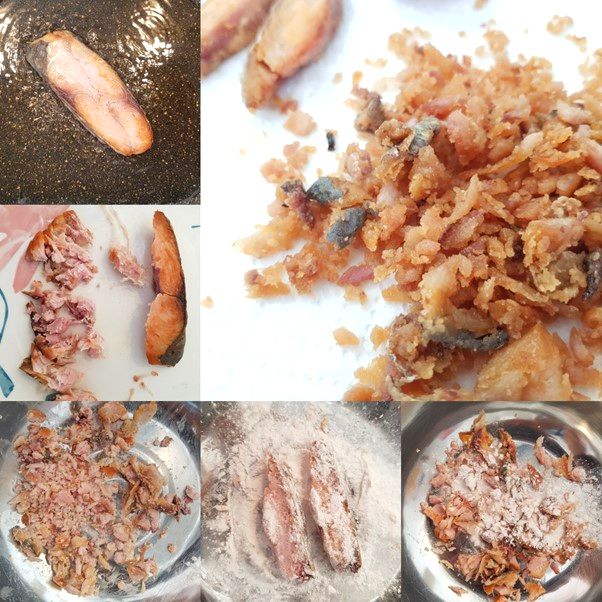 Copyright 2021 Parita Nobthai All Right Reserved
Prepare salted mackerel fish
Frying and battering is a great way to reduce the fishy smell from a salted mackerel. In these steps, half slice of mackerel will be pulled and battered and mixed with stir fry in the last process, a quarter will be mixed with spaghetti before stir frying and the rest will be battered as a garnish.
Use oil from the previous process to fry the fish
With medium heat, gently lay a slice of mackerel fish in the pan
Fry both sides of fish until it cooks through
Take the slice of cooked salted fish off the pan and debone it
Lightly battered pulled fish with tapioca starch and fry them until they are golden brown. Then leave them on the paper towel to soak up the excess oil
​Copyright 2021 Parita Nobthai All Right Reserved
Prepare Spaghetti
We use Spaghetti No.3 which is a good size for this type of stir fry. The smaller or bigger sizes of spaghetti are also ok depending on your preference. Cook spaghetti until it is al dente, so you get spaghetti that is cooked through and still firm
Fill the pot with plenty of water and bring it to boil
Add 200 gram of Spaghetti, a bit of olive oil and a pinch of salt. Don't forget to make sure all spaghetti is under water
Lower the heat and bring it to a simmer. To keep pasta from sticking, stir for the first minute of your cooking time. Follow the time suggested on the package but take a few bites to feel the texture as well (The one I use require 5-6 minutes al dente)
Drain and mix ¼ of pulled mackerel from previous step well with spaghetti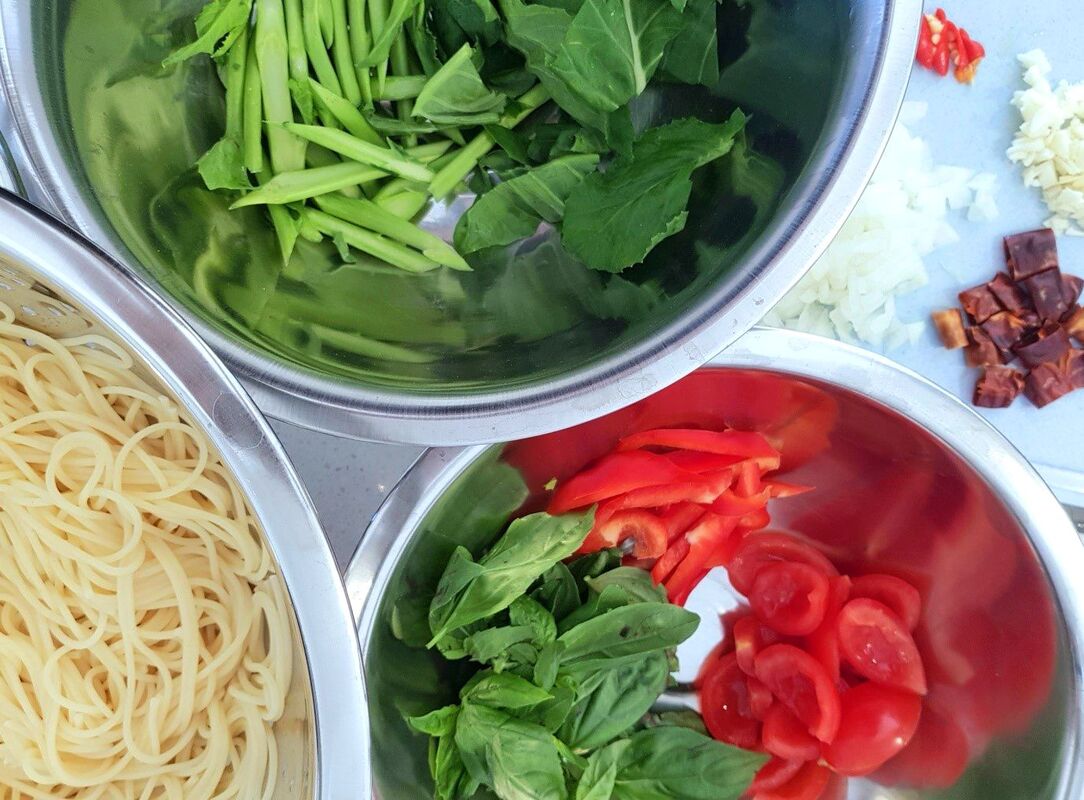 Copyright 2021 Parita Nobthai All Right Reserved
Time to combine and stir fry
Prepare finely chopped garlic, chopped onion, roughly chopped birds-eye chilli, and chopped dried chilli. You can remove seeds from dried chilli to minimise the spiciness. Also, have your fresh Chinese broccoli chopped and separate between stems and leaves, deseeded cherry tomato wedges (This is to reduce liquid in our stir fry), julienne red bullhorn chilli (Yes, you can use red capsicum instead) and basil leaves ready to go.
Add olive oil in a wok and then chopped garlic, chopped onion, chopped bird eye chilli, and chopped dried chilli
Cook until onion turns translucent. At high heat, add cherry tomato wedges and Chinese broccoli stems and stir fry until it cooked evenly
Add Chinese broccoli leaves and julienne red bullhorn chilli
Add spaghetti that mixed with salted fish from previous process
Season with palm sugar, seasoning sauce and soy sauce
Add basil leaves, turn the heat off, sprinkle crispy-pulled salted fish and fried dried chilli and mix it well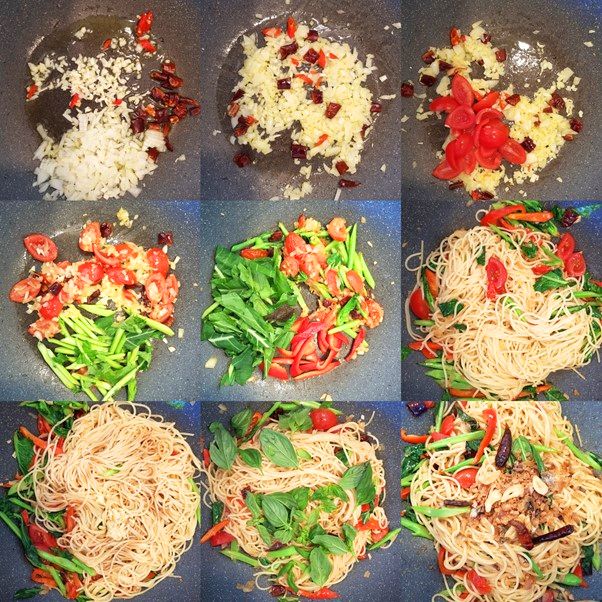 Copyright 2021 Parita Nobthai All Right Reserved
​To serve stir-fried spaghetti with salted mackerel fish
Place chunks of battered salted mackerel fish and garnish with crispy basil leaves and fried garlic
Sprinkle grated parmesan cheese and cracked pepper
How to balance all flavours
Salted fish is already very salty so be careful when you add seasoning sauce, soy sauce or any other condiment for saltiness. Don't forget that we also add a bit of cheese before serving which is slightly salty as well. I choose palm sugar to add sweetness to the dish, but you can also use raw or white sugar for this recipe.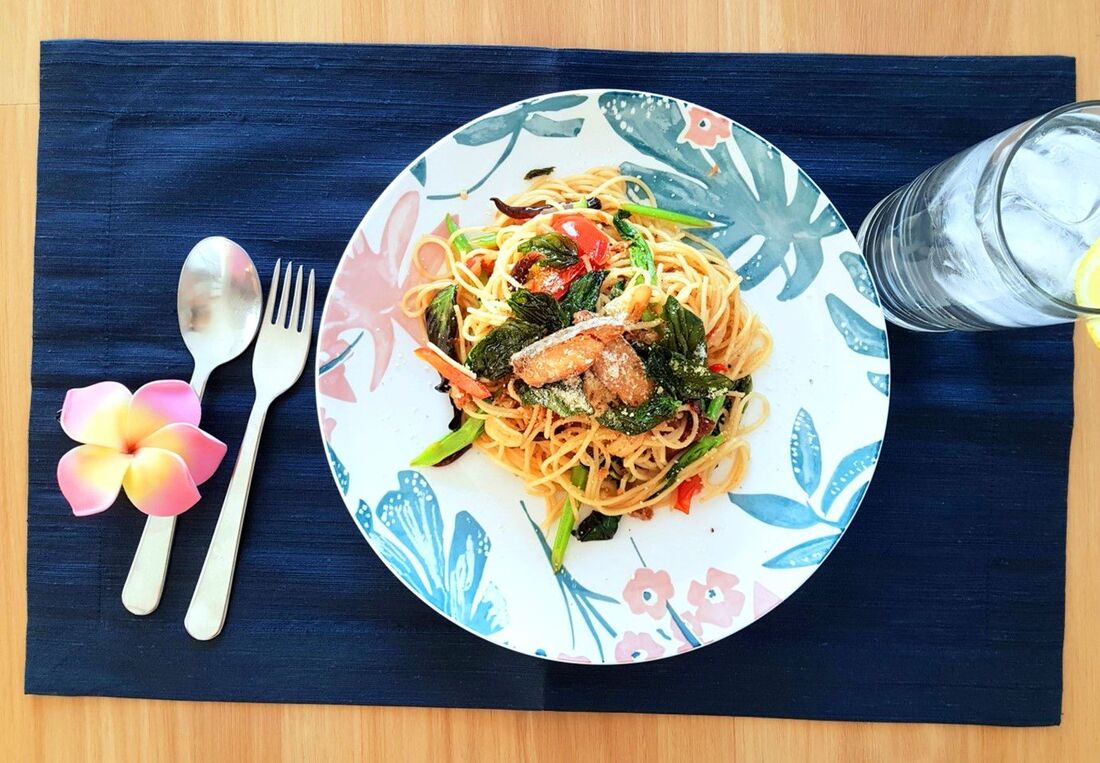 Copyright 2021 Parita Nobthai All Right Reserved
It took me a while to get this dish done while having to deal with my little one, but the outcome is worth it. My husband loves the dish and has no issue with a mackerel salted fish that seems to integrate well with this recipe and the bonus is my little girl loves to try it as well. I think I made my dad happy by cooking with his favourite ingredient and continue his legacy of eating salted mackerel fish. Try this recipe if you like to share something different to your non-Asian friends.
Ingredients for 2 serves
☐Salted Mackerel Fish  80 g or 1 slice
☐Olive Oil
☐Dried Chilli                      6  (4 for garnish and 2 to be chopped, deseeded and add in stir fry)
☐ Bird-eye chilli               2
☐ Cherry Tomato            ½ cup
☐ Ground Pepper           ½ tsp
☐ Thai/Italian basils       1 cup
☐ Chinese broccoli         1 ½ cup
☐ Chopped Onion          ½ cup
☐ Garlic                               4 cloves
☐ Spaghetti No.3            200 g
☐ Red Bullhorn Chilli      ¼ cup
☐ Soy sauce                      1 tbsp
☐ Seasoning Sauce         1 tbsp
☐ Palm Sugar                    1 tbsp
☐ Grated parmesan cheese 1 tsp
☐ Tapioca starch             2 tbsp
☐ Pinch of Salt
Parita Nobthai runs The Craft Humpy
"a homely place where you can get beautiful handcrafted gifts directly from the maker"