This dish is among my favourites and my go to khao rat kaeng dish – Charinya Ruecha of @charinyas_kitchen
This dish is among my favourites and my go to 
khao rat kaeng
 dish. In saying that, I don't cook this dish often as the core ingredient for the dish is ginger and it's quite expensive here. Recently I saw ginger at the supermarket for $50 a kilo!
Fortunately, my friend who grows ginger in her garden gave me heaps of ginger. Of course, the first dish that came into my head is Gai pad khing aka stir-fried chicken with ginger.
Here are some ingredient details that need a bit of explanation.
In this recipe, the ginger (khing) required is quite a lot and the recipe prefer young ginger as it's not too spicy. To reduce the spicy taste, I mix the julienne ginger in salty water for 10 minutes.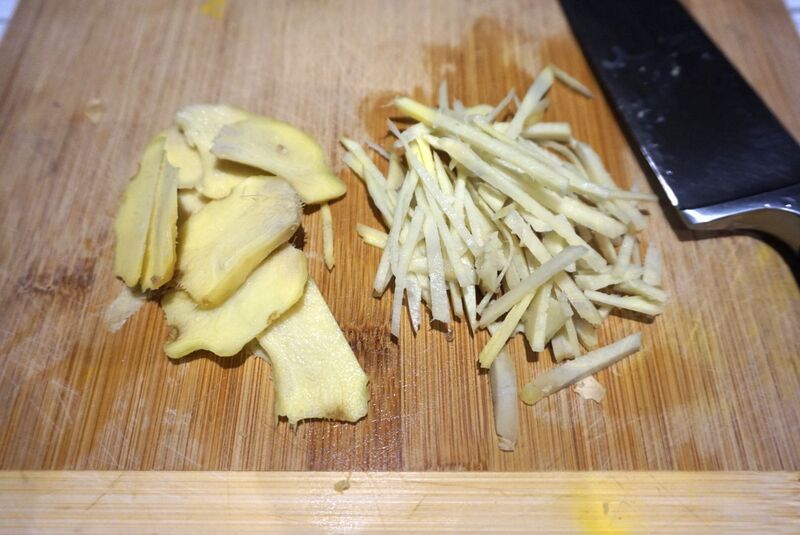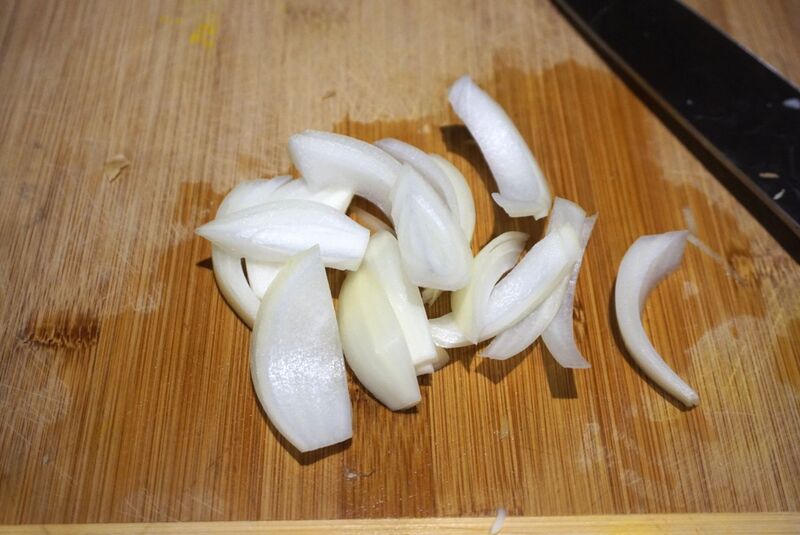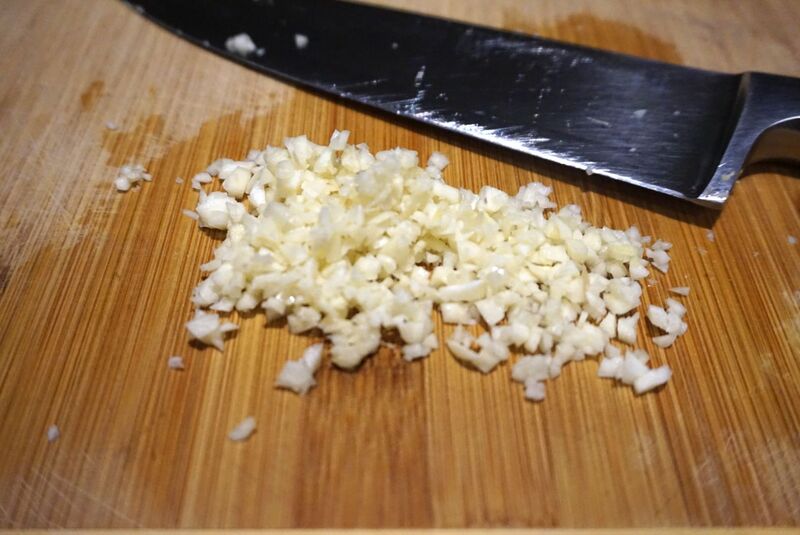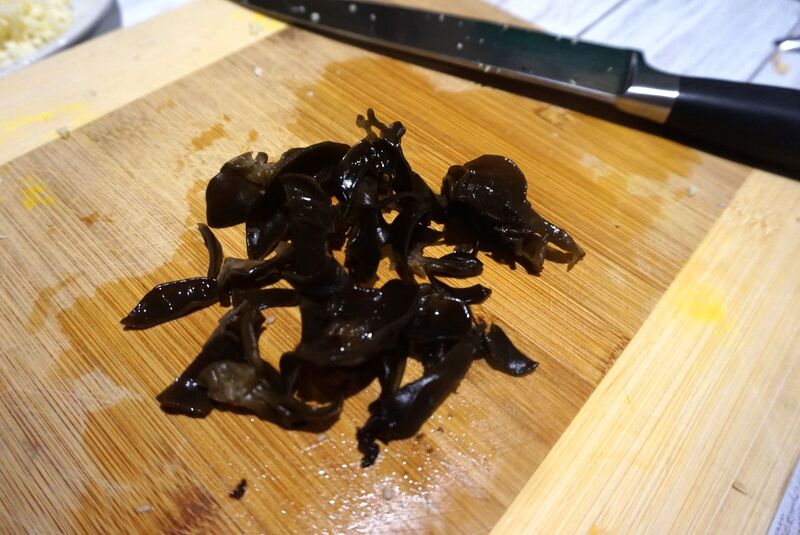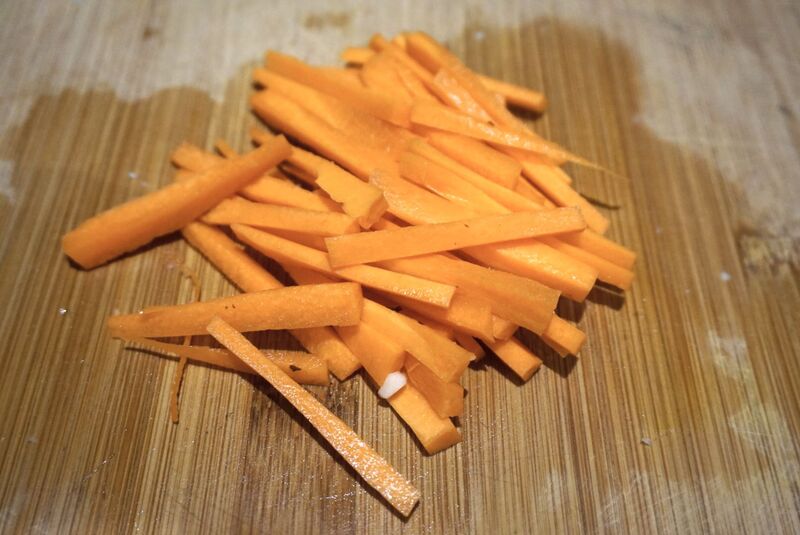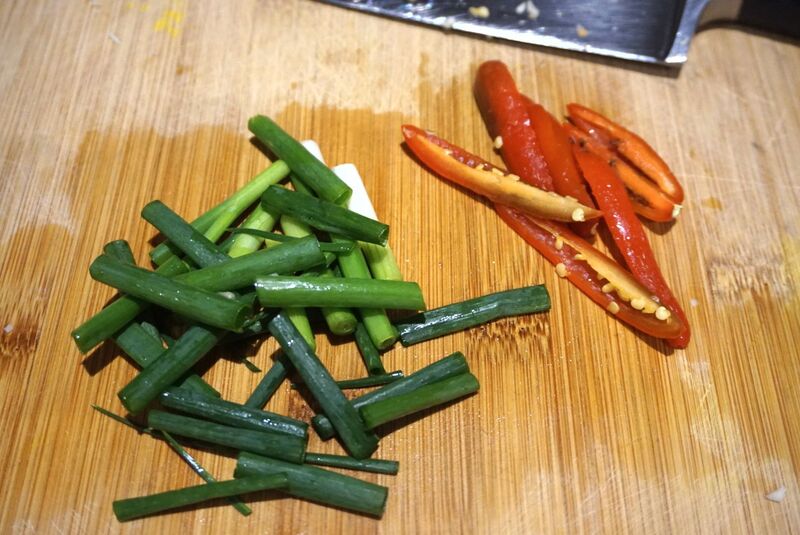 You will also need black fungus (wood ears mushroom) which available dehydrated in Asian grocery shops. I soak them in water to hydrate them, which will take a couple of hours. If you can't find them, you can substitute with other mushrooms like fresh shiitake.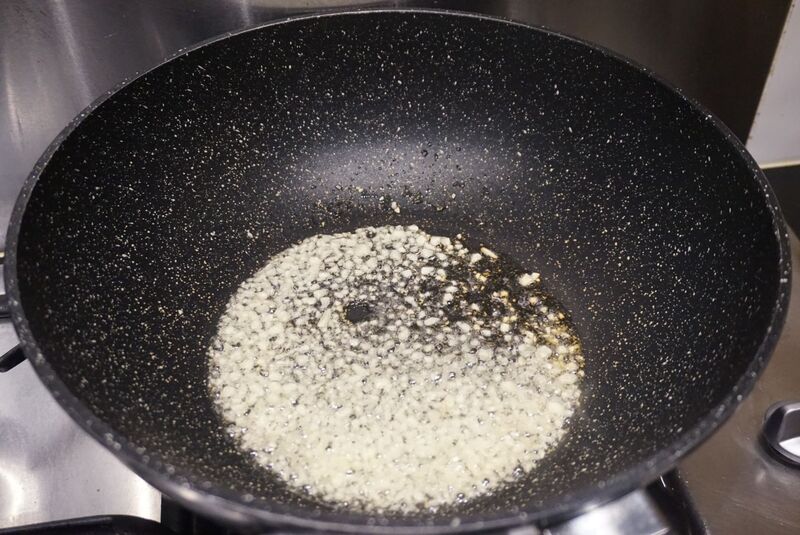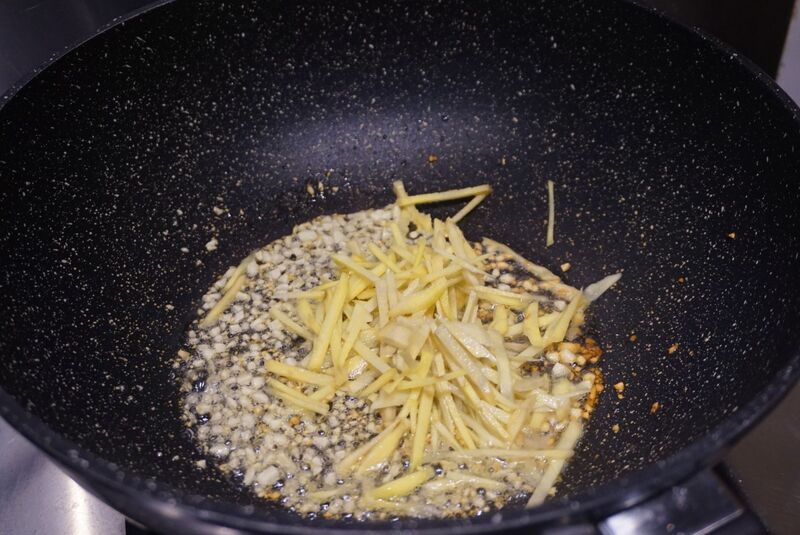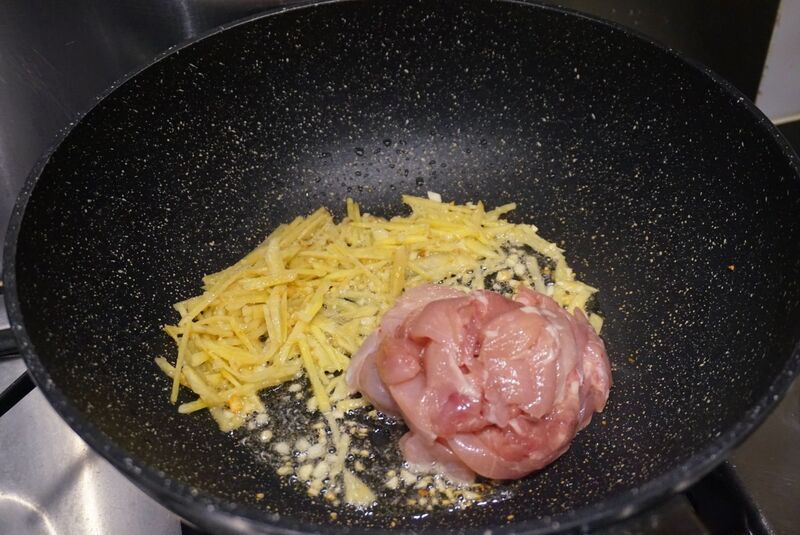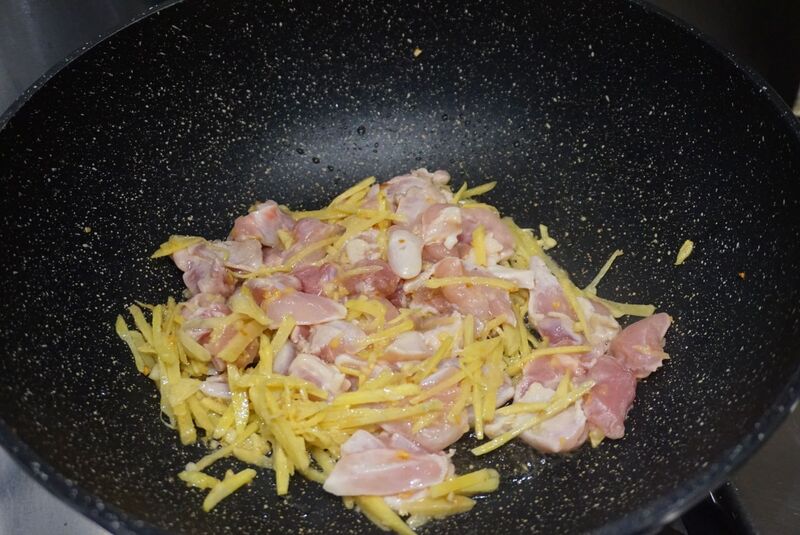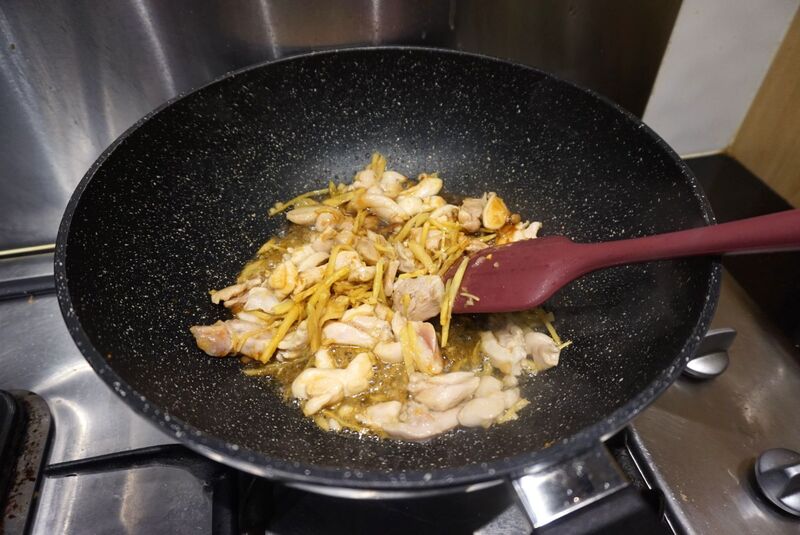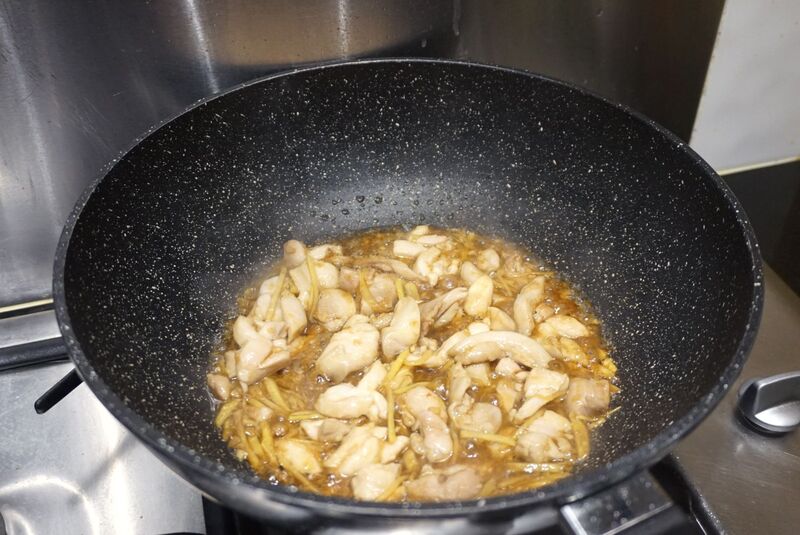 Salted soybean gives a pungent smell and increases the saltiness. Substitute with miso paste or omit it if this isn't your preference.
These are the more unusual ingredients of this dish. The others are far more common and are listed below.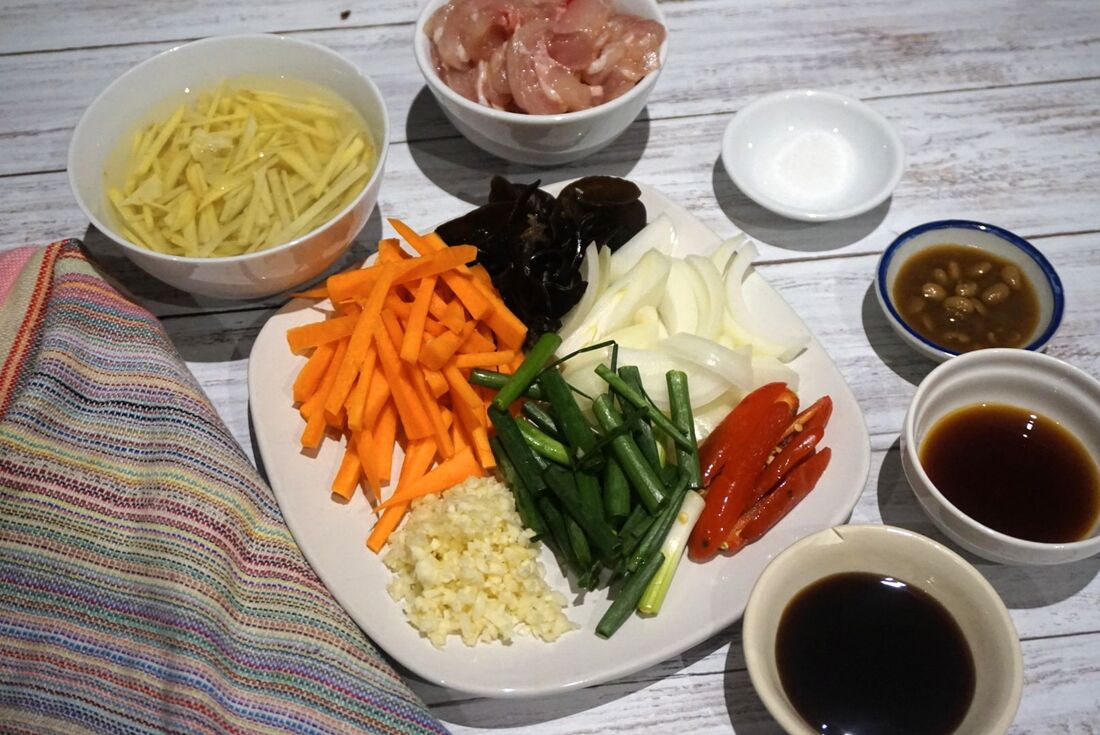 Ingredients
250g chicken thighs
50g ginger
3-4 cloves of garlic
1/2 Brown onion
50g black fungus (wood ears mushroom)
1/4 cup sliced carrot
2 red chilli
1/2 cup Spring onion
1 tbsp soy sauce
1 tbsp oyster sauce
1/2 tbsp salted soybean
1 teaspoon white sugar
1 tbsp cooking oil
Method
Prepare ingredients for stir fry
1. Peel the ginger skin with the back of the spoon. This method is safe and prevents losing the
ginger flesh. Slice and soak in water with salt.
2. Chop the garlic, carrot, onion, mushroom, spring onion and chilli.
3. Slice the chicken into small pieces
Let's get stir frying
1. Add cooking oil in a wok or frying pan.
2. Add garlic and fry for a few minutes then add the ginger. Keep stir frying until fragrant.
3. Add the chicken and stir until about 80% cooked.
4. Add the salted soybeans, all sauces and sugar. Mix well and let it cook.
5. Add the mushrooms and all the vegetables except spring onions. Cook for a further 2
minutes.
6. Add spring onion. Mix well and turn the heat off.
Serve the dish with steamed rice.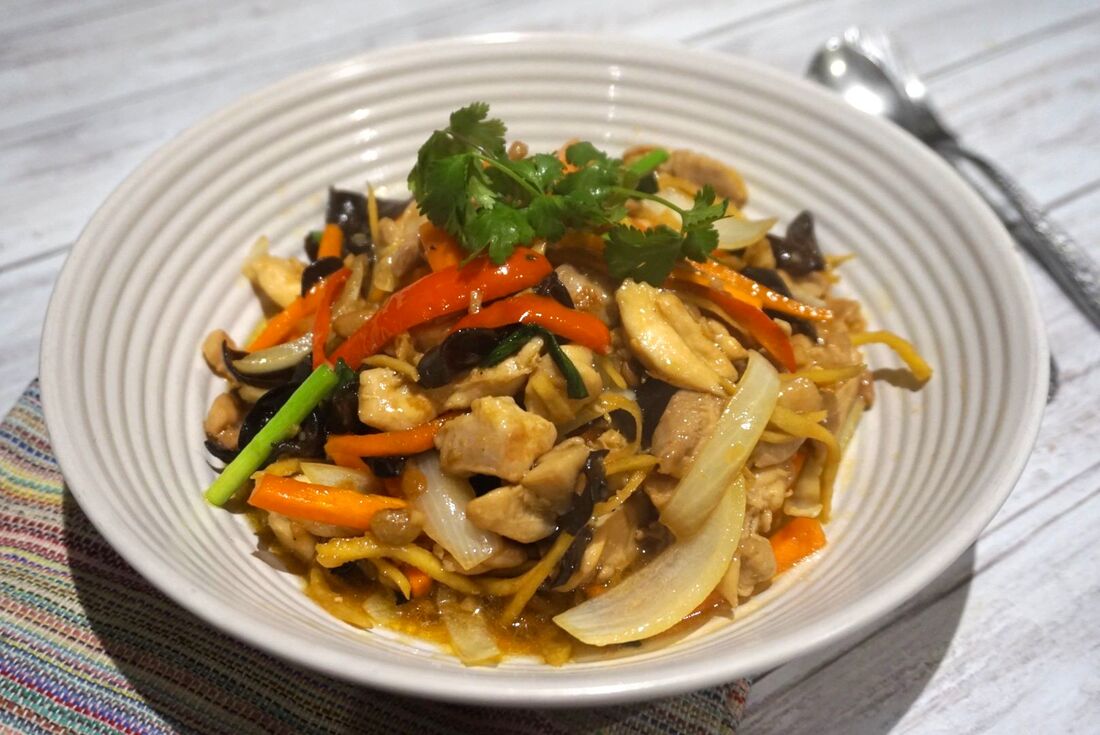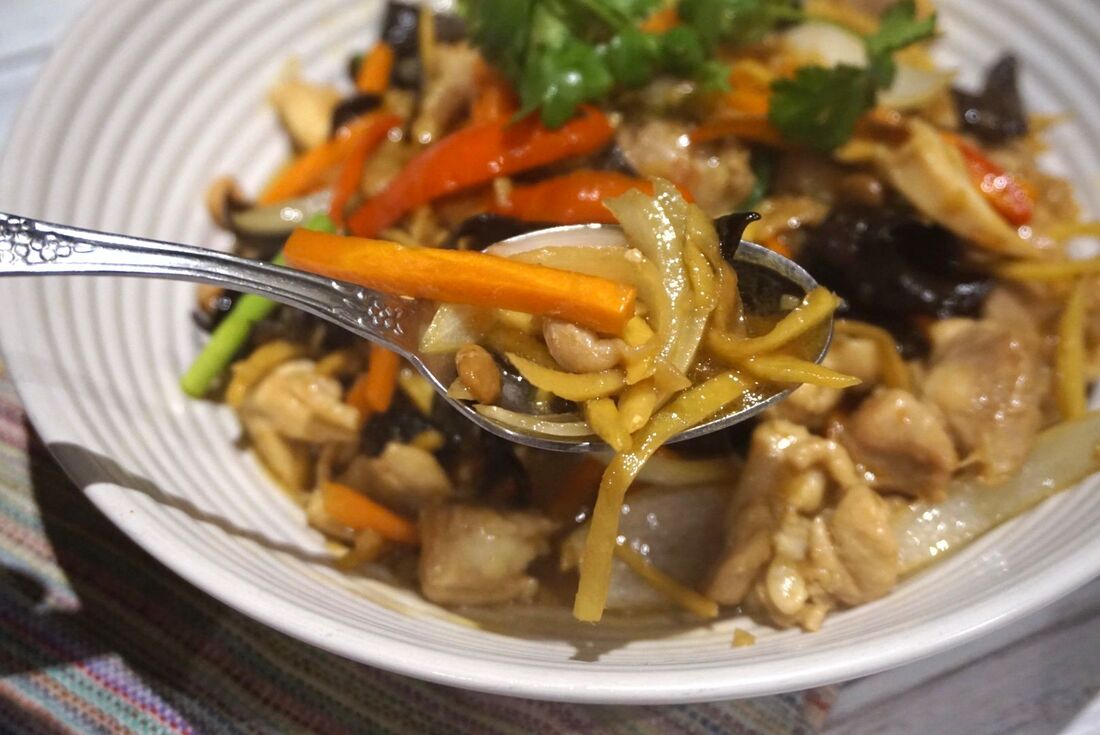 Check out Charinya's awesome work here