If you were to ask me what Thai dish brings me back to my childhood, the one dish that comes to mind is for Kao Tom a.k.a. Thai Rice Soup. My uncle always cooked my grandmother's recipe for Kao Tom at our family reunions. This delicious dish was always guaranteed to be every generation favourite dish. My uncle would make a ginormous pot to ensure that there was enough for everyone. He woke me and my cousins up early in the morning to help prepare ingredients and it was also a good chance for us to catch up and see how everyone going.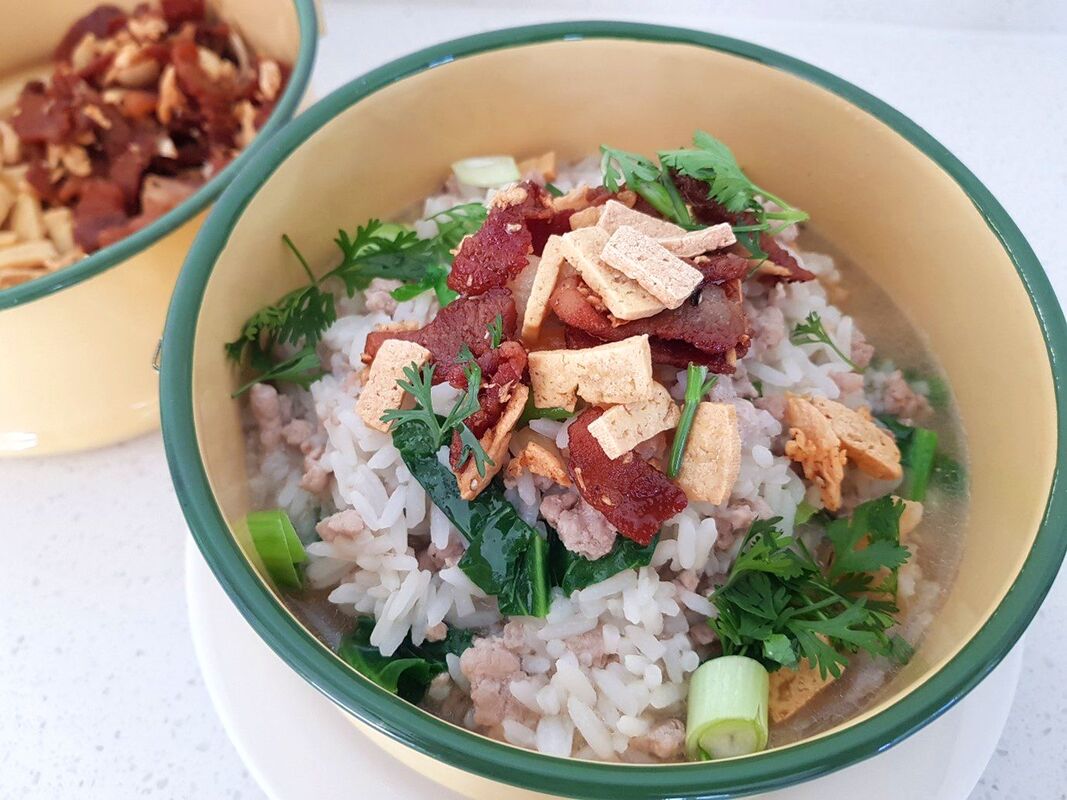 Copyright 2021 Parita Nobthai All Right Reserved
​In general, Khao Tom is known as a healthy breakfast, using jasmine rice as a main ingredient and a budget-friendly family meal because only just a bowl of Khao Tom can keep you energised throughout the day. Having Khao Tom is not only limited to breakfast, it can also be a simple dinner after a long-exhausted day at work. Another situation that always remind me of this dish is when I was sick , rice soup turned to be my number one menu, it is nutritious, hearty, and easy to swallow even if you have a sore throat.
This speedy dish will take you less than ten minutes if you have your homemade lard ready to go. The recipe recommends using cooked rice that has been left overnight in the fridge. It is a smart way to utilise your leftover cooked jasmine rice.  Anyway, let's gather all our ingredients and start cooking!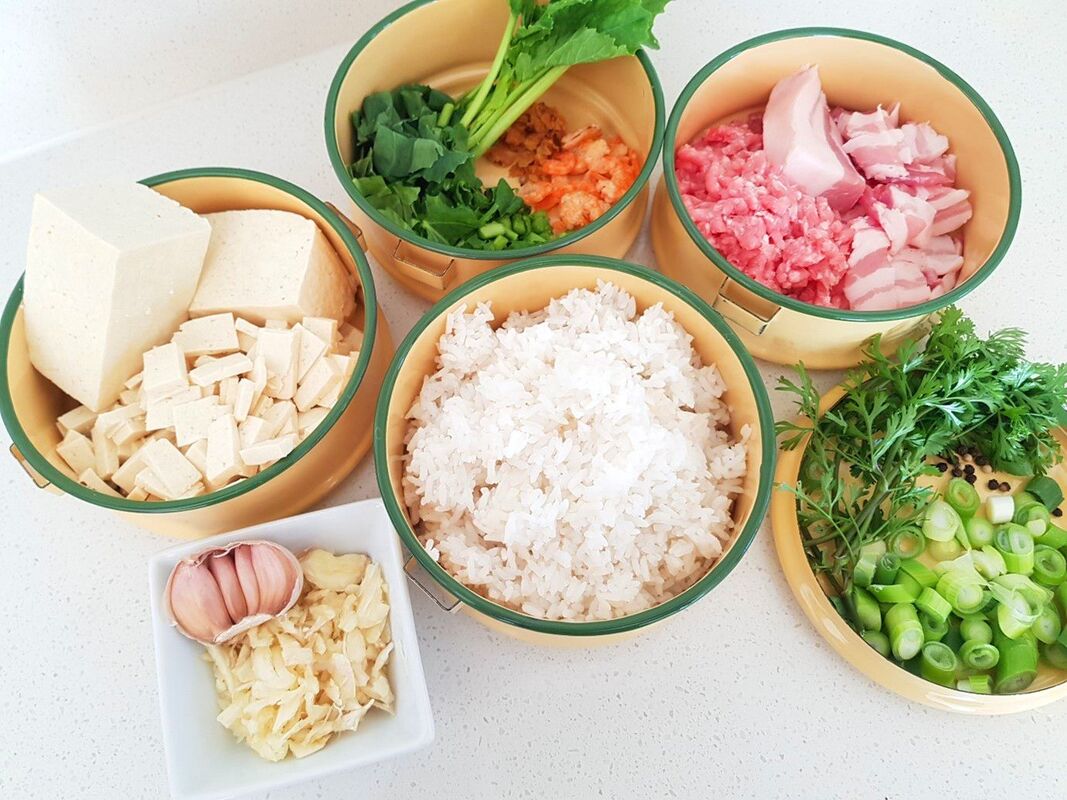 Copyright 2021 Parita Nobthai All Right Reserved
☐Pork mince 500g (with fat)
☐ Pork Belly 100g
☐ Crushed garlic 4 cloves
☐ Chinese broccoli 1 cup – Peel Chinese broccoli stems and chop into 5mm length
☐ Firm tofu 200 g, optional
☐ Cooked Jasmine Rice 2 cups
☐ Dried Shrimp 2 tsp, optional
☐ Preserved cabbage 1 tsp, optional
☐ Thin Soy Sauce 2 tbsp
☐ Fish Sauce 2 tbsp
☐ Pepper ½ tsp
☐ Roughly chopped Spring onion and coriander for garnish
☐ Water 3 cups
☐ Peanut oil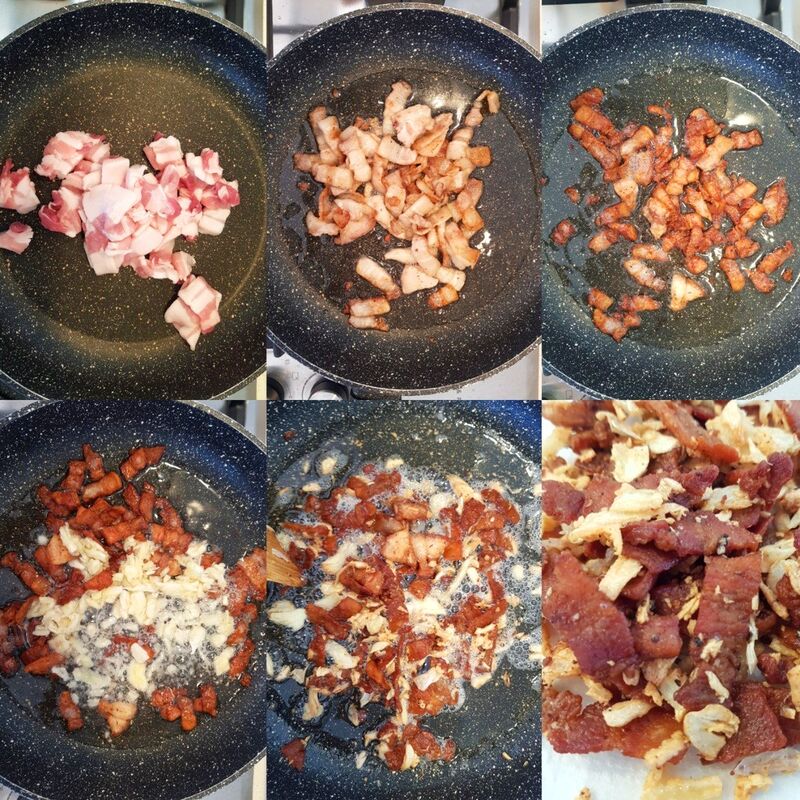 Copyright 2021 Parita Nobthai All Right Reserved
Prepare homemade lard from pork belly
This process will take most of our cooking time as we are rendering fat from pork belly. In this process, we will get lard for cooking our rice soup and crispy garlic and pork belly to sprinkle on top of the dish.
Slice pork belly to the same proportions so it will be cooked at the same time.
Put sliced pork belly in the pan, use the lowest heat to render the fat
Stir a few times and let it cook until it turns brown then add crushed garlic
Flavour with salt and cracked pepper and cook until garlic turns aromatic and golden
Separate crispy pork belly and garlic from oil and place them on a paper towel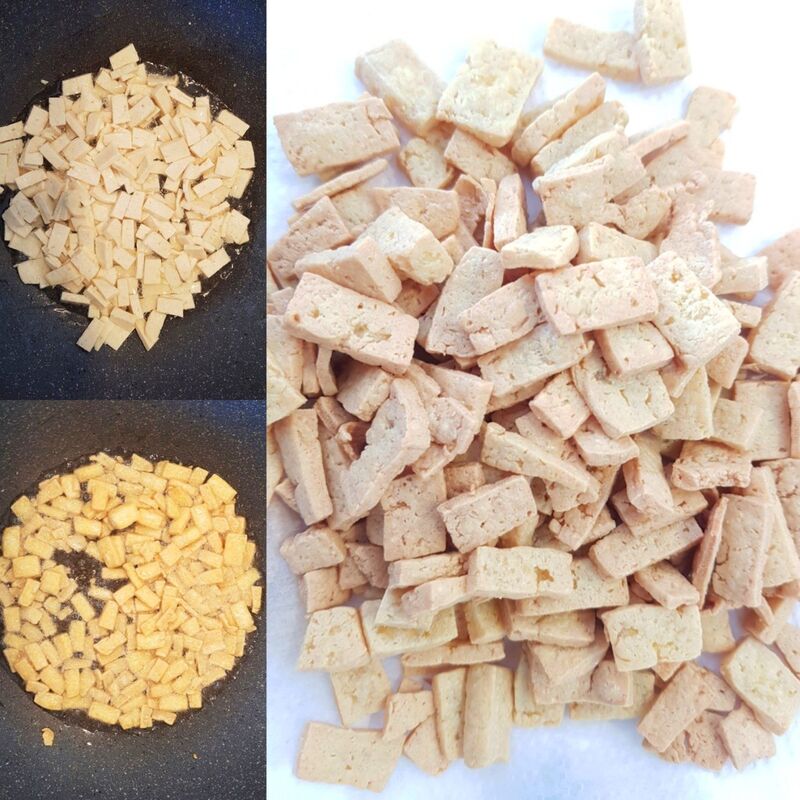 Copyright 2021 Parita Nobthai All Right Reserved
While waiting for the homemade lard, we can prepare another crispy topping which is fried tofu.
Fine dice the firm tofu evenly. "The thinner the cut, the shorter the cooking time"
Add peanut oil in the pan, use a low heat
Add the fine diced tofu and fry until its crispy (the easiest way to make sure that tofu is crispy is to ensure there is no white patches on it)
Place crunchy fried tofu on a paper towel to absorb extra oil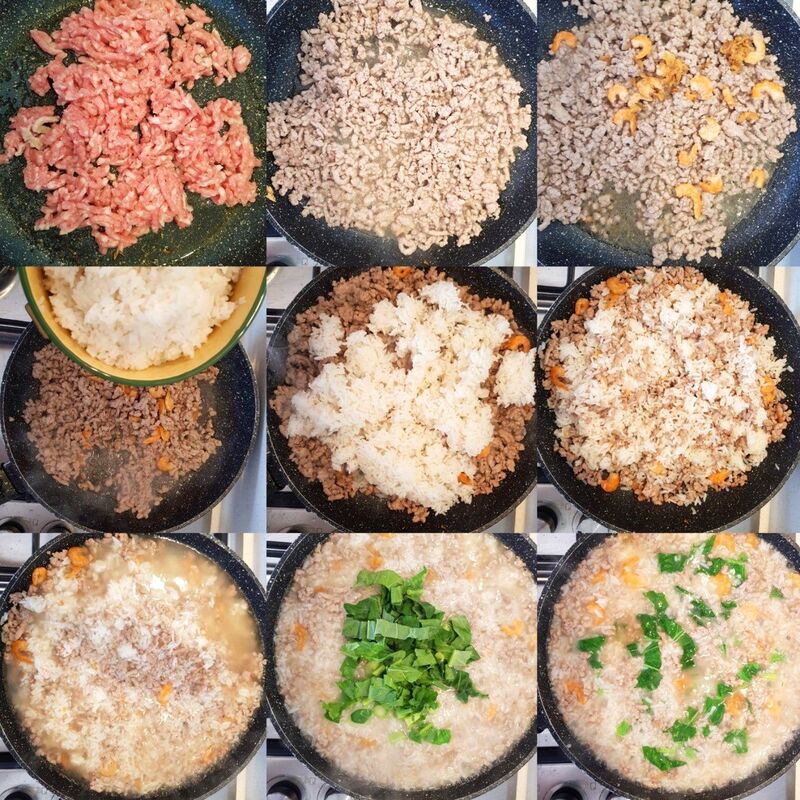 Copyright 2021 Parita Nobthai All Right Reserved
It's time to wrap up and get our rice soup ready. If you want to challenge yourself, set up a timer for 10 minutes. I am sure this meal will be ready to feed your family.
Add homemade lard from the first step into the pan
At low heat, stir fry pork mince and make sure it doesn't stick together in chunks
Flavour pork mince with soy sauce
Wait until the pork is cooked and turn the heat up
Add fish sauce
Add dried shrimp and preserved cabbage
Add 2 cups of cooked jasmine rice
Stir fry jasmine rice and pork mince until it mixes well, then add water to cover the rice
Wait until it's boiling and add chopped Chinese broccoli (optional)
Flavour with Soy Sauce and Fish sauce to your own taste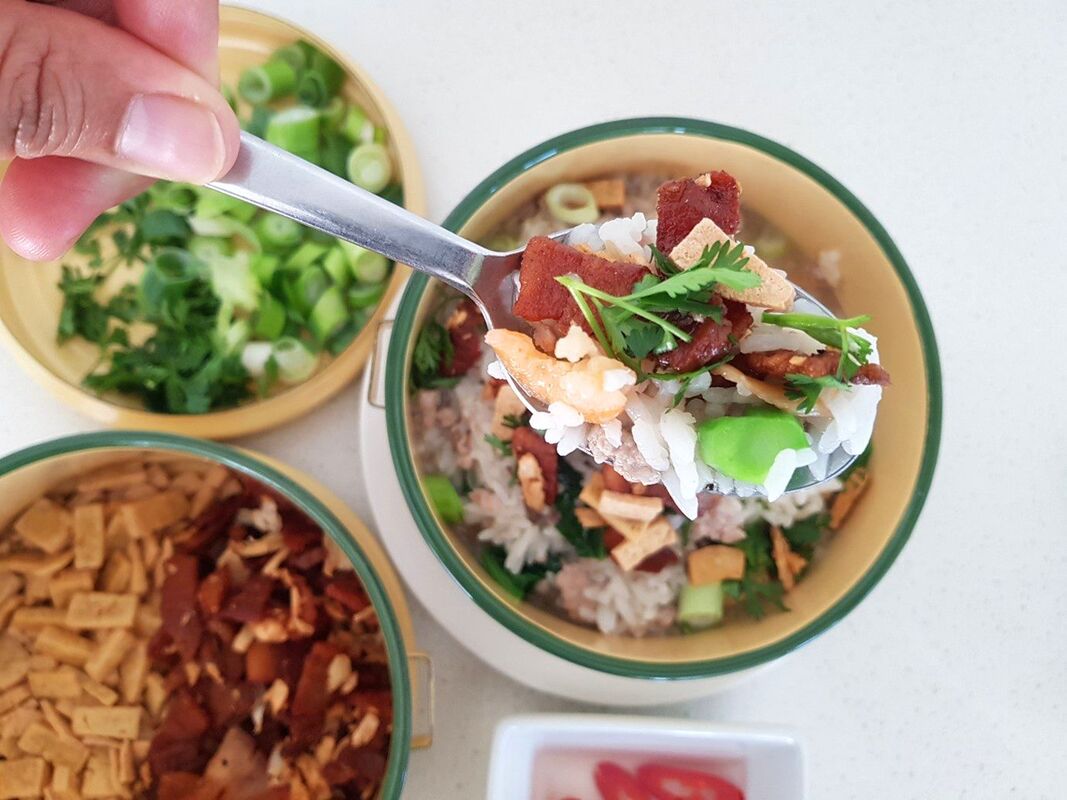 Copyright 2021 Parita Nobthai All Right Reserved
​
How to serve the Khao Tom
Sprinkle fried tofu, crispy garlic, and pork belly from the first process. These crunchy trio guarantee the deliciousness of the dish. Then sprinkle roughly chopped spring onion and corianders on top with a pinch of pepper and have it with a dash of fresh chilli in vinegar to add a bit of acidity to this dish.
You can replace pork mince with chicken mince, soft pork bones or pork roll. I love my rice soup with less water, so I didn't add much water on my version. You can add more water to your liking. Also please remember that there is no specific rule about what crunchy element you want to top your rice soup with. My brother even uses roughly crush packaged pork crackers or crispy egg noodle and it is delicious so feel free to explore and let your creativity lead you.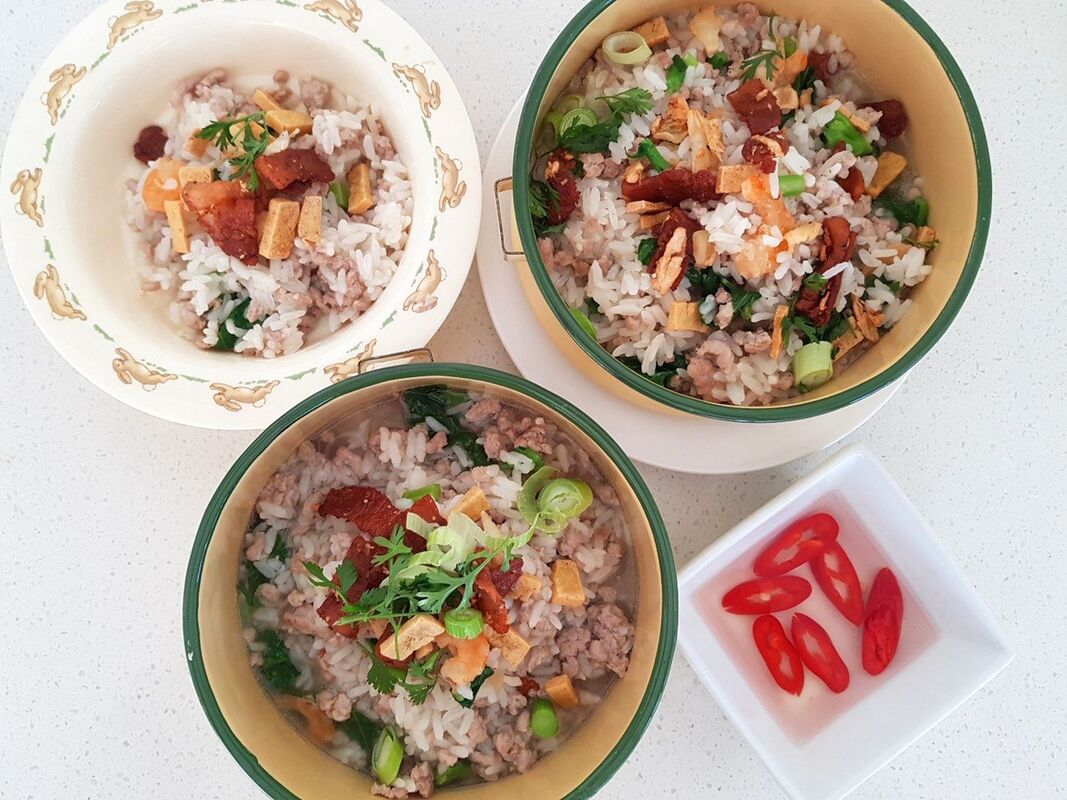 Copyright 2021 Parita Nobthai All Right Reserved
​From generation to generation, my grandmothers Khao Tom turned to be our family's favourite comfort dish and has become a tradition that bonds us together as a family and always remind us of the great times we had together. It is simple, it is delicious, and it always warms your soul. Enjoy!
Parita Nobthai runs The Craft Humpy
"a homely place where you can get beautiful handcrafted gifts directly from the maker"