​Mango season is here! I think it's the best time to share with you the famous Thai dessert 'Mango sticky rice' aka in Thai as Kow neiw ma moong.
​The dish consists of sweet sticky rice and mango, topped with salted coconut cream and sprinkled with sesame seeds.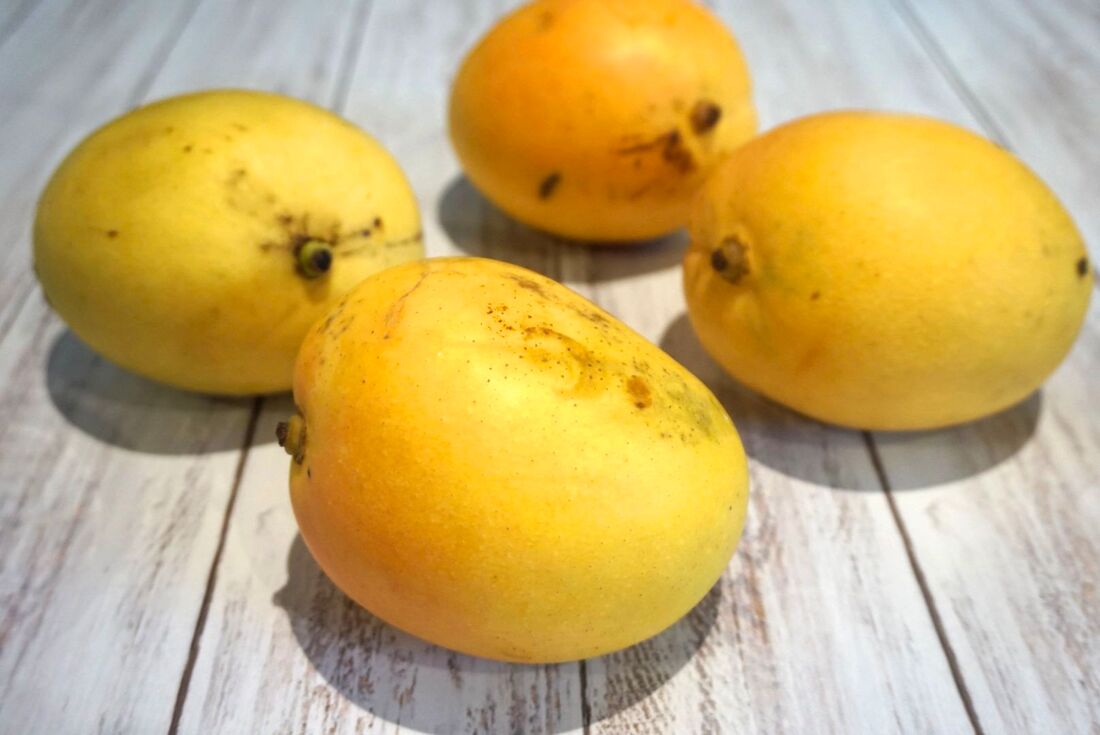 The reason I want to share this with you now is that mango is in season in Australia, and for this dish it is best to use fresh mango rather than mango from the can. This dessert is so easy to make and requires few ingredients, all of which I'm sure you will be familiar with. I'll also add that this is one of my favourite desserts, so of course I want to make it with you.
​The ingredients may be familiar but I want to say a bit more about a few of them before we get started.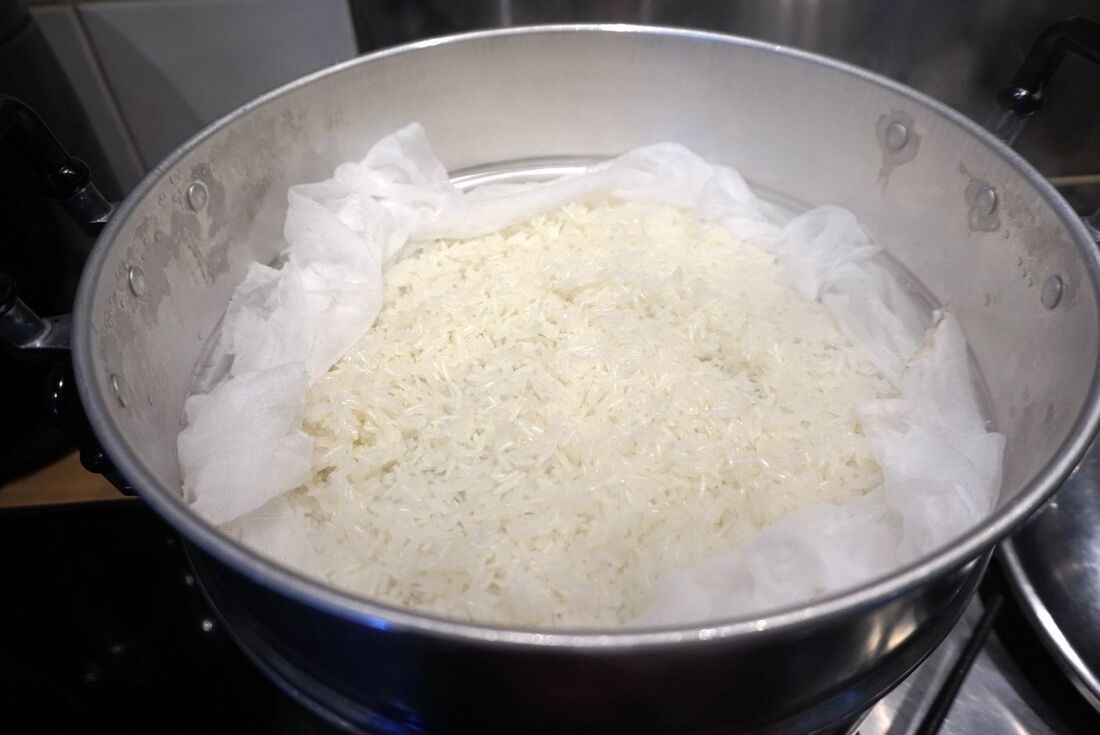 ​The most important ingredient is glutinous rice. Also known as sticky rice, this is the only kind of rice that works with this recipe. Many have tried to use alternatives, but you really can't substitute any other type of rice. Thais refer to glutinous rice as kow neiw keaw ngoo, which translates as "snake tooth sticky rice". The name captures how the rice looks, with the grains being long and skinny and ideally shaped for use in desserts. I use Lion Brand glutinous rice for this recipe, and it is just perfect.
​For the mangoes I use in this recipe I normally go for Kensington Pride or Honey Gold, but any type of sweet, juicy mango with abundant flesh works well (and that is most mangoes anyway).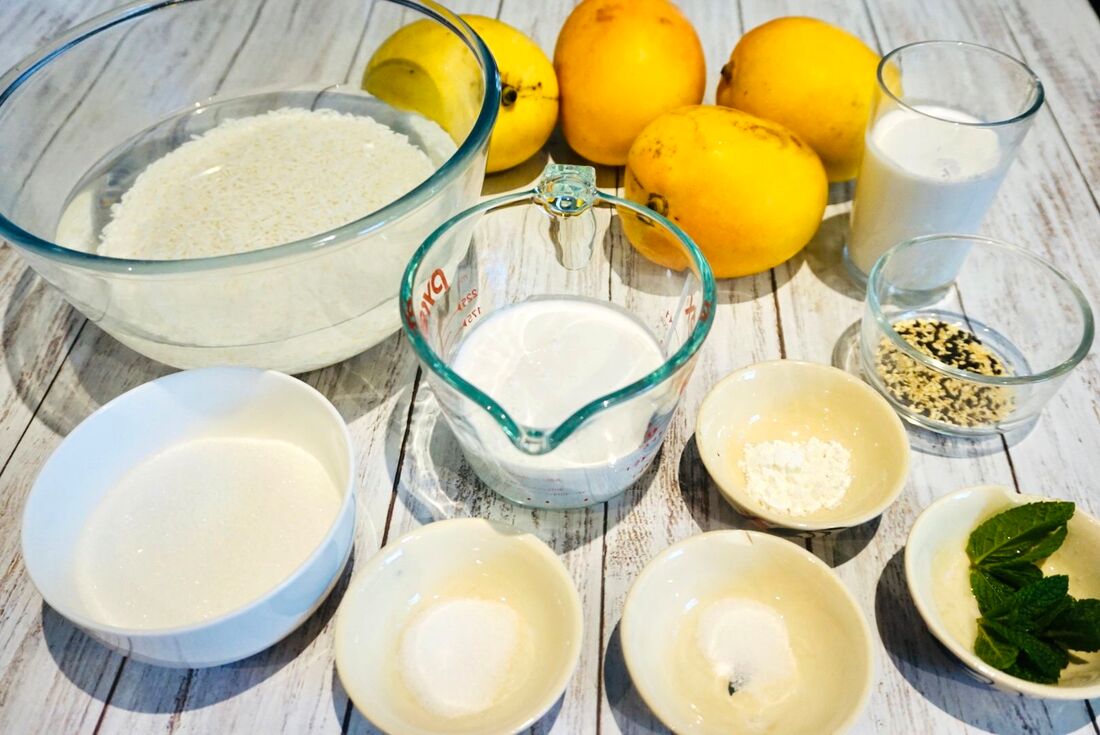 INGREDIENTS (serves 4-6 people)
For sweet sticky rice
250g Glutinous rice
100g White sugar
150g Coconut cream
1 teaspoon salt
For salted coconut topping
125g Coconut cream
1/4 teaspoon salt
1 teaspoon corn flour to serve
For serving
2 – 3 Mangoes
1 tablespoon toasted sesame seeds
Mints for garnish
​PREPARE AHEAD OF TIME
Rinse and drain glutinous rice until the water is clear. Cover the rice with water and soak overnight or for at least 4 hrs.
Equipment
A steamer, a muslin cloth to place in the steamer, a small saucepan, a whisk, a mixing bowl, a spatula, a serving bowl or plate, and a small bowl for sauce (topping)
METHOD
1. Drain the rice and steam in a steamer for 15-20 mins until the rice is translucent.
2. Make the salted coconut cream topping by adding coconut cream, salt and corn flour in a saucepan and whisk until combined. Use low heat and cook until the topping has thickened. Set aside.
3. Make the coconut mixer for the rice by adding sugar, coconut cream and salt in a saucepan over medium heat. Stir until the sugar dissolves and the coconut cream is heated through (do not boil).
4. Transfer the rice to a bowl. Add the coconut cream mixture and stir to combine. Cover and set aside for 10 minutes then stir again. Now your rice is ready.
5. Cut the mango and serve with the rice. Top with salted coconut cream, sprinkle with sesame seeds and garnish with mint leaves.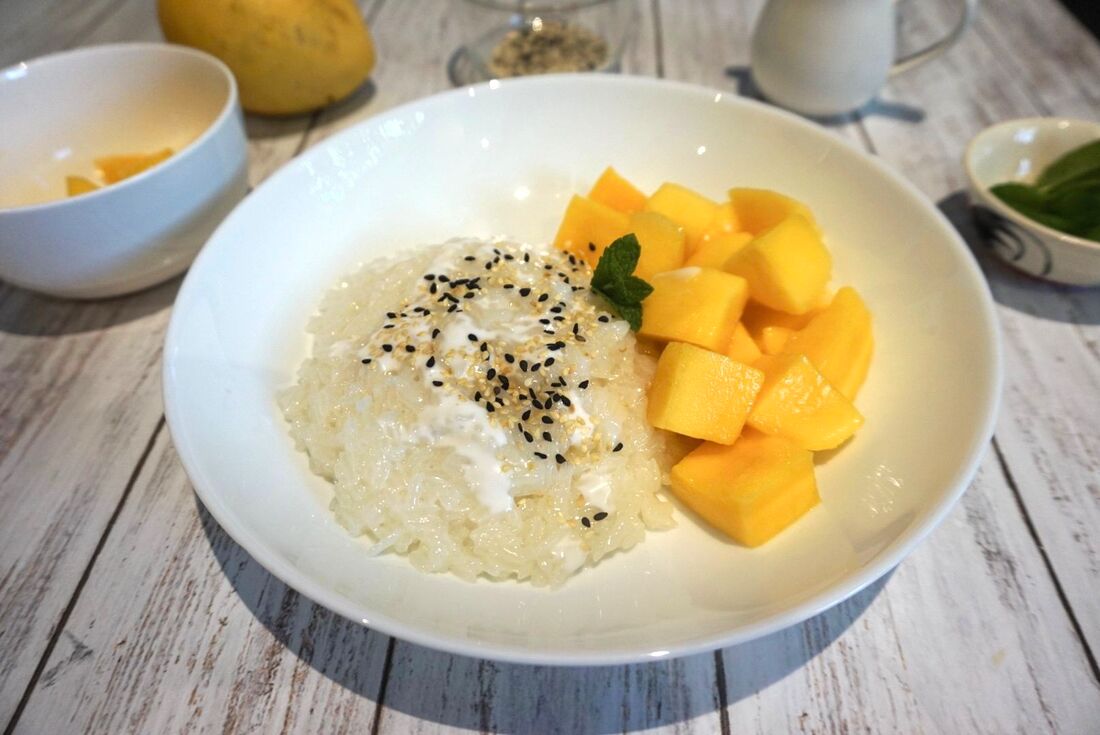 Check out Charinya's awesome work here