It becomes easier these days when you need to find a recipe. I will go to my Instagram or TikTok feed. Learning about food feels never ending to me, especially on social media. From there, people share millions of new dishes and what they have found that works in their kitchen. What I found about rice paper also amazes me. One simple ingredient can be many things, in many different ways.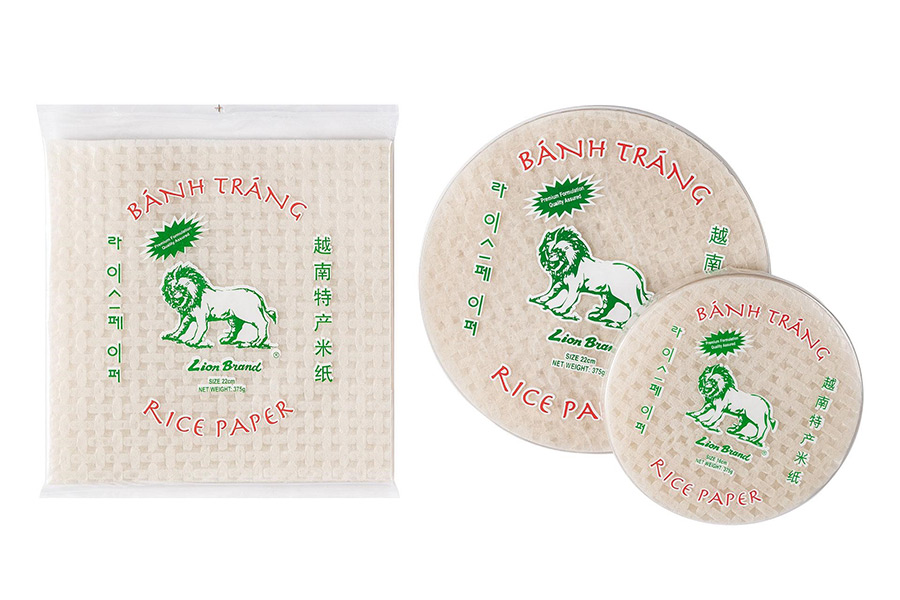 Before sharing the rice paper ideas, I should talk a little bit about the rice paper itself. The rice paper, or Bánh tráng in Vietnamese, is commonly used in Vietnamese dishes. The most worldwide-known dish is spring rolls or summer rolls. In Thailand, a Vietnamese dish called Nem Nuong, which is grilled ground pork sausage wrapped in a rice paper with many kinds of herbs and peanut sauce, is very popular and is considered a must have dish in any Vietnamese restaurants. Rice paper comes in various shapes and sizes. There are round and square shapes available, starting from 4 inches up to 9 inches. A good quality rice paper should be able to stretch and hold the ingredients inside without falling apart. It should not have a smell that overpowers the other ingredients. The rolls should be wrapped and stored in a dry and cool place. It starts smelling when it is old and time to toss it. However, I always have leftover rice paper rolls and do not want to create more food waste! Here are some rice paper recipes I found and some ideas I tried at home.
It is quite simply delicious when you do not have much time in the morning. Put the rice paper on the pan, medium heat. Then crack the egg on top and spread it all over the rice paper. Add toppings as you desire, such as ham, cheese, green onion, tomato, or basil.
I was surprised but it is true! Both rice paper and Tteokbokki have rice as their base, so the chewy rice paper rolls can be a substitute for the real Tteokbokki. Dip rice paper one-by-one in cold water and lay three sheets on top of each other. Try to get rid of bubbles and water between layers and roll it tightly. Cut them into bite size pieces before cooking.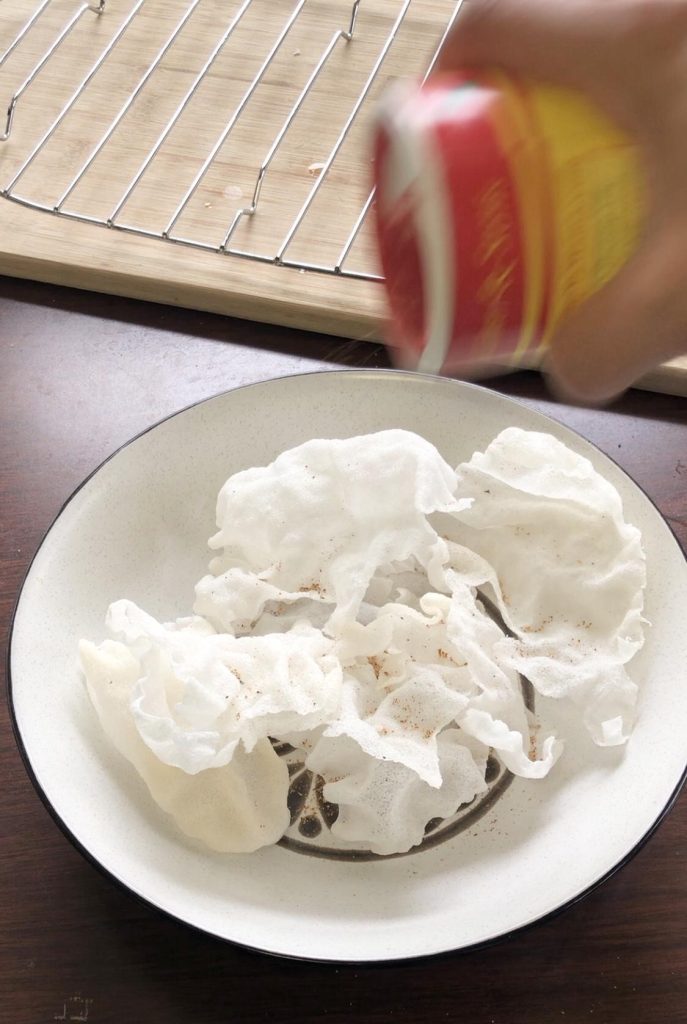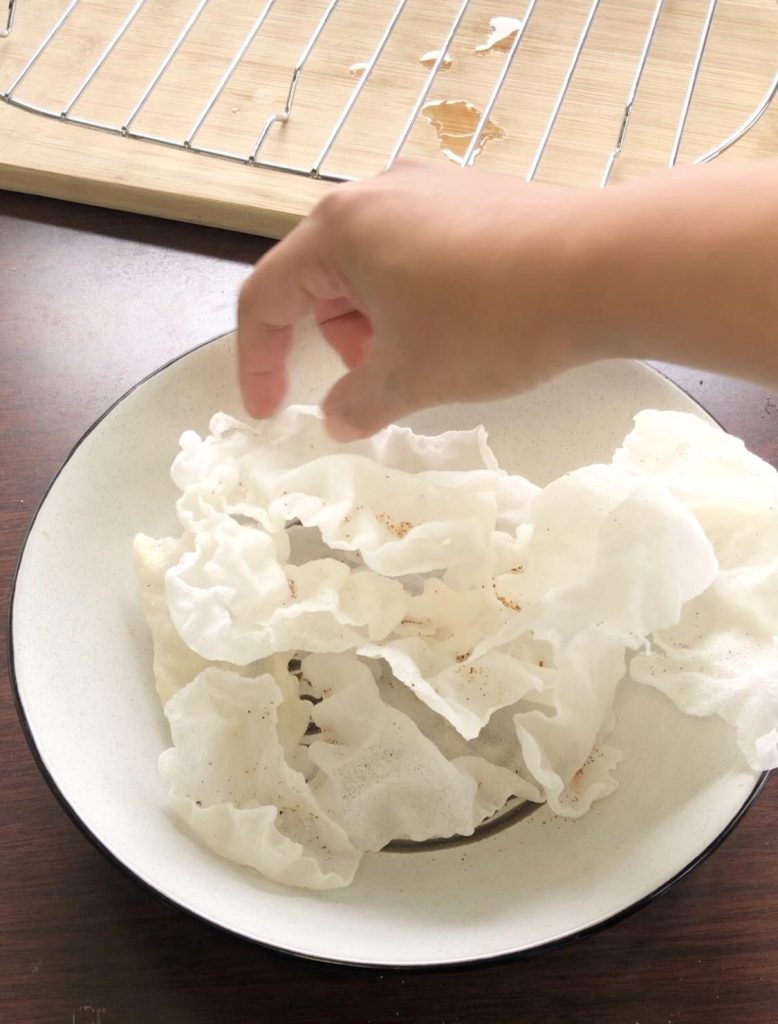 The easiest way to enjoy and use all the leftover rice paper rolls pretty quickly is to fry them. Start with cutting them smaller and fry them in a high heat pan with oil. I test the oil with the tip of a chopstick. If there are any bubbles at the end, the oil is ready. The rice paper only takes a couple seconds and then it is done. I rest them on the rack, allowing the oil to drip. Then I season my rice paper chips with cajun seasoning! It is hard to stop eating them…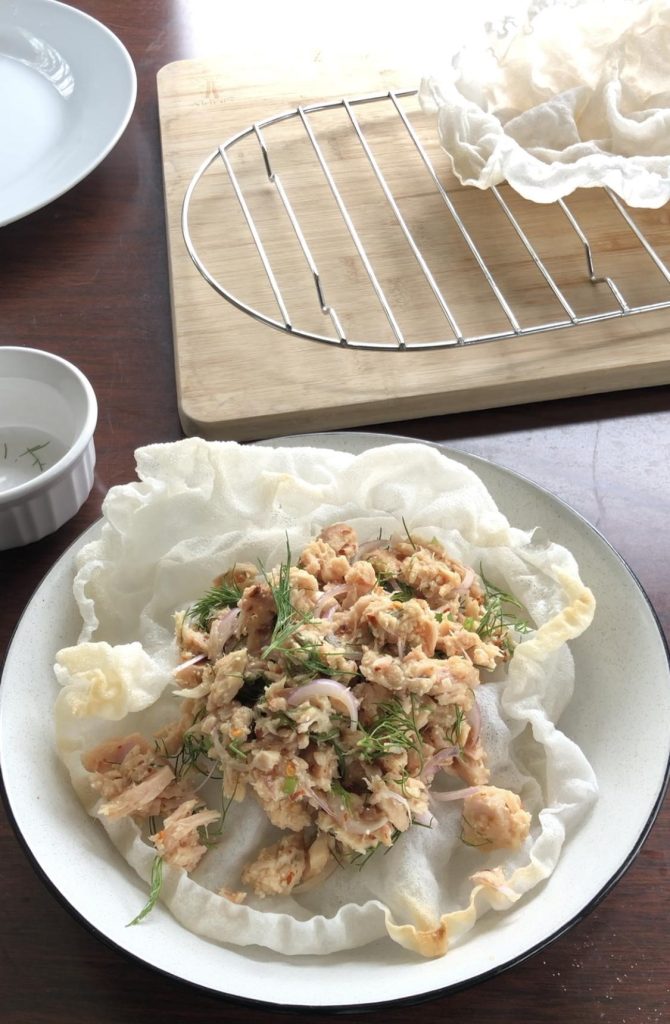 Laab is a Thai spicy and refreshing salad, usually found all over Thailand but originally from the Northeastern area. A good introduction to some Thai flavor can be used in something common in western cuisine, like tuna. Laab tuna is easy and only takes 10 minutes to cook. I add some dill and its smell goes along very well with the fish. The other things that enrich this dish are crispy rice powder, shallot, scallion, and fresh lime juice. I use a big crispy rice paper as an edible plate. Please enjoy a shareable and good looking appetizer with your friends and family.
Laab Tuna ingredients:
Tuna 1 can
Fish sauce 1 tsp
Lime juice 1 tsp
Chili flakes to taste
Crispy rice powder 1 tsp
Fresh dill, small handful rough chopped
Shallot, thin slices
Scallion, sliced for garnish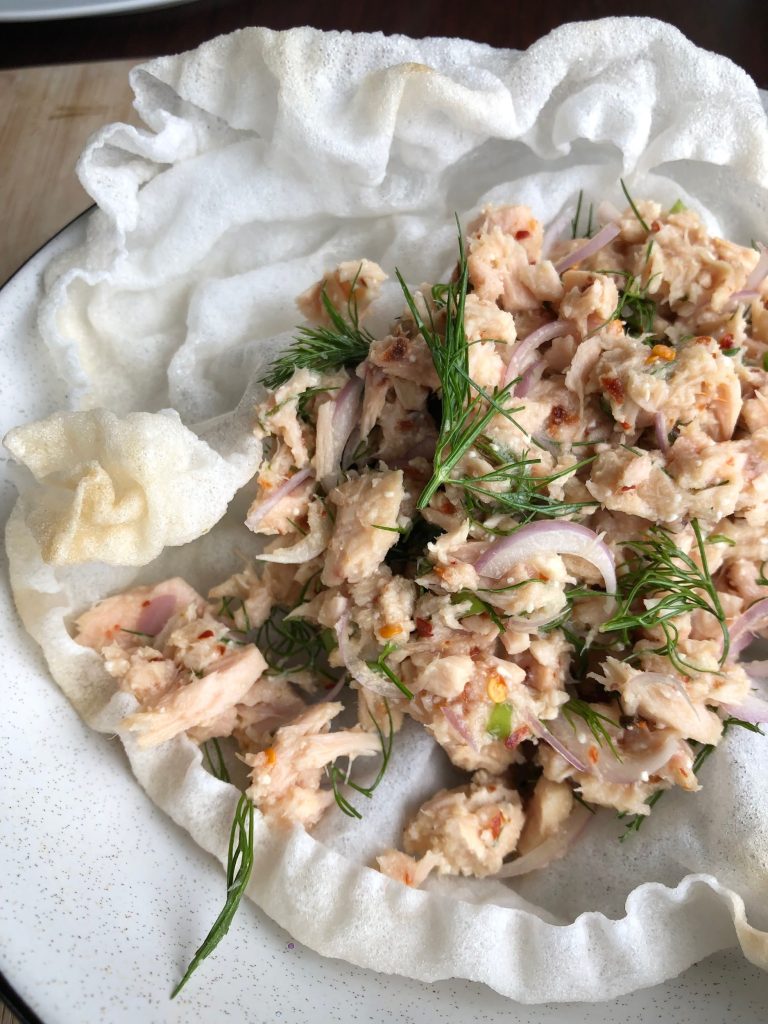 Article and cooking VDO by
All photos Copyright 2023 Premmarin Milindasuta All Rights Reserved