April is a significant month in Thailand, it is not only the hottest month, but it known for its Songkran Festival, Thai New Years. This year will be different for all of us, and there is no exception in Thailand due to Covid-19, with festivals and events being cancelled and with many being urged to stay home.
The positive side of staying at home is you have more time to think about yourself, take care of your health, maintain your physical fitness and eat healthy during this crisis. Today, I would love to introduce you to Miang Kam (Thai: เมี่ยงคำ), a Thai traditional dish which is known among locals for its health benefits and is rich in nutrients to help protect yourself from cold and flu.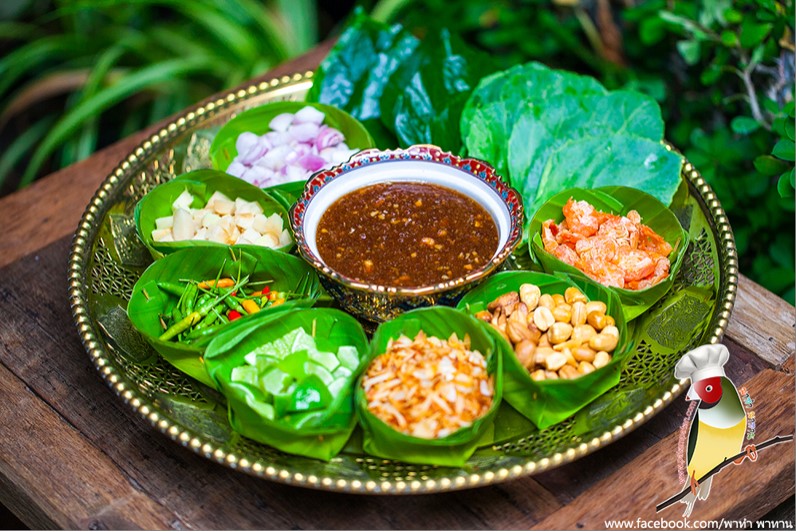 patampatan.com/เมี่ยงคำ-2/
​Miang Kam is a significant Thai snack that was added to the National Cultural Heritage List by the Department of cultural and promotion, Thailand's Ministry of Culture in 2014. This refreshing snack is popular in the central part of Thailand but its name "miang" is northern-Thai language which refers to food wrapped in leaves and "kham" means a bite.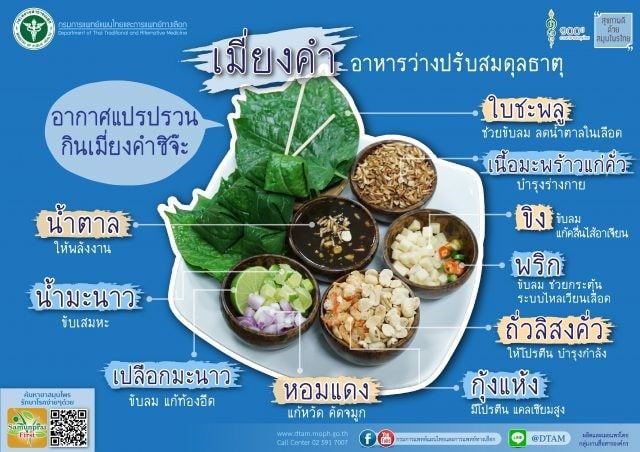 In Thailand, the Ministry of Public Health's Department of Development of Thai Traditional and Alternative Medicine launched a campaign to encourage Thais to eat Miang Kam during the flu season to balance people's diet and boost immune systems. From left to right, sugar in dipping sauce is a source of energy, lime juice and the peel help to reduce gas and bloating, shallots for alleviating flu and stuffy nose, dried shrimps contain high protein and calcium, roasted peanuts provide protein and energy, bird-eye chilies help to stimulate blood circulation, ginger helps to tame excessive gas and nausea, coconut meat helps to prevent bone loss and betel leaves help to lower blood sugar level.
​
​Miang Kam combines three main components, the first component is fresh leaves for wrapping which are Piper Sarmentosum a.k.a. betel leaves (Thai:ใบชะพลู) or Erythrina Fusca (Thai:ใบทองหลาง). The second component are fillings which consist of fresh shallot, fresh bird-eye chillies, ginger, lime including the peel, roasted coconut flakes, roasted peanut and dried shrimp. The ingredients like shallot, lime with peel and ginger are high in herperidin, rutin and vitamin C that help boost your immune system, has powerful anti-bacterial, anti-viral and anti-inflammatory compounds which help keep rhinovirus from binding to cells (Kattasak, 2020).
| | |
| --- | --- |
| Piper sarmentosum ot betel leave (Thai:ใบชะพลู) | Erythrina fusca (Thai:ใบทองหลาง) |
​The third component is Miang Kam sauce which is made from palm sugar, shrimp paste, fish sauce and some recipes also call for galangal, lemongrass, ground dried shrimp, roasted peanut and coconut flakes. The sauce should be added in decent amounts per bite ensuring not to overpowering the flavour of other ingredients. It is healthier to have a bare minimum of sauce as it contains lots of sugar and sodium. In one small bite, you should be able to taste sweet, spicy, sour and salty and that is what's fascinating about having Miang Kam.
​This delicate, aromatic and herbal one-bite wrap contains around 40 calories. It's recommended to have 5 wraps which makes 200 calories or 10 per cents of a recommended calories intake per day (Sookajasakul, 2013). Miang Kam is also high in fibre because of each bite is wrapped with betel leaves. These types of leaves grow well in the wet season and that's the reason why this snack is more popular between June and October in Thailand. However, if you are unable to find betel leaves, you replace it with lettuce, spinach or Chinese broccoli leaves instead.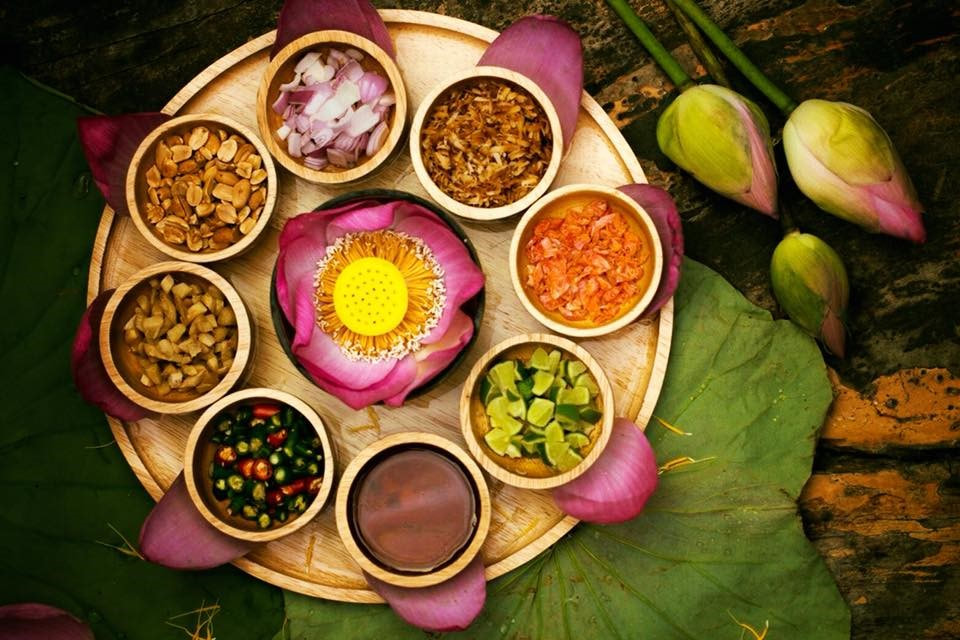 m.facebook.com/RedlotusCafe
You might have seen Miang Kam that uses Lotus petals for wrapping instead of betel leaves. This dish calls Miang Kam Bua Lhuang and it is a Thai royal cuisine that's selected to be served at 34th ASEAN SUMMIT Gala dinner in 2019. The dish itself looks like a piece of art with a fascinating composition and vibrant colours.
​
Apart from the abundant of health benefits, Miang Kam is known as a complicated dish that requires attention to detail to ensure the dish is well-presented. "It is important to dice shallot the same size, lime needs to be slightly peeled and also diced into the same size and ensure that no lime juice seeps on the plate, dried shrimps should be clean and similar sized. Even peanuts must be home-roasted fresh and display nicely (Pawikarn, 2018)." All of these efforts are not just for aesthetic purpose but it is for creating a perfect portion size and ensuring the right balance of taste in each bite. Traditionally, we have Miang Kam with a group of friends or family so they can catch up for an afternoon break while wrapping each bite by ourselves and enjoying conversation.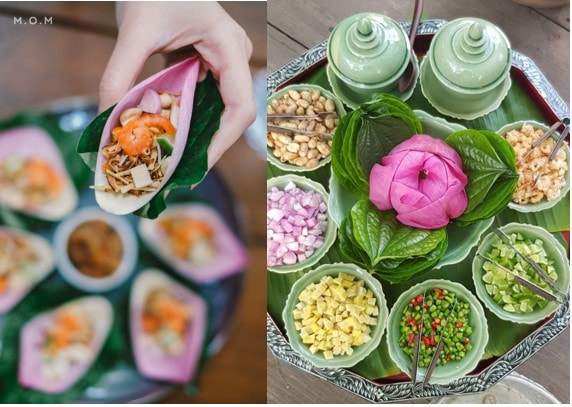 aboutmom.co www.bangkokbiznews.com
​Miang Kam is nutritious light meal that helps boost your immune system and helps fight cold and flu, which can be enjoyed over and over again.
Parita Nobthai runs The Craft Humpy
"a homely place where you can get beautiful handcrafted gifts directly from the maker"