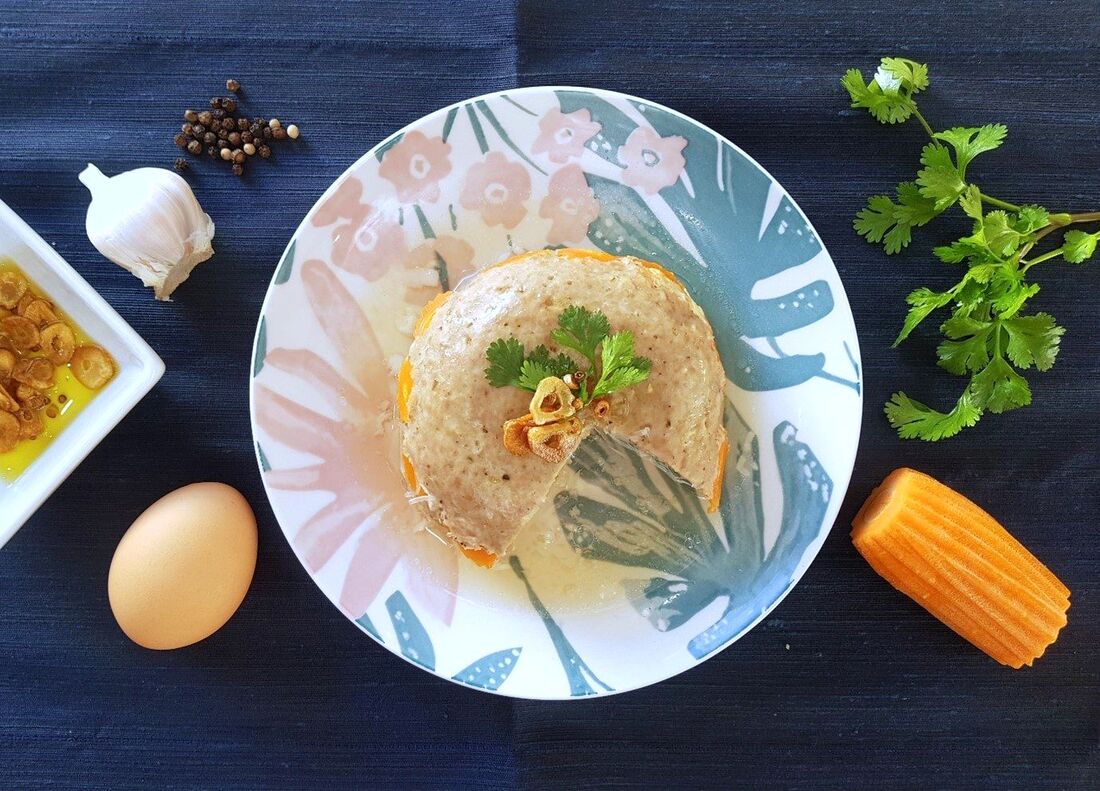 Fluffy and healthy steamed egg is a dish that's always in my childhood memory. My mum always made this simple, yet delicious comfort dish for me. She made it either in the steamer or microwave. Her version of Steamed egg is full of flavour with lots of assortments like minced pork, vermicelli, black fungus and onion (Thai:ไข่ตุ๋น). This dish became my mum's signature dish and what we asked her to cook for us every day.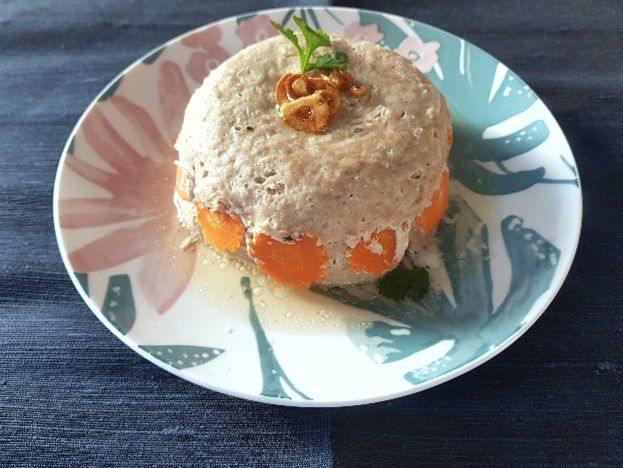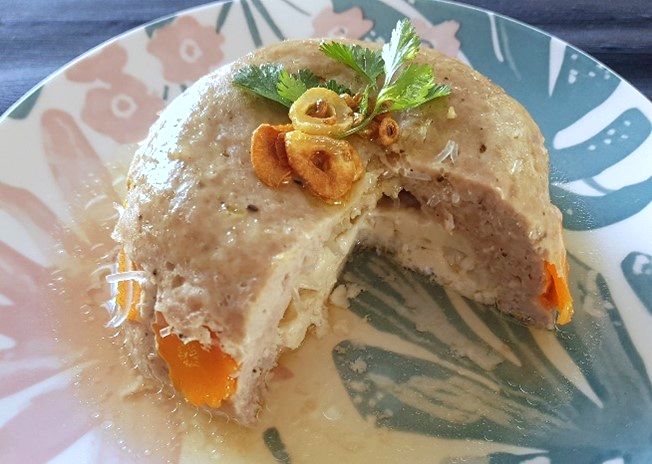 I don't think I can replicate my mum's steamed egg but the best thing to do when you cannot visit someone you love is to make something that reminds you of that person. Today, I will be out of my comfort zone and will try to make my own version of steamed egg for my little girl. Hope she likes it ​as much as me and I wish that it will become one of her childhood memories. Let's get our ingredients ready.
​Ingredients for pork patty
☐500 g of minced pork with fat
☐¼ cup of sliced carrots
☐¼ cup of glass vermicelli
☐1 tbsp of oyster
☐1 tbsp of sugar
☐1 tbsp of seasoning sauce
☐1 tbsp of tapioca starch
☐1 egg
☐1 tsp of peppercorns
☐3 coriander roots
☐3 cloves of garlic
☐1 tbsp soy sauce
☐½ cup of ice cube
Ingredients for steamed egg
☐2 eggs
☐¼ water
☐1 tbsp of soy sauce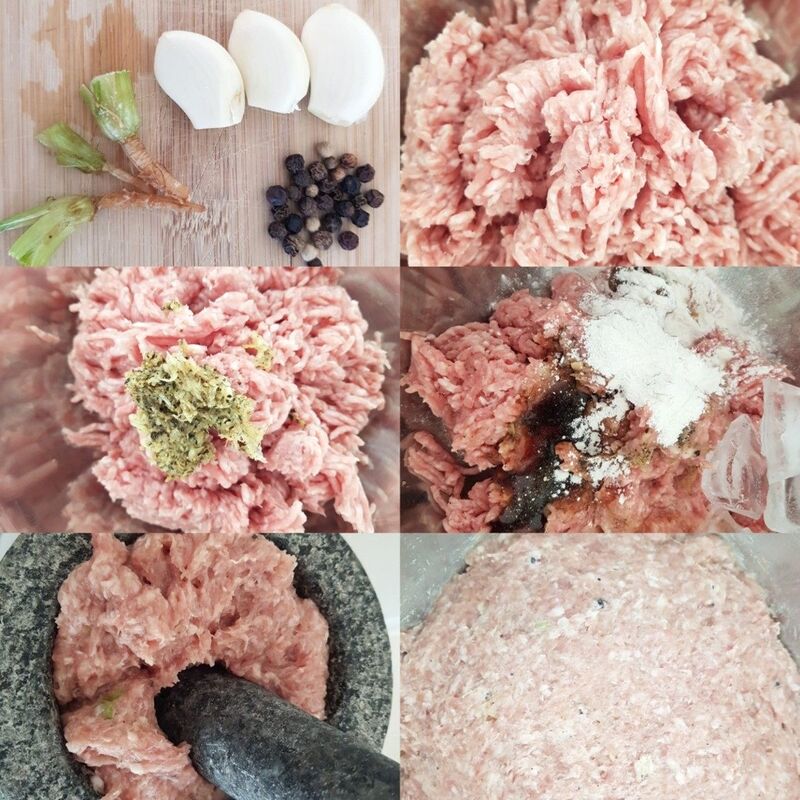 ​Ground pork
I used pork mince with lots of fat or you can use minced lean pork and combine pork fat for tenderness. I love to have a juicy and soft pork patty.
Garlic, Pepper and Coriander roots: a trinity of deliciousness.
This basic aromatic paste made from fresh garlic, white peppercorns and fresh coriander roots is commonly used in various Thai recipes, especially marinades and the ratio is pretty much depending on what you cook. In this recipe, I use mixed peppercorns instead of white peppercorns.
Lots of sauces
Oyster sauce, soy sauce and seasoning sauce are my favourite combination for this marinade. If you cook for baby or toddlers, it is better to omit these high-sodium condiments or use only a small amount of soy sauce.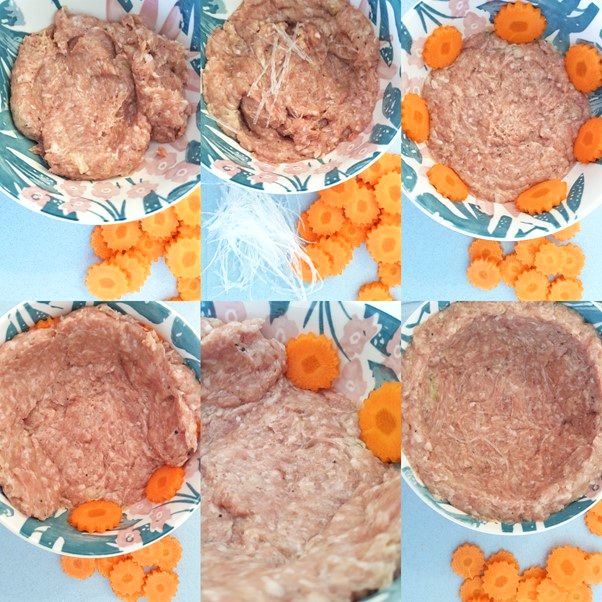 ​
Prepare marinate for mince
– Ground pepper, garlic, and coriander with stone mortar and pestle
– In a mixing bowl, mix pork mince with grounded pepper, garlic, and coriander
– Add oyster sauce, seasoning sauce, brown sugar, thin soy sauce, tapioca starch and egg, then combine well together with your hand
– Add 1/2 cup of ice cubes and mix with pork mince until ice cubes melt and dissolve into minced pork
– I apply traditional ways of mixing pork mince by using mortar and pestle from my uncle. This process is to evenly combine all ingredients to the pork and make our pork patty juicy, chewy, and soft. Yes, you can use grinder but please make sure not to turn it into a paste.
– Cover with cling wrap and leave in it the fridge for at least 30 minute and you will get a tender succulent pork mince that combine so well with sauce.
Form the pork patty shell
– Peel carrot skin off with Julienne Peller to create a flowery pattern, then chop it in the same size and as uniform as possible so they can cook evenly
– Soak vermicelli until it's soft and cut into 1 -1.5 inches
– In a ceramic bowl, form the pork patty mixture to follow the bowl curve as picture below
– Add some vermicelli into the mixture by using your fingers to push it into pork patty
– Place sliced carrot around the bowl and layer it nicely and constantly with pork patty mixture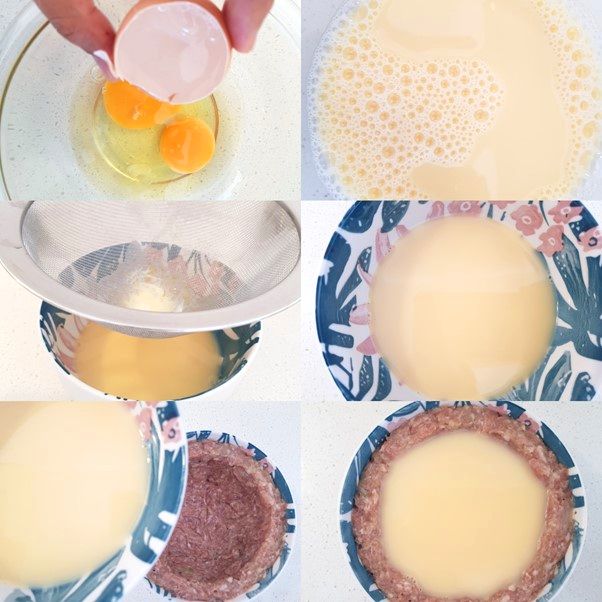 ​Prepare the egg
-Crack two eggs into the mixing bowl
– Use half of an eggshell as a measure. In this recipe, the ratio is 2:1 so we use 4 of ½ egg shell of water for 2 eggs.
– Use spoon to softly stir eggs until it mixed well and flavour it with thin soy sauce
-pour the mixture through a sieve to minimise bubble in the egg for smooth texture
– Add prepared egg into the bowl that we have pork patty prepared earlier.
-Cover the bowl with aluminium foil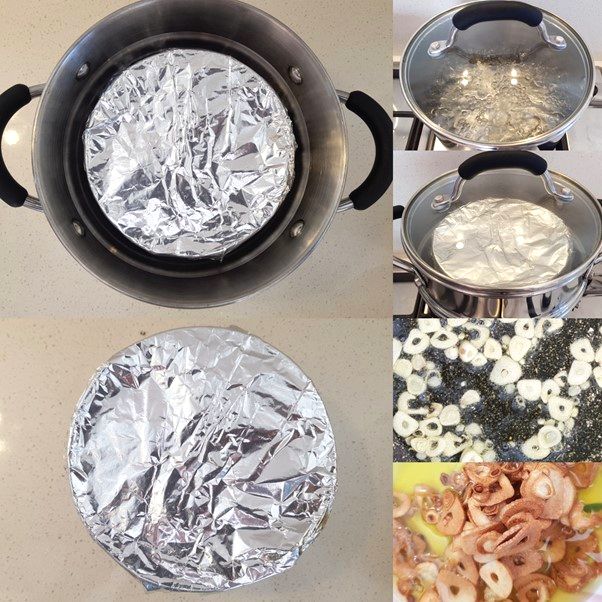 – In the steamer, bring 1 litre of water to boiling and then reduce it to the lowest heat.
– Put our mixture in the steamer, cover with lid and let it cook for 20 to 30 minutes. This is varied by the size of the bowl, the thickness of pork patty layering in the bowl and the portion of egg mixture.
While waiting, we can sauté sliced or chopped garlic until fragrant. This is to garnish and serve as a side.
Use fork to check if the egg is cooked well and then pop the bowl in cold water for a bit to make it easier to take our egg in the shell out and present it on the plate
Garnish with coriander leaves and a dash of fried garlic in oil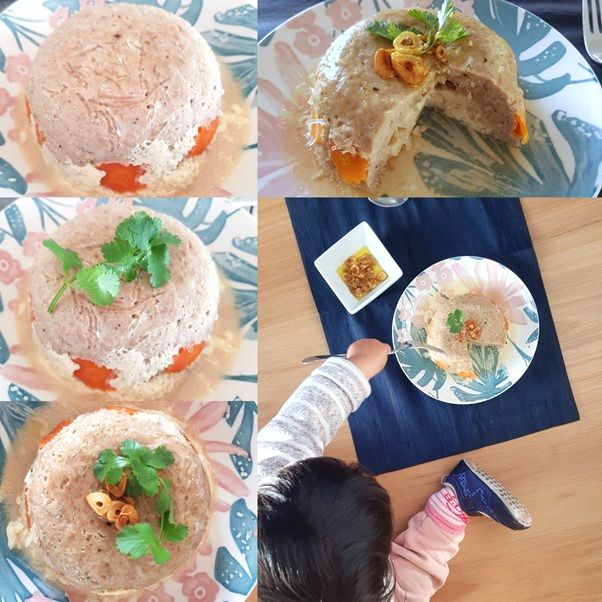 Variation on the basic recipe
With pork patty. You can experiment with other Asian sauces or spices, just make sure that you get the right balance of flavours. Remember that the fish sauce might overpower an aromatic of this dish. Garnish with chopped spring onion instead of coriander is fine. You can also make it with chicken mince or beef mince but for me, pork is the best.
How to serve the egg in the shell
You can leave a little surprise of hidden egg inside and cut it on the dinner table. This dish is best on its own, nice to pair with steamed Jasmine rice and yummy with cauliflower rice. I recommend that you have sides of fried garlic in oil and a Master Chef premium seasoned sauce as a dipping sauce.
During this hard lockdown in NSW, we are unable to visit our loved ones and for me, it is unknown when I can travel to see my mum in Thailand again. Cooking this dish and showing my mum online help me connect with her and remind us of old memories.
Stay healthy and stay safe everyone!
Parita Nobthai runs The Craft Humpy
"a homely place where you can get beautiful handcrafted gifts directly from the maker"