A Surf 'N' Turf with a @sabablacksheep twist! Saba shows us a showstopper!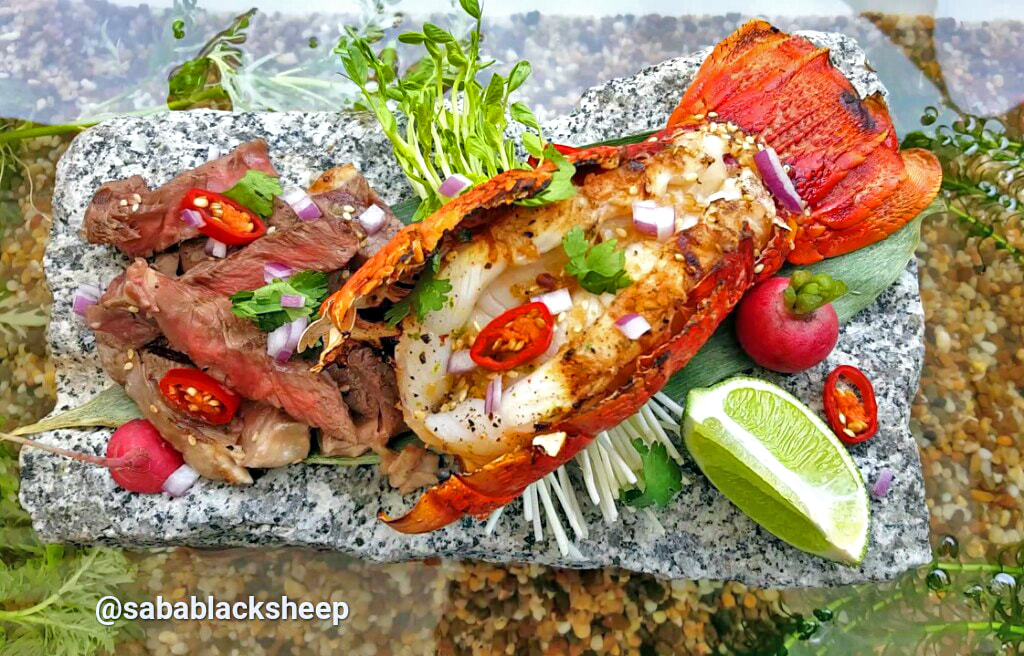 If you're going to cook this recipe I want you to use the very best produce you can afford. We aren't going to do too much with it so we want the natural flavor of the produce to shine. – Saba
It's summer in Australia now and it's religious here that you fire up the BBQ!!
It's pretty common for us to chuck a couple of snags on there or a rissole or two but that can get a bit boring at times.
There is so much you can cook on a BBQ. In fact if you can cook it in the kitchen you can pretty much
cook it on the BBQ.
You can do vegetables on the BBQ which can takes them to a whole new level.
Meats are the most popular thing to cook, from a good old lamb chop to a fancy steak.
You could even go the seafood route, like a famous Aussie once said "chuck a shrimp on the barbie"
Funny thing is we don't call them shrimp down under, we call them prawns.
You could combine the two and cook a surf 'n' turf. So that's exactly what we are going to do today.
But of course I'm going to put a Saba twist on it and give it an Asian feel.Now in Australia we have some of the best produce in the world. No bias here I promise hahaha!
If you're going to cook this recipe I want you to use the very best produce you can afford.
We aren't going to do too much with it so we want the natural flavor of the produce to shine.
For the Surf portion I'm using the tail from a western rock lobster, which we call a 'cray' down here.
For the Turf portion of this dish I'm using Australian grass feed Black Angus scotch fillet.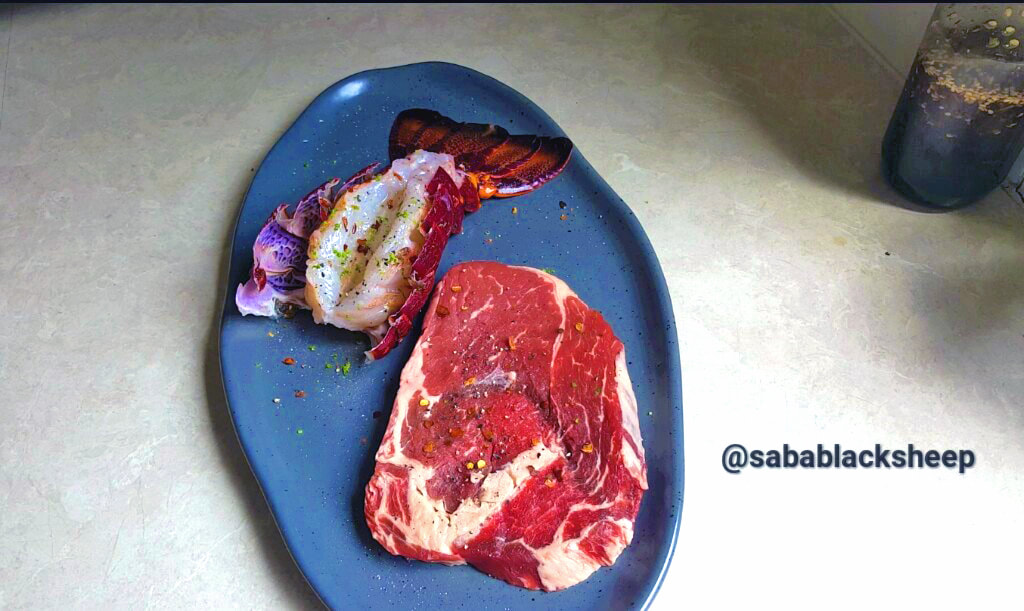 Ok this is where the story is going to get a bit saucy!
Many years ago I met this kind and beautiful Japanese girl named Aya.  She would later become my wife. But that's a story for another time. What did you think I was going to tell you about my love life? This is not that type of saucy story. hahaha!
​
Aya introduced me to many Japanese ingredients and flavors. One of these things was a Japanese dipping sauce called 'Yakiniku tare'. I still remember the first time I tried it. I was blown away with how good it tasted. We use to go to the Japanese mart and buy this sauce but it was very expensive. It would cost from $6 -$10 for a tiny little bottle. I really loved this sauce, but I couldn't afford to keep shelling out that much cash each time, especially with the amount of it I would use in one sitting. So I made my own version and now I use as much as I want!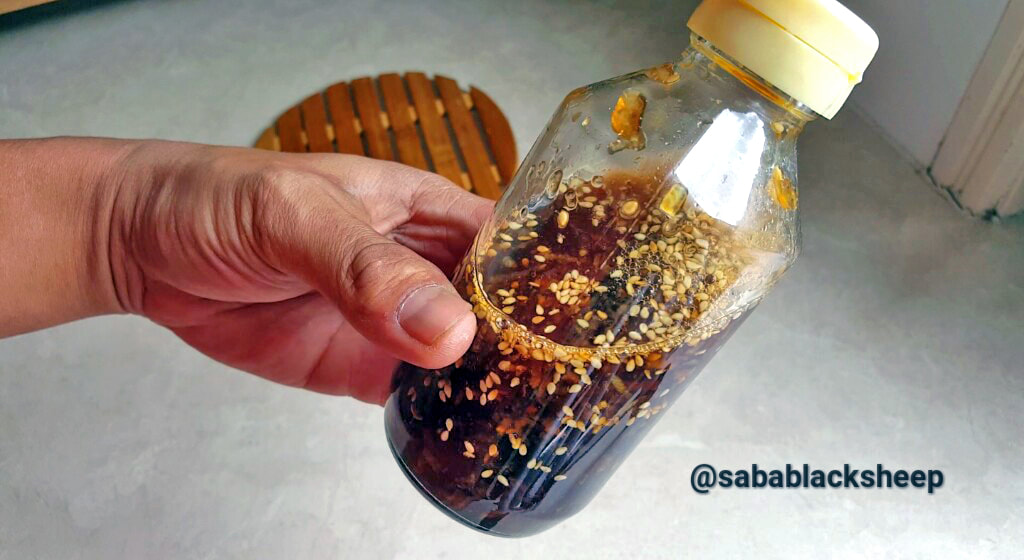 THE SHOPPING LIST
1/4 cup  Sake
1/4 cup Mirin
1/3 cup Soy Sauce
2 Tablespoons Rice Vinegar
1/3 cup Sugar
1 Teaspoon Ground Dried Chilli (optional if you like spicy)
1 Teaspoon Grated Garlic
1 Teaspoon Grated Ginger
1 Cheek of an Nashi Pear Grated
1 tablespoon Toasted White Sesame Seeds
OK. THIS IS HOW WE DO IT.
In a small saucepan add the sugar, sake, mirin, vinegar and soy sauce.
Simmer over a medium heat to all the sugar has dissolved and flavours have come together.
(About 3 minutes)
Add the grated garlic and ginger and stir well to combine.
Turn off the heat and add the toasted sesame seeds.
Leave to cool.
Now add the chilli (if using), and grate in the nashi pear.
Pour into a jar and refrigerate to let the flavours become best of friends.
For best results leave overnight.
Now let's get the lobster tail going
All you need for this is half a lime, salt, pepper and chilli flakes to season to taste.
I used Himalayan pink salt, but can use regular salt.
Firstly we are going to open the lobster tail up.
To do this you will need a pair of sharp scissors or kitchen sheers.
Starting from the front cut your way back along the top of the tail back towards the tail fins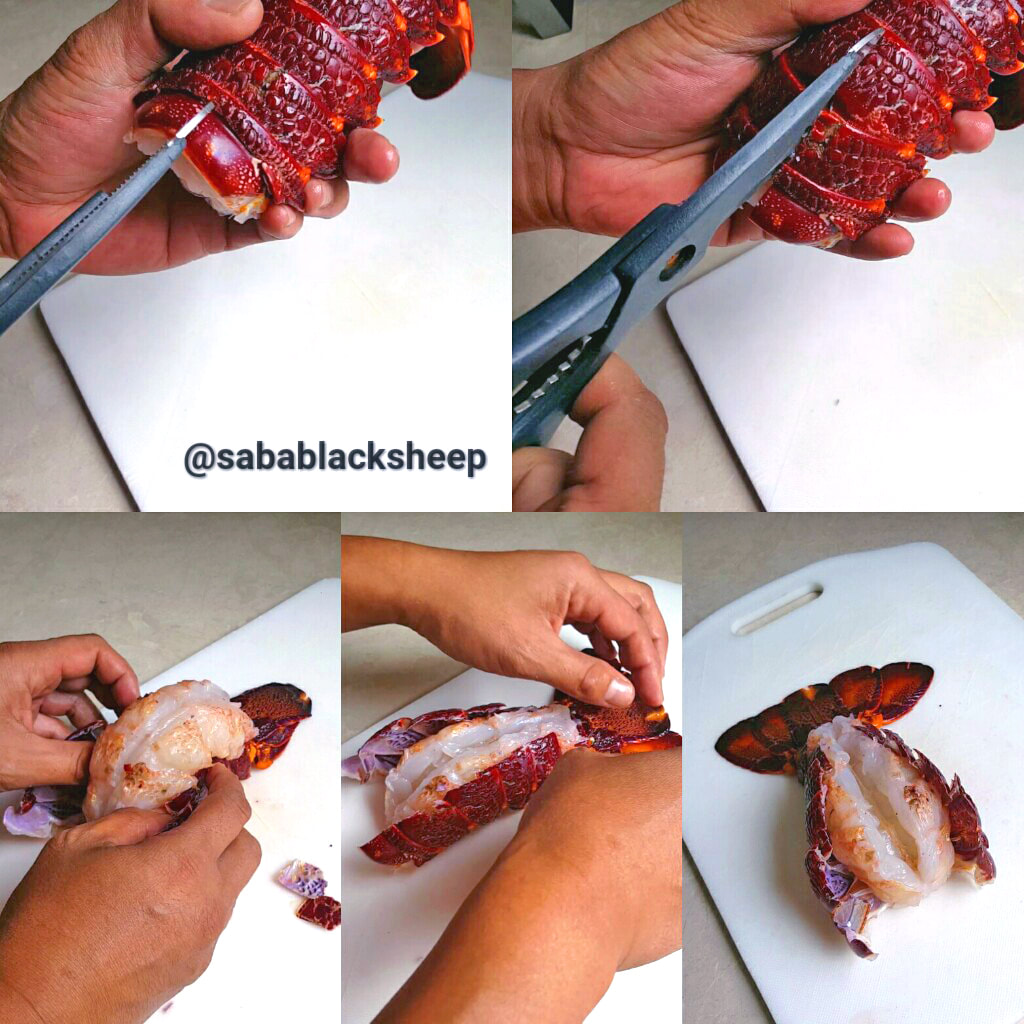 Now using your fingers gently pry the meat away as to free it from the shell but keep it intact right at the end.
Don't worry, the shell and meat are quite robust and will hold together quite well.
Season the tail to taste with salt, pepper and chilli flake.
Grate some lime zest over it, then cut the lime in half and squeeze the juice on top.
Season the steak
This is the easy part as when you got good produce you don't need to do much!
Season the steak to taste with salt, pepper and chilli flake.
That's it, done!
Let's fire this barbie up!
I like to pre heat my BBQ for at least 10 minutes before I use it.
The cooking times on this will vary depending on the size of your lobster and steak.
I would tell you the weight of mine but I forgot to measure them. Hahaha!I first put the steak on the grill and sealed it on the first side for 1 minute.
I then flipped it and basted it with the sauce.
I repeated this on both sides and cooked it for four minutes in total.
Let the steak rest and then finely slice.
Now for the lobster.
Place the lobster on the BBQ right side up. Drizzle a little bit of oil
(I used sesame oil) over the top and close the cover of the BBQ.  After a few minutes base the lobster tail with the sauce.
I did this 2 times. I left the lobster cooking on the right side up for eight minute.
I then based it one more time and flipped it over and finished cooking it off for another five minutes on that side.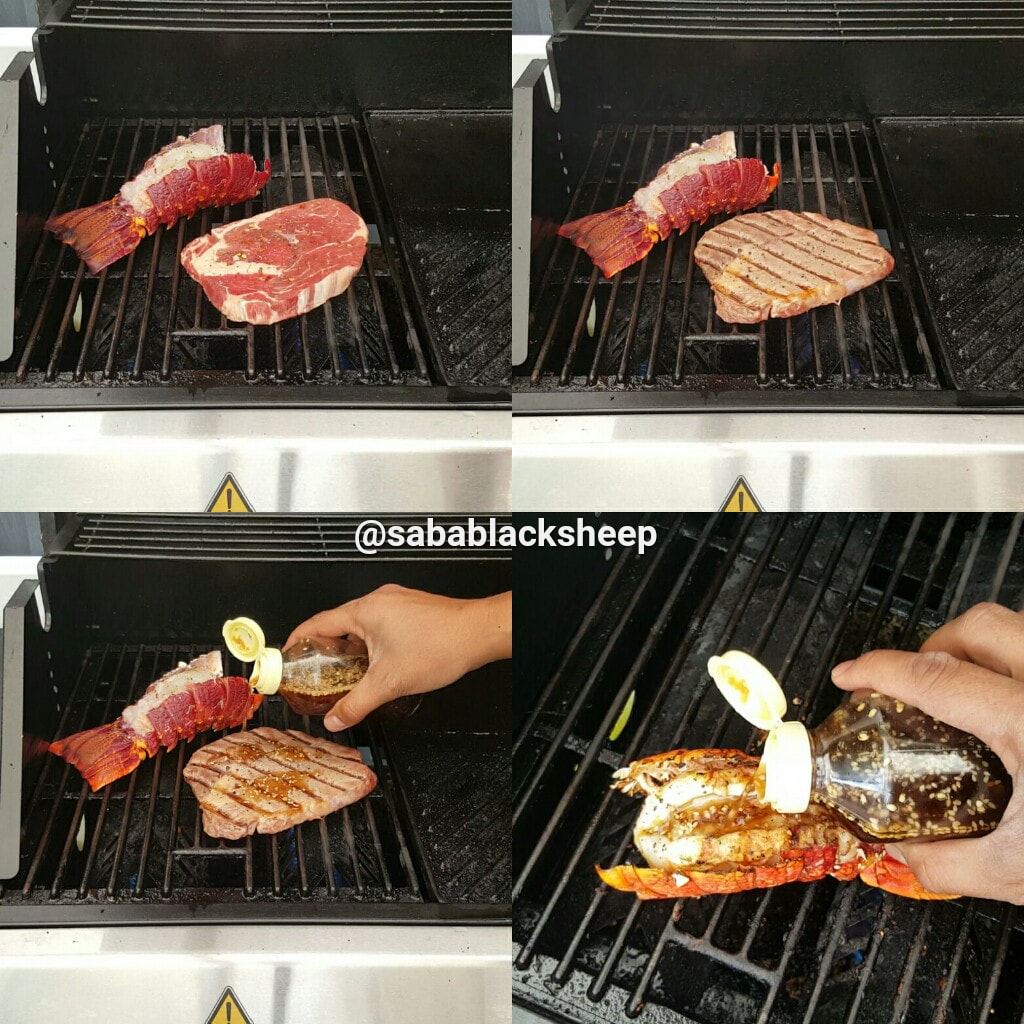 Now to serve !
I served my dish with snow pea shoots and radish.
But you can serve it with whatever vegetables you like.
Place the sliced steak on the dish and drizzle over some sauce.
Add the lobster tail and repeat the same process.
Add your vegetables and garnish with some finely sliced shallot, chilli and coriander leaves.
I like to have a wedge of lime on the side and a big bowl of the sauce for dipping.
That's it folks you are ready to eat this bad boy!
Now if you want to see how mine turned out you will need to watch the video.