Kao Man Gai or chicken fat rice is one of the best comfort foods, being both convenient and affordable. It is believed that this dish was created in Hainan, located in southern China. The traditional Hainanese Chicken rice uses a local chicken called "wenchang chicken" which is poached and served with rice with a dipping sauce on the side (Celjo, 2019). This dish has become popular outside of China and the recipe has been adapted by Hainanese migrants in different parts of South-East Asia.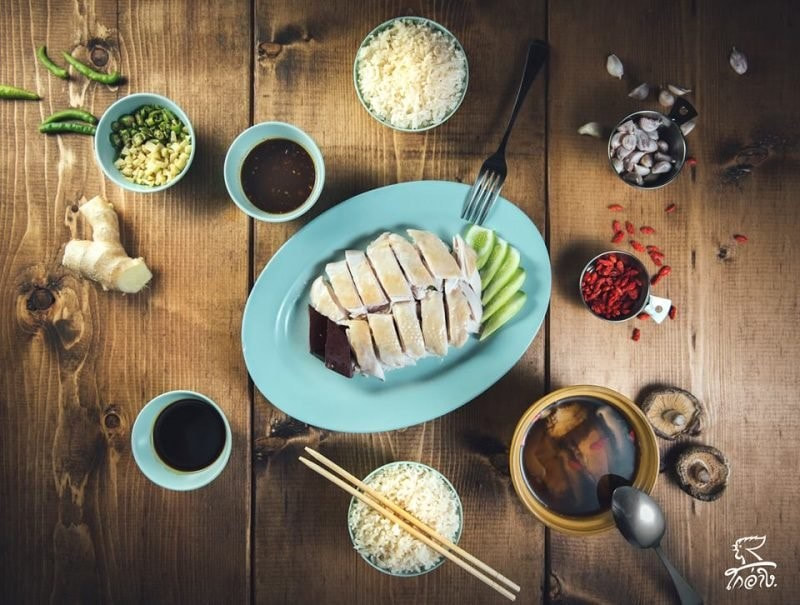 One famous chicken rice in Bangkok is Go-Ang Khoa Man Gai Pratunam in Ratchathewi district, Bangkok that received Bib Gourmand awards from the 2018 Michelin Guide.
Each country has its own version of chicken rice, with its own processes to make juicy poached chicken, aromatic rice, chicken broth and dipping sauce. There are about four countries that carry Hainanese chicken rice recipes which are Singapore's Chicken Rice, Malaysia's Nasi Ayam, Thailand's Kao Man Gai and Vietnam's Cơm Gà Hải Nam.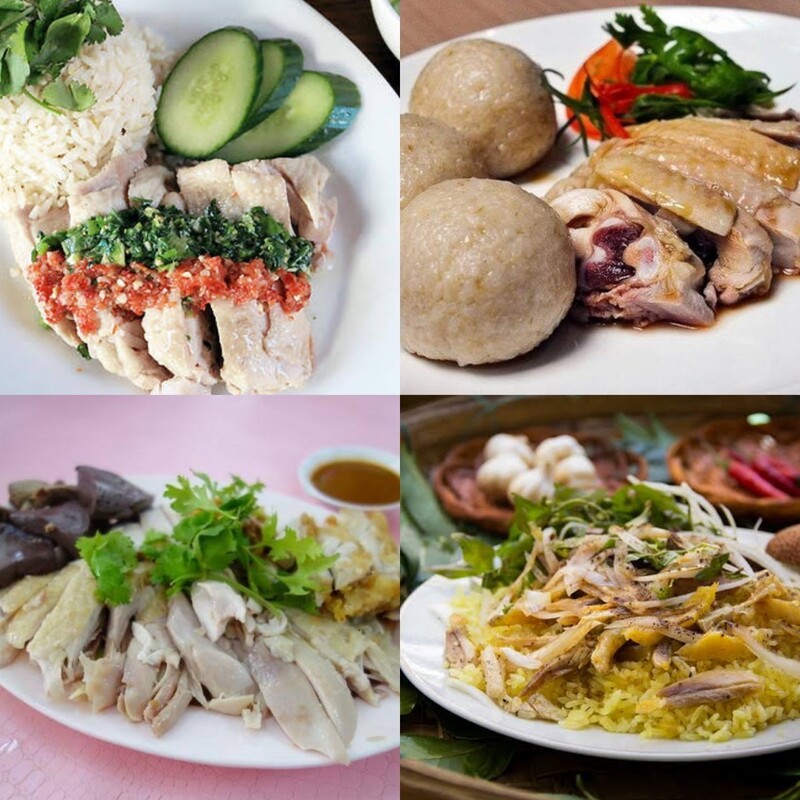 You may have heard more about the Singaporean-style Hainanese Chicken Rice which is listed as a national Singaporean dish. It's a popular dish served on flights for Airasia, Jetstar and Singapore airlines. Interestingly the dish is the centre of an ongoing conflict between Singapore and Malaysia regarding ownership. In 2009, this debate has arisen from Malaysian Tourism Minister Datuk Seri Dr Ng Yen Yen who intended to protect Malaysian cuisines with the country's identity (Mirandah, 2009). The argument created tension between Malaysia and Singapore. In my point of view, it's great that we can enjoy different styles and creations of chicken rice.
In Thailand, Kao Man Gai (Thai: ข้าวมันไก่) is a popular street food that I never miss eating when I visit. It is accompanied by a number of sides including blood tofu, chicken organs, crushed chili and grounded ginger dipping sauce and optional crispy chicken. When you order Kao Man Gai, you can request chicken thighs or breasts, with skin-on or skin-off and with or without chicken organs. A chicken rice dish will be served with broth, slices of cucumber and dipping sauce. They also provide crushed chili and ginger on the table so you can add an extra flavour to your sauce.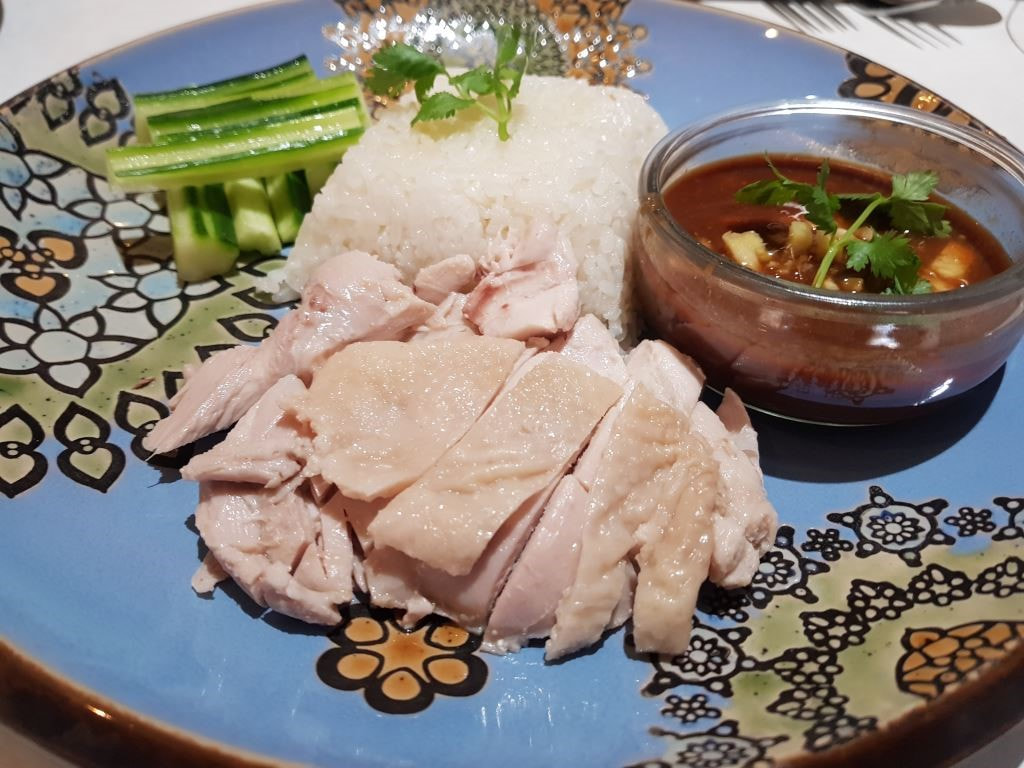 Let's get into our mission for today as we will give you a step-by-step to cook your delicious Thai-style Kao Man Gai at home with ingredients we are able to get locally. There are three main processes to go through and to get juicy chicken and aromatic-fatty rice.
Ingredients for chicken broth and rice for 5 serves
Chicken thigh                   4 kg
Chicken carcass                1
Jasmine rice 1 kg, old crop is preferable
Glutinous rice                   200g
Ginger                                 8 slices
Garlic                                  7-8 cloves
Pepper                                1 tsp
Vegetable Oil or Olive Oil
Salt                                      ½  tsp
Soy sauce                           1 tbsp
Coriander roots                3-4
White radish or wombok 1
Shitake mushroom           100 g
Cucumber                          2
Coriander and spring onion to garnish
Ingredient for dipping sauce for 5 serves
Raw sugar                          2 tbsp
Sweet soy sauce               6 tbsp
Crushed garlic                   3 tbsp
Crushed Bird-eye chili    2  tbsp
Soybean sauce                  6 tbsp
Coriander roots                1 tbsp
White vinegar                   2 tbsp or ground chili in vinegar
Lime                                    1 tbsp
Water                                  ½ cup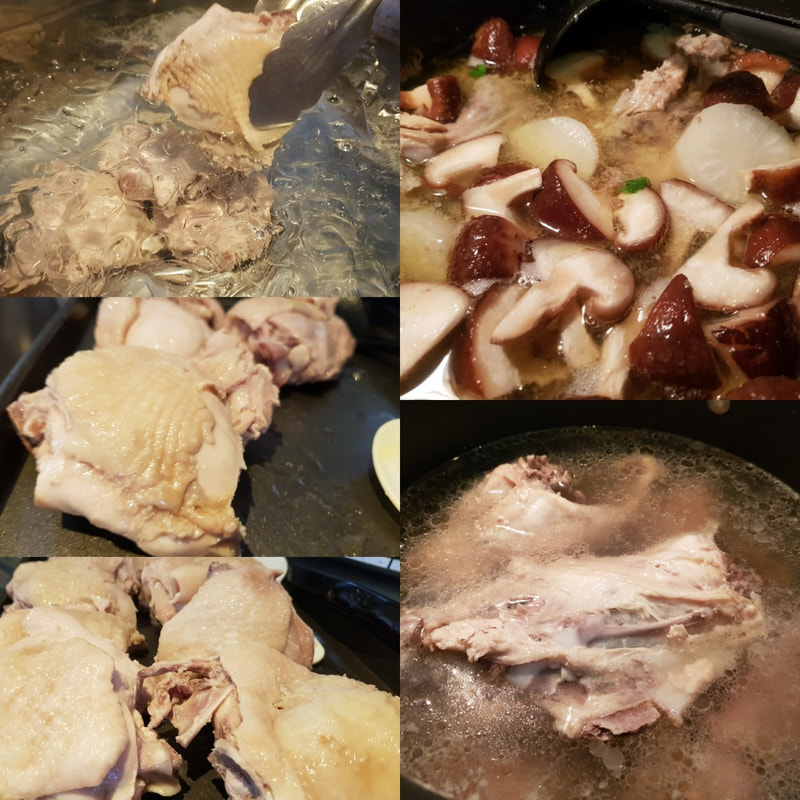 How to make chicken broth and poached chicken thighs
Boil 2 litres of water. Add garlic, chopped white radish or wombok, peppers, coriander roots and chicken carcass in a pot
Bring to the boil, add slices of shitake mushrooms and simmer for 10-15 mins
Place chicken thighs into the pot and cook through. The chicken thigh will absorb the flavour from the soup.
Take the chicken thighs out of the pot and dip in iced-cold water to keep it tender and juicy.
Lay chicken thighs on a tray and apply olive oil on the chicken to keep it moist
After preparing poached chicken thighs, use a ladle to take some floating oil out of the stock and flavour stock with salt, soy sauce and pepper
Add chopped spring onions and coriander to garnish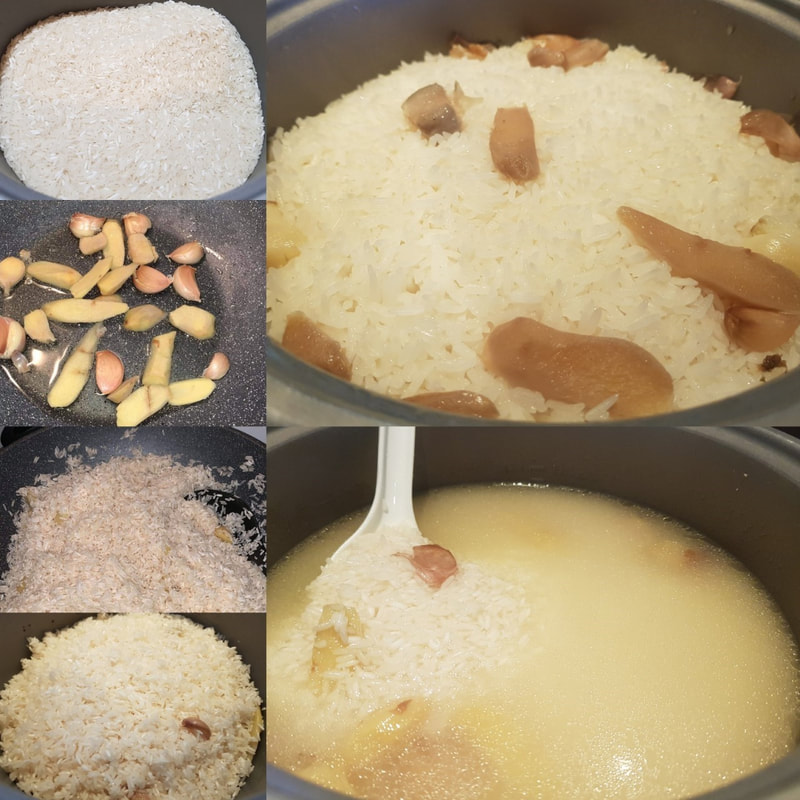 How to prepare fatty rice
Mix 1 cup of glutinous rice with 5 cups of jasmine rice and then rinse the rice with water
Slice 8 pieces of ginger and crush 7-8 garlic cloves
Add a bit of vegetable oil into the pan, then fry garlic and ginger until they are aromatic. Add mixed rice into the pan. Mix in chicken oil collected from chicken stock.
Season rice with a bit of salt and sugar. Stir fry until the grains turn dull and stick to the pan.
Put fried ginger, garlic and mixed rice grains into rice cooker and use chicken stock to cook rice. The level of chicken stock should be around 2 cm above the rice.
Tips: glutinous rice will help to reduce some moisture and prevented cooked rice from sticking together. If you don't have glutinous rice, it's also fine to use just old crop jasmine rice.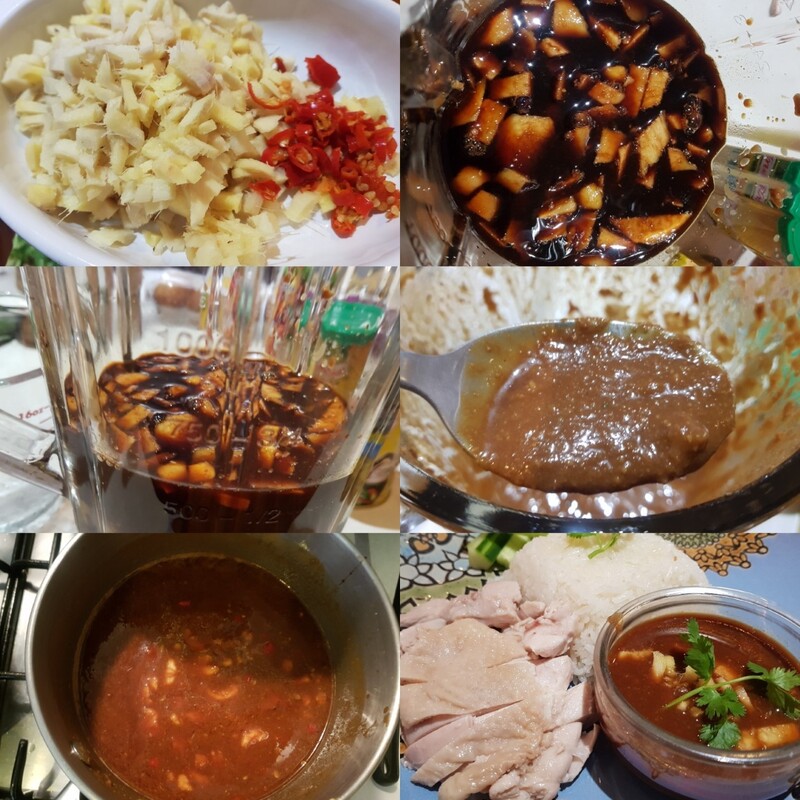 How to make dipping sauce
Add soybean sauce, raw sugar, ground ginger, ground coriander roots, crushed garlic, crushed bird-eye chili and ground chili in vinegar or vinegar with sweet soy sauce into the blender
Blend all ingredients together. If it's too thick, add chicken stock or some water
Pour mixed ingredients into the pot and use low heat to combine
Try the sauce to see if it is well balance with a hint of ginger and then squeeze a slice of lime
Add some minced ginger and chili to suit your taste
For this coming weekend, let's stay at home and make Kao Man Gai to have with your family. Have a wonderful weekend!
Parita Nobthai runs The Craft Humpy
"a homely place where you can get beautiful handcrafted gifts directly from the maker"