They're instantly recognizable as the white noodles are shaped like rectangular mats of thick white cheesecloth. It's best to purchase banh hoi (pronounced "baan hoy") fresh from a Vietnamese market or Chinese barbecue shop in a Vietnamese community where they're typically sold on Styrofoam trays and wrapped in plastic wrap – Andrea Nguyen
Bánh hỏi is a Vietnamese dish consisting of rice vermicelli woven into intricate bundles and often topped with chopped scallions or garlic chives sauteed in oil.
They are difficult to prepare and are expensive compared to other Vietnamese noodles. They are typically a special event food and a 'must-have' at weddings and death anniversaries.
Everyone always grins extra big smiles when banh hoi are served because you know that you're in for a treat.
It is thought that Banh Hoi originated from South Vietnam and brought to Hue (the ancient capital of Vietnam) by the Queen Mother Tu Du in the 19th century. It has since become incredibly popular throughout the country
Banh hoi are not eaten alone, but rather served at room temperature alongside rich foods such as crisp Chinese roast pork, duck and grilled foods such as shrimp on sugarcane (chao tom) and meats such as lemongrass pork and beef. Right before serving, the noodles are always topped with rich scallion oil garnish, which adds richness and verdant color. At the table, guests encase the noodles and protein in lettuce with fresh herbs. A quick dunk in nuoc cham dipping sauce is the usual final touch before the bundle is eaten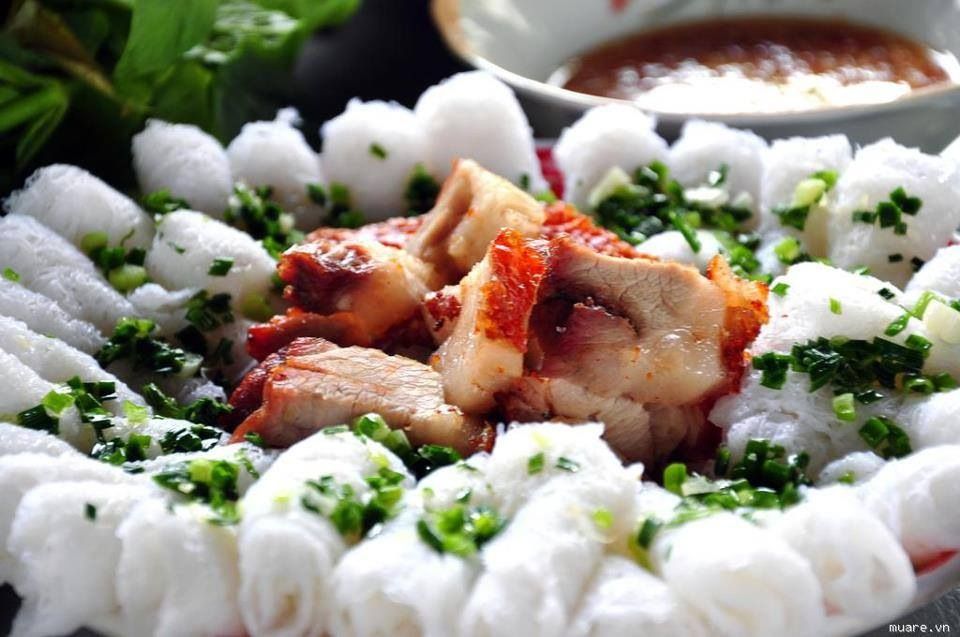 The thickness of the sheets and the noodles, accompaniments are different in different regions.
In each region, they have their own way to eat Banh Hoi. In South Vietnam, … these cakes are rolled, topped with chopped green onion sauteed in oil, served with roast pork and dipping soy sauce/fish sauce. In Soc Trang province, they eat this cake with grilled prawn, local herbs and dipping fermented fish paste. In Vung Tau province, Banh Hoi is served with grilled beef or roasted pork. They also serve the cake with Fried Rolls (Cha Gio) – Tracy Do, scootersaigontour.com
Making banh hoi is a complicated multi-step process starting with rice that is soaked overnight. The rice is then into a batter which is then either steamed and kneaded, or cooked in a pan until it forms a dough. This step is crucial in making bánh hỏi soft, light, and not sticky, but the strings of noodles will still have a firm texture.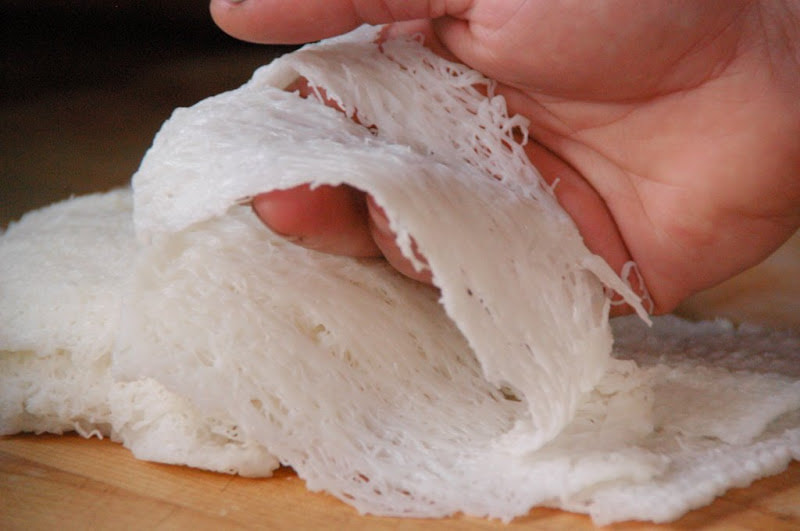 whiteonricecouple.com
The dough is then pressed using special copper or aluminum cylinders, with several small holes. Pressing the dough requires a large amount of pressure as as the dough is hard and the holes are tiny (like the eye of a needle). When one person presses the dough, another catches the noodles coming out on the other side, presses them together and cuts them off every 10 cm or so, creating a kind of mesh of noodle, which is then laid onto a flat surface. Finally, the sheets are steamed one last time.
Banh hoi have a slight tang as producers add a bit of the older, fermented batter to the new batter.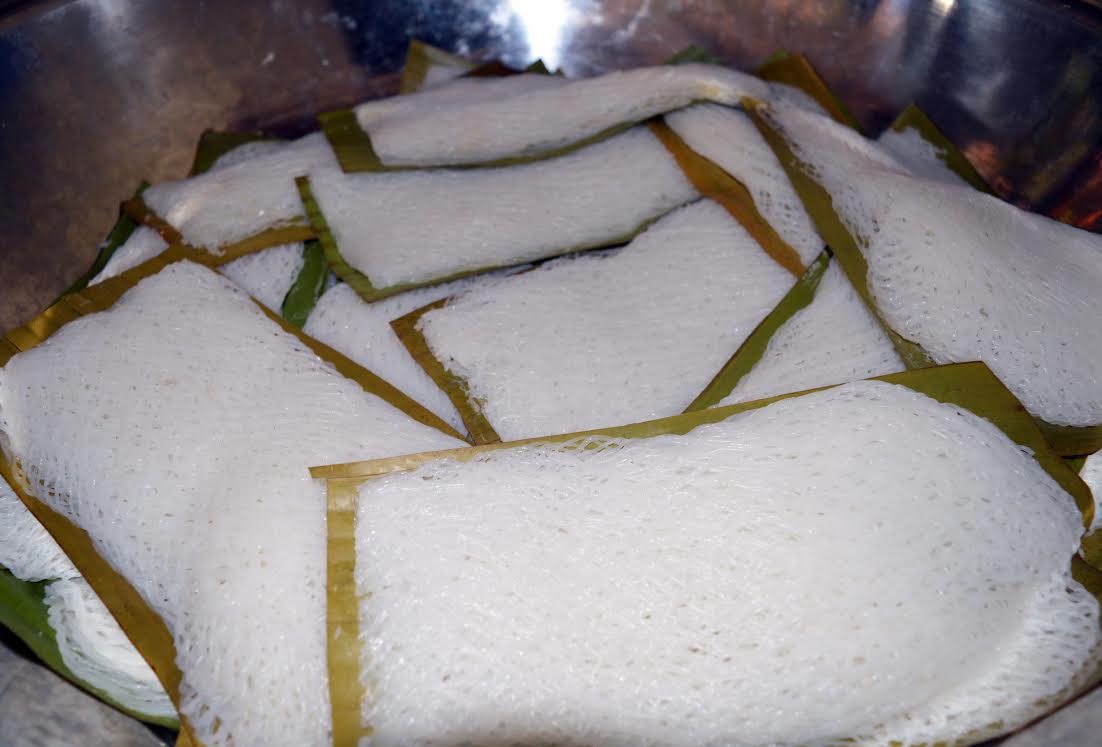 In the past, banh hoi were made fresh for ceremonies or selling at local markets and would last about 1 hour at room temperature. Nowadays, there are packaged dried Banh Hoi which are ready for serving after simply steaming for 10 minutes.