Listed as one of the ten weirdest festivals in the world, the famous monkey party, a festival in Lopburi Province Thailand, has gained a following among locals and attracts many international tourists around the world. What is so fascinating about watching monkeys eat and why has this event become an annual festival for this province?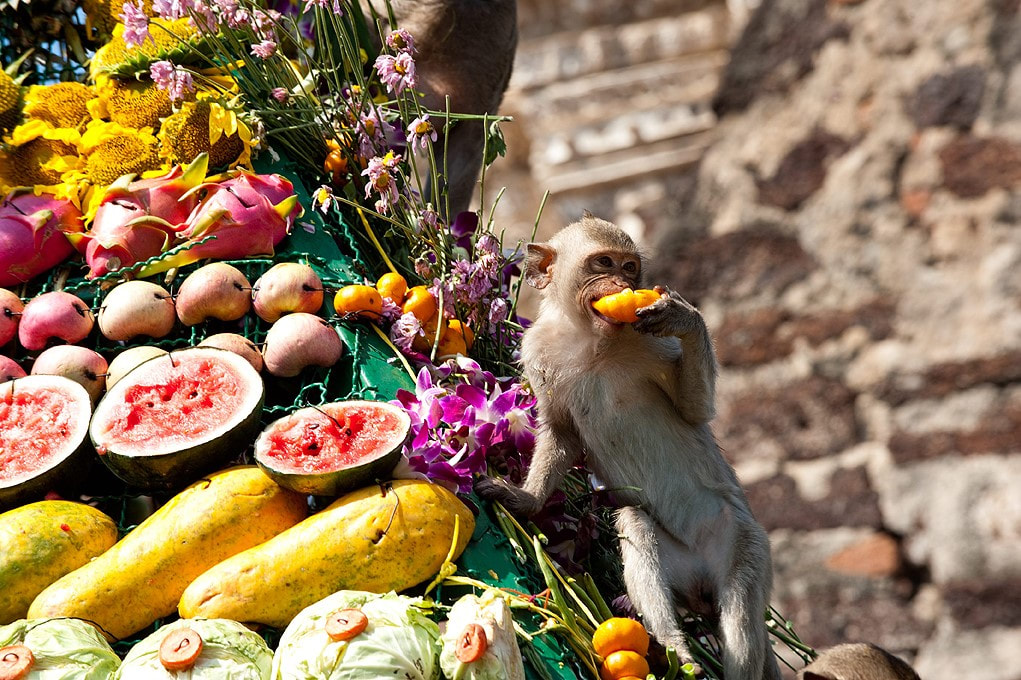 ​Ling (Thai:ลิง) means monkey in Thai language and Lor Ling  (Thai:ล) is also one of the Thai consonant out of the total of 44 . When talking about Lopburi province, it is hard not to mention monkeys. Lopburi is recognised as both the City of Monkeys and The Monkey Kingdom of Thailand. There are more than a thousand monkeys which have overrun the Old Town, especially in the area around Phra Prang Sam Yot and Phra Kaan Shrine.  Around four species of monkeys including crab-eating macaques which is the majority, rhesus macaques, pigtailed macaques and Stump-tailed macaques have been recorded living in the area since the settlement of the town.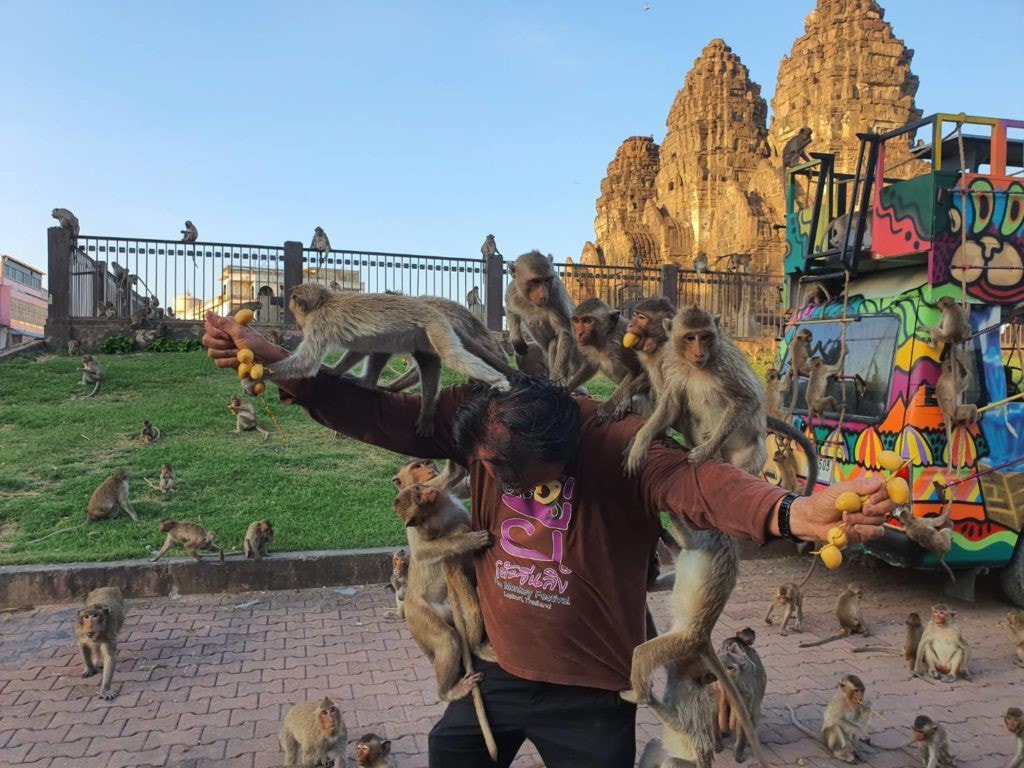 The monkey party festival is an annual event which falls on the last Sunday of November and has been ongoing for 32 years. The president of Lopburi Inn group, Mr. Yongyuth Kijwattananuson who initiated the idea of the monkey party and has been the main sponsor for this event since 1989. He believed that the monkey is his lucky animal that brings him prosperity and wellbeing. He even applied the monkey feature as a trademark for his first hotel named Lopburi Inn. This is the reason why he wanted to organise a monkey party as a special thanks for his success.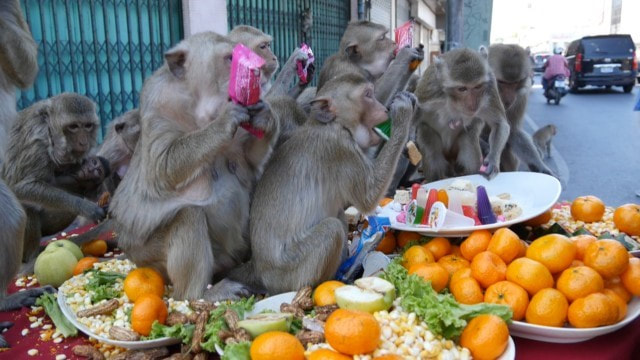 ​
The rehearsal and menu tasting are arranged a day earlier for the monkeys to try some food and the organisers can confirm that everything is running smoothly. Imagine that you must plan to feed an army of hungry monkeys that won't follow your commands, you don't want them to create chaos, right? There are between three or four rounds of banquet servings for monkeys to enjoy their feast at 10 am, 12 pm, 2 pm and 4 pm. Each feast combines a variety of fruits, traditional Thai deserts like golden thread, pinched gold egg yolk and gold drop, multiple snacks such as Pi-Po Yelly, Jelly beans, Pringles and wafer and the three favourite treats which are dates, peanuts and Chinese cabbage.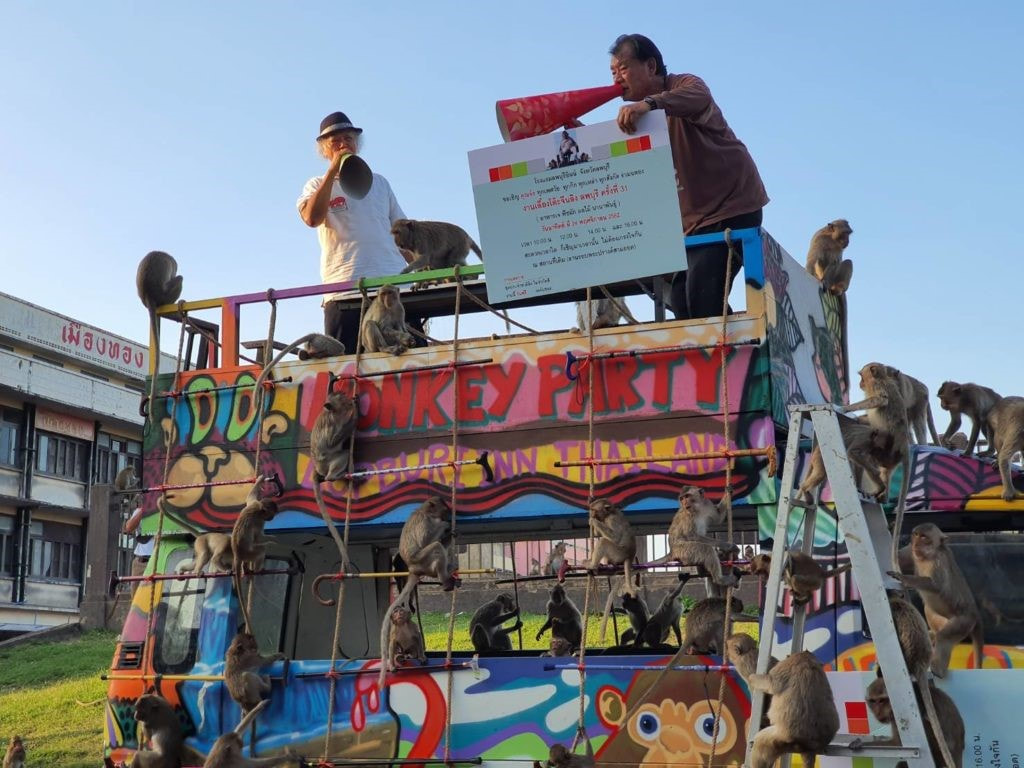 ​Each year, the event organiser always come up with different ideas of how to feed monkeys and keep them entertained while surrounded by thousands of tourists that want to capture every moment of their movement when they enjoy their big meal. Apart from feeding monkeys, the event area usually set up with several gigantic monkey statues, over-sized banquet tables and a surprising gimmick of bringing the monkey's treats by using 10 golf carts, decorated with handcrafted fruits and vegetables.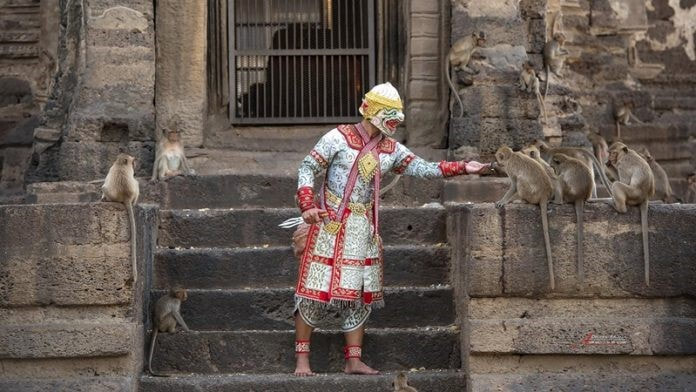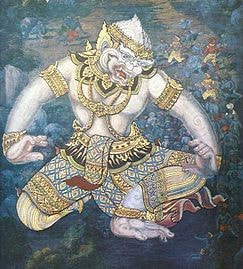 ​
I cannot remember a time without monkeys hanging around WatPra Prang Sam Yod temple and Prakan shrine, same goes for my parents and grandparents. There were there before us. There are many myths and beliefs related to the troop of monkeys. Some said they are disciples of Prakan, an object of worship: a four-armed Vishnu figure affixed with a Buddha's head. It is another belief from Ramakien, the Thailand's national epic which one of the central characters is Hanuman, an albino white and muscular monkey king who devoted himself to Rama. Lopburi is believed to be a town that Hanuman has given by Rama as a gift after the defeat of Ravana, the King of Lanka and all the monkeys living in Lopburi are assumed to be the servants of Hanuman. For locals who live nearby like me, monkeys become part of our life, we see them every day. We get scared or annoyed by them but we can still manage to live and cherish this unique lifestyle.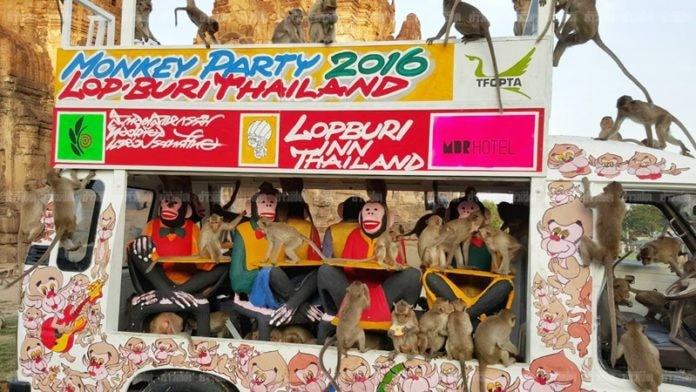 ​
Watching a thousand of Hanuman's servants or Prakan disciples having a great time eating different types of food is quirky and enjoyable at the same time. The monkey festival is rare and only occurs once a year. If you get a chance to visit Lopburi around that time, please try your best not to miss it. And don't forget to let me know what dish the monkeys love the most!
Parita Nobthai runs The Craft Humpy
"a homely place where you can get beautiful handcrafted gifts directly from the maker"