When I moved back to Bangkok 3 months ago I was so excited to see that the street across my house is lined with so many food carts, and one of them sells my favourite dessert 'Kanom Krok' (ขนมครก)! These are half spherical coconut pancakes made with rice flour, coconut milk, sugar and various toppings. The outer part is crispy and the filling sweet, creamy and usually piping hot. What I had completely forgotten about this dessert though, is the tragic love story behind it.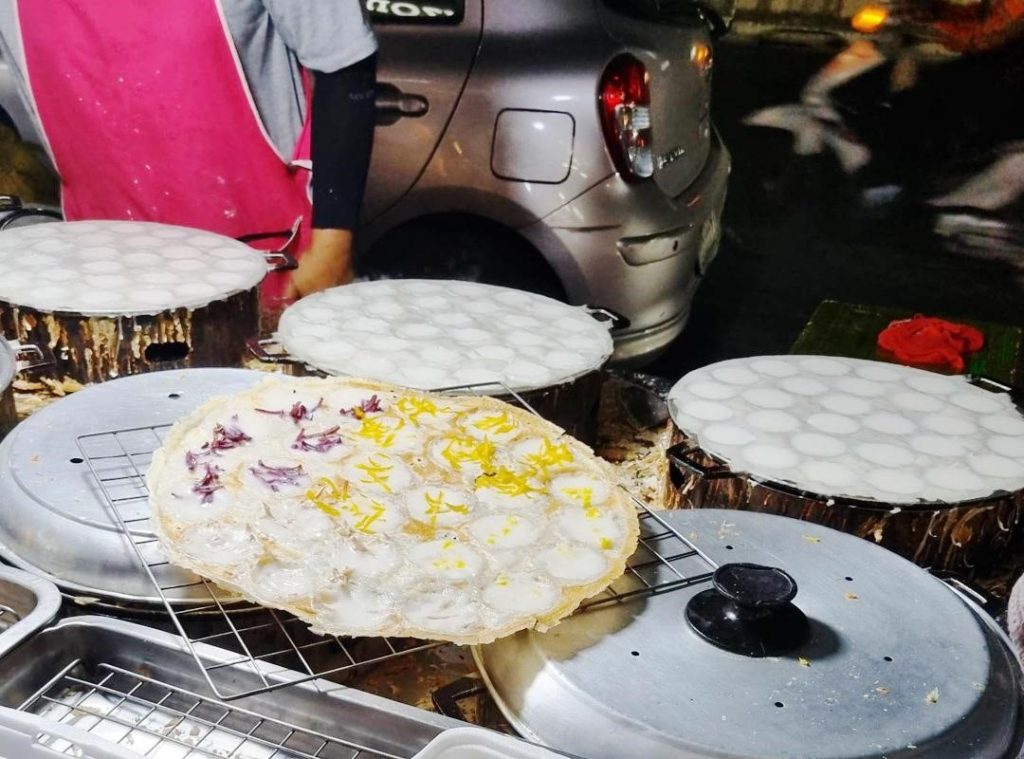 Freshly made Kanom Krok from across the road!
Not Romeo and Juliet, but Gati and Pang
Here is how the tale of Gati and Pang went. Similar to Romeo and Juliet, these two are star crossed lovers – Gati being a country man with a humble background and Pang, the only daughter to the village headman. Note that Gati in Thai means coconut milk and Pang means flour (you can see where this is going). Under the full moon during Loy Krathong festival one day, the moon witnessed their promise to love and cherish each other no matter what comes their way. Unfortunately for Gati, his biggest obstacle to living a happy married life with Pang is her disapproving father.
Gati worked hard, saved up and never gave up trying to ask Pang's father for his daughter's hand in marriage. Men were sent to stop him, violently attacking him, but he persevered in hopes that one day his dream will come true. However his heart was crushed when he heard that Pang had been arranged to marry a distinguished gentleman from Bangkok.
Knowing Gati would come and try to prevent this marriage, Pang's father sent his men out to dig traps to stop him. Luckily Pang overheard these nefarious plans and set off to warn her beloved of the dangers waiting for him that night. Through the darkness, the two spotted each other from afar and excitedly ran towards each other. Thud! Pang's body hit the bottom of the pit her dad had planned for Gati. With no hesitation at all, Gati jumped in after to save her. Unbeknownst to the men hiding near the traps, they started to bury the pit thinking they had caught Gati.
When morning came, these men dug up the trap to show Pang's father of their success. To their disbelief, in front of them were the lifeless bodies of Gati and Pang hugging and protecting each other.
From then on, every year locals would make a sweet dessert made of rice flour and coconut milk to commemorate Gati and Pang's unwavering love. The desserts were made in small half spherical moulds and when cooked, the two halves were put together to make a whole (so Gati and Pang can always be together!). They called this "snacks for people who love each other", which in Thai the word 'Krok' (ครก) is an acronym for.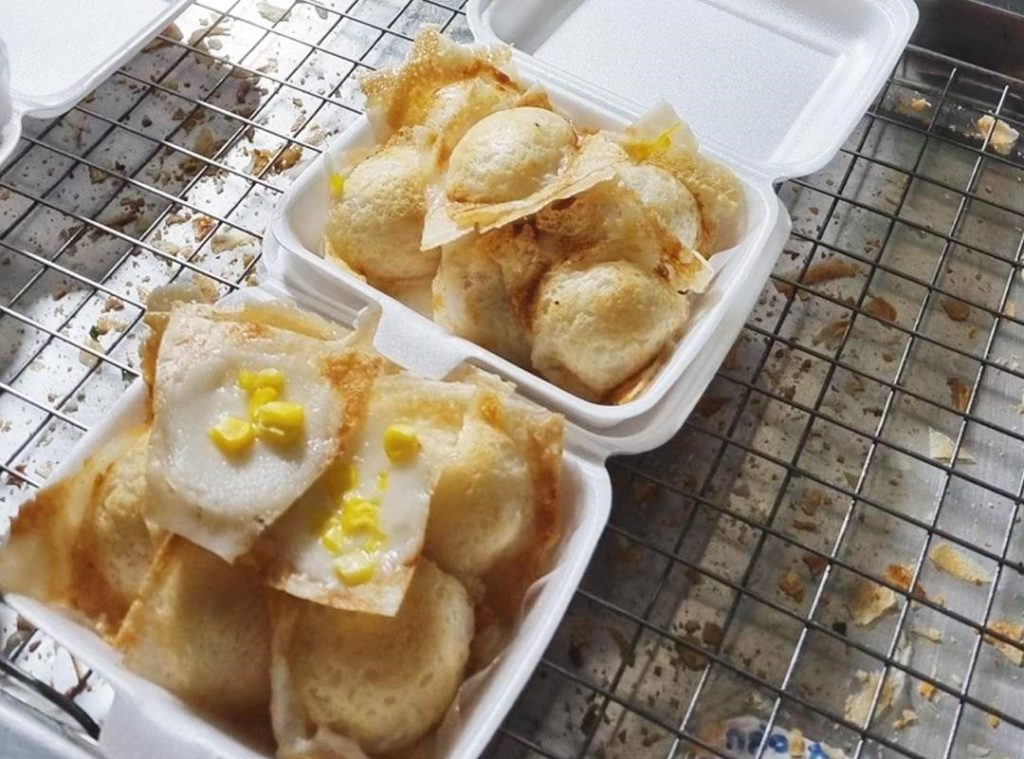 The dessert is usually sold with the two halves put together.
How to make Kanom Krok
Outside of Thailand these Thai coconut pancakes are a little hard to come by, so if you don't have a trip to Thailand planned soon you might want to try making your own! This recipe comes from Baan Rao Story.
The flour :
1875 mL water
500 g rice flour
125 g palm sugar
62 mL coconut milk
½ tsp salt
The filling :
500 mL coconut milk
35g sugar (adjust to taste)
½ tsp salt
100 mL water
The toppings :
Traditionally chopped up spring onion and corn are used, however shredded coconut meat, sweet potato and taro are now also often seen.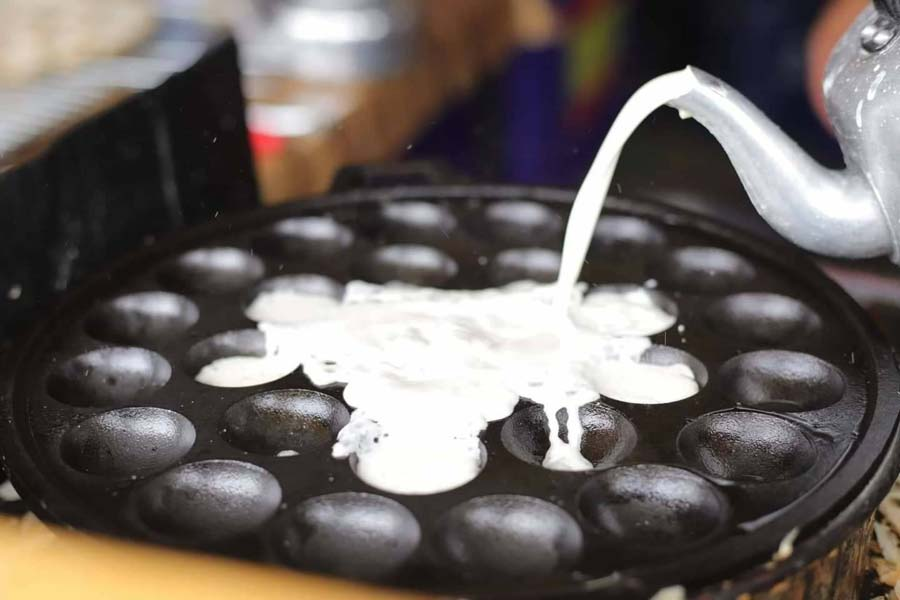 The flour portion of the dessert being poured into a hot pan (Image source | Tao Kae Cafe)
Add sugar, salt coconut milk and rice flour to the water and let it sit for about 10 minutes, then mix well until all ingredients are dissolved.
In a separate bowl, mix together all the ingredients for the filling.
Heat up your pan (Takoyaki or Dutch pancake pans can also be used for making Kanom Krok!) and carefully oil the insides of the holes.
Transfer your flour mixture into a jug, making sure it is well mixed.
Pour the flour mixture into each hole then quickly add the filling mixture on top (about 1 tsp).
Add your desired toppings and cover until the filling is set and the base is brown and crispy! This may take 5 – 10 minutes depending on your pan.
Carefully use a spoon to remove your Kanom Krok and allow to cool before enjoying them!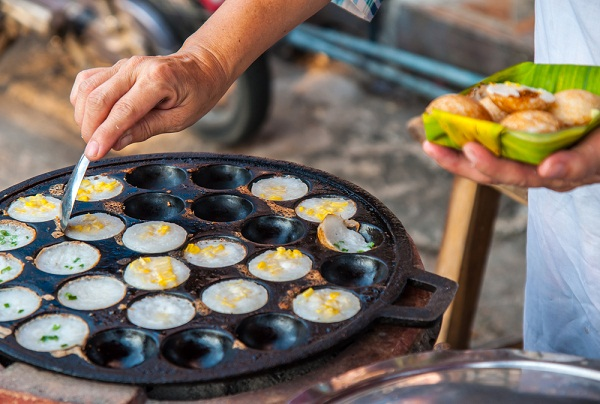 Carefully removing Kanom Krok from the pan. (Image source | Kapook)
Now that you can make this delicious Thai dessert at home, maybe you can think about Gati and Pang's love story while snacking on them!
Article by Oun V.
References