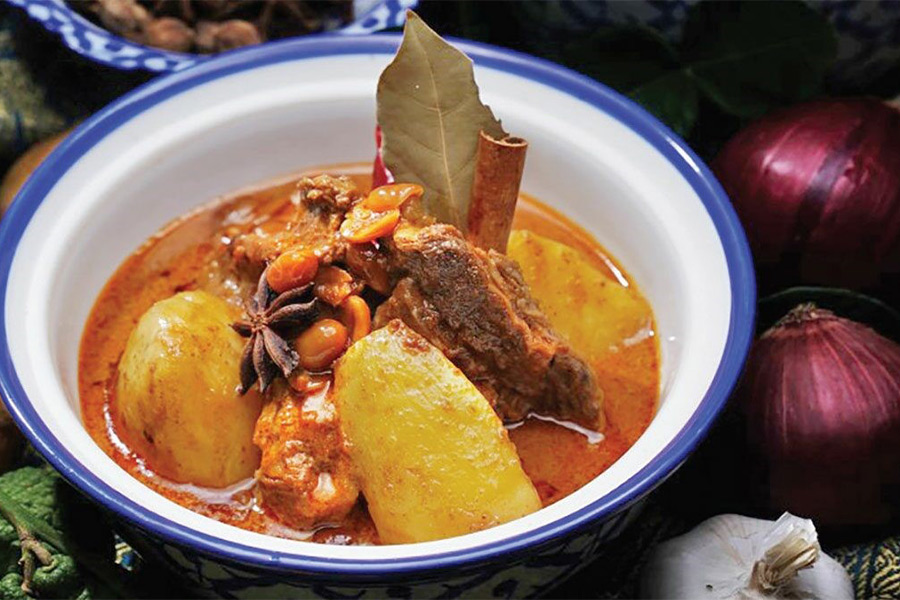 Red and green curries are the must have on the menu for Thai restaurants abroad. They have long been introduced to the Western world and are well known as common Thai curries. Then in 2021 CNN Travel published an article "The World's 50 Best Foods", listing massaman curry as "King of Curries". Massaman curry is "the most delicious food ever created" – CNN Travel.
History:
Massaman originally came from Persia during the era of King Narai the Great (Ayutthaya Kingdom, 1656 to 1688). Other sources claim that this curry is commonly known among Thai-Malaysian Muslims as "Sa-la-mun" (ซาละหมั่น), and that it is one of the influences of Melayu culture. The original massaman is salty and creamy, but Thai massaman has a sweeter and tangier taste. The popularity of massaman has continued since then. During the reign of King Rama II, who encouraged a blossoming of literature, poetry, music, and art, he composed the most well-known Kaap (a kind of Thai poetry) about 15 wonderful dishes cooked by the queen, including massaman. He compared the heat and incredible spices of massaman to the fire and love he had for her.
Now you may want to know, how does it taste? It is creamy, sweet and tangy, spicy afterward with a tiny bit of salty taste. Some might say that it tastes like the peanut sauce that comes with satay. The most common meat in massaman is beef, although chicken or pork are also used. We add potato, crispy peanut, onion, and carrot (Note that carrot is from my version because…. why not?). Everything combines together as a perfect match. The creaminess from the coconut milk and potato, the sweetness from palm sugar, and onion, the heat from the spices, all make this curry "UMAMI". You have to try it! In Thailand, you can find massaman curry anywhere from a fine-dining restaurant to a street food stall.
How to cook massaman at home?
Here is a chance for you to try the taste of massaman at home. These days, we have instant curry paste and canned coconut milk to thank for making this dish easier! They are a real life saver for Thais who live abroad. I hope this inspires you to try cooking Thai food at home.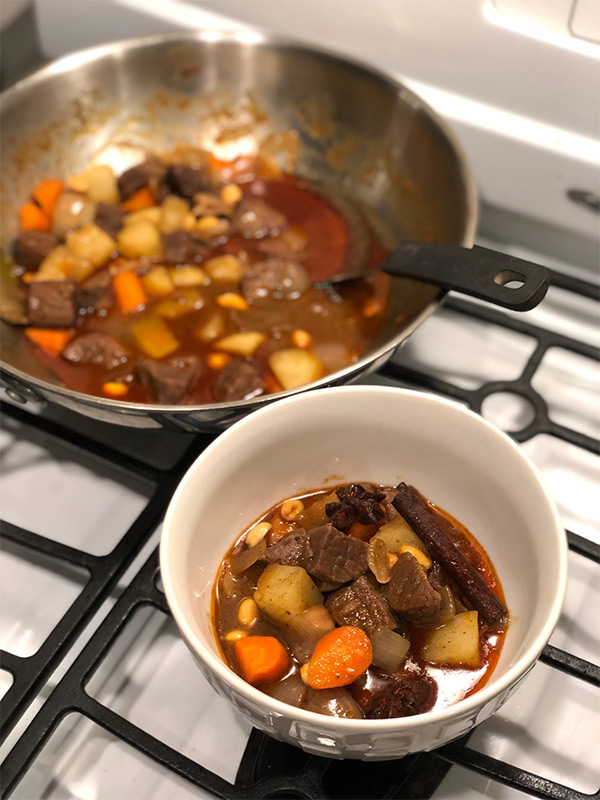 Ingredients
Meat of your choice 300g (I recommend beef, as its flavor will enrich your curry)
Massaman curry paste 40g
Coconut milk 300ml (Or 1 can)
Roasted peanuts 50g
Potatoes 2 small – cut bite size
Onion 1 – cubed
Palm sugar 30g
Tamarind sauce 2 tbsp
Salt or fish sauce 1-2 tsp
1 Cinnamon stick
3 Star anise
1 Bay leaf
Oil
Steps
Heat the pan with a tiny bit of oil. When it is heated, add massaman curry paste, stir it for 2-3 mins. Add 100ml from coconut milk. Stir them together until you can see the red oil coming out from coconut fat and curry.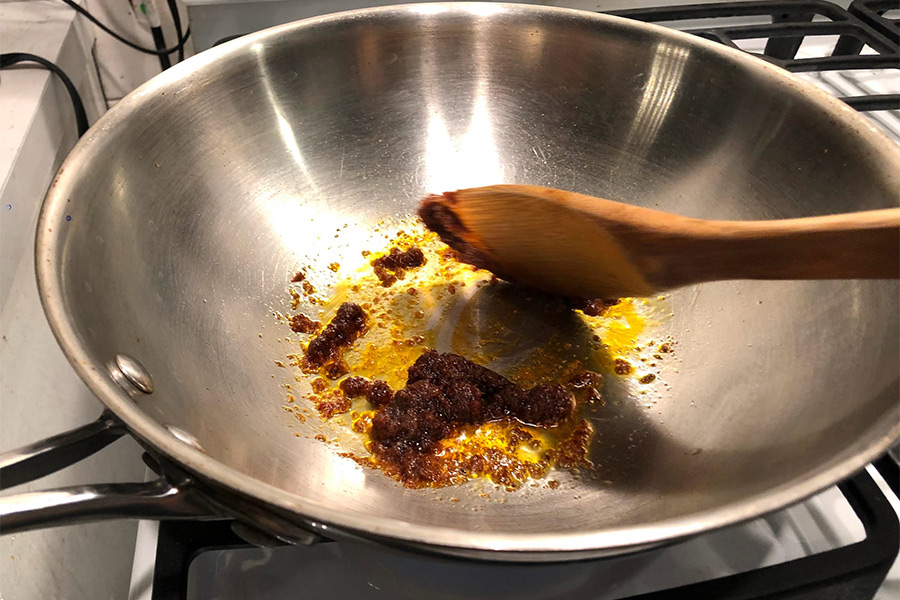 Stir massaman curry with oil on medium heat.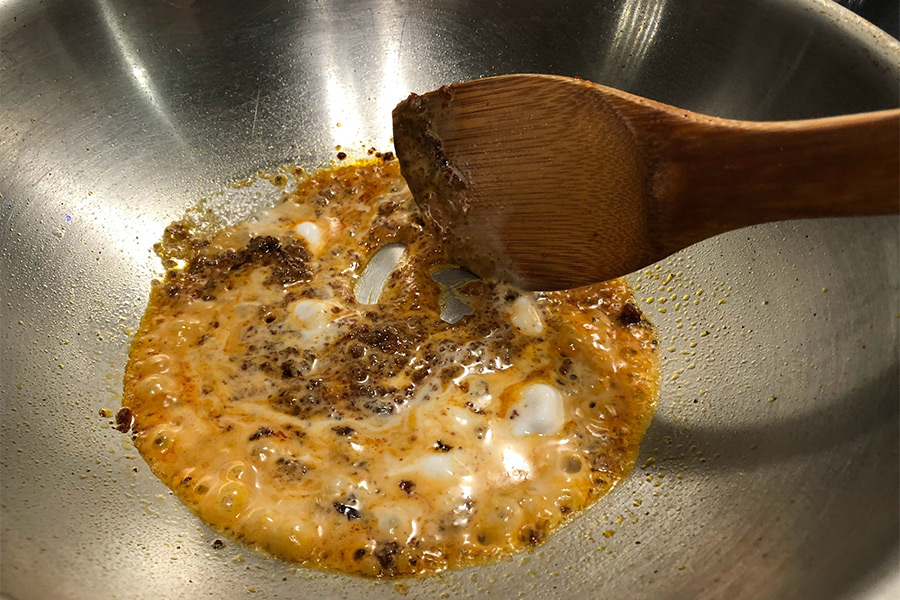 When you see the red oil coming out from the curry, it is ready.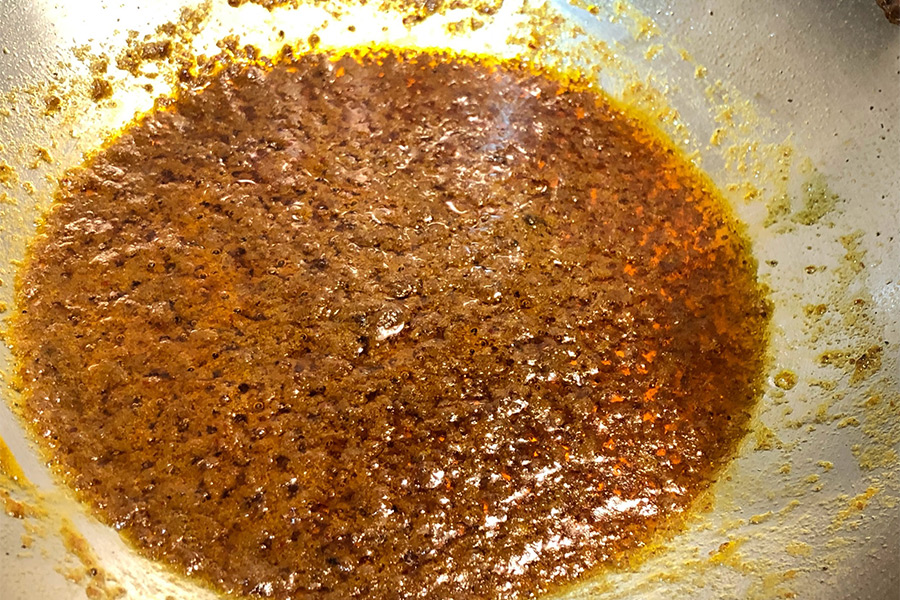 When you see the red oil coming out from the curry, it is ready.
Add the meat in. Mix the meat with the paste until it is evenly coated.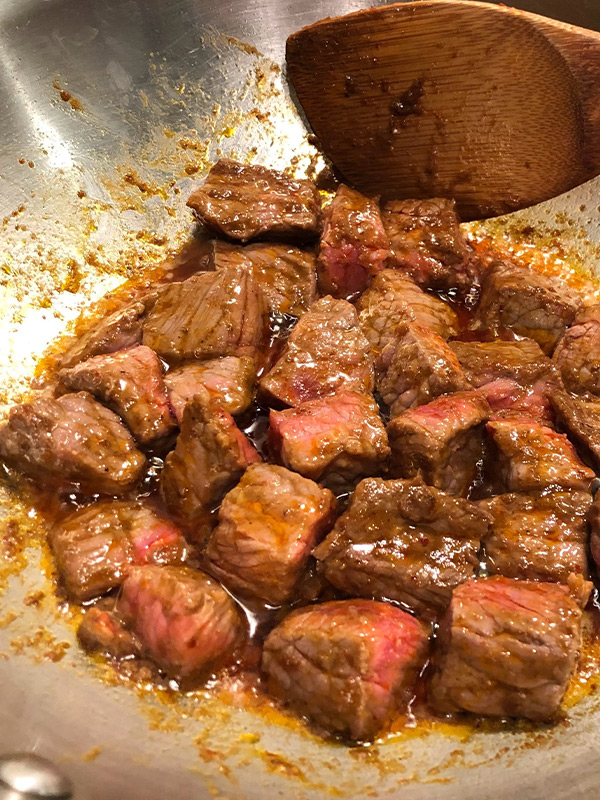 Add the remaining coconut milk, cinnamon stick, star anise, and bay leaf. Let it simmer for at least 30 mins or until the meat is tender. The longer, the better. It will bring out the flavor from the meat into the curry. Then you can add your choice of vegetables and peanuts. Tips: I cook the potato and carrot separately, and I add them to the curry when the curry is almost done, ensuring they are cooked to perfection.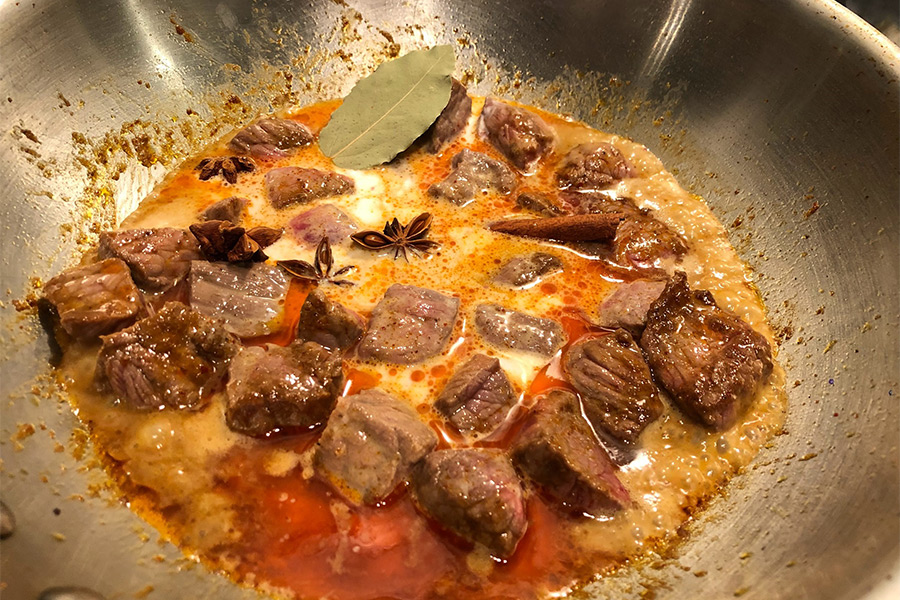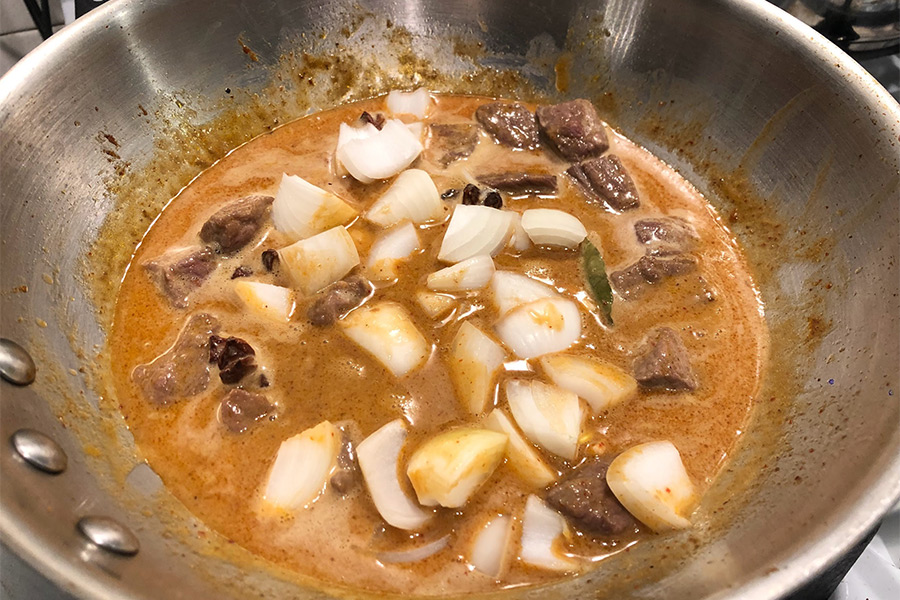 Add the remaining coconut milk, cinnamon stick, star anise, and bay leaf. Then add the onion.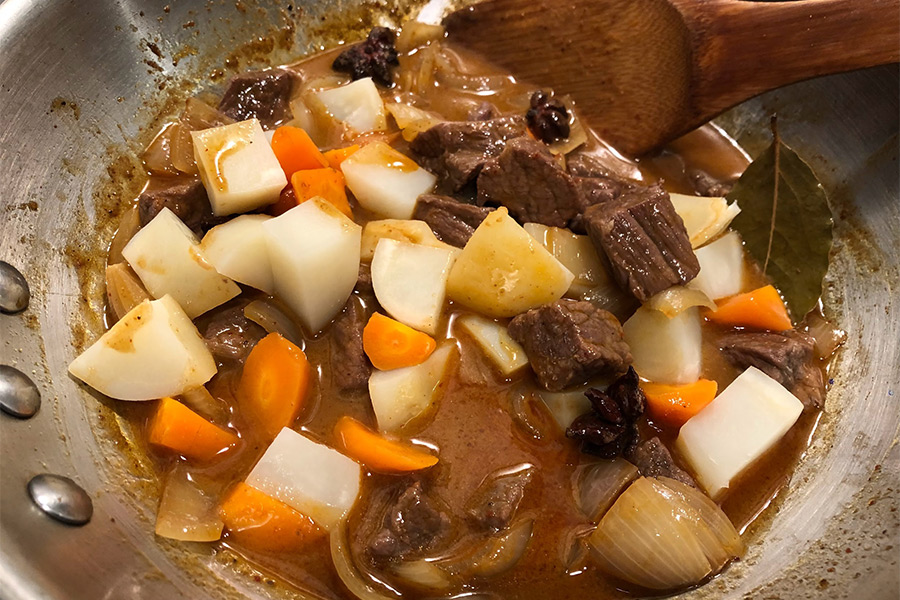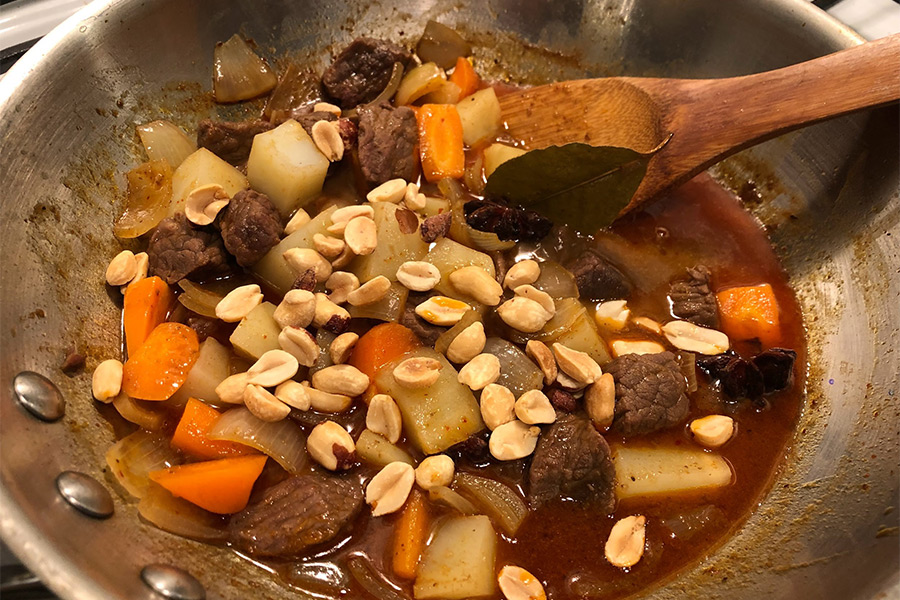 Add vegetables and peanuts.
Add palm sugar, tamarind sauce, salt (I prefer fish sauce, but salt is fine for a substitution). Now you have to taste it! It should be sweet (not too much), a little bit tangy, and spices will come after. Tips: Imagine the taste of the peanut sauce. They are not the same, but…it is something you could rely on if you haven't tasted massaman yet.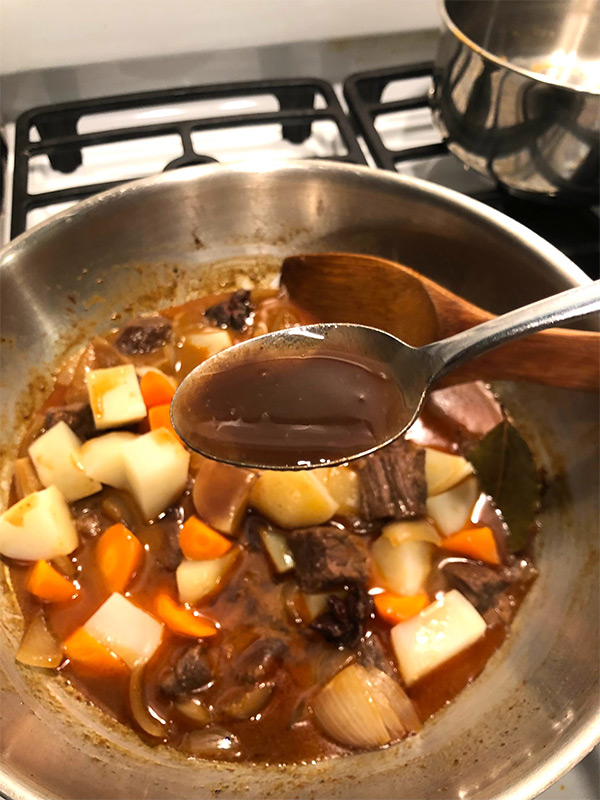 Add palm sugar, tamarind sauce, and salt (or fish sauce).
When you like the taste, serve and enjoy! You can serve the curry with warm jasmine rice or fettuccine pasta.