After living in Sydney for 18 years I have recently moved my life back to my hometown of Bangkok. Luckily the transition has been pretty smooth and there hasn't been much reverse culture shock. Now that it's coming up to 6 months, I've been reflecting on my life here and came to a realisation that there has in fact been one major surprise!
On a lovely evening while prepping some ingredients for dinner, I pulled out a bag of 'krapao' (holy basil) from the fridge and started plucking the leaves. After a few leaves I stopped and looked at my partner, "did I get the right stuff?!". I remember my puzzled face, rechecking the label in front of the bag multiple times and scratching my head. Although the bag very clearly had กะเพรา (krapao) written on it my first thought was that the grocery store had incorrectly packed the produce (how confident of me!), but it slowly dawned on me that maybe I've mistaken something else for krapao this whole time!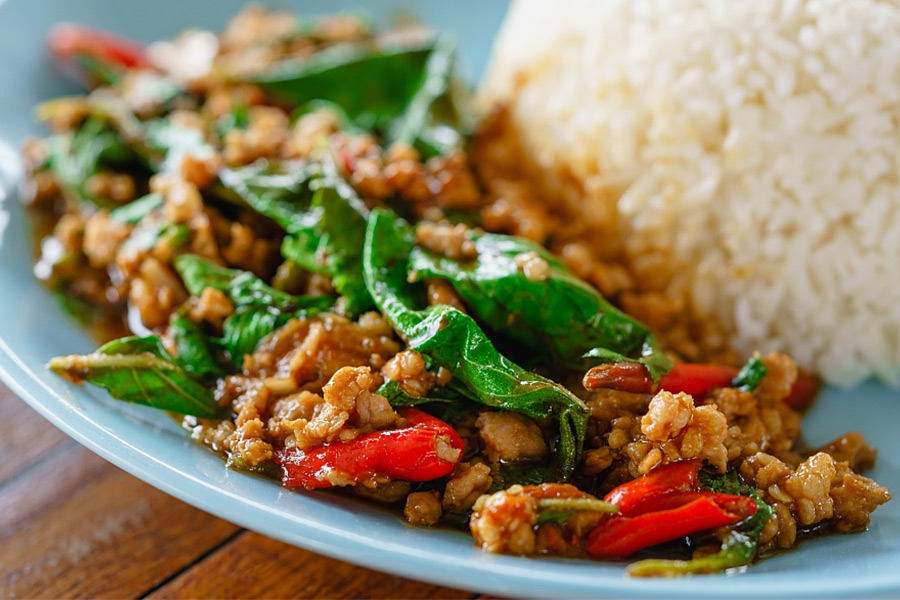 Pad Krapao with actual krapao  (Image source | Michelin)
To realise that you've been cooking Pad Krapao (one of Thailand's national dishes) without actually using 'krapao' for so many years felt like committing the biggest crime, something that would really disappoint Uncle Roger. The thing that upsets me the most is that I used to travel all the way to Thai Town in Haymarket to get what I thought was krapao, double checking it's the correct one by rubbing my fingers against the leaves and smelling it. So what have I been using all this time instead of krapao?
'horapa' vs 'krapao' – Thai basil vs holy basil
Turns out I've confused 'horapa' (pronounced ho-rah-pah) or Thai basil with 'krapao' which is commonly called holy basil. Both of these are commonly used in Thai cooking but have distinct flavours and are used in different dishes. Here are some ways to tell them apart so you don't make the same mistake!
Appearance
One of the easiest ways to tell them apart is by looking at the stem and leaves. The leaves of Thai basil are more narrow and long in shape with smooth edges whereas holy basil have fuzzy leaves with serrated edges. The stems of the Thai basil are also darker and purplish compared to the lighter hairy stem of the holy basil.
Taste and smell
When gently rubbing your fingers against the leaves you will notice that they have very different aromas. The Thai basil has a strong scent similar to anise and a touch of mint, and the holy basil smells a bit more clove-like with a hint of citrus. In terms of taste the Thai basil has a licorice-like flavour with a slight spiciness, whereas the holy basil is a bit more peppery with a subtle sweetness.
Where do you use them?
Both types of basil are commonly used in Thai cooking and are often in stir fries, curries, soups and salads. I notice that Thai basil is also often served fresh as accompaniment to spicy north-eastern Thai food or noodle soups such as Boat Noodle. You can pick a few leaves to add to the dish or nibble on them while your mouth is recovering from spiciness, it adds such a lovely freshness and herby aroma! Holy basil on the other hand is usually seen in high heat stir fries like Pad Krapao and Pad Kee Mao where the strong flavours from the leaves are cooked and mixed through the dish a bit more.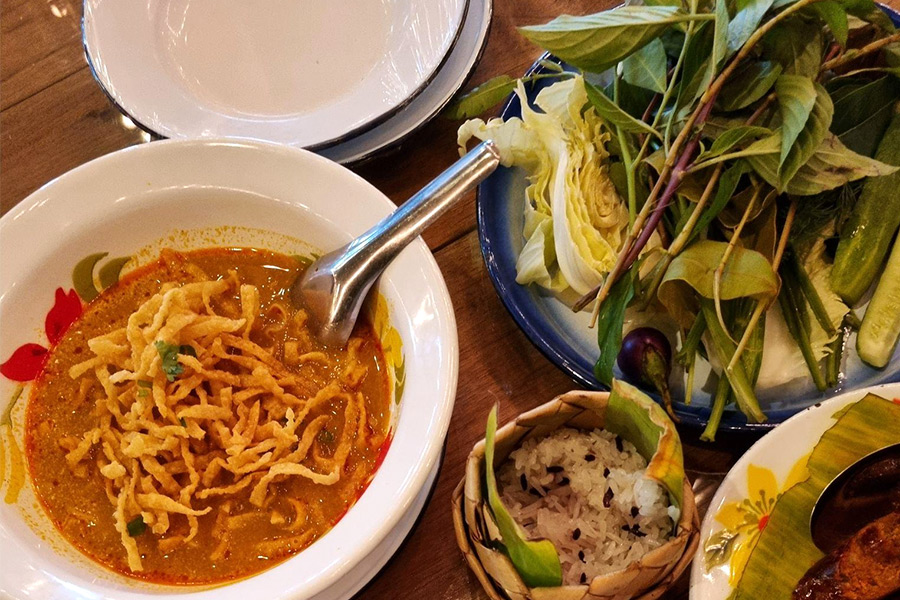 Fresh Thai basil served as accompaniment
Despite my confusion for many years, using Thai basil instead of holy basil in my cooking still made delicious meals. I feel like at the end of the day substitution between the two is completely fine, especially in places outside of Thailand where these basil can be hard to find.
References