​https://www.thailandpostmart.com/news
Songkran or water festival is an annual event that attracts tourist from all over the world to visit Thailand and celebrate Thai national new year in a unique way. You might be familiar with photos of people splashing water at each other, water battle at the famous Khoa San Road and multiple styles of water guns, buckets, barrels, hosed or even elephants spraying water. Apart from all the fun, there are Buddhist traditions and beliefs that Thai people always follow but you don't hear about too much.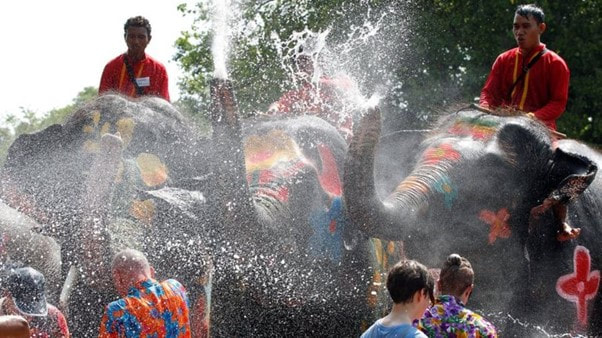 www.bbc.com/thai/
Songkran holidays are one of the longest public holidays that Thais are look forward to every year. For Thais, it is the best time to travel locally or overseas, visit parents and grandparents in other provinces or just relax with your families at home. The festival is held from the 13th to the 15th of April each year and it also is celebrated in neighbouring countries which shared similar cultures like Laos, Cambodia and Myanmar. Songkran is Sanskrit language meaning to 'move' or 'change place' which relates to the change of the passage of the sun from one sign of the Zodiac to another. The three days of Songkran festival from the central part of Thailand have its names and purposes:
13th of April is called "Maha Songkran"วันมหาสงกรานต์ or great Songkran, the end of the year
14th of April called Wan Nao วันเนา, a transitional day
15th of April called Wan Thaloeng sok วันเถลิงศก, the beginning of new year
Each day has different festivities that we should do. For example, my family will clean the house, especially sanctum and all buddha statues on thr 13th of April, stay at home with families on the 14th of April and make merit on the 15th of April. This depends on what part of Thailand they are from or their own family's tradition. Moreover, the 13th of April is also a Thai elderly day as a campaign to encourage people to see the value and importance of our elders.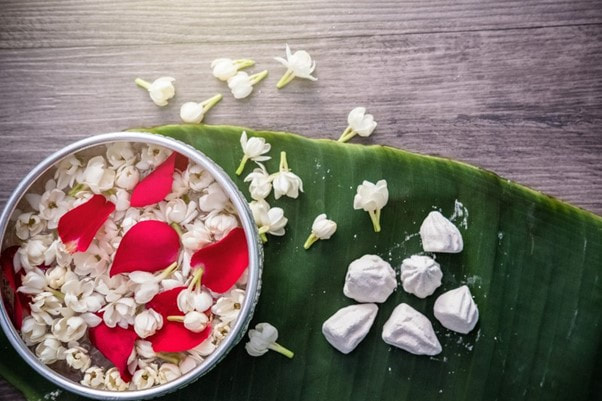 www.wongnai.com
​We usually wear colourful colour and floral prints are the most popular pattern to go for. You will probably notice that during Songkran festival, most Thais wear floral garlands and apply a bit of soft-prepared chalk mixed with Thai fragrance on their cheek. The soft-prepared chalk is made from marlstone or lime-rich mud. The local knowledge of using this white clay as UV protection, to cool off skin and alleviate heat rashes and skin irritation made it suitable for the hot weather.
​There are a couple of menus to enjoy particularly around this time of the year such as red sticky rice, Khoa Chae (rice soaked in cool water paired with different savoury side dishes) which
I wrote about last year
 and Thai caramel. This year, Thai caramel which is made from only three main ingredients: glutinous rice flour, coconut cream and sugar (Thai:กาละแม) has been promoted by the Department of Cultural Promotion, Ministry of Culture of Thailand for everyone to have with families. The process of making Thai caramel takes almost four hours, require a lot of continuous stirring that family members can take turns and enjoy spending time together.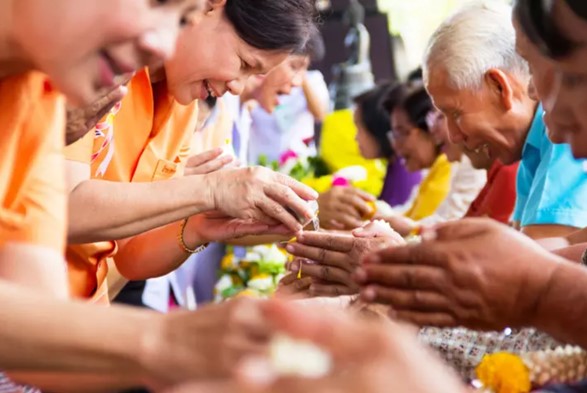 www.worldlamphun.com
​For my family, what we never miss out doing each year visiting our grandparents. We organize a small ceremonial area including buddha statue on an oval brass tray, a water bowl with slightly scented water and floating jasmine. Then, we begin to sprinkle water on the buddha statue, then pour water onto our grandparents' palm and they will sprinkle some water back on our head and give us their blessing. We also do the same to our parents and this gives us positive energy and feeling to start off new year.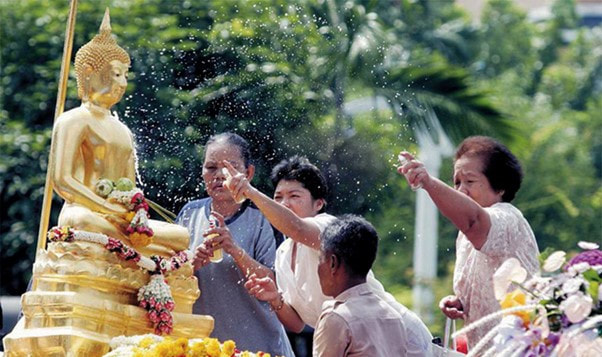 www.thaipost.net
In 2021, Songkran festival will be different as you won't see crowded streets and water fights due to Covid-19 regulations. However, it is a good time to focus more on traditional aspect of this festival and see the real meaning of it. For us, Songkran is more about the reunion of family, a great time to begin the new year with the blessing from people we love and more importantly, make our grandparents and parents know that we will never forget them.
Parita Nobthai runs The Craft Humpy
"a homely place where you can get beautiful handcrafted gifts directly from the maker"